1.
An Aussie Miracle Curls hair care regimen if you're looking for a step-by-step routine on how to bring new life to your curls.
2.
A Tgin curl-defining mousse great for low-porosity curls in need of some more bounce. It provides lightweight moisture that actually permeates your curls, but doesn't weigh them down!
Here are some more Amazon curly hair products reviewers are loving.
Promising review: "This is one of the best curling mousses that I've used in a long time. The rose scent is very pleasing and long-lasting. The mousse is very fast-acting and provided really nice curls to my hair. It didn't make my hair feel wet but moisturized. Love this mousse." —Linda
Get it from Amazon for $14.99.
3.
A wildly affordable Shea Moisture shampoo free of any harmful chemicals or parabens that could damage your delicate locks.
4.
A leave-in Curl Milk treatment ideal for thick curls that just need a little push to reach their fullest, bounciest potential.
Promising review: "This has been the BEST conditioner, leave-in or otherwise!!! My hair is medium fine and curly, and with this, in combination with OGX Coconut shampoo, my hair has never felt softer or healthier, and most importantly there were absolutely NO TANGLES! I can't remember in my 38 years of life a comb going straight through my hair without difficulty! I will forever buy this! And this is great on your curly, kinky, or deep wave bundles too!!!" —Reddalop
Get it from Amazon for $6.99.
6.
A Pattern Beauty shower brush designed to detangle your curls and distribute product evenly throughout. Founder Tracee Ellis Ross made it specifically to be used in the shower, because that's where the curly magic starts.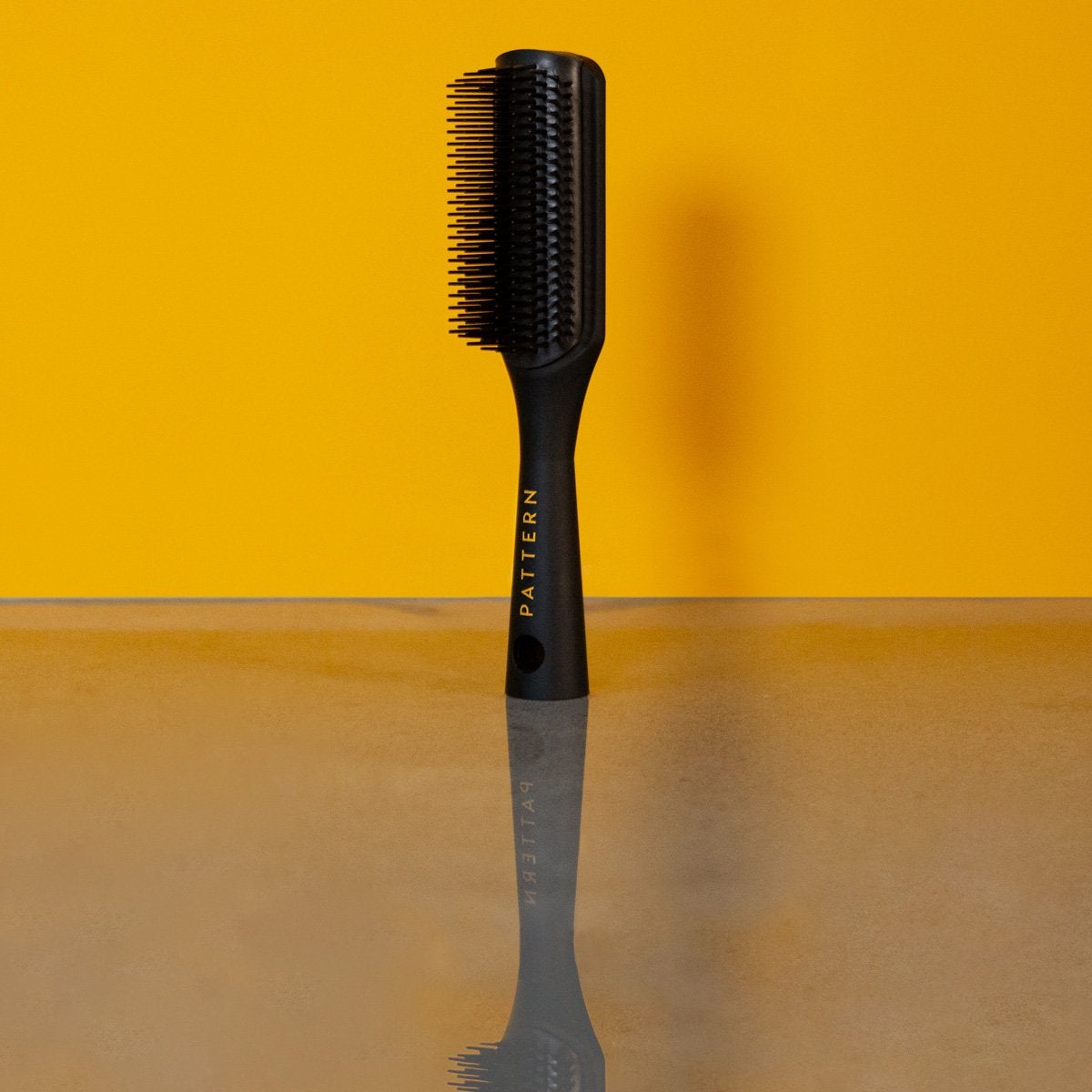 Pattern Beauty is a Black woman-owned company that creates hair care products that empower and celebrate every hair pattern and texture.
Promising review: "This brush is the best thing that has ever happened to my hair. The hype is REAL. My curls are defined, my conditioner is now evenly distributed, now I won't waste so much piling it on. Initially I looked at it and was unsure. After a few strokes, I was confident I had made the right purchase. I like it so much I sent both of my sisters a gift card so they could get one too. I already foresee myself wearing this brush down to nothing. Dare I buy another just incase?!" —Michelina R.
Get it from Pattern Beauty for $17.
7.
A classic Garnier Fructis leave-in conditioner you can find in any CVS that'll make your hair so soft and luscious, you won't be able to stop running your hands through it.
Promising review: "I am in love with this product. I have super dry curly hair that is damaged from highlights. I use this product right after the shower and it just does the trick. I have been purchasing so many products that have been way too expensive to bring out my curls without the frizz and this product is super affordable and actually WORKS! I use a lot of it and it does not weigh my hair down or make it crunchy like most products do. ALSO the fragrance is amazing! Must buy!" —Amazon Customer
Get a pack of two from Amazon for $5.84.
8.
A silk-lined cap that retains moisture and protects your hair so you can toss and turn with ease without worrying about flattening or damaging your curls.
Promising review: "It feels so nice and soft. I love how my curls are so moisturized and juicy in the morning when I take it off. I purchased the black and gray colors and they are convenient for going out quickly because they look stylish." —Jasio-Dane B.
Get it from Grace Eleyae for $24 (available in original and large sizes).
9.
A curl control jelly formulated with organic blueberry extract so every day can be a good hair day.
Promising review: "I have very fine 3a curls and a lot of products weigh my hair down — not this gel! I applied the blueberry leave-in conditioner to soaking wet hair followed by this gel, and my curls came out amazing! Great definition, no crunch, yet great holds. My curls are soft and bouncy as well. Will definitely be a staple in my hair routine!" —Bethany
Get it from Target for $19.79.
10.
A Shark Tank-famous hair moisturizer handmade with no parabens, formaldehyde, mineral oils, or phthalates. That means your curls will be naturally glistening and soft.
CurlMix is a Black-owned, family-owned small business based in Chicago that makes clean beauty products for curly hair. 
If you're looking for more Black-owned curly hair products, check out our list!
Promising review: "I have color-treated hair, which tends to run dry with my normal routine of Dove mousse and scrunch spray. I purchased the moisture and the gel. I have been using the combination of the two products for three weeks and almost immediately noticed a difference in my hair. Not just the way it held my curls for longer or felt so soft and healthy...but I noticed that it was NOT falling out by the clumps when I washed my hair. I only use my fingers or a wet brush with conditioner and practically no hair came out?! I wasn't expecting that result and am super happy with how my hair has responded to product. I have to recommended this for my curly-haired people! Great value!" —Lauren
Get it from Amazon for $27.98.
11.
A MopTop Curly Hair Custard which uses natural curl-activating ingredients like honey, nettle, and silk amino acids to make your all your curls come out from wherever they're hiding.
Promising review: "I've been using this for my type 2c/3a hair and it works so well!!! It smells great and helps my curls to form better and holds them really well!! This is one of my holy grail hair products for sure! My first bottle lasted me a year! Great bang for your buck!" —Amari
Get it from Amazon for $15.99.
12.
A curl defining cream if you're tired of hair products leaving your hair dry and crunchy and want the soft, pampered curls of your dreams.
Rizos Curls is a Latina woman-owned hair care company formulated for curly hair of all types.
Promising review: "This is my holy grail. I've been using this product since early 2019. I am Latina with fine 3a curls and my hair is on the frizzy side. This product gives me ringlets; without it, my ringlets are more like loose curls with little definition. I've purchased more bottles of this than I can keep track of and really feel that this product is meant for me. If you have a similar hair type to mine I would 100% recommend. Any Type 3 curl pattern would love this product." —Lindsay
Get it from Target for $21.99.
13.
A deep conditioner for damaged or dry 3a curls that need to be treated to a spa day. This hair treatment is designed for all hair types, but reviewers with curly hair say it works wonders for their hair.
Here's to having good curl days forever!