"Scare Tactics" Was The Wildest Show To Ever Air On TV, And I Need To Discuss It Right Now
Finally, a prank show for people who hate their friends!
Hi, I'm Allie, and if you're brand-new here, my whole personality is the horror genre.
And there's absolutely NOTHING I love more in this life than reminding people of very weird horror-related things that did, in fact, happen, but that some of us have completely forgotten about...which brings us to the point of this post.
I'm here today because I want — NO, I NEED — to talk about the TV show Scare Tactics. You may remember it as a Syfy channel show (back when it was the "Sci Fi Channel") that felt less like a thing you really watched and more like a fever dream you had — but alas, it's real.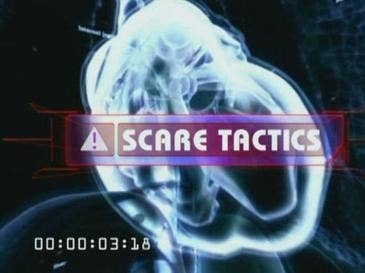 So, what exactly WAS Scare Tactics? Let me do my best to explain: Scare Tactics was a hidden-camera "prank" show where people were set up by their friends — and by "friends" here, I mean people who I can only assume hated their guts — and tricked into horror movie–themed situations, ranging from alien abductions to bigfoot encounters to witnessing the birth of Satan's baby.*
The show — which is almost aggressively early 2000s in its aesthetic and presentation — ran for two seasons in 2003 and 2004 before going on a looooooooong hiatus, but received a third and fourth season in 2008 and 2009, and a final fifth season in 2013.
All right, so let's cut the chitchat: I bet at this point you're wanting to see one of these "pranks" in action, and I promised you Satan's baby. I'm a woman of my word:
Great! That was a thing we all watched and can acknowledge actually happened. So now, let's break this whole "prank" down, shall we?
A nice, unsuspecting young woman named Brittany is set up by HER OWN MOTHER to believe that she "got her a job answering phones" in an urgent care center. There's so much to unpack here, but we don't have time; Satan's baby waits for no one.
The job starts off pretty chill, but gets dramatic REAL QUICK when a man comes running into the reception area, frantically claiming his pregnant wife is in labor.
As Brittany aids the doctor in getting the woman into the office, the doctor and husband start talking REAL sketchy about "Him." (Spoilers: It's the devil, y'all.)
Now, for your first night on the job, this is already scary enough, but things escalate quickly here on Scare Tactics and poor Brittany is asked to go into the delivery room to "help" the doctor.
Anyway, yaddy-yadda-yadda, the pregnant lady is being weird, the husband is being weird, the doctor is being weird, some spooky guy they claim is their "priest" shows up and he is REAL weird, but then, the pièce de résistance...
...It's revealed that everyone is being weird because it's the devil's baby. Which is not a baby at all, but an actual adult man wearing red underpants (an excellent touch), who proceeds to straight-up assault the doctor upon his entry into the world.
After leaving poor Brittany to scream in terror for a solid 30 seconds, the "priest" delivers the truly infamous Scare Tactics reveal line, which, frankly, sounds like something a movie serial killer would say right before murdering you. Then her mom comes in like, "LOL, got ya!" What is/was this show???
What's that, reader? You have time to watch one more??? Okay, I got one for ya — and it's a personal favorite:
In my opinion, the most famous (and accidentally hilarious) prank ever pulled on the show was when they convinced a passionate animal rights activist that he was trapped in a room with an experiment-gone-wrong that resulted in the creation of a "rat man." This is real. This really occurred and was burned onto film and also my memory:
I won't break this one down because I INSIST that you watch it if you haven't had the pleasure. It's iconic. You cannot convince me that this is NOT art in motion and — to this day — I still say, "There's, like, a little monster man running around in here!" a minimum of three times a week.
So yeah...that's Scare Tactics. It TRULY remains one of the wildest shows ever to air on TV, and I NEED for everyone to remember it/know about it. Also — if you're wanting to watch more of this beautiful disaster — the show's most recent two seasons are available to watch in full on Netflix, so HAPPY. FREAKIN'. HALLOWEEN. Y'ALL.