Here Are Some Details You May Have Missed In The New "Star Wars: The Rise Of Skywalker" Teaser
Rey makes Sith look good.
So, you can imagine my excitement this weekend when BuzzFeed attended the D23 Expo in Anaheim, CA, where we were treated to this INCREDIBLE "special look" at the upcoming finale to the Skywalker saga, Star Wars: The Rise of Skywalker.
With all of this in mind, please allow me to read WAY too much into every shot of this teaser trailer for you:
The minute-long teaser begins with a solid 30 seconds of old, classic footage from the original trilogy and the prequels, as if to say, "Hey, look how far we've all come."
Then, we get our first shot of brand new footage, which features the whole original Force Awakens gang (plus Chewie and C-3PO) back together again, approaching an unfamiliar city.
Next up, we have a never-before-seen shot of General (Queen of my heart) Leia on a very tropical-looking planet. SO. MANY. NEW. LOCATIONS.
But we're quickly thrown into outer space, where we get a very DAUNTING look at the remainder of the Resistance coming face-to-face with a MASSIVE group of Star Destroyers that look more like the old Imperial ships than the newer First Order ones...will these house the new Sith Troopers?!
Then, a startled-looking reaction from our beloved Finn, and the newest member of the gang, Jannah.
WHY DOES C-3PO HAVE RED EYES?! Get him to a doctor, stat! Or is he ALSO a Sith lord now?!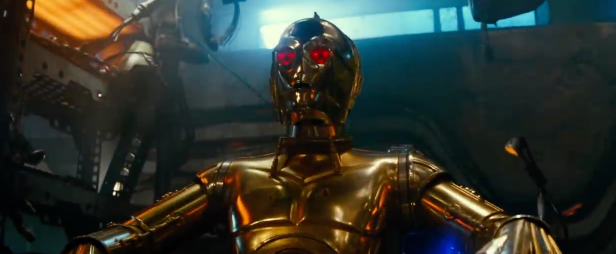 Then, we get this absolutely brilliant shot of my one true love throwing her laser sword through a freakin' tree and using the freakin' force to freakin' catch it because of course she can freakin' do that.
Next up is a shot of the universe's only walking, talking trash bin strutting through a VERY foggy-looking planet. It's the MOST emo thing I've ever seen, and he's living for it.
Then we cut to an all-out lightsaber battle between Kylo I'm A Human Nightmare Ren and Rey-by my baby...but what's that wreckage in the back right corner? Are those the remains of the Death Star II that we saw in the first teaser?!
Because it definitely looks like it, and it's in the ocean...just like it appears in the first teaser!
Anyway, the teaser closes with a cut to black, then a sinister-sounding voiceover from Darth Sidious aka Emperor Palpatine, stating, "Your journey...nears its end," before cutting to THIS SHOT OF REY LOOKING VERY, VERY SITH WITH A DOUBLE-BLADED LIGHTSABER.
Here's some archive footage of me seeing this shot for the first time at the D23 Expo, where I was supposed to be reporting as a professional person and instead lost my damn mind:
Like...can we just...for one moment...LOOK AT HER.
Is this a force vision? Was she somehow cloned? Did Sidious' ghost get to her? What. Is. HAPPENING. I guess I'm just supposed to WAIT to find out?!
My only other note on this sneak peek is that there is a DISTINCT lack of BB-8 and his new buddy, D-O.
So, there ya have it. We're a mere four months away from the release of the film on Dec. 20 — and we'll HOPEFULLY get at least ONE more trailer before then — but, until then...what do y'all think? Did you notice anything else worth noting in the trailer? Share your thoughts in the comments below!