Keanu Reeves Is In The New "SpongeBob" Movie, "Sponge On The Run," And I Cannot Stop Laughing
"I'm ready, I'm ready!" — Me, an adult woman, on my way to see this movie.
2019 will go down in history as the year of Keanu Reeves and — to paraphrase Miranda Priestly in The Devil Wears Prada — no, that wasn't a question.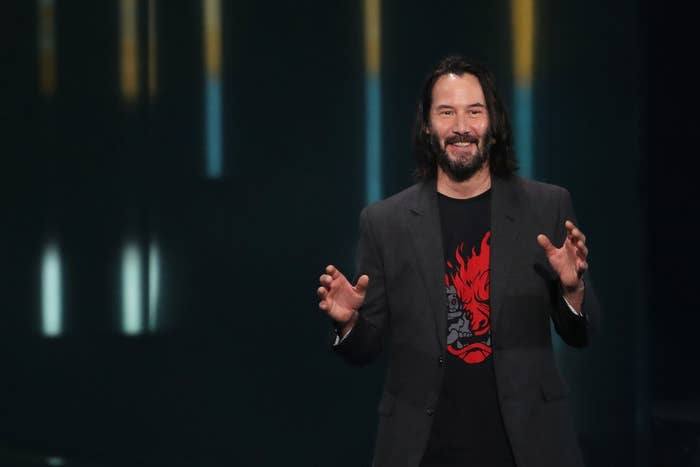 And today Keanu continued his reign over all of our hearts, minds, and spirits into 2020 by making a surprise cameo in the most unexpected of places — the trailer for the newest SpongeBob Squarepants movie, Sponge on the Run.
The new film sees everyone's favorite titular talking sponge, SpongeBob, discover that his pet and best friend, Gary, has been SNAILNAPPED.
So, naturally, he and the gang must band together and go on a perilous adventure outside of their beloved Bikini Bottom to find him.
And it appears that — during their journey — they come across a wise bushel of sage aptly named Sage...it's Keanu, y'all. It's John Wick.
Seriously, take all of my money now, I'll explain it to my student loan provider at a later date. This is hilarious.
And OF COURSE fans were beyond excited for this cameo.
Because — let's all be real for a second — this is one of the last places we'd expect a live-action cameo from Mr. Baba Yaga himself.
With many noting that, while it's a privilege to have Keanu in your film, it's also pretty darn cool that Keanu's in a SpongeBob movie.
So yeah, there ya have it! I love when I receive a gift I didn't expect right before the holidays! Be sure to catch SpongeBob and all his friends, old and new, when The SpongeBob Movie: Sponge on the Run hits theaters in May 2020.