Back in July, during San Diego Comic-Con 2022, Keanu Reeves surprised an audience full of fans with the first teaser trailer for the highly anticipated John Wick: Chapter 4, and — despite the teaser only being a minute long — it did a lot to get fans of the franchise hyped for the next entry.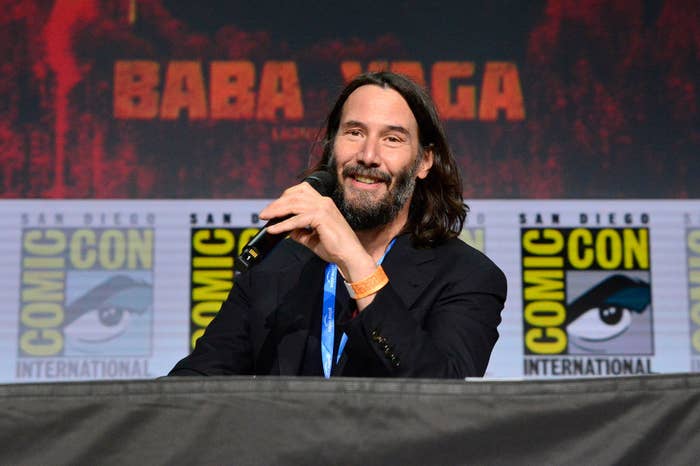 Well, today we got our first full-length trailer for the fourquel(?), and I mean it when I say holy heck, y'all!
It looks like our story picks up right where we left off, with John (Keanu Reeves, of course) still on the run from the High Table, desperately looking for a way out of his current circumstances — you know, the circumstances where he's being viciously hunted by hundreds of assassins?
However, it appears he may have found an option to get out, courtesy of Winston (Ian McShane): challenging the Marquis de Gramont in "single combat."
If he wins, he's out. If he loses, he's dead. However, no matter what, he must meet the marquis at sunrise or be executed, which — given the trailer — may prove to be the biggest problem of all, having to fight just to get to the fight.
Also, the casting in these films remains incredible, and this cast includes the likes of Donnie Yen, Bill Skarsgård, Laurence Fishburne, Lance Reddick, Clancy Brown, Marko Zaror, Scott Adkins, Hiroyuki Sanada, Ian McShane, Shamier Anderson, and Rina Sawayama.
The movie, of course, looks unbelievable. I will never get tired of this franchise. I will keep going to see them as long as they keep making them. I will go see John Wick: Chapter 35 in theaters as my dentures fall out of my mouth while I try to eat popcorn.
Also, this trailer specifically continues the long and proud history of the John Wick franchise using some A+ music choices in their trailers, with the expert choice of "Seasons in the Sun" for this one (the use of "The Impossible Dream" in the trailer for the third installment is still one of my favorite song choices for any movie trailer ever).
So, what did you think of the trailer? Share your thoughts in the comments below! Oh, and be sure to check out John Wick: Chapter 4 when it hits theaters March 24, 2023!