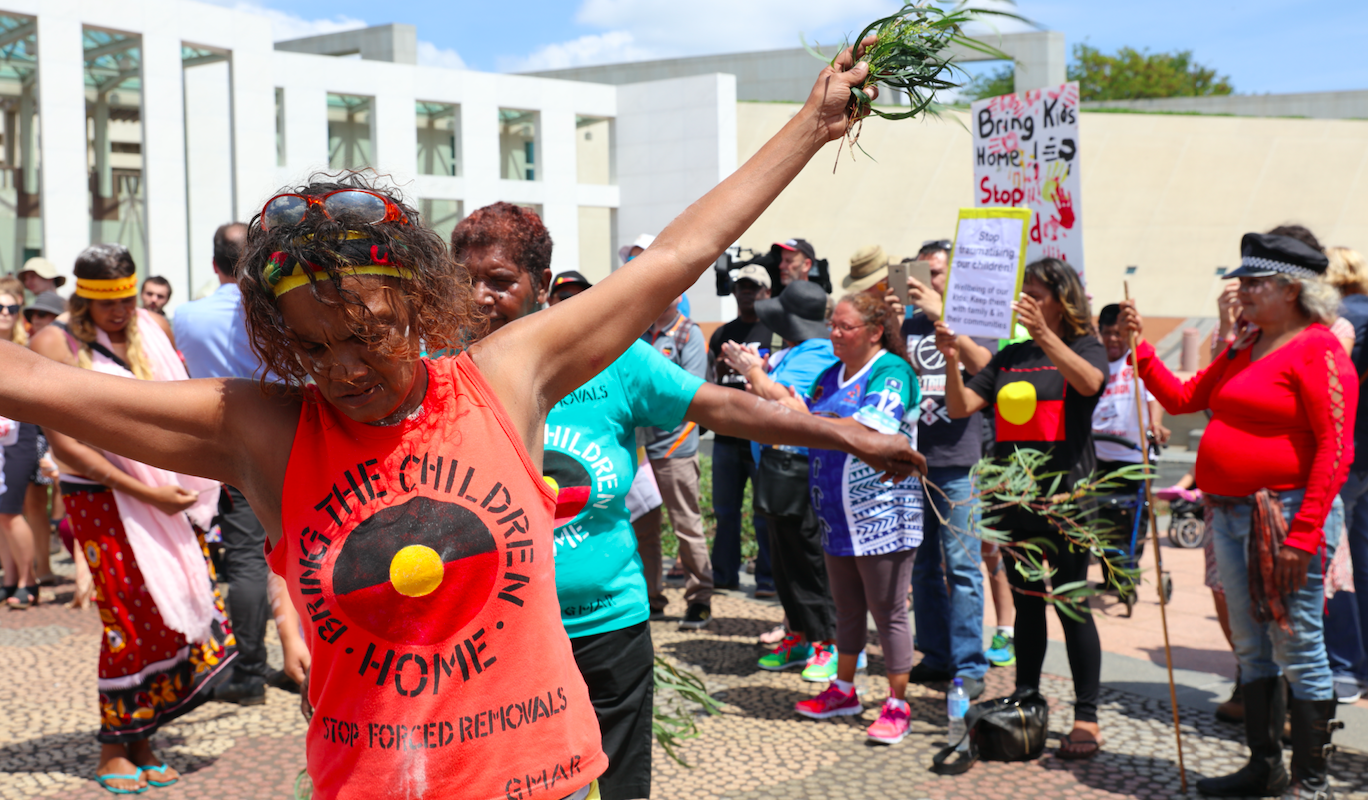 Hundreds of Aboriginal and Torres Strait Islander grandmothers from all across the country marched to the steps of Parliament House on Thursday, demanding an end to the high child removal rate of Indigenous children.
The majority of elders participating in the protest were members of the stolen generation themselves, snatched from their families as children as part of official government policy.
Today, they say that line of removals remains unabated and continues to tear families apart, deny Indigenous children their culture and creates a new generation of lost children.
The women are part of the Grandmothers Against Removals action group, a national collective made up of women from across the country, with groups operating everywhere from the remotest parts of Western Australia to the centre of Sydney.
The stark reality is more Aboriginal and Torres Strait Islander are being forcibly removed from their families and placed into out of home or foster care than ever before. In the past 15 years the rates of children being removed has increased by almost 400%.
There are around 15,000 Aboriginal children currently in care, a disturbing number when compared with 2,400 in 1997. The most common cause for Indigenous child removals was for neglect, a wide-ranging category that encompasses many things. Neglect accounts for 40.6% of Indigenous child removal cases.

There is not one Indigenous family in Australia that is immune to this issue. BuzzFeed News sat down with some Aboriginal grandmothers to hear their stories.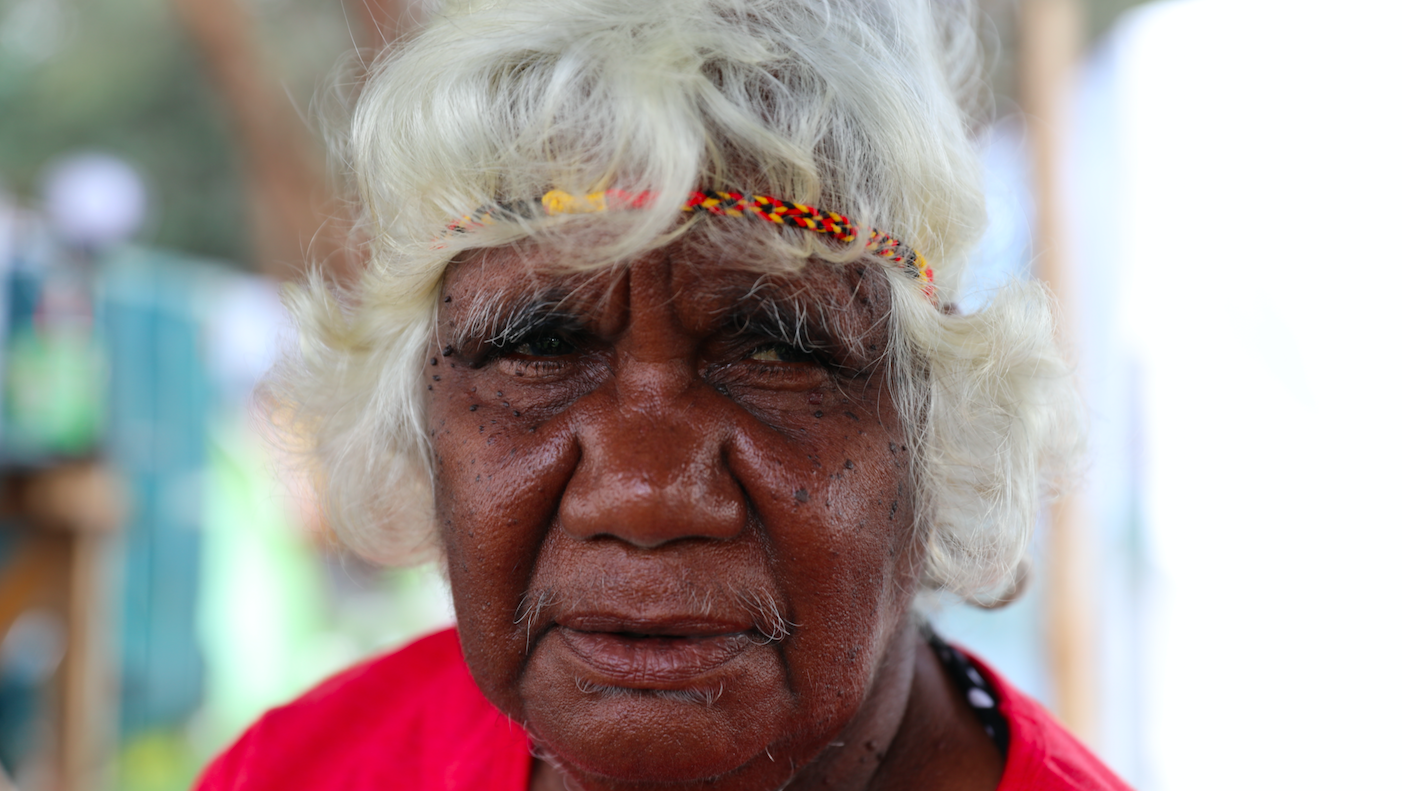 Heather Samson, 63, is a Martu elder who made the trip from Newman, in the remote Pilbara region of Western Australia, to Canberra.
Samson was raised on Jingalong mission, the government controlled mission famously featured in the Phillip Noyce film Rabbit Proof Fence.
The movie told the remarkable true story of the forcible removal of three girls from Jigalong to the Moore River Native settlement in the 1930s, and their extraordinary attempt to return home after escaping.
Samson vividly recalls the government cars coming to take children away to homes.
"I would be running away from government people. Going out bush, running away and hiding from them," Samson tells BuzzFeed News.

"I was put in a girls dormitory, and when I finished school I finally went home to family.
"Today it has to stop, we have to stop taking kids today.

"We want our grandchildren to be home with us, we don't want anything to do with the protection services taking our kids.
"Our kids are going to lose their mother culture. We lost so many kids. A new lost generation. When mothers have newborn babies they snatch them off their mothers, I have seen it."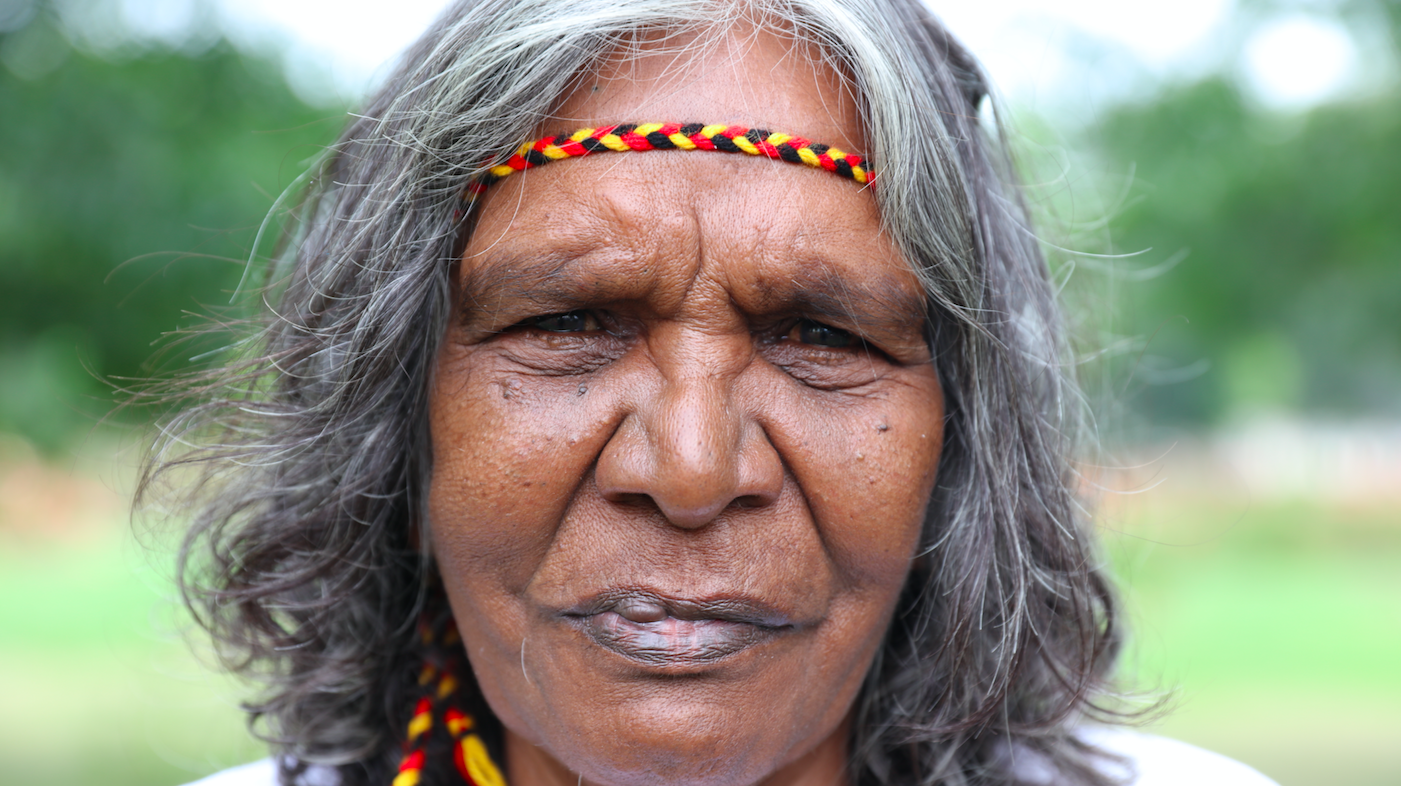 Barbara Moore, 65, is a Noongar elder from Perth who's been fiercely fighting to have her 14-year-old granddaughter placed in her care.
"I have come to the Aboriginal tent embassy here in Canberra to stand with all the other grandmothers from north, east and west, in unity, we must fight for our children, our grandchildren, our great-grandchildren," Moore says.

Sitting at the Aboriginal Tent Embassy, Moore clutches a bundle of white documents. They are her granddaughter's case file. The candid transcripts of discussions between the police and child protection services is disturbing, calling the terrified nine-year-old a flight risk who may need police intervention.
Moore's mother was taken from her family by the government, history would repeat itself with Moore and then again with her grandchildren. She had 16 grandchildren, 10 of them are currently in foster care.

"My mother was from the stolen generation, I myself was one of the stolen generation. I was under the Native Welfare Act at the time, so I was put in many homes, so many institutions, and I worked like a slave. Cleaning silver, polishing floors doing laundry for white people".
Moore had hopes of things getting better when former Prime Minister Kevin Rudd made the historic apology to the stolen generation in 2008, but she says things have gotten worse.
"It's time this has to stop. When you say sorry, you mean sorry and you don't do it again. And as far as closing the gap, there is no such thing as closing the gap for us. We are still here struggling, fighting to get our grandchildren back. Forced removals have to stop," Moore tells BuzzFeed News.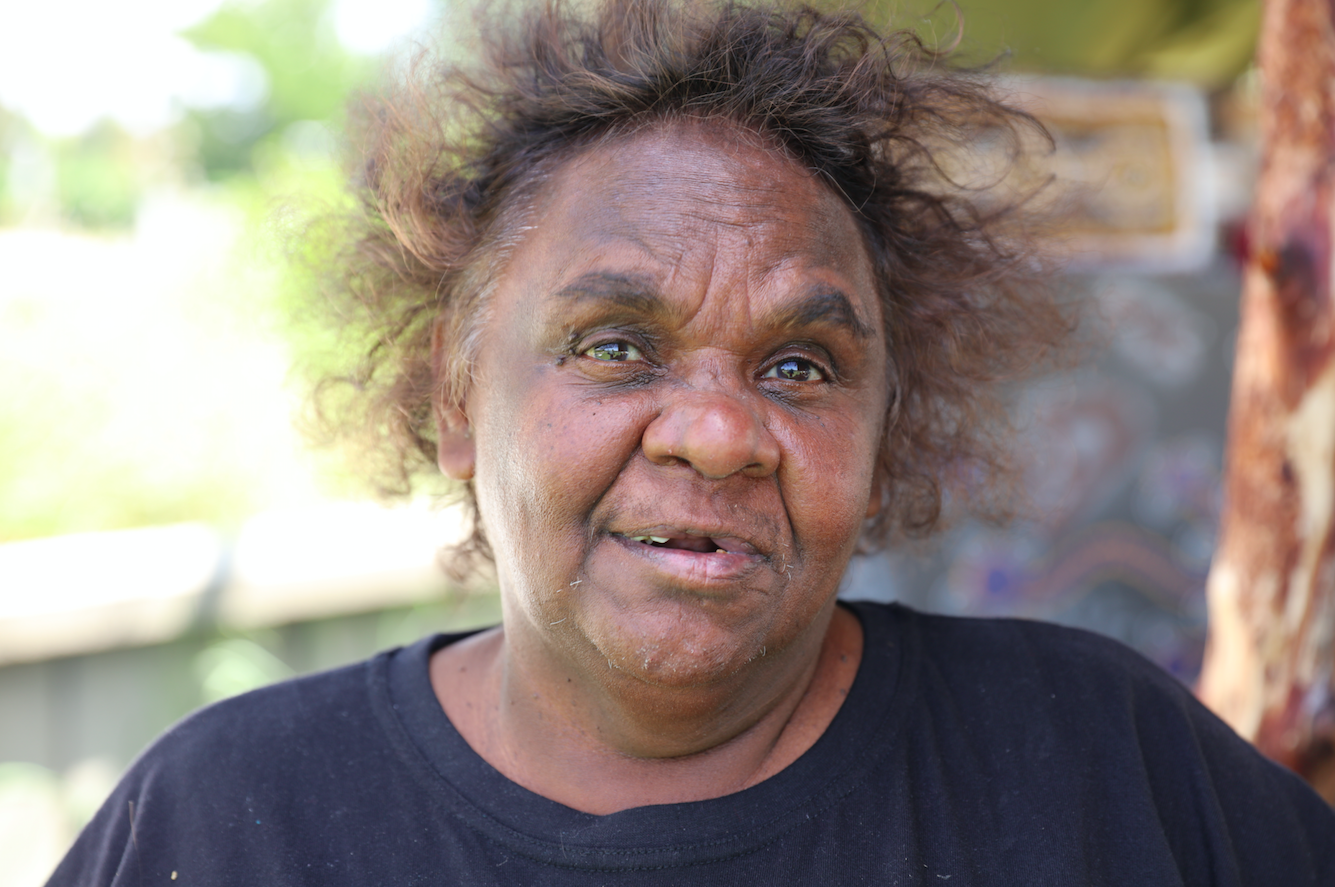 Cephia Williams is an elder from Chinchilla in regional Queensland, who grew up on the government-run mission in Cherbourg.
She's a formidable force when it comes to the fight for ensuring Aboriginal children in care stay connected to culture and family.
"We go to the minister's table and we don't leave the office until we get answers".
Williams was one of the co-founders of the 'Sovereign Grannies' group in Brisbane who've had incredible success at lobbying the Queensland State Government and Queensland child protection services to place Aboriginal children in care with Indigenous families or back with their own families.

"We have been succeeding, we've had about 14 placements put back with families, they are in drug-free, alcohol-free, domestic violence free stable homes. We collaborated with networks around us. If the parents have drug and alcohol issues, get them help".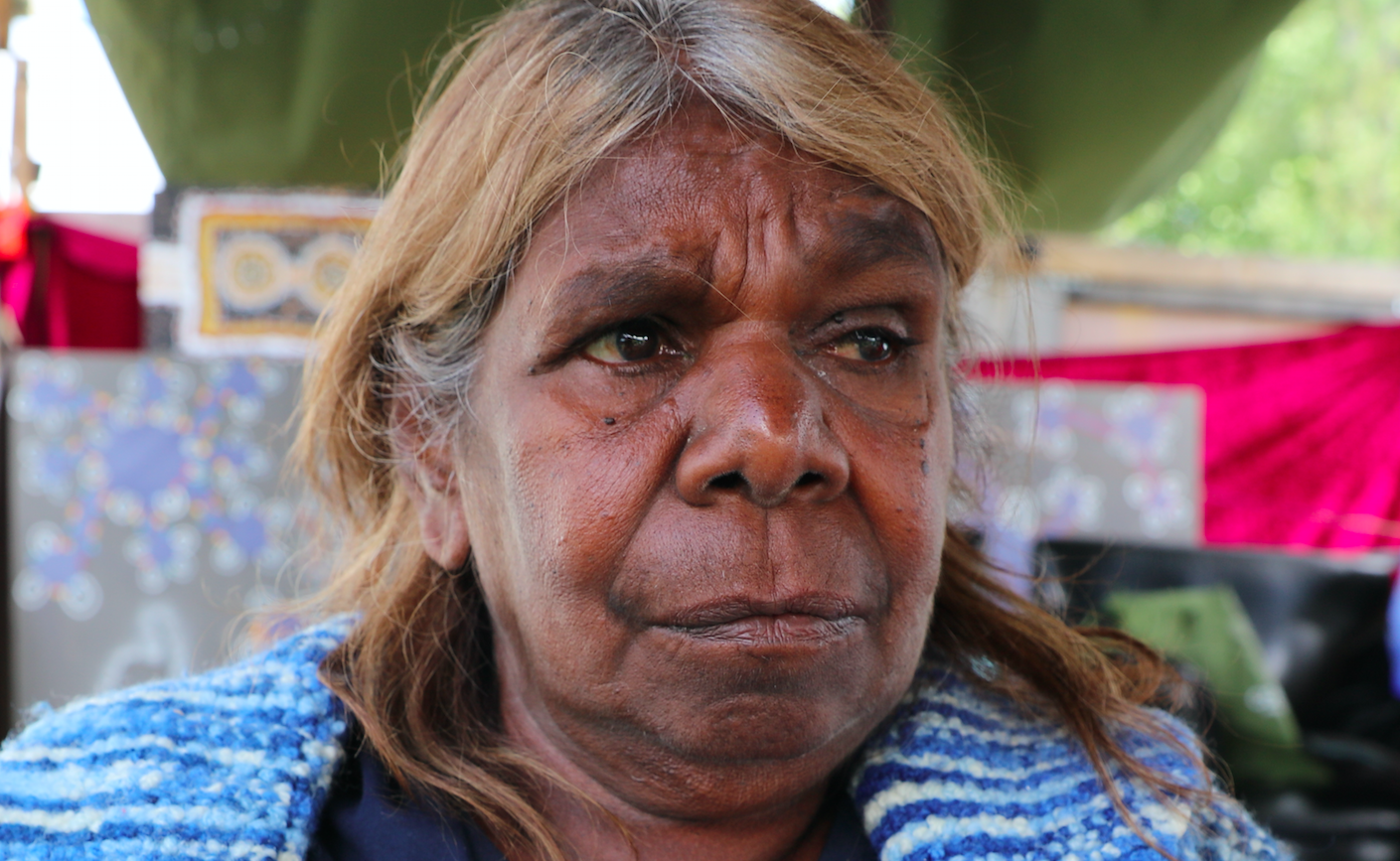 Heather Samson is a Martu elder who travelled over 5000 kilometres from her traditional lands in the Pilbara region to march on the Parliament House forecourt in Canberra.
Samson grew up terrified of the white government workers who would visit the mission, watching her friends, cousins, siblings and family members taken away in black cars destined for children's homes.
"Government coming in stealing our people," she says.
"It was terrible back then. Every Friday the police were out, collecting people, come and collect kids. We would have meetings us little boys and girls, we would get together because we would see the police vehicle come in and we would run out to the desert and hide," Samson tells BuzzFeed News
Samson says that removals of children without an ongoing direct contact or strongly enforced cultural education for all foster carers means the government is committing cultural genocide.
"We as old people want them kids to grow up and recognise themselves, recognise their identity. They are Martu. That is their tribe. I don't want them to be lost".
"They [the government] don't know. You can't change a little person's life. He or she will be worrying, little kids can easily die because of worry, they'll be fretting for their culture".