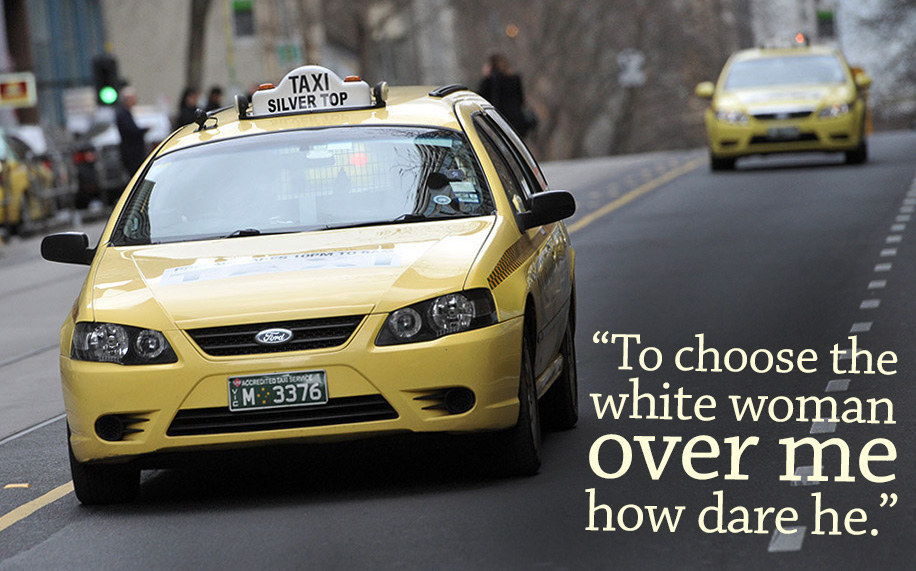 On April 20 this year, respected Koorie elder Lyn Austin stood outside the Northland Shopping Centre in Preston, a suburb in Melbourne's northern suburbs.

With driving cold rain and an icy wind starting to slice through the air, Austin stood patiently at a cab rank outside the centre, shivering and clutching bags of groceries that would feed her and her four-year-old grandson.
Austin saw a flash of yellow coming toward her and was relieved that a taxi had arrived.
"I was waiting at the taxi rank a good 20 minutes and I tried to get in and he said, 'No, no: ash only'. I thought, here we go again, not this rubbish."
"He [the taxi driver] just plain refused me. Then a non-Indigenous lady walked out of the shopping centre and he put her straight in the cab, no asking if she had cash or a taxi card. I stood there for at least another 15 minutes waiting for another taxi and then ended up getting a chest infection later."
Austin says she knew immediately that the refusal was because she was Aboriginal.
"To choose the white woman over me, how dare he. Who the hell does he think he is to embarrass and humiliate me like this? This racism is just not acceptable and I don't accept any of this sort of behaviour."

Austin says it was the fourth time in a year that she had problems with the taxi driver, and she is far from alone.
Victoria's peak taxi and hire car regulator, the Taxi Services Commission, has told BuzzFeed News that they've had three official complaints in the past year regarding racial discrimination. Two of those complaints were related to a request for pre-payment.
But those are just the very tip of the iceberg. Incidents of racial discrimination by taxi drivers are grossly underreported and the complaints lodged at the commission don't represent the number of complaints that have been lodged with the other organisations, legal services or the police.
"Any drivers found to have refused a fare on the basis of a passengers race, gender, sexuality, culture or beliefs are fined $379 and have their right to drive a taxi reviewed," a spokesperson for the commission tells BuzzFeed News.
Austin, who is disabled and can't use public transport due to a number of falls on buses and trams, was using a Multi Purpose Taxi Program (MPTP) card, issued by the Victorian Government. The card offers a subsidy on taxi rides for those with physical impairments.
"I'd had problems with this taxi driver before. It actually started last year, the cab driver was taking me and my grandson from Northlands Shopping Centre and was dropping us off at my house. He didn't know how to work the machine, even though I explained to him, you swipe it and press the button," Austin says.
"The driver then started carrying on and getting aggressive and abusive and he actually rang up someone from the taxi company. Then he punched the dashboard and got abusive with the person on the other end of the line".
According to the commission all taxi drivers must accept MPTP cards and if found guilty of refusing face a $379 fine.
Austin didn't lodge her complaint with the commission, instead contacting The Victorian Equal Opportunity and Human Rights Commission, who believes she has a solid case.
---
For years, Austin has fought for equality. She was the chairperson of Stolen Generations Victoria, a support group for those Indigenous people forcibly removed from their families by the government, fighting for compensation for the abuse and trauma suffered.

The latest incident was just the latest in a long line of incidents of racial discrimination that Austin has had to endure since her childhood.
As a 10-year-old she was forcibly taken from her family because of her Aboriginality and placed into the notorious Ballarat children's home, which has since become synonymous with unimaginable abuse and cruelty. Later adopted out to a non-Indigenous family, she and the couple's other adopted Aboriginal children suffered horrendous abuse. Austin would later go on to successfully sue the family for compensation.
In 2000, Austin successfully took retailer Liquorland to court for racial discrimination after being denied service and then thrown out of a bottleshop because of her race.
Fifteen years after that Liquorland incident, and decades after being stolen from her family, Austin's words are tinged with anger, exploding rapidly from a clenched jaw, frustrated that she's still fighting for acceptance.
"You know it, I've been around and worked hard all my life and dedicated my life to my community and the Stolen Generations. I was fuming, so I called up the human rights commission the next day and said this behaviour is not acceptable, especially when you consider I use cabs on a daily basis as my mode of transport".
Austin says the Victorian Equal Opportunity and Human Rights Commission (VEOHRC) is helping her take legal action and that a hearing is set to take place next year. Aside from compensation, Austin wants to see comprehensive and compulsory driver training and education reform within the industry.
"I want an apology from the driver and the taxi commissioner over this incident. The driver needs to have training, people training, like how to deal with all people from different nationalities and disabilities. And I want to be compensated. Simple as that, you don't know how embarrassed I was to be left standing there. He picked up a non-indigenous person and drove off like nothing, leaving me standing on the footpath in the cold night".
---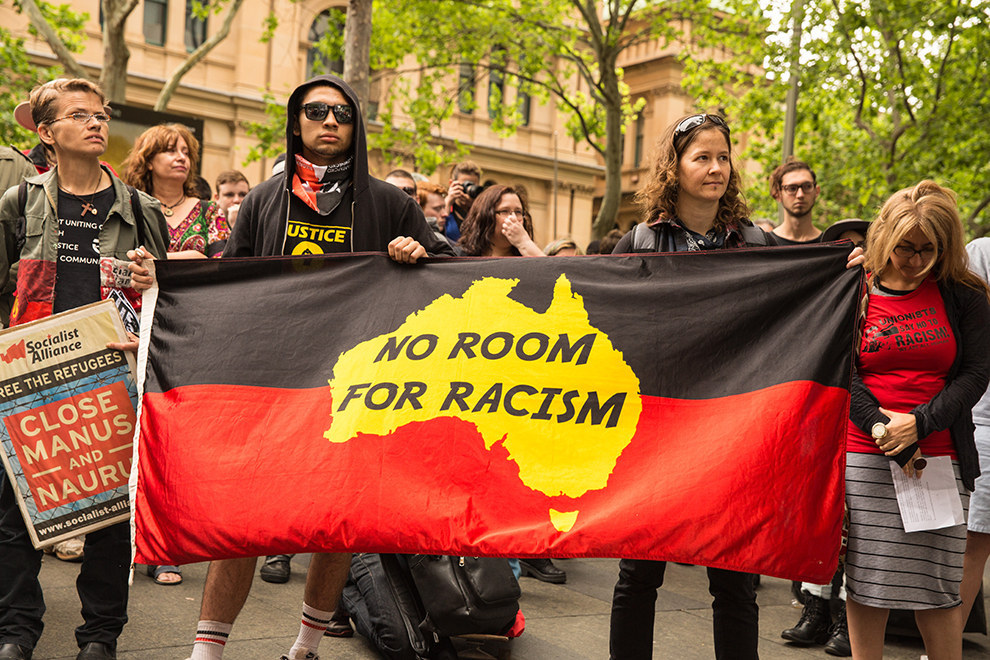 Austin's story is a very common one in the Indigenous community. For every high profile headline, there are countless incidents that go unreported.
Ask almost any Indigenous person and they'll tell you that it's common practice to have a lighter skinned person hail a cab from the street. As veteran Aboriginal actor Jack Charles dryly notes, "we always get the white person or the lightest skinned one in the group get the taxi. This is a common occurrence on the streets for Aborigines. Sometimes we have to take total strangers off the street to hire a cab for us. That's disgraceful".
BuzzFeed News asked VEOHRC for the number of complaints it had received this year regarding racial discrimination within the Victorian taxi industry. The organisation doesn't have specific numbers for taxis but says that racial discrimination complaints regarding goods and services, under which taxi's are included, have been on the rise for the past three years.
In the year 2012-13 VEOHRC received 274 race-based complaints and in 2015 it has received 307. The number of alleged racial discrimination by goods and services, like taxis and retail stores, had jumped from 68 complaints in 2012-13 to 98 this year.
In August, following the Adam Goodes booing controversy, Kate Jenkins, the Victorian Equal Opportunity and Human Rights Commissioner, wrote in a statement, "it is up to all of us to call out racism when we see it. This is a matter for the whole community. It's everyone's responsibility to stand up to racists and say "that is not ok". As bystanders we all have a role to play in changing attitudes and we know that most people want to help put an end to this behaviour".
Earlier this year Aboriginal and Torres Strait Islander Social Justice Commissioner Mick Gooda told VEOHRC's cultural rights discussion that being the victim of racism had made him mentally and psychically sick.
Health experts have longed pointed out the link between racial discrimination and mental health issues.
The Mental Health Impacts of Racial Discrimination in Victorian Aboriginal Communities report by VicHealth is one of the more comprehensive studies on the health impact that racism has on Aboriginal people. Every Aboriginal Victorian who participated in the survey had experienced racism in the 12 months prior to the study and had been the victim of racism multiple times throughout their lives.
The report found that those experiences led to a higher risk of mental health issues, 65% of participants exposed to 12 or more incidents had high levels of psychological distress.
Racism experienced whilst dealing with real estate agencies and public transport were considered triggers for extreme psychological distress and over 30 percent of those in the study said they purposely avoid certain situations in daily life because of fear of racism, inhibiting their ability to participate in activities that other Australian's take for granted.
The Discrimination against Indigenous Australians report released in July by Beyond Blue revealed that one-in-five Australians admitted to openly discriminating when sitting near an Indigenous person, or in a retail environment. One-in-10 thought it was okay to tell racist jokes about Indigenous people and 9% of the population would not hire an Indigenous Australian for a job.

The report also found that the overwhelming majority of those with racist attitudes were unwilling to change their behaviour, and didn't see a problem with their discrimination.
"Negative views and stereotypes towards Indigenous Australians are widespread and motivation to modify behaviours is low for some," – Discrimination Against Indigenous Australians report.
---
If there was ever a perfect example of the pervasiveness of racism in Victoria, in particular the taxi industry, it's crystallised in an incident involving actor and proud Aboriginal man Jack Charles.

Charle's life story has become legendary, from stolen generation member to career cat burglar, struggling heroin addict and successful thespian. That journey captured in the raw and gritty critically acclaimed documentary Bastardy has given the Koorie elder an international cult-like following.
Today Charles is sitting at an organic cafe in Smith Street, Collingwood, just on the fringes of Melbourne's city centre. Once a rough-and-tumble working class neighbourhood bordered by a cluster of tall bleak grey government housing buildings, Collingwood is now a hipster's paradise replete with American-style diners.
Charles sips on his cappuccino and speaks emotively and commandingly, as if on stage, remembering the excitement of being named the Victorian Senior Australian of the Year in October.
"I was so full of life having received Australia Victorian [Senior] of the Year, so happy".
Mingling amongst Victoria's elite that night was a rewarding and heartwarming experience for the boy who had been forcibly removed from his family as a baby for being Aboriginal, and who had endured years of horrific sexual and physical abuse while in the care of the Salvation Army.
The decades that followed saw Charles battle heroin addiction and live a life spent with equal time on stage as a vibrant actor and behind bars as a career burglar.
The award was a vindication for Charles. The establishment had recognised his talents and Charles felt his life had come full circle.
"I thought I had no bloody chance, and then they read my name".
Usually Charles shuns praise but that night he had allowed himself to indulge in the adoration of the crowd. A few hours later that jubilation was cruelly snatched away.
"When I left the Hilton, as usual with us [Aboriginal people] we grab the nearest person with us if they're white to hail the cab, so I did this with my manager," Charles told BuzzFeed News.
"My manager was saying [to the taxi driver], 'I want you to take me to my place and then Uncle Jack to his place and we have a taxi voucher is that all good?', and he said, 'No, he [Charles] must pay cash to me up front,' despite having a Cabcharge."
"He point blank said, 'he [Charles] might not pay at the other end,' I was so upset I said 'I declare you fella to be a racist, you've just racially profiled me and I object to paying you a bribe at 8:30p.m. at night to take me home".
In the second cab Charles got into with his non-Indigenous manager, the driver pointed out that it was common and accepted practice amongst taxi drivers to ask Aboriginal people for their fares upfront.
"The next taxi driver was a gentleman from West Africa and we told him about the incident and he told us that, 'we are allowed to ask Aborigines to pay money upfront'," says Charles who was then refused another taxi a few days later at the airport. The taxi had screeched off when Charles tried to open the door in front of his dismayed manager.
It was the final straw for the actor who has been refused taxis several times in the past few years, many of them well publicised incidents, including a booked cab that refused to take him to rehearsals at Sydney's Belvoir Theatre, despite having his face plastered on taxi advertisements across the city.

Charles doesn't want compensation for the discrimination, he wants to spearhead an overhaul of the Victorian taxi industry.
"The proof is in the rotten pudding. There is something awry with the taxi industry here in Victoria and right around the country. At the moment I am seeking a way forward and I want a roundtable. I want to hear their stories. I want to hear why they are racist towards us and they can't say it's not racist".
Charles is now working with renowned human rights campaigner and barrister Julian McMahon, who represented executed Bali Nine duo Andrew Chan and Myuran Sukumaran, to make the reforms happen. Charles can't reveal what those reforms will look like on paper, but does say he would like to see a heavy focus on cultural awareness for drivers and a policy ensuring drivers are aware of the damage racism can have on Indigenous people.
"Australians don't want to own up to being racist, but we as a nation are significantly racist and people are being raised to be racist. And the migrant taxi drivers who are racist toward the first Australians are obviously learning that from a toxic industry. Someone is telling them that Aborigines are bad, that they don't pay their fare".
As Jack speaks to BuzzFeed News, an enthusiastic blue heeler dog bounds up and almost jumps in his lap, Charles lights up and flashes a bright smile from a mouth that's buried amid an imposing and impressive grey-white beard.
This is Charles' kingdom, he's been living here since he was young, he knows these streets intimately, they served as his home in between prison stints and today he lives in one of those bleak government housing tower blocks overlooking the district.

He jumps on a small red Vespa and before pulling out onto the road he says, "I'm placing myself full at the front against this, trying to make this an issue that goes away".
"We are in 2015 for gods sake, it has to stop now or it will never stop".