Kids Allegedly Intimidated With Dogs, Stripped Naked, And Abused In Detention Centres
"A culture of abuse and secrecy going back many years."
Human rights organisation Amnesty International has released images of incidents involving alleged abuse and mistreatment of detainees, including Indigenous children, in two youth detention centres in Queensland between 2010 and 2015.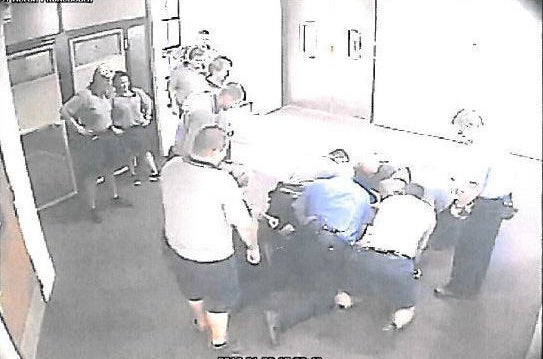 CCTV shows a teen boy being restrained.
"We've shone a light into the dark corners of these detention centres, and found a culture of abuse and secrecy going back many years," said Roxanne Moore, Indigenous rights campaigner at Amnesty International Australia.

"It shouldn't take the probing of an international human rights organisation for the public to hear about terrible abuses suffered by children in detention."
Amnesty acquired the images through a freedom of information request and received more than 1,000 pages of documents detailing incidents at Townsville's Cleveland Youth Detention Centre (CYDC) and the Brisbane Youth Detention Centre (BYDC).
Amnesty listed several horrifying incidents, including a suicidal 17-year-old boy who had 14 staff at the CYDC allegedly hold him down before handcuffs and legcuffs were placed on him for refusing to return to his room. The teen then had his clothes cut from him and was left naked in a cell for an hour and a half, Amnesty reported.
"This case demonstrates both the failure of care for vulnerable children, and the lack of accountability in the detention system," Moore said.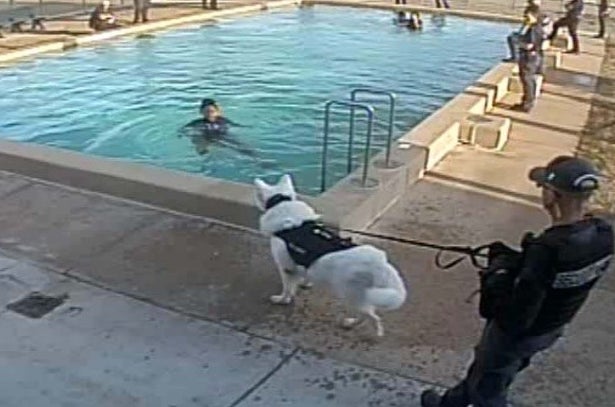 CCTV footage showing a girl being threatened with an unmuzzled dog.
Amnesty also found that:

In August 2015, a guard allowed an unmuzzled dog to approach an Indigenous girl in an "aggressive manner" while she was attempting to get out of a pool. (Pictured above.)
In March 2012, eight Indigenous children were allegedly held in isolation for 10 days in "near-continuous cell confinement" for around 22 hours a day. In the first two days of isolation, detainees were not allowed to leave their rooms at all.
Last year saw 31 incidents of children in the CYDC attempting suicide by "tying ligatures around their necks". This number was up from 20 instances at the CYDC in 2014.
In 2010 at the CYDC there were four incidents in which children suffered fractured wrists as a result of control and restraint techniques.
Children were also asked to squat, with young girls asked to lift their breasts and young boys to lift their genitals prior to squatting, in order to be searched. This is despite the practice being banned in adult prisons.
The majority of the juvenile detention population in Queensland is Indigenous. In CYDC around 89% of children are Indigenous.
Amnesty is calling for an independent inquiry – completely separate from the Queensland government – to be held into the allegations.
Queensland attorney general Yvette D'Ath has responded to the claims, saying: "As Attorney I cannot respond to the details of each and every individual matter, because the Youth Justice Act specifically prohibits the disclosure of details about individual young people who are in, or have been, in Youth Detention Centres – regardless of whether they are now adults.
"However, if there are any allegations that have not been investigated fully or new allegations that are being brought forward, I welcome people to make a complaint and those details will be addressed in a transparent and appropriate manner."

D'Ath was quick to distance the alleged incidents from those that occurred at Don Dale in the Northern Territory.

"I want to be very clear – what we saw in the Northern Territory was appalling," she said. "I note that tear gas, spit hoods and mechanical chairs are not used in Queensland."