This Video Shows A Police Officer Repeatedly Pushing A Young Mother In The Chest
The video is going viral amid accusations of police brutality.
A video showing an Aboriginal woman being pushed repeatedly in the chest and throat by a Queensland police officer in Boondall, a suburb of Brisbane, over the weekend has sparked outrage online.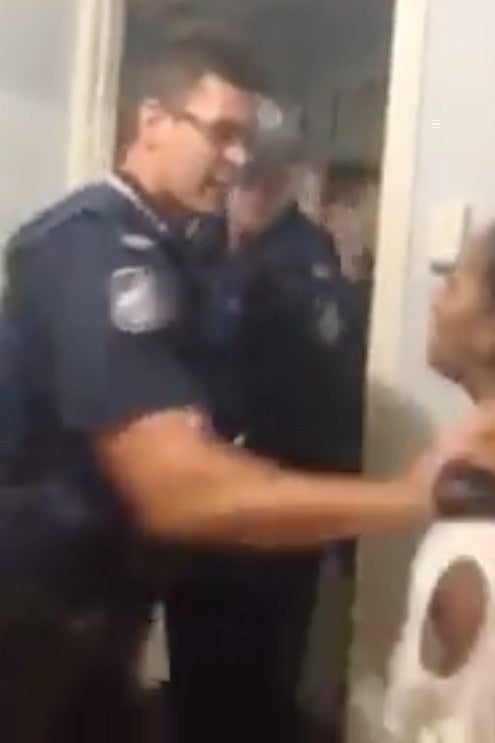 The video, which was recorded on Saturday, shows 30-year-old Natasha King arguing with police officers as they apprehend her 16-year-old son. King is seen repeatedly attempting to get close to her son, screaming, "that's my son, that's my son," as she is pushed backwards five times by the same police officer.
The video also shows the police taking away the teenager as one of his relatives off camera can be heard saying, "he's underage, follow them [the police]." As King, a mother of six, tries to follow the police she is stopped at the doorway by a police officer.
Another officer then yells at King, "sit down and shut up, sit down and do what you're told."
The officer then says to another officer, "you got cuffs mate? Arrest her".
"I'm appalled, he's [the police officer] basically got his hand around her [King's] throat," King's sister Norma Boyd told BuzzFeed News.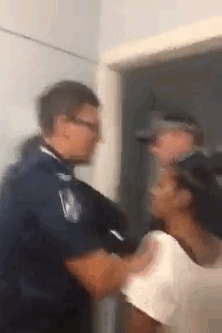 "My sister would weigh less than 60kg, we are only little people and that's force is over the top and excessive," she said.
Boyd says the family has been traumatised by the incident and says that King was charged with obstructing police afterwards.
"What you don't see is that they [the police] dragged my sister out of that house and charged her with obstructing an officer."
"We will not be shoved and pushed around, not in our own homes and not when we are trying to abide by the law and protect our children. That's all she [King] was doing, protecting her son," Boyd says.
Posted to Facebook on Sunday by a National Indigenous Television (NITV) journalist, the video has already been shared more than 400,000 times. Much of the response to the video has been people outraged by what they see as excessive force by the officer, accusing the officers of 'police brutality'.
"This is the most disgusting abuse of power. How dare they treat grown women as if they were children "sit down and do as your told!" Yeah, sure, be a nice compliant Aborigine. I have Aborignal nieces and nephews but I'm a white fella, but I am disgusted by my white peoples actions, now and throughout history," one Facebook user wrote.
"They have been trained to use reasonable force especially on woman. It's abuse!! This needs to be reported," said another.
In a statement to BuzzFeed News, Queensland Police said the officers believed they were responding to a domestic violence situation.
"Police spoke to occupants of the residence and upon hearing further screams from a female occupant, exercised powers under the Domestic and Family Violence Protection Act to enter the house in order to ensure the safety and welfare of all present," the statement says.
"It is alleged that whilst investigating the matter, police were both obstructed and assaulted by persons in the house, resulting in four persons being detained."
"Proceedings were commenced against two individuals by Notice to Appear, with further action to be taken against two other individuals under Youth Justices Act provisions."
"Queensland Police are yet to receive a formal complaint in respect to this matter, however, as a matter of course, police will review all available evidence."