An Aboriginal man has spoken about his time in the Northern Territory youth detention system, detailing several shocking alleged incidents between himself and guards.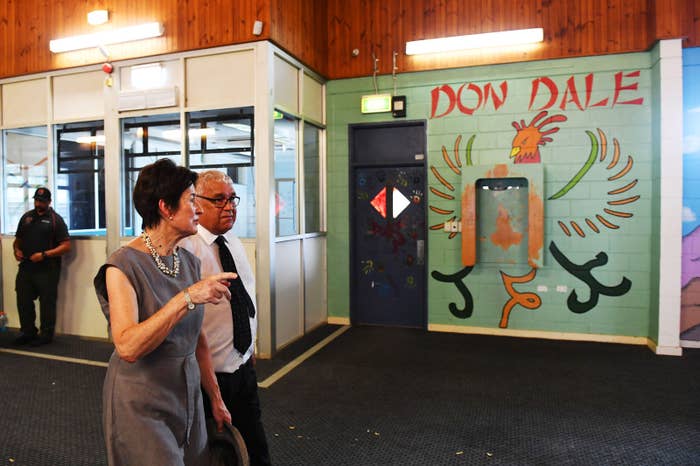 Using the pseudonym BY the teen told the Royal Commission into the Protection and Detention of Children in the Northern Territory that he started drinking alcohol at 13 and dropped out of school soon after.

It was a lifestyle that led him to become involved with the justice system, and he went on to spend much of his teenage years in youth detention.
One alleged incident detailed in BY's statement to the commission was an interaction between BY and a guard who threatened to have prisoners rape him when he was placed briefly into an adult prison as a 17-year-old.
"At the prison one of the guards asked me when I would turn 18," he said. "When I told him, he said, 'Oh, so you'll get transferred back here soon, good, I'll get some of the guys to rape you when you get back'."
BY also alleged that while in the adult prison he was made to shower next to an adult prisoner.
"I was really embarrassed and scared, and I turned to face the wall. There was also a guard standing at the gate watching me when I had a shower."
BY and several other young people from Don Dale Youth Detention Centre were placed into the adult prison in 2011 after they disobeyed staff orders following a fire alarm evacuation.
"I smashed a few windows and a camera with a metal pole," BY said. "I was angry. I threw a chair at the superintendent, Michael Yaxley, which hit him in the shoulder. I also threatened him verbally and with a metal pole, which I had used to smash the windows."
As punishment BY was placed in cells that "stunk like piss, you could smell sewage, it smelt like shit".

BY told the commission he behaved in that way because his trip to Alice Springs for Christmas to see his family had been cancelled after he hit a detainee who was allegedly assaulting another detainee, Dylan Voller.
BY also spoke about an incident in Don Dale after a fellow detainee took a fire extinguisher and sprayed it, thus setting off the fire alarm.
The fire brigade attended and sprayed the cells, leaving them saturated. BY alleged his mattress was too wet to sleep on, and that he had to use his underwear to mop dry a patch of floor.
The royal commission continues its public hearings in Alice Springs on Friday.