Over the weekend, Queensland One Nation senator-elect Pauline Hanson visited the annual Cairns Indigenous Arts Fair and was confronted by Aboriginal activist Murrandoo Yanner who told the former fish and chip shop owner, "You're not welcome here."
Hanson was being filmed for a segment on Channel 9 current affairs program 60 Minutes when the incident took place. It's not the first time Hanson has been publicly accosted by Aboriginal community members frustrated by her hardline approach to Indigenous affairs.
Twenty years ago the same thing happened while Hanson was being filmed – again, for 60 Minutes.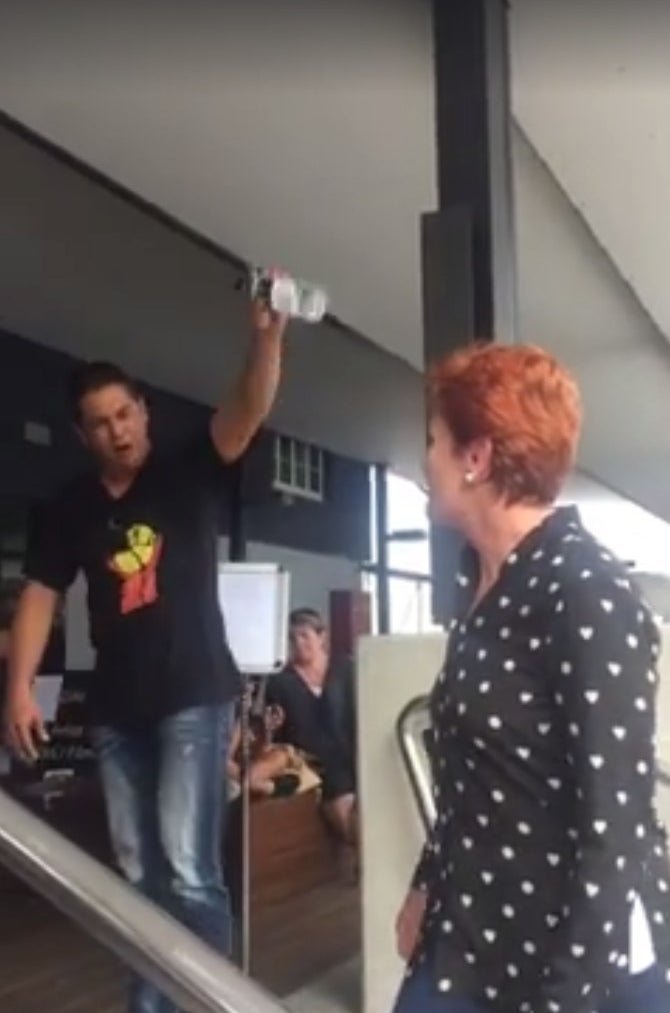 In October 1996, Hanson appeared on Channel 9's flagship current affairs program for what would become her most famous interview, delivering the infamous line "please, explain?" after she was asked whether she was xenophobic.
Twenty years later, it still makes for uncomfortable viewing.
While walking the streets of Ipswich in 1996 a group of Aboriginal teenagers confronted Hanson over her views.

"That's the biggest laugh in Ipswich," one of the teenagers told her. "Everyone hates you."

"I'm not going anywhere," Hanson responded. "Because this is my land and I was born here and I'm not going anywhere. I belong here just as much as what you do – now just because you're Aboriginal is a weak excuse."
An Aboriginal teenage boy was then arrested by police for swearing at Hanson while she congratulated the officers.
But the most tense confrontation in the segment was between Hanson and famed civil rights campaigner Charles Perkins, who died in 2000, as they toured the remote Aboriginal community of Palm Island in Queensland.
"Have you really been the leader that you're supposed to be?" Hanson asked Perkins, who didn't take her comments lying down.
"What have you done since you've been a parliamentarian, except just blast everybody around the globe?" an outraged Perkins responded. "All you've done is carry on with racist, ignorant remarks."
Prior to the 60 Minutes segment Perkins and Hanson had a fiery debate on daytime television.
"She's telling a lot of bullshit and she doesn't know what she's talking about. She's a racist person," Perkins said of Hanson.
"Go to your fish and chip shop – you did very good there, but not out in the public."

And now, 20 years later, history repeats.
"You're not a friend of Aboriginal people. Now you're kicking the Muslims around. You're just a racist redneck with your red hair," Yanner told Hanson at the Cairns Indigenous Arts Fair, one of the country's premier Aboriginal and Torres Strait Islander arts festivals.
"Go back to Ipswich with your fish and chip shop," Yanner said. "Disgraceful. You're a woman lacking moral fibre and you're intellectually dishonest and you're not welcome here."
A bemused Hanson walked away as the crowd cheered Yanner.
And watching it all unfold online was Perkins' daughter Hetti, who took to Facebook shortly after the incident to voice her approval.