Former Australian senator and olympian Nova Peris says she's been inundated with racist slurs and threats of violence over an Australia Day post about past injustices.
On Australia Day, Peris posted a photo of an Aboriginal "certificate of exemption" to her Facebook and Twitter accounts.
The certificate was a replica, made for an SBS documentary, based on real documents issued to Aboriginal people from the 1940s.
Those who received the certificate were given greater freedom in society due to their potential to assimilate into white society.
"It was about recognising the past on a day that we [Aboriginal people] think of all of those who went before us and had to suffer," Peris told BuzzFeed News.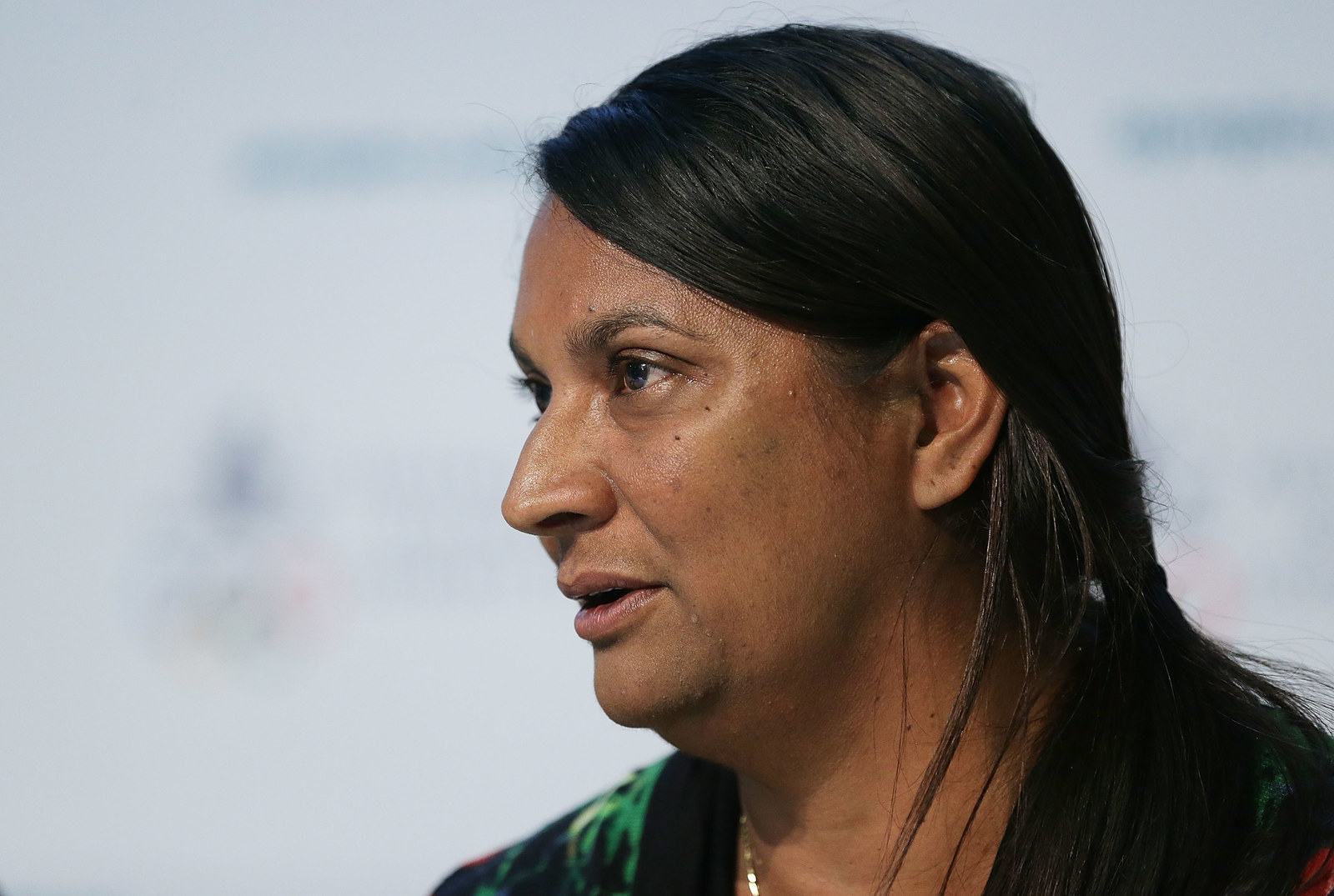 After posting the picture to her Facebook and Twitter accounts, Peris was accused of spreading "propaganda" about the "Stolen Generations myth".

The Stolen Generations refers to the thousands of Aboriginal children forcibly removed from their families by the government with the aim of assimilating them into white society.
"What a load of 'Bullshit' You should be ashamed of yourself. Give yourself an 'Uppercut' you moron," one Twitter user wrote.
"It's FAKE from an SBS doco - you incompetent race-baiting mediocre leftist nitwit."

Peris then posted a real exemption certificate and said it was a way to "pay my respect 2 Elders past & present. I honour their resilience throughout the struggles. Speaking out is important."
Peris, whose mother was a member of the Stolen Generations, says she's been inundated with violent and racist comments about her and her family since Thursday.

"There's some pretty vile and racist stuff coming out," she said. "Accusations and nasty comments. Why are people so confronted over our history?"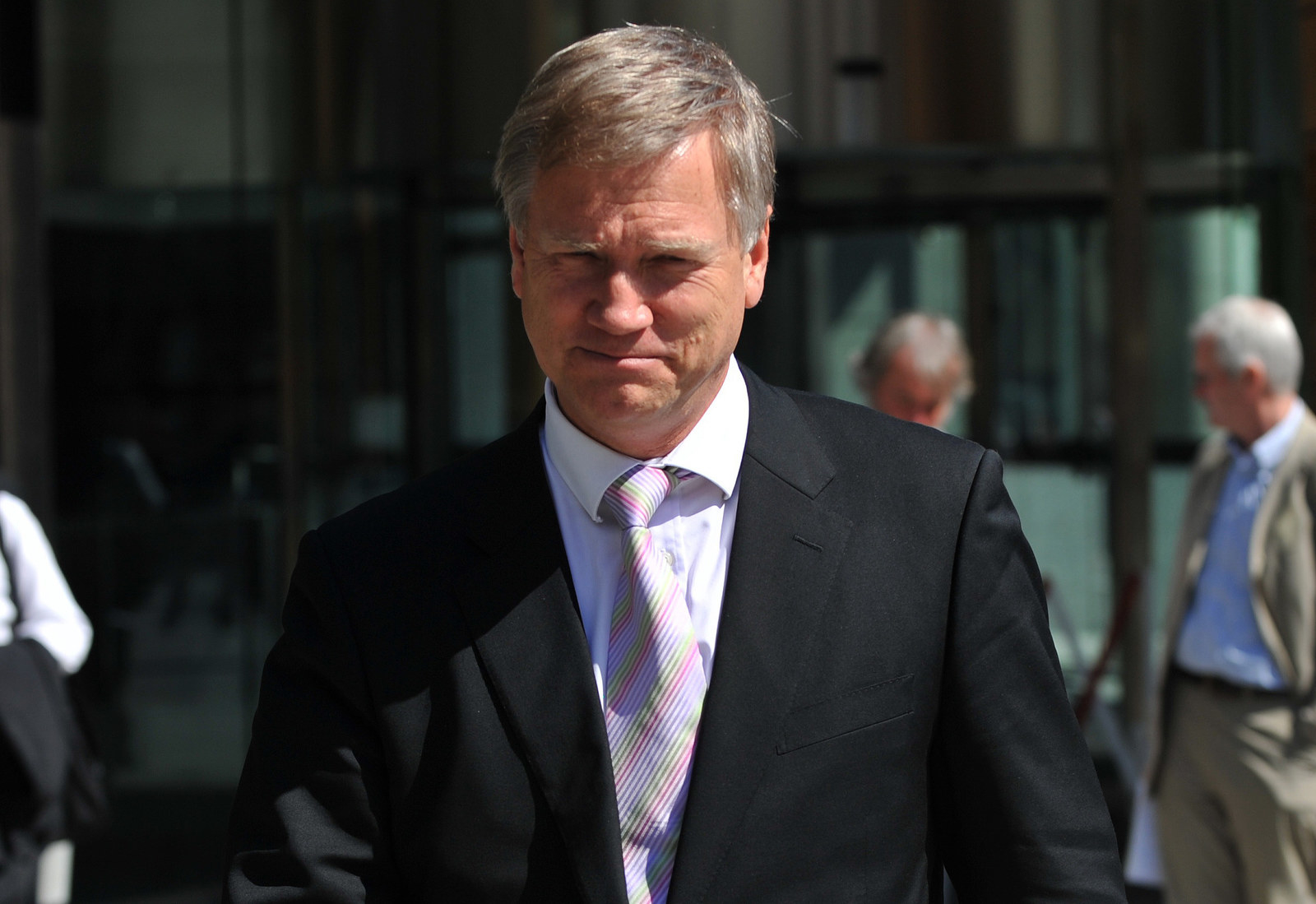 Herald Sun columnist and Stolen Generations denier Andrew Bolt wrote on his blog that Peris was spreading "fake history".
"Australia has been hurt more by fake history than fake news. Nova Peris demonstrates the problem, relying on a fake document and a fake definition to promote the 'stolen generations' myth and exaggerate Aboriginal suffering," Bolt wrote.
Bolt, who was found guilty of breaching the Racial Discrimination Act in 2011, also accused Peris of lying about her mother being a part of the Stolen Generations.
"Peris' mother was not 'stolen' but saved, and here is how Peris in her latest newspaper profile tries to deal with that truth," Bolt wrote, alongside excerpts from Peris' autobiography, in which she talks about her mother being placed in the care of missionaries.
Peris told BuzzFeed News that the accusations about her family were "distressing, misleading and out of context".
"My grandmother lived a horrendous life. No words written or spoken could even compare or describe what she endured as a child. This pain [of giving up her daughter] never went away... She never wanted to talk about the past, too painful."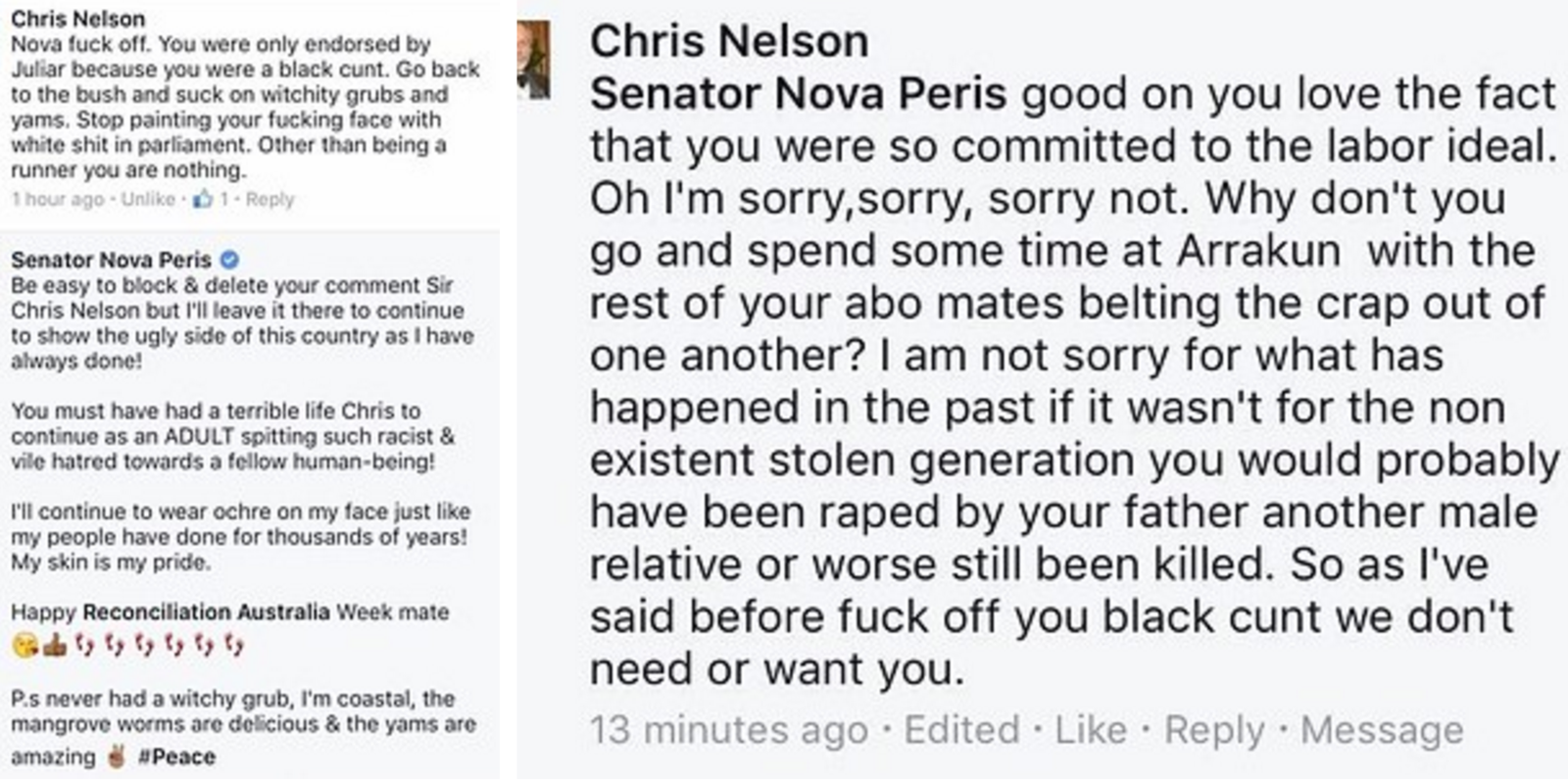 Last year, Peris was subjected to a string of racist Facebook posts by a NSW chiropractor, Chris Nelson, 64.

Nelson called Peris a "black cunt" and told her to "go back to the bush and suck on witchity [sic] grubs".' Nelson was charged and later pleaded guilty in court to publishing the offensive posts.
Peris says despite the online abuse, she has been overwhelmed by the public's support.
"Overwhelmingly the public has been supportive. This is one country with two histories and there are many good people out there. The ability to prosper as a nation is enormous."