Special advisers (Spads) are paid by central government and are styled as so-called "temporary civil servants".
They contrast with "permanent" civil servants: they're political appointees whose loyalties are claimed by the governing party and often particular ministers with whom they have a close relationship. Their advice is likely to be about the political issues surrounding a government policy. Will those bastards on the opposition be able to pick holes in it? And never mind if it actually works or not: will it play well with the general public?
These people are big hitters: they can earn up to £142,668 in their roles. Ed Balls and Ed Miliband, for example, were both special advisers before becoming MPs. Despite their power they lurk, Richelieu-like, in the background, and we hear next to nothing about them. So here are seven to keep your eye on:
1.
Ed Llewellyn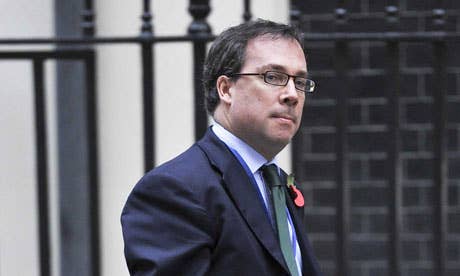 Llewellyn was educated at Eton College and went on to Oxford (a couple of years before David Cameron). He then worked at Conservative Central Office and as an adviser for Chris Patten in Hong Kong and Paddy Ashdown in Bosnia. He's now Downing Street Chief of Staff.
So far, so predictable. What's more interesting are the times he's made the headlines. In 2011 he was revealed as the Downing Street official who asked Metropolitan Police Assistant Commissioner John Yates not to talk to Mr Cameron about phone hacking.
This was the second time in less than two weeks that Llewellyn's name entered the saga. It had previously emerged that The Guardian's then-deputy editor, Ian Katz (who cosily enough, was at Llewellyn's college with him), passed a warning about the News of the World ex-editor Andy Coulson to the Prime Minister's adviser Steve Hilton, who passed it on to Mr Llewellyn. Who, um, did nothing with it.
And this increasingly seems to be a crucial Spad role: acting as a buffer from issues that might get our politicians in trouble. They get their hands dirty so the minister doesn't (see also Adam Werrity's work for Liam Fox, or Adam Smith's for Jeremy Hunt).
Given his career, Llewellyn is well-versed in foreign affairs, and is likely to be taking a central role in Government policy over Syria. In 2011 the Guardian reported:
Those who have watched Cameron and his chief of staff dealing with Libya suggest Llewellyn is the one making policy. Suggesting he knows he is in Llewellyn's hands, sometimes towards the end of the national security council meetings Cameron will ask what he can do to be useful.
Which would perhaps be more reassuring if we'd voted for him.
2.
Kate Fall
David Cameron's other main adviser is Kate Fall. She met the Prime Minister while studying PPE at Oxford, went on to work at the Conservative Research Department, ran Cameron's campaign for Witney and she's now the PM's Deputy Chief of Staff.
This was actually a role invented by Cameron. She was told her brief was to keep him "punctual", for which she's paid £100,000, but let's be charitable and assume there's a bit more to it than that.
What's much more interesting about Kate Fall is that back in the 1990s, she was George Osborne's girlfriend. Of course it would be very easy and indeed tempting to make some cheap jokes about this, but let's be mature. It's interesting for one simple reason: it shows exactly how tight the political circles are from which our current ministers draw their confidantes. And that is important: it's this sense of an impenetrable clique that so enrages the rebellious Tory backbenchers who may, one day, be the Prime Minister's downfall.
3.
Rupert Harrison
Self-made man Harrison pulled himself up by his boot straps, having left Tooting Bec comprehensive at 16 and worked as a plumber's appren - joking. Eton, PPE at Oxford, worked at the IFS etc and now he's George Osborne's chief of staff.
But, but, but. Harrison is perhaps unusual in that no one has a bad word to say about him. He's bright: got the top first at Oxford, which you have to admit takes some doing. He's extremely well-liked: one civil servant was quoted last year in the Telegraph describing him as "Quiet, modest and brilliantly competent." And that takes even more doing, given the perennial dislike most civil servants have for their political counterparts.
Harrison's theory of economic management (in short, make deep cuts, but gradually), is central to Osbornomics. Your mileage for this philosophy may vary, but whatever they say it's the favoured school of thought for most of our parliamentarians.
"I just speak to Rupert, I don't bother with George any more," a Cabinet Minister told the Telegraph. Which you'd assume was supposed to tell us more about Rupert than George.
4.
Jonny Oates
This is a man you've almost certainly never heard of. That's because he's Nick Clegg's chief of staff, and as we all know, no one really cares what Clegg gets up to these days. His background's largely in PR; he's even reached the dizzy heights of director for Bell Pottinger. Which you'd have thought would mean the highlight of Clegg's week wasn't a phone-in on London radio, but anyway.
Oates has only really been been spotted in the media once since the Coalition came to power, again filling in that crucial aforementioned "buffer" role, this time over the Lord Rennard allegations.
There is nothing else of interest to report. Don't worry though, the rest are all Tories. Much more fun.
5.
Fiona Cunningham
This is more like it. Cunningham is Theresa May's Spad. She worked as Andrew Lansley's press officer in opposition and for the British Chambers of Commerce, but it's only once she got the gig at the Home Office that things got fun.
The 40-year-old is, according to the Daily Mail, "One of the most powerful figures in the Home Office and advises Mrs May on everything, from detailed policy matters to her choice of clothes."
Oh dear. Anyway, that's not the point. The point is that the aforementioned Mail story concerned the mooted appointment of Charles Farr, 53, the most powerful spy figure in the Home Office, (Director of the Office for Security and Counter Terrorism). He was tipped to get a promotion to Permanent Secretary: the most senior non-political role.
The only problem? He is the boyfriend of, um, Fiona Cunningham. Which might have made political impartiality a touch tricky. He didn't get the job.
6.
Philippa Stroud
If the last entry gave you a mild indication as to the potential conflicts of interest this role can create, this one's a blinder. Phillipa Stroud is Iain Duncan Smith's Spad, and co-chair of the Centre for Social Justice (CSJ), a right-wing think tank he set up.
But she's perhaps more famous for her role in the church and nightshelter where people were allegedly "cured" of their homosexuality. She vigorously denies any part in this, but there are somewhat uncomfortable echoes between that institution and the "traditional family" line the CSJ repeatedly peddles.
What's more important with regard to the CSJ is who's funding their work. Someone gave them circa £1.5m last year to come up with their ideas, but we have no idea who they are. We can see that one of the CSJ's award sponsors is the recruitment firm Manpower, and that raises questions, because that firm is one of the largest shareholders in Working Links, a major player in the DWP's Work Programme and which has been accused of systematic fraud. Maybe we don't want to go down this rabbit hole, because then you'd start asking whether it's right that the people contracting (and indeed investigating) the firm in Government should also receive money from them in another capacity.
7.
Henry de Zoete
Born into a poverty-striken mining family, Henry de Z- nope, can't keep making the same joke.
You'll be shocked to hear de Zoete comes from a rich banking family and went to Eton, but in a refreshing break from tradition didn't do PPE at Oxford: he went to Bristol instead. Then he worked at a Tory think tank and did PR for Portland, and now he's Michael Gove's Spad at the Department for Education. Apparently a bit laddish and likes his footy.
And this laddishness is pertinent to certain allegations surrounding de Zoete's use of social media. Or lack thereof, depending on what you believe. This is all about the rather feisty toryeducation Twitter feed. It's made personal attacks on, among others, Toby Helm, the Observer's political editor, and former DfE Minister Tim Loughton, who was sacked by Gove earlier this year. De Zoete, along with Dominic Cummings (another DfE Spad) has been named as a contributor to the account, and hasn't denied it. The rules state that dissemination of party political material and personal attacks are both sackable offences under the code for special advisers.
Now if - if - the feed is indeed the work of these two, it gives something of an insight into the tribal tendencies of some Spads.
Not exactly edifying, huh? It seems any journalist who's dared to ask questions of Mr Gove has been subject to a ravaging from the feed, as detailed in this lengthy blog post.
And therein lies another, less-reported, element of the Spad's remit: they're not just a buffer, they're there to land the blows our respectable ministers simply can't.