Sloppy Joe Sliders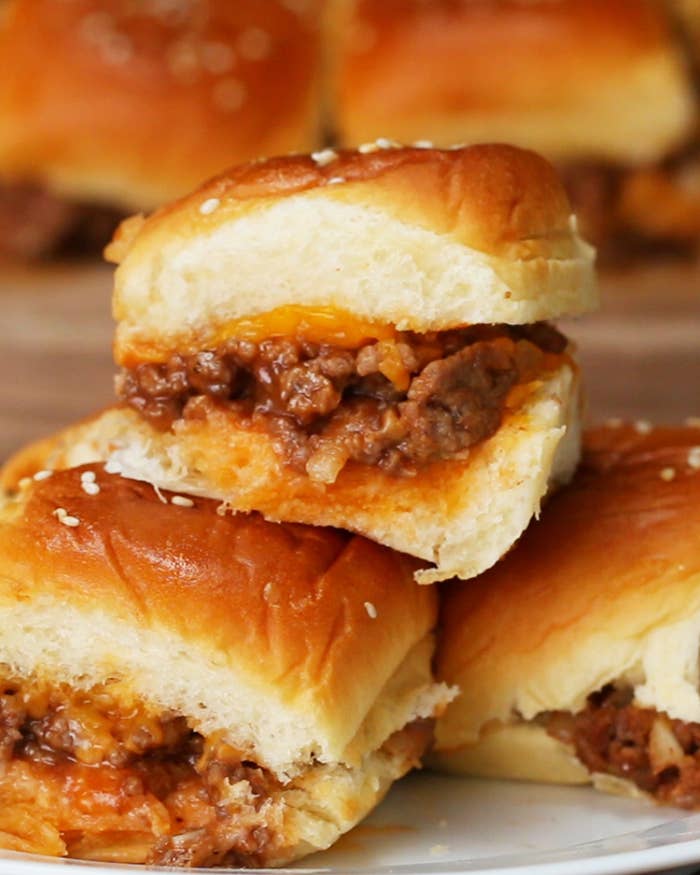 INGREDIENTS
1 pound ground beef
1 teaspoon salt
½ teaspoon pepper
½ white onion, diced
1 clove garlic, minced
¾ cup ketchup
2 teaspoons mustard
1 teaspoon Worcestershire
2 teaspoons brown sugar
1 pack dinner rolls
½ cup shredded cheddar cheese
2 tablespoons butter, melted
Sesame seeds
PREPARATION
1. Preheat oven to 350°F/180°C.
2. In a saucepan over medium heat, add the ground beef and sprinkle with salt and pepper.
3. Using a spoon, break up the meat and stir until browned. Add the onion and garlic and continue to cook until the onions are translucent.
4. Add the ketchup, mustard, Worcestershire, and brown sugar.
5. Stir until the meat is fully cooked and sauce is evenly combined. Set aside.
6. Cut the dinner rolls in half and place the bottom half in a baking pan.
7. Top with meat and sprinkle with cheese. Place the top of the rolls back on top.
8. Brush the rolls with melted butter and sprinkle with sesame seeds.
9. Bake for 10 minutes, or until rolls are toasted and cheese is melted.
10. Serve and enjoy!