Meatball Sub Boats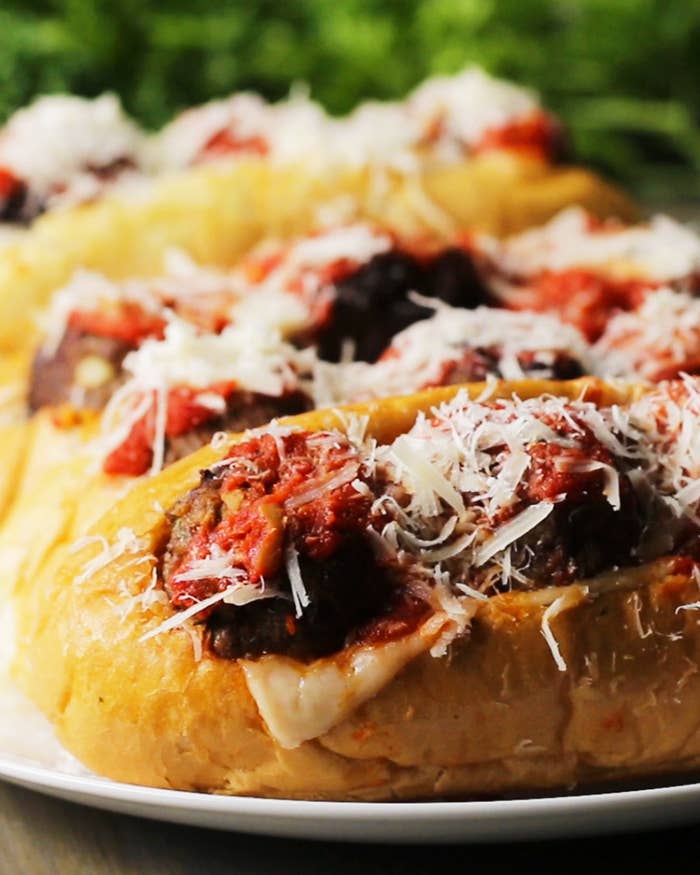 INGREDIENTS
2 pounds ground beef
2 eggs
1 cup bread crumbs
¼ cup parsley plus 2 tablespoons, chopped, divided
6 cloves garlic, minced
1 teaspoon salt
½ teaspoon pepper
Oil
4 soft rolls
8 slices mozzarella
1 cup marinara
¼ cup butter, melted
Grated Parmesan
PREPARATION
1. Preheat oven to 350°F (180°C).
2. In a large bowl, combine the ground beef, eggs, bread crumbs, ¼ cup parsley, 3 cloves garlic, salt, and pepper.
4. Shape the ground beef mixture into golf ball-sized balls.
5. Heat a cast-iron pan or skillet with oil over medium heat.
6. Cook the meatballs until browned on all sides. Set aside.
7. In a baking pan, place the soft rolls.
8. Cut the top of the rolls with a knife and press the inside down to create a boat.
9. Mix together the melted butter, 3 cloves garlic, and 2 tablespoons of parsley.
10. Brush the rolls with the garlic butter.
11. Bake for 5 minutes, or until toasted.
12. Place two slices of mozzarella in the rolls. Place a spoonful of marinara on top of the cheese.
13. Place three meatballs in the boat and top with more marinara.
14. Bake for 25 minutes, or until cheese is melted.
15. Top with Parmesan, and enjoy!