Ham & Cheese Egg Dunkers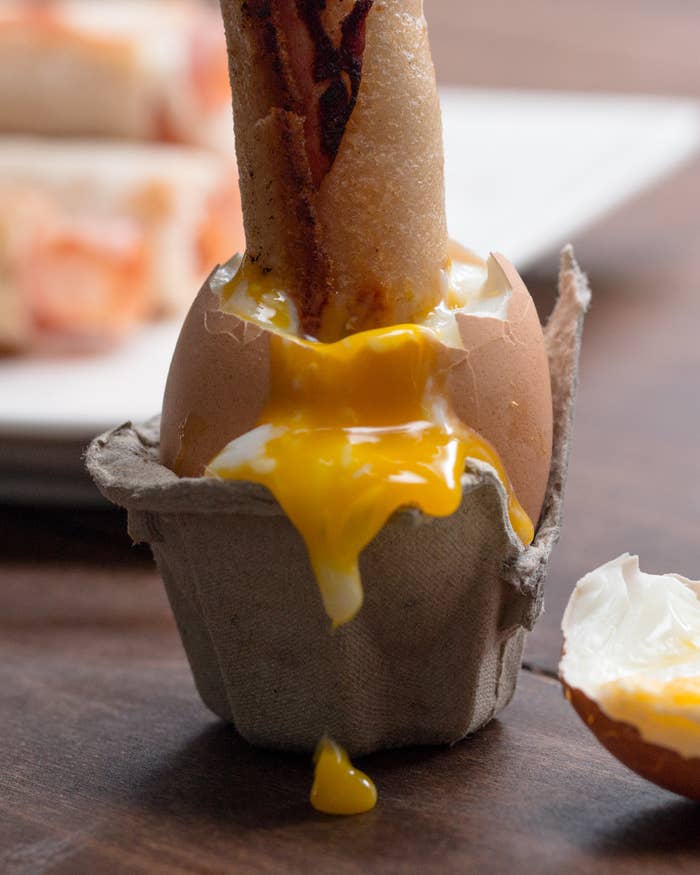 INGREDIENTS
Servings: 3
3 large eggs
4 ounces cheddar cheese
9 ounces ham
15 pieces white bread
Butter or vegetable oil to fry
Ice cubes for ice bath
PREPARATION
1. Fill a small pot two-thirds full with water and bring to a boil.
2. With a paring knife, poke a small hole into the wider end of the egg.
3. With a spoon, gently lower eggs into the boiling water and boil for precisely 5 minutes.
4. When eggs are done, carefully transfer them to a bowl of ice water.
5. Cut the cheddar cheese into strips, 4 inches long, ¼ inch thick.
6. Roll out a piece of white bread until flat and dense.
7. Place a slice of ham on the bread, then top with a strip of cheddar.
8. Roll up the bread (like a jelly roll) until cheese and ham are entirely covered.
9. Fry the bread rolls for about 4 minutes in a buttered sauté pan over medium-high heat. Turn halfway through when rolls are lightly browned.
10. Meanwhile, use an egg carton to cut out egg holders for each egg.
11. Take eggs out of ice water. Serve with the ham and cheese dunkers.
12. Enjoy!
Want BuzzFeed Tasty right in your inbox? Sign up for our newsletter!