One-Skillet Chicken Pot Pie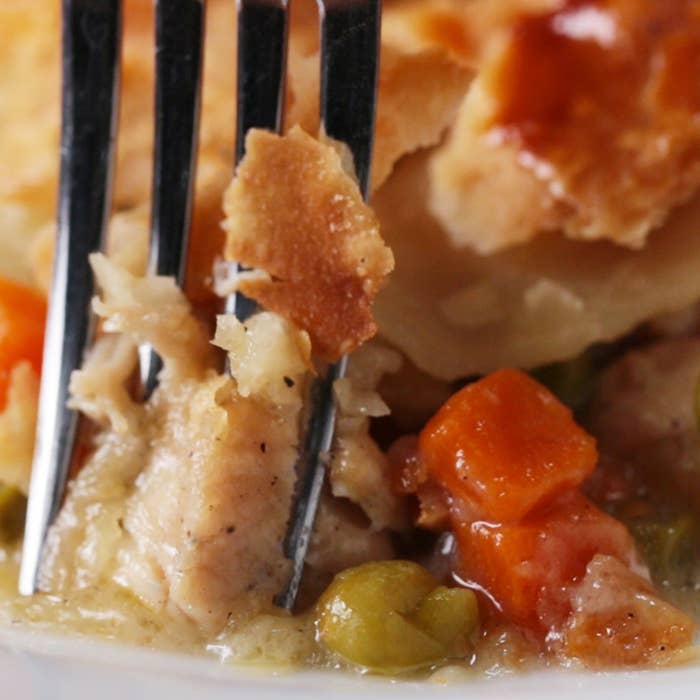 INGREDIENTS
Servings: 4-6
1 tablespoon olive oil
1½ pounds boneless, skinless chicken breasts, cubed
½ white onion, chopped
2 cloves garlic, minced
1 cup gold potatoes, cubed
2 cups frozen peas and carrots
4 tablespoons all-purpose flour
4 tablespoons butter
2 cups chicken broth
Salt, to taste
Pepper, to taste
1 store-bought pie crust, thawed if frozen
PREPARATION
1. Preheat oven to 400˚F/200˚C.
2. Season chicken with salt and pepper, and heat oil over a cast-iron skillet. Add the cubed chicken, cooking until no longer pink. Remove chicken and set aside.
3. To the same skillet, add the onions and garlic. Sauté until translucent.
4. Add potatoes and sauté about 5 minutes.
5. Add peas and carrots, and stir again.
6. Add the butter to the vegetable and allow to melt.
7. Sprinkle the flour, covering the vegetables, and quickly stir to avoid lumps.
8. Pour in chicken broth and bring to a boil to thicken sauce.
9. Season with salt and pepper. Remove from heat.
10. Place pie dough over the chicken and vegetable mixture, and seal along the edges of the skillet with your fingers.
11. Bake for 25-30 minutes or until golden brown.
12. Enjoy!