Garlic Parmesan-Stuffed Artichokes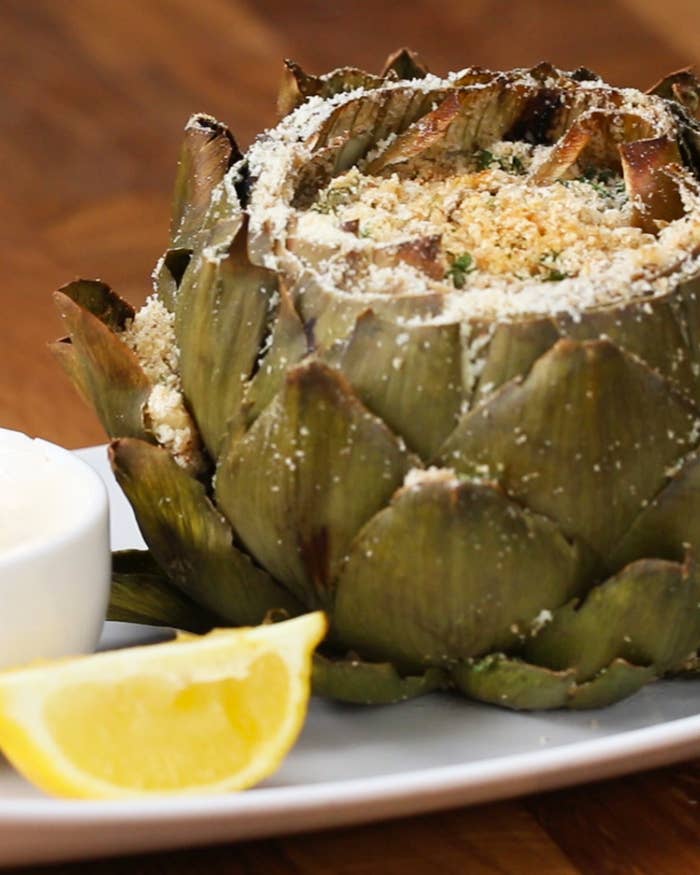 INGREDIENTS
Servings: 2
Artichokes
2 artichokes
1 lemon, juiced
Salt, to taste
Stuffing
¼ cup butter
3 tablespoons garlic
1 lemon, juiced
2 cups bread crumbs
½ teaspoon salt
¼ teaspoon pepper
¼ cup parsley
Grated parmesan, for topping
Mayonnaise or butter, for dipping
PREPARATION
# Preheat the oven to 350°F/180°C.
# Trim the stem off the artichoke to create a base and also one inch from the top.
# Remove the leaves from the center of the artichoke and use a spoon to scrape out the hairs on the heart of the artichoke.
# Squeeze the juice of one small lemon on top.
# In a saucepan, boil two inches of salted water. Place the artichokes in the pot cover and boil for 20 minutes, or until tender.
# In a pan, melt the butter and saute the garlic until fragrant, about 2 minutes. Squeeze in the juice of one lemon and stir.
# Add in the bread crumbs, salt, pepper, and parsley. Stir until combined.
# Place the artichokes on a pan and fill with bread crumb mixture and top with grated parmesan.
# Bake for 15-20 minutes or until golden brown.
# Serve with dipping of choice and enjoy!