3-Course Shrimp Scampi Dinner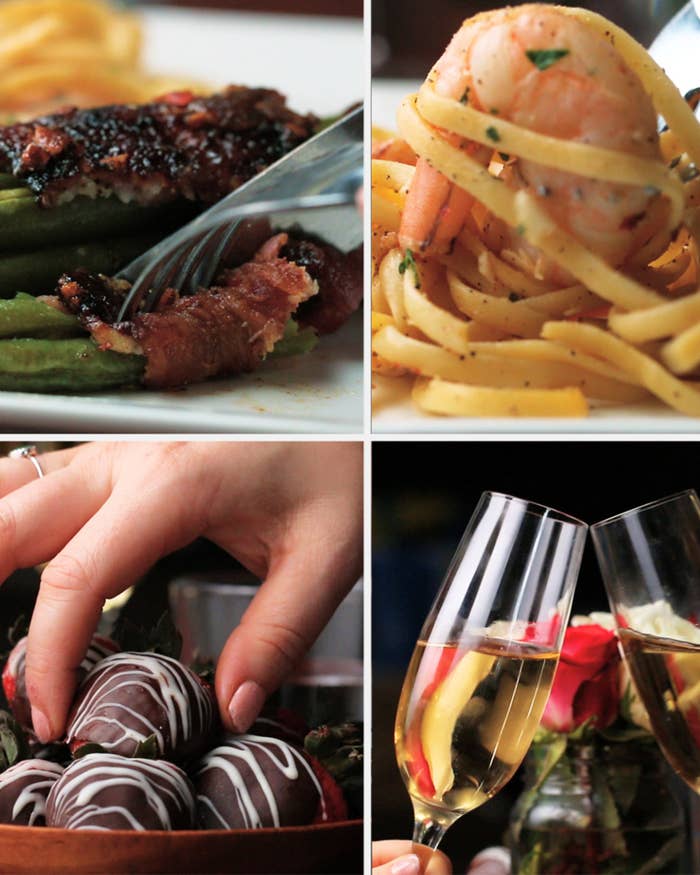 Bacon-Wrapped Green Bean Bundles
Servings: 2
INGREDIENTS
20 green beans
2 slices bacon
1 tablespoon olive oil
2 tablespoons butter
1 tablespoon brown sugar
2 cloves garlic, minced
Salt, to taste
Pepper, to taste
PREPARATION
1. In a bowl, toss the green beans in olive oil, salt, and pepper.
2. Lay out the slices of bacon, put a handful of the green beans on the end of the bacon slice and wrap.
3. Cook the bundles in a nonstick pan over medium-high heat and crisp the bacon on all sides.
4. Add the butter, brown sugar, and garlic to the pan and once melted stir to coat the bundles with the glaze.
5. Enjoy!
Garlic Shrimp Scampi
Servings: 2-3
INGREDIENTS
¾ pound linguine pasta
16 shrimp
3 tablespoons butter
5 cloves garlic, minced
½ lemon
1½ teaspoons salt
1 teaspoon pepper
1 teaspoon red chili flakes
1 tablespoon parsley, chopped
PREPARATION
1. Boil the linguine in salted water until cooked, then drain and set aside. (Save a cup of the pasta cooking water in case you need it for the sauce later.)
2. In the same pot, melt the butter and garlic over medium heat, stirring to ensure that the garlic doesn't burn.
3. Add the shrimp and cook for 3 minutes, stirring.
4. Add the lemon juice, salt, pepper, parsley, and red chili flakes, stirring to coat.
5. Remove from heat and add the linguini, toss to coat. (This is when you can add the reserved pasta water 1/2 cup at a time, until desired consistency.)
6. Top with parsley and enjoy!
Chocolate-Filled Strawberries
INGREDIENTS
1 dark or milk chocolate bar
12 strawberries
White chocolate
PREPARATION
1. Cut the top off the strawberries and scoop a hole in the center.
2. Place the strawberries in an ice tray with their tops.
3. Break the chocolate bar into pieces and microwave at 30-second intervals until melted.
4. With a spoon or piping bag, fill the strawberries and cover with the top, making sure that the top touches the chocolate.
5. Chill until the tops set firmly to the strawberry
6. Dip the strawberries in melted chocolate, chill, and top with a white chocolate drizzle.
7. Enjoy!
Want BuzzFeed Tasty right in your inbox? Sign up for our newsletter!