During a recent concert in Nashville, Tennesse native Justin Timberlake was joined by Garth Brooks for a duet of Brooks' legendary crowd-pleaser "Friends In Low Places" and it was pretty much the most magical thing that has ever happened on any stage.
Justin started off playing the song solo. The crowd went nuts. They had no idea how awesome things were about to get!
After a rousing first verse, JT stopped the music and said that something didn't feel right. So he called for reinforcements.
And then Garth F-ing Brooks came out on stage! The two greeted each other like proper gentlemen.
Then shit started to get REAL. This is happening, people!
Look at all the jumping!!! There is so much joy here!
They both became members of the mutual appreciation society.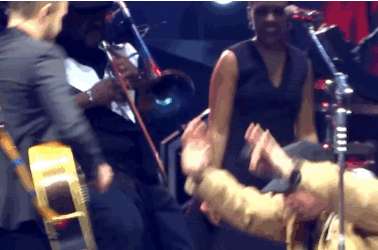 And then it was over. The new BFFs hugged it out and Garth made his exit.
And like everyone else who witnessed this musical miracle, Justin simply COULD NOT.