1.
When you'd rather be anywhere but the dark place aka your workplace:

2.
When people forget (or ignore) the fact that you hear EVERYTHING: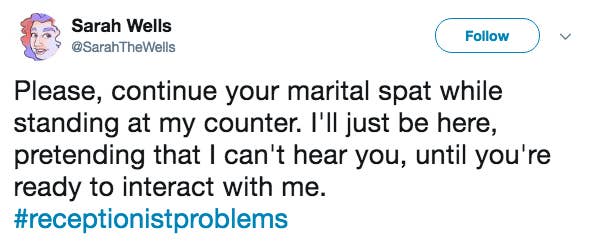 3.
When a customer has a question that's above your pay grade:
4.
When you have to repeat the name you just heard:

5.
When they think you're hoarding secret appointment slots: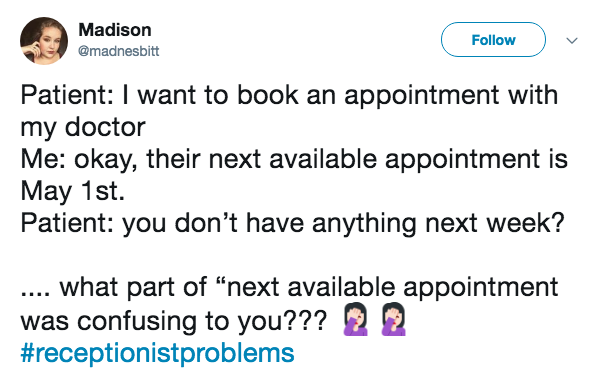 6.
When there's nobody around to relieve you for a lunch break:
7.
When you are everyone's "sweetheart":

8.
When you get a little carried away with your pleasantries:

9.
When you have to deal with THIS idiocy:
10.
When you make an effort to not have to make an effort:

11.
When people don't respect personal space:

12.
When your day starts with some interesting notes:
13.
When you get the "I want to speak to a manager" voice on the other end:

14.
When people are straight-up violent:

15.
When it's the most un-wonderful time of the year:

16.
When you just can't turn it off:

17.
When you have zero shits left to give:
18.
When someone stinks up your lobby:

19.
When you just can't handle another stupid question: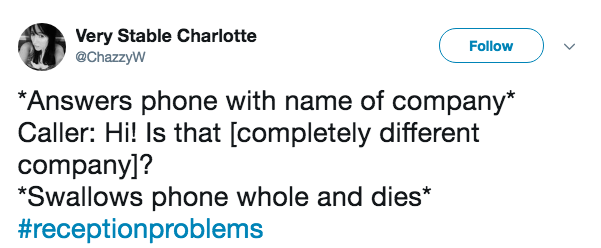 20.
When the day gets jump-started before you're even settled in:

21.
And finally, when you celebrate the small victories: