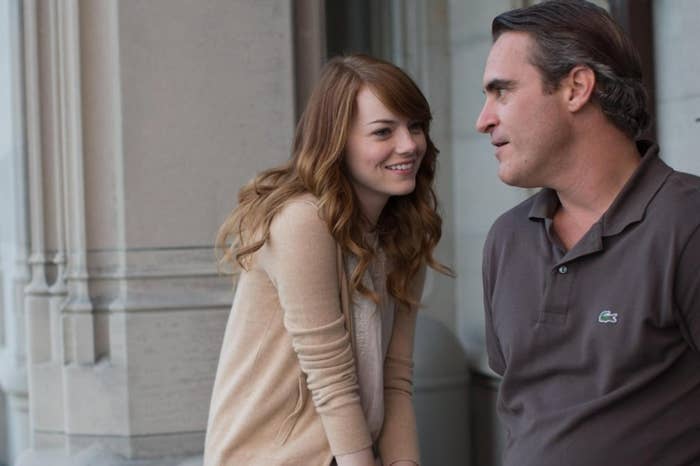 Irrational Man is Woody Allen's twelfth movie to play at the Cannes Film Festival, where he's consistently greeted by adoring crowds who are blithely unconcerned with his personal history. They're also apparently unconcerned with the uneven quality of his recent output, because Irrational Man is a sour thriller that's played, jarringly, like a brisk comedy, up to a death and through it.
At this point in his long career, Allen is remixing his past films as much as he's making new ones, and Irrational Man, which comes to theaters on July 17, is pieced together from familiar Allenesque elements: There's a neurotic protagonist — Joaquin Phoenix as bad-boy philosophy professor Abe Lucas; there's contemplation of the perfect murder in a way that is a lighter, less successful sibling to Match Point; and there's a romance involving a younger woman — Emma Stone as Jill Pollard, one of Abe's students, and the biggest waste of talent in this star-packed, dreary venture.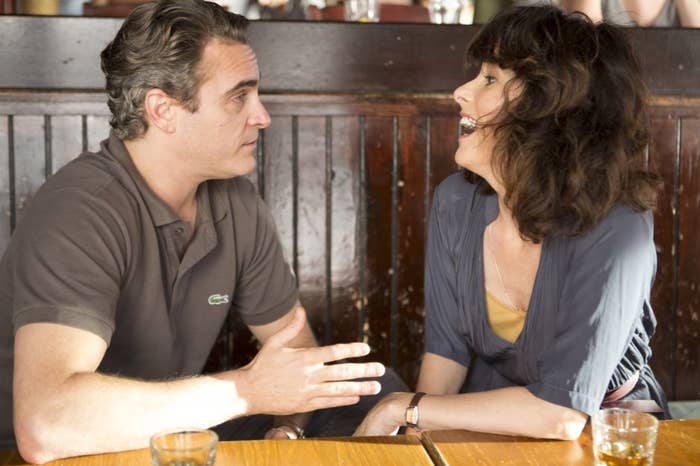 This is Stone's second Allen film in a row (the first was 2014's Magic in the Moonlight) — and the second to use her as a radiant ingenue around to enable the prickly main character to show other sides of himself. Jill is theoretically the second lead of Irrational Man, but she's entirely defined by how smitten she is with Abe, who she describes as brilliant, romantic, and "a sufferer." We see him arriving at his new teaching gig in picturesque Newport, Rhode Island, like a burnt-out rock star, slumping around campus taking slugs of Scotch, flaunting some serious dadbod and informing his classroom that "much of philosophy is verbal masturbation." He's a depressive disaster who's nevertheless irresistible to women, and both Jill and his married colleague Rita (Parker Posey) end up in his bed once he gets his groove back by figuring out an ethically questionable way to restore meaning to his life.
Irrational Man keeps jaunting along to a jazzy version of "The In Crowd" as its story gets darker and more alarming, but even as Abe turns out to be something of a self-rationalizing sociopath, the movie still has more understanding of him than of Jill. He is, after all, the Allen stand-in, while Jill at best has a lesson to learn — a line in which Abe cites Simone de Beauvoir on men defining women only in relation to them is unfortunately resonant. Irrational Man has some great ingredients, with Phoenix infusing as much sincerity as possible into a character whose problems are entirely theoretical, Stone looking luminous in her crummy role, and cinematographer Darius Khondji making Newport glow like a vacation catalog. If only the movie justified their efforts in the least bit.
There's a better "love is fraught and full of terrors" theme in fellow Cannes pick The Lobster, a movie with a brilliant absurdist premise: It's set in a world where single people are gathered up and hauled off to a remote hotel and have 45 days to find a partner or risk losing their humanity. Literally — they'll get turned into an animal via processes mysterious, and flamingos and camels occasionally wander through the backdrops of scenes. The hero, David (Colin Farrell, with a mustache and his own dadbod), thinks he'd like to be a lobster if he doesn't make it. His brother, who accompanies him to the hotel when his wife leaves him, was turned into a dog years before.
The Lobster, which has been picked up for a U.S. release by Protagonist Pictures, is in English, but it comes from Greek filmmaker Yorgos Lanthimos, whose earlier Dogtooth was a unforgettably disturbing, funny, and tragic story about children raised in absolute isolation. He's working with a big-name cast here that includes Rachel Weisz, Ben Whishaw, John C. Reilly, and Léa Seydoux, but his flat, off-kilter sensibility remains the same.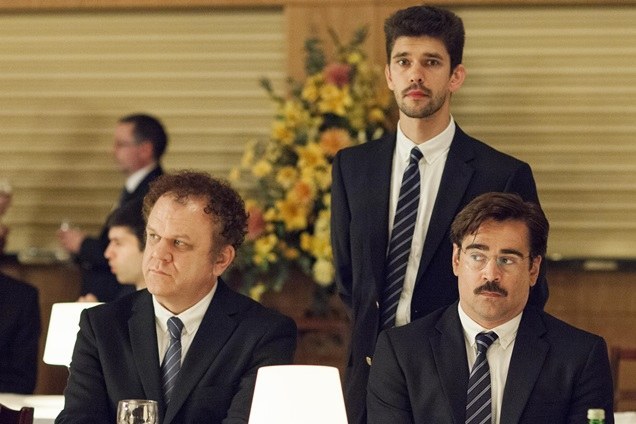 The Lobster skewers the relationship industrial complex so wonderfully thanks to its ferocious deadpan, like the way the hotel manager (Olivia Colman) explains to someone on their last human day that they should pick a final activity that will be unavailable to them as an animal, like reading a book, or the way potential pairs who fight are assigned children to fix the problem. On his first day, David's arm is handcuffed behind his back to remind him that two is better than one. There are dances. There's a golf course.
The Lobster reduces love to a mechanical process of finding something in common — couples are united by mutual tendencies toward nosebleeds, or nearsightedness, or fondnesses for skiing. And every day, the hotel guests are given tranquilizer guns and taken out to hunt other singletons who've run away to try to make a life for themselves in the wood. If you bag one, another day's added to your window, and one woman's so good at this that she's earned almost half a year. When the film leaves the hotel to wander into the woods in its final third, it loses some momentum, though it also suggests avowed singledom can be just as tyrannical as mandated coupledom. Even if there's no winning in its version of romance, the dry wit and pervasively odd sensibility of The Lobster make it very worth cozying up to.