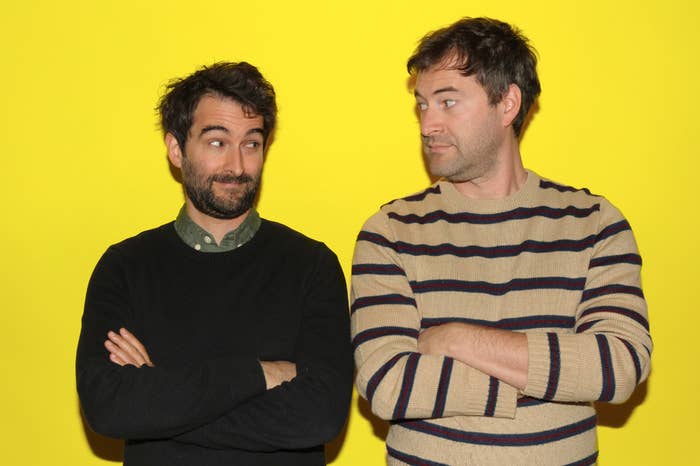 Officially, the Duplass brothers began making movies together 10 years ago. Unofficially, their partnership began well before that, with a foray into the action genre.
"I was a karate master," said Mark Duplass, sitting with his older brother Jay on a visit to BuzzFeed's New York offices in the Flatiron District. "Our friend Brant was a burglar who came in. I think that was Jay's first shot he designed — deep focus on me in the kitchen, then Brant comes from the outside. He's got a cigarette, holding it out in the foreground, and I run in and kick the cigarette out of his hands."
As much as their adult selves now laugh talking about their so-called debut, it's actually quite an ambitious effort from a 6-year-old and a 9-year-old working with a giant 1980s camera that had to be connected via cable to a VCR. Even then, shooting amid the plastic-covered furniture in their parents' living room in the suburbs of New Orleans, the Duplass brothers established their basic dynamic: Mark was in front of the camera, while Jay was behind it, sharing not only genetics, but a DIY sensibility and a relentless drive to create.
And that's what led the Duplasses — who've spent the last decade telling funny-sad, scarily relatable stories on film about friends, lovers, growing up, and growing older — to create their own television series for the first time. Titled Togetherness, the HBO show is a wonderfully bittersweet half-hour comedy about four fumbling adults approaching their late thirties and early forties with anxiety from all different directions. Jay, 41, and Mark, 38, created the series with their childhood friend and frequent collaborator Steve Zissis, who's also one of its stars, along with Mark, Melanie Lynskey, and Amanda Peet.
"We feel very qualified to make this show," Jay said. "It is the stuff of our lives, intimately."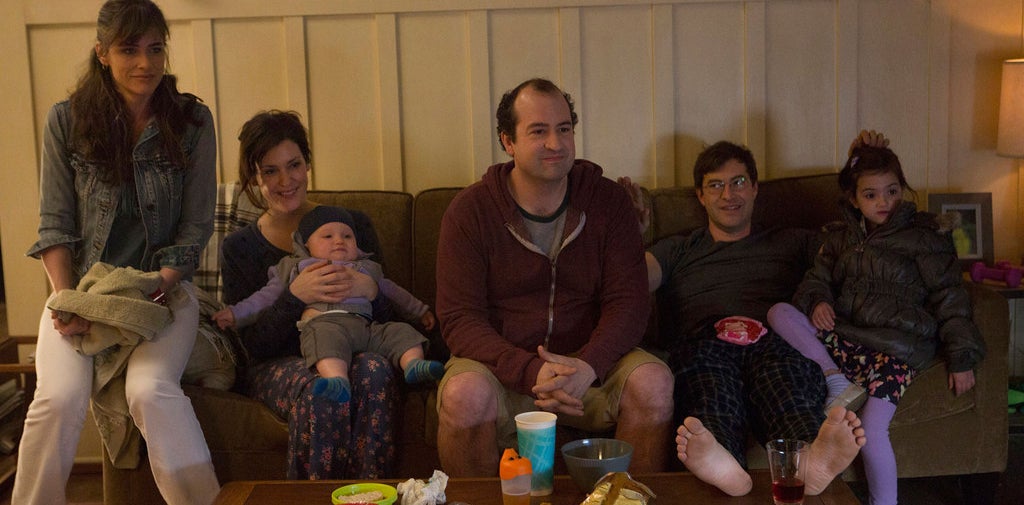 Like a lot of the Duplass brothers' output, Togetherness, which premieres on Jan. 11, contains more than just slivers of autobiography. After growing up in New Orleans and some stints living in Austin and New York, Jay and Mark are raising families in Los Angeles, just like Brett and Michelle, the married couple played by Mark and Lynskey who, at least at first, are the more stable of the series' four characters.
But the Duplasses also aren't strangers to the panic Brett's best friend, the broke, jobless actor Alex (Zissis), or Michelle's sister, the high-strung, no longer dewy party girl Tina (Peet), feel as they struggle with where their lives are versus where they thought they'd be at their age. In the first episode of the series, Alex and Tina each temporarily move in with Brett and Michelle in order to get back on their feet. The foursome fall somewhere between an extended family and overgrown roommates, a quartet of adults crowded into a house together, fretting about the grown-up lives in which they feel stuck or that seem to be eluding them.
Alex's and Tina's fears are the ones Jay felt when he found himself living off of $15,000 a year in Austin on the verge of turning 30, having tried for years, with Mark, to get a filmmaking career off the ground, and only managing to make a feature the pair disliked so much, they immediately buried it and have never let it see the light of day. "All of the kids that we went to high school with were rich and successful, and we were poor and unsuccessful and had been for quite some time," Jay said. "We made some really terrible movies, and it's funny to talk about, but it was so painful for us at the time."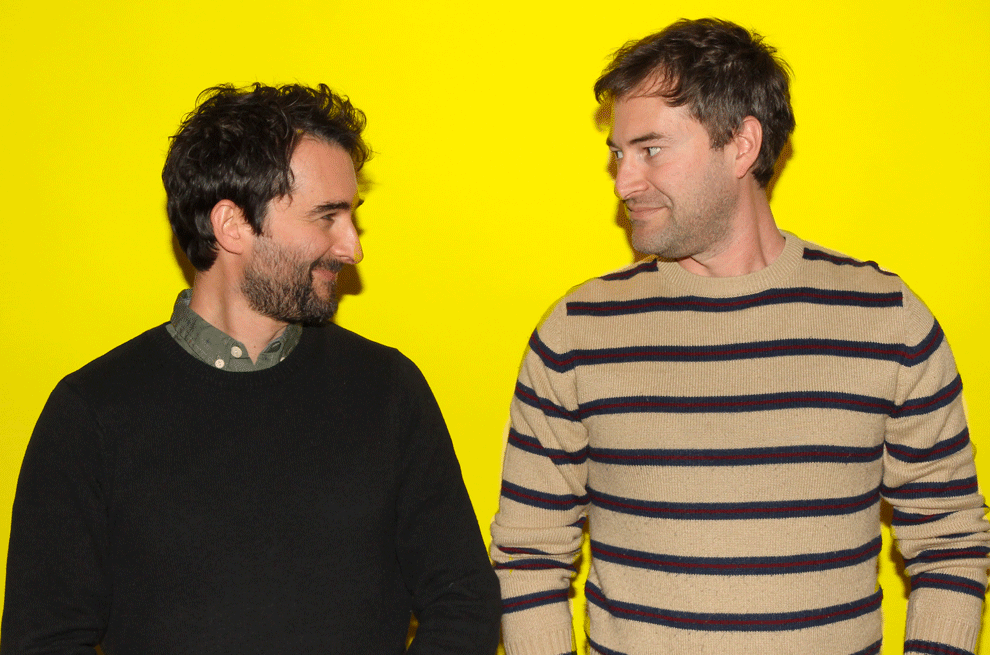 The Duplass brothers grew up avidly watching movies like Annie Hall, The Exorcist, and Ordinary People on HBO and idolizing fellow sibling co-directors the Coens. While their friends were into Star Wars, Jay and Mark preferred '70s cinema and hard-hitting relationship dramas. But they eventually learned the hard lesson that, as Mark put it, "those films that we loved weren't necessarily films that we were supposed to be making. We had to make what we were good at."
What they were good at turned out to be best encapsulated in a 2003 short called This Is John that the two shot in their kitchen, using, once again, their parents' home video camera. It was ragged, totally improvised, had a budget of $3, and consisted only of the eponymous character (played by Mark) repeatedly trying, in ways both excruciating and hilarious, to record the perfect answering machine message. "That was the first thing we made that we felt was watchable," Jay said of the short, which earned a spot at the 2003 Sundance Film Festival. Though Mark called it "the ugliest and worse sounding film ever to show" at the festival, he added, "It validated for us this ethic of filmmaking where we trust our instincts and try and keep it small and personal."
The Duplasses went on to hone that ethic by making more shorts, then a 2005 feature called The Puffy Chair that starred Mark and his then-girlfriend, now-wife Katie Aselton, a filmmaker, actress, and fellow cast member of The League. The Puffy Chair, a road trip movie about a nice but immature guy (Mark), his girlfriend (Aselton), and his even flakier brother (Rhett Wilkins), was joined by a group of other microbudget features about the travails of inarticulate twentysomethings from filmmakers like Joe Swanberg and Andrew Bujalski that were celebrated for capturing a generational moment and dubbed "mumblecore."
The Puffy Chair, for all its shagginess, also featured a heartfelt depiction of a relationship in which one half of a couple is looking for more commitment than the other is ready to give. It's heavy material to be enacting with the person you're dating in real life, but Aselton looks back on the process as "incredibly therapeutic and exhilarating."
"There's a real catharsis to saying these things out loud that you're feeling, to act it out, but not in a hurtful way at all," she told BuzzFeed News via phone. "It was a beautiful way of making a movie."
The Duplasses have held on to those qualities of intimacy and uncompromising realness even as they've moved on from movies made with handheld cameras, featuring four people to bigger, more structured productions with name actors and studios to be wrestled with. They've also maintained the loose improvisational style that's become an essential part of their process, even with their most successful film to date, 2010's Cyrus. Jay credits Jonah Hill — who plays the movie's 21-year-old titular character who has an uncomfortably codependent relationship with his mother Molly (Marisa Tomei) and isn't exactly a fan of John (John C. Reilly), the man she's seeing — with coming up with the movie's signature line. It comes when Cyrus shuts down a lighthearted moment by blurting, "Don't fuck my mom," then claims to just be joking. "That's a line that is a perfect example of a lightning strike," Jay said. "That was not in the script."
Creating the ideal environment to foster those lightning strikes is at the heart of the Duplass brothers' filmmaking. They write screenplays for their projects, but constantly alter and change them around as they shoot, based on the feedback and feelings of their performers. "The actors come first, and they get to do whatever they want to do," said Jay. "We get this feeling that's critical to our process of, Anything can happen in this moment. I think the only way that can exist is if it's really true."
Their process is heavily dependent on trust, and that's guided who the Duplasses have worked with, whether in small movies like 2008's Baghead, starring Zissis and Greta Gerwig, or bigger ones like 2011's Jeff, Who Lives at Home, starring Jason Segel and Susan Sarandon. And, in addition to their own projects, the Duplass brothers also produce indies like the 2014 Sundance hit The Skeleton Twins, starring Bill Hader and Kristen Wiig, helping other up-and-coming directors get their films together, find stars, and raise money. "Being around that energy, that excitement and anxiety, it juices you up, it makes you feel young again," Mark said.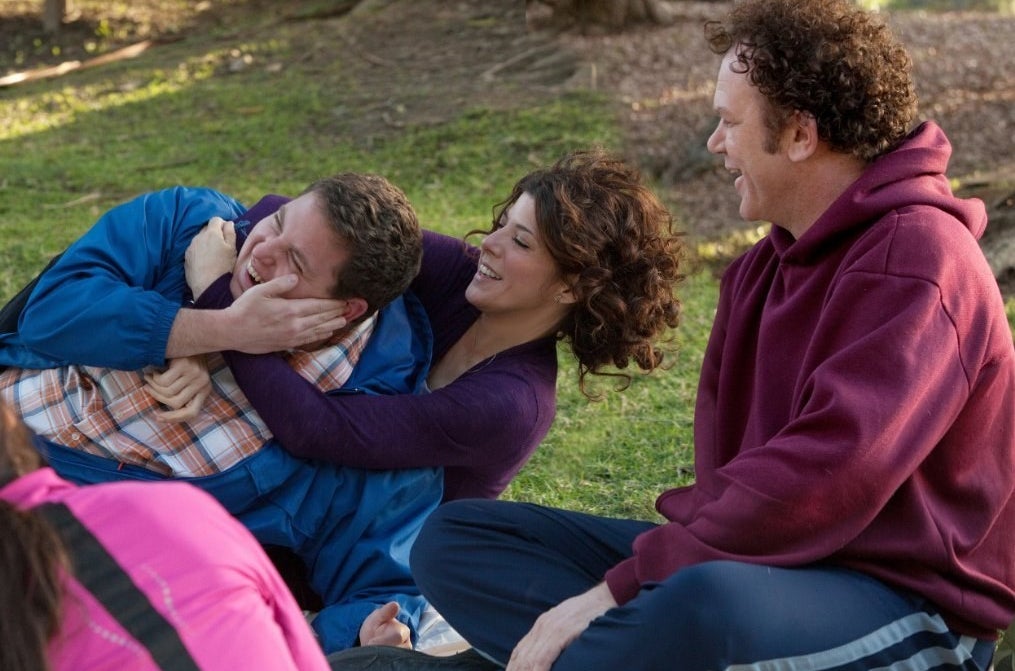 And when they're not working with other filmmakers, or writing, directing, and producing their own films and now, a TV show, the Duplasses have also found success in front of the camera. In the past year, you may have seen Mark as a series regular on the FXX comedy The League, as Melissa McCarthy's love interest in Tammy, as one of the leads in the indie movies Creep and The One I Love, or guesting as midwife Brendan on The Mindy Project. And you may know Jay from his on-screen debut as a Brendan's fellow midwifing sibling on Mindy Kaling's sitcom, or as Josh, the middle Pfefferman kid, on Jill Soloway's Amazon original series Transparent.
Clearly, the Duplasses work incredibly hard under their easygoing facade, and part of what helps their work function so seamlessly is the fact that they make it a priority to collaborate with people they know and like, not letting the studio system affect them, and not making work they're not proud of. ("We're terrified of making a bad piece of art," Mark said frankly.) In other words, they value working with their friends. And, though there is a lot at play in their latest work Togetherness about career, parenting, and marriage, the series is also a prickly, poignant ode to how difficult it can be to hold on to a friendship when adulthood sets in.
Brett moves Alex into his house not just because he wants to help out his friend, but because he's terrified of losing Alex to another city, to a retreat from the L.A. life that's ground him down. Having your best friend sleeping on your couch means you're guaranteed to get to hang out with him, even as things like jobs and fatherhood set you on different paths. And putting your best friend in your HBO series means the same.
"Honestly, a lot of it was like, 'Let's make a show so Steve can be successful. He's the most talented person we know,'" Mark said. "It's crazy, but the biggest motivation of making the show was to put Steve on his feet."
Like Zissis himself, Alex is a struggling actor waiting tables to support himself. And for Zissis, who once performed alongside Mark in their high school talent show, getting to make Togetherness has been "heaven." "I created an HBO show with my friends, that me and Mark are starring in, and Jay is behind the camera," he told BuzzFeed News in a phone interview. "It will probably never be as good as this."
If it is heaven, though, it's a very grounded version of paradise in an Eagle Rock backyard, marked as much by earnest melancholy as it is well-earned warmth. And the Duplass brothers wouldn't have it any other way.
Togetherness premieres on Sunday, Jan. 11 at 9:30 p.m. on HBO.