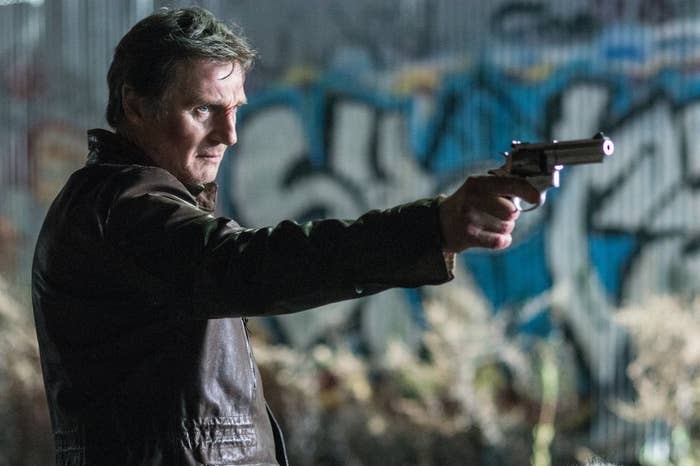 In The Gunman, opening in theaters on March 20, 54-year-old Sean Penn actually shows more skin than his love interest (played by Italian actress Jasmine Trinca), who's two decades his junior. He crouches shirtless over a surfboard off an African coast. He broodingly, shirtlessly surveys himself in a bathroom mirror. He straps on a Kevlar vest with nothing underneath. There's something novel, in a tables-have-turned sense, in seeing an actor as self-serious and established as Penn be subject to the kind of idly assessing gaze more often reserved for The CW stars. But it's also irrefutably weird to see Penn's weather-beaten mug on top of that bulgy torso, like someone popped off and swapped the heads of two mismatched action figures.
The Gunman is a vaguely Bourne Identity-type thriller involving conspiracies and European locales, so the impressive shape into which the two-time Oscar winner has gotten himself to play a former Special Forces soldier turned military contractor is somewhat called for. But Penn's burliness isn't just about showing off — it's about auditioning for the unofficial, but coveted role of Next Big Middle-Aged Action Star, a part that's revealed itself to be surprisingly viable over the last few years. The Gunman is supposed to be Penn's Taken, albeit a little more tasteful and more tied into grim global realities. It even has the same director, Luc Besson protégé Pierre Morel, who takes aim at something less daffy but just as action-centric in this adaptation of a Jean-Patrick Manchette novel.
The reigning Middle-Aged Action Star is (though it needn't even be said) Liam Neeson, who was never a stranger to the genre — see him in 1995's Rob Roy for what may be the best sword fighting scene of all time. But starting with Taken, the now 62-year-old Irish actor has experienced a delightful career resurgence playing, basically, the baddest dad of all time, even in movies where his character isn't actually a father. Neeson's become an unlikely but wonderfully satisfying action hero in a string of movies that have, admittedly, started to blur a little in all their hard-drinking, gun-wielding, sad-eyedness. It's a run the actor seems ready to call a halt to soon, if his widely quoted line in a recent Guardian interview holds true: "Maybe two more years. If God spares me and I'm healthy," he told the paper. "But after that, I'll stop."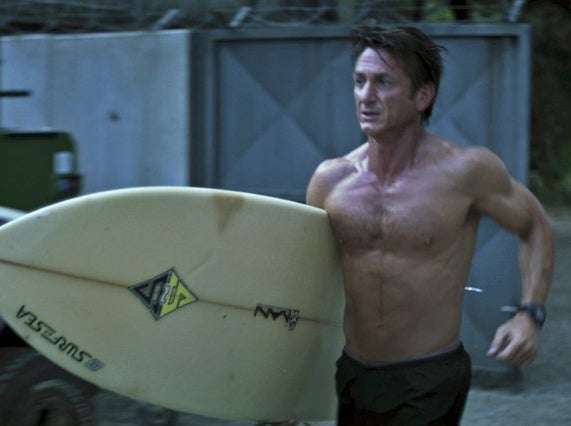 And so we have Sean Penn throwing punches, flexing muscles, and trying to atone for old misdeeds when his dark past comes calling in The Gunman, an enjoyable enough movie that's smarter than the Taken films, but one that never achieves the mournful weight for which it aims. Penn's character, Jim Terrier, is supposed to be hollowed out from a lifetime of morally dubious violence — he's sustained brain damage, the main symptom of which seems to be convenient dramatic timing — but he still looks competent as all hell as he tracks down the men he used to work with (played by Javier Bardem, Ray Winstone, and Mark Rylance), and tries to figure out who ordered a hit on him, and why.
Last year gave us a 59-year-old Denzel Washington in The Equalizer as a former government operative who unretires to come to the aid of an underage prostitute, a deadly force in dad jeans tearing through Russian gangsters without breaking a sweat. Keanu Reeves, a spry 50, got to wear a suit in John Wick as he laid waste to his own crowd of Russian baddies by way of the same coming-out-of-retirement storyline ("People keep asking if I'm back and I haven't really had an answer, but yeah, I'm thinking I'm back" is his character's signature line). The Expendables franchise and the Red movies half-jokingly celebrate the idea of the senior tough guys (and gals), but in the other films mentioned above, age isn't really the point. It's that these seemingly regular men — living in the New Jersey suburbs, working as a home improvement store employee, or digging wells in the DRC as part of an NGO — are secret badasses inside mild-mannered shells, ready to avenge slights instead of accepting them like ineffectual normal mortals.
That's the thrill of Taken, in which a group of Albanian human traffickers have no idea who they're messing with when they kidnap the daughter of Neeson's former CIA agent character. And it's the pleasure of Neeson's latest, Run All Night, a Jaume Collet-Serra-helmed gangster movie that's now in theaters. Neeson plays Jimmy Conlon, a former mob enforcer who's devolved into a laughable drunk until an incident involving his estranged son Mike (Joel Kinnaman) pulls him back into action. Collet-Serra also directed Neeson in Non-Stop, and while he makes some grating stylistic choices — e.g. the way the camera swoops from a god's-eye-view shot over New York City down to a particular block doesn't look cool; it looks like Google Maps — he has a real appreciation for his star's appeal. In particular, he knows that it's not Neeson's inevitable triumph that's the appeal; it's the promise of death.
Jimmy's in shambles at the start of Run All Night — once the right-hand man of gangster Shawn Maguire (Ed Harris), he's devolved into an alcoholic, isolated mess, while Shawn's established a semi-respectable life for himself. We first see Jimmy passed out at the bar that serves as Shawn's headquarters, awakening to light a cigarette while the other man laugh and he stumbles downstairs to cadge money off of Shawn's snotty son Danny (Boyd Holbrook). Jimmy's son, Mike, a limo driver and family man, hasn't spoken to him in five years. Jimmy lives alone in a run-down house by the tracks, watching a hockey game in the company of a space heater, wrapped in a blanket. He's so pathetic that an unbilled Nick Nolte plays his more responsible brother. It's all the better to mark his snap back to stone cold killer.
But that scene at the bar isn't quite our introduction to Jimmy. Run All Night starts with a flash-forward to a gunfight in the woods, Jimmy laid out on the ground, talking in voiceover about dying, and how all you see are the regrets, the things you wish you could change. The promise of his maybe eventual death lies over the entire movie, which ends up pitting Jimmy against his old friend Shawn after an incident involving their sons. It bounces gleefully through the outer boroughs, throwing in a bruising car chase along Jamaica Avenue in Queens, a brawl in a subway bathroom, and a multiparty manhunt in a public housing high-rise.
In Run All Night, Neeson is doing what he's done well in several recent movies over the years. When Jimmy and Shawn have a temporary detente in the midst of the madness, they talk about how surprised they are that Jimmy was able to take out one of Shawn's younger, more fit henchmen, which feels like winking meta-commentary on Neeson's recent work. But it's the sense of doom in Run All Night that really sets what he's up to apart — Neeson's able to allow a sense of mortality to dog his character. Like Penn in The Gunman, Jimmy doffs his shirt, too, but it's to get thrown into a shower after he gets too drunk at a Christmas party, not to show off some sculpted arms.
At a looming 6'4", with that heavy, handsomely craggy head, Neeson is always going to appear formidable, but he wears his years as well. And in Run All Night, he looks like someone who's been running out the clock and he doesn't care if others notice. He may go back to chasing down cops in his car, taunting the detective (Vincent D'Onofrio) with a special interest in his case, and shooting people with amusing abruptness — wasn't he trashed not that long ago? — but the adrenaline-fueled night is obviously his character's swan song, his desperate grab at redemption. Neeson may have opened the door to other onscreen aging leading men who want to reinvent themselves as action heroes, but in Run All Night — a cut above the actor's other recent fare — he reinforces why he's still the best. It's not in proving how impossibly capable his character is, it's in the fatalistic hints that he's worn down, that he's weary, and that he realizes his time may be coming to an end.