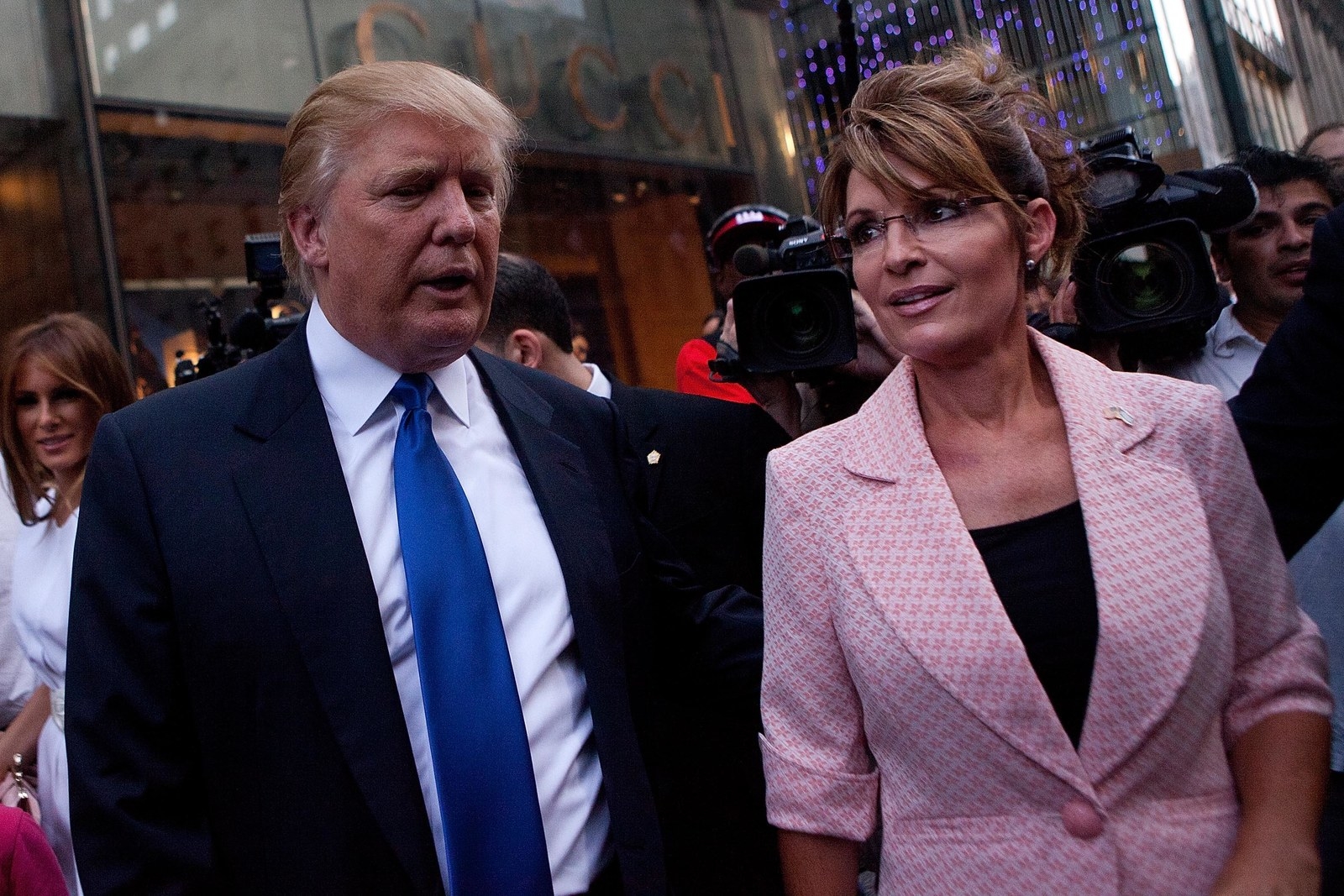 Stephen K. Bannon, who was named the CEO of Donald Trump's presidential campaign on Wednesday, isn't just a former investment banker turned executive chairman of Breitbart News.
He's also a filmmaker.
Bannon first dipped a toe into the movie biz in the '90s, as an executive producer on Julie Taymor's Shakespeare adaptation Titus and on The Indian Runner, which was written and directed by (of all people) Sean Penn. But it's in documentaries that Bannon found an outlet for his particular brand of nationalist ire, starting in 2004 with In the Face of Evil: Reagan's War in Word and Deed, a feature lauding Reagan's presidency as a stark battle of good versus evil (which was represented by everything from Communism to Islamic fundamentalism). It was described by the New York Times as having "maximum good guy-bad guy intensity and a manic dose of Hollywood histrionics, but with little film-making grace," an approach Bannon stuck to over his next half-dozen-plus features.
Throughout the last decade, Bannon has directed docs about "the awakening of the conservative woman," about disillusionment with President Obama, about why the Occupy movement is destructive, about Democratic Party corruption. Some films have gone direct to DVD, and others have had small theatrical releases or screened at the now defunct Liberty Film Festival, playing for a specialized market — he hasn't been pulling Dinesh D'Souza numbers. Bannon's most recent project, Clinton Cash, is based on Peter Schweizer's book of the same name and was uploaded to YouTube by Breitbart News in July. It's logged over a million views (though an unofficial version on the account "Philly Blunt" has netted twice that).
But Bannon's best-known movie remains The Undefeated, his doc lionizing Sarah Palin, a film that received a much-trumpeted, financially underwhelming theatrical release in 2011.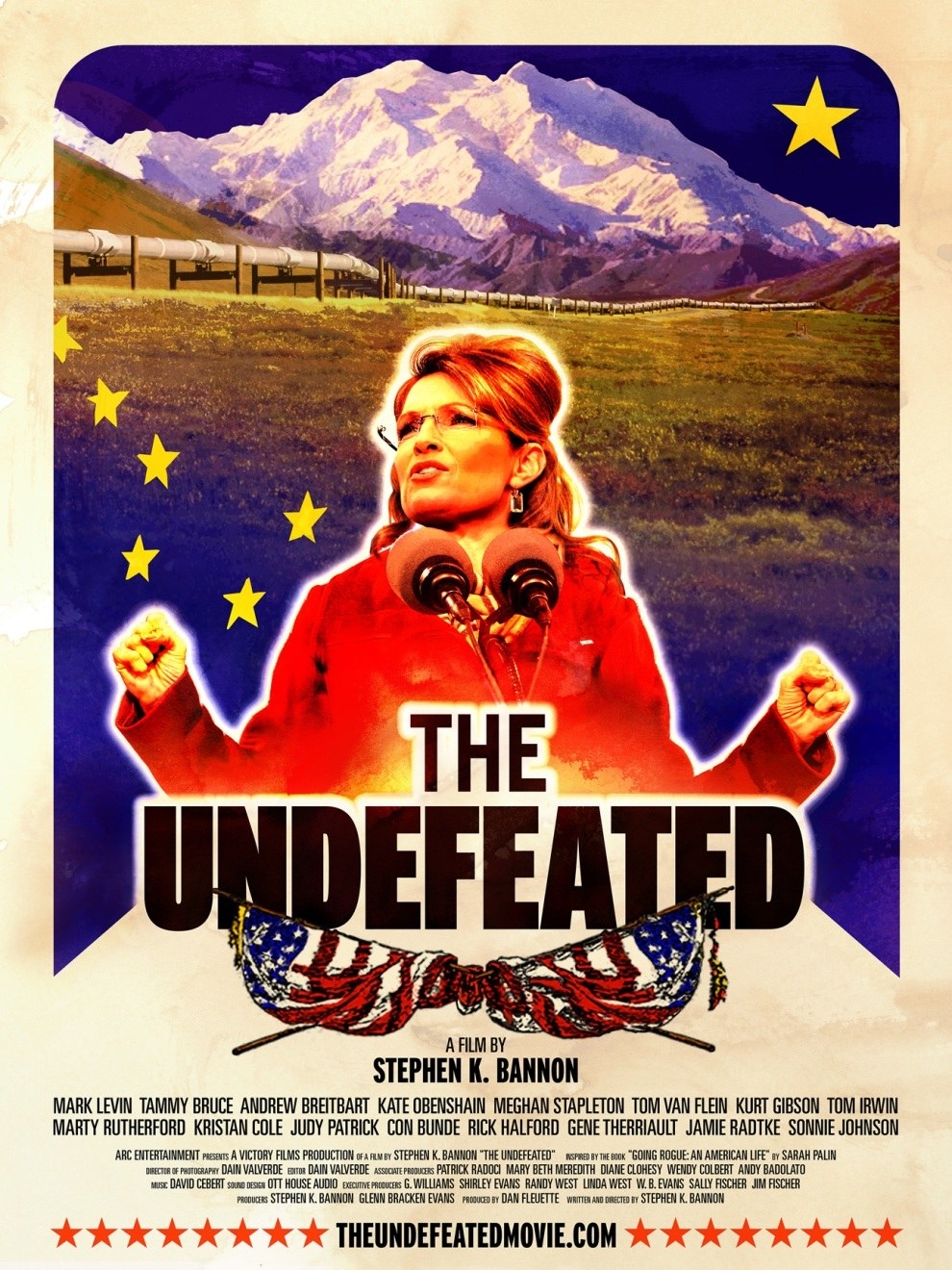 That title read just as oddly back then, too, with The Undefeated arriving after the McCain-Palin ticket lost the 2008 race and before Palin had declined to run for president in the 2012 election. That VP campaign, however, comes across as almost an afterthought in the two-hour movie, which instead focuses, in sometimes excruciating detail, on Palin's Alaska past and her potential future with the tea party, using excerpts from Palin's own Going Rogue audiobook and interviews with various supporters in lieu of speaking with Palin herself.
It's a long advertisement for something that didn't happen. And the opening montage — which combines derisive comments from the likes of David Letterman, Louis C.K., Pamela Anderson, and Matt Damon with hateful Facebook posts about Palin — makes it clear that the movie's less concerned with political triumph. It'd rather generate rage at adversaries, whether they be from Hollywood, the media, or the Republican Party ("I see eunuchs," the late Andrew Breitbart spits at GOP figures who didn't come to Palin's defense). In other words, it attempts to tell the story of a winner being beset by haters and losers, but, you know, classy.
In his 2015 profile of Bannon in Bloomberg, Joshua Green notes that Breitbart "described Bannon, with sincere admiration, as the Leni Riefenstahl of the Tea Party movement," which is quite a compliment, given that Riefenstahl was a master propagandist for the Nazi Party. Riefenstahl, at least, is generally (if begrudgingly) regarded as a skilled, influential filmmaker. The cinema du Steve Bannon as exemplified in The Undefeated, on the other hand, feels less like film and more like a method to implant ideas into a viewer's head by way of blunt force. The omnipresent score is grim when Palin's being criticized and soaring when she isn't, with the final half hour swelling so steadily it seems like it should be at shrieking levels by the time the credits roll.
The film cuts up its interviews and archival footage with a free-association jamboree of cats hissing, treacherous avalanches, medieval soldiers shot by arrows, and lions stalking and eating a zebra. Literal dollar bills are cut up, lit on fire, and flushed down a toilet every time public spending is discussed. Any hint of criticism directed toward America is paired with footage of generic home movies of families together, heartland flyovers, and postwar celebrations, stopping just short of someone spitting in an apple pie. The movie doesn't feature subliminal messaging; it's apparently styled to simply evoke it. Bannon futzes with the resolution of and zooms into anti-Palin footage to indicate that it should be frowned upon, and splices in evocative imagery in ways meant to guide emotions. He gradually shifts his interest from his subject as a person to his subject as a canvas onto which he can project, a filmmaking strategy that can be just as easily exported into a political one.
The Undefeated is nakedly manipulative, but like all of Bannon's films (and like partisan docs of all leanings), it isn't meant to recruit converts to its point of view about Palin, the tea party, or the conservative groundswell it's counting on. There's no conversation to be had — it's meant primarily for viewers who want their beliefs affirmed. And in that, at least Bannon's work is perfect for the age of Trump — it signals so broadly how it wants its audience to feel that there's no need to pay attention to what's being said.
Looks like there are no comments yet.
Be the first to comment!