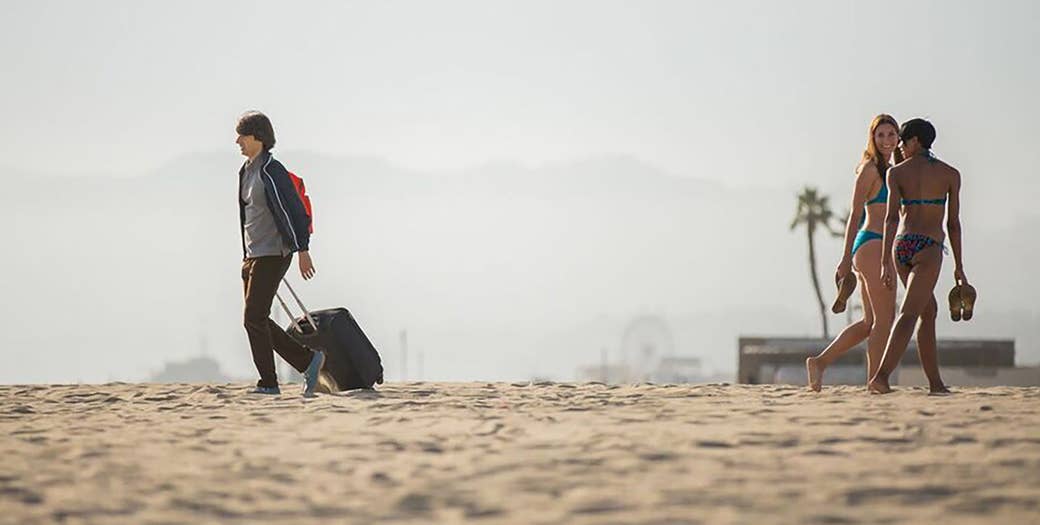 The hero of Dean specializes in funny drawings. That's actually the title of his first book, Funny Drawings, a collection of the sort of droll, childlike line illustrations for which Dean's writer-director-star Demetri Martin is known. Since the death of his mother, Dean has struggled to finish his second book, which has become infected with darker themes, an adorable grim reaper sneaking into each piece.
Like Martin, Dean has an air of boyishness that has nothing to do with his actual age, one that manifests in a preference for bowl cuts and backpacks, but that's also related to how he still seems only half-formed emotionally, nebulous when it comes to big decisions or confronting how he feels. The movie follows this grieving Brooklyn guy as he heads to Los Angeles for a few days, falls in love with a girl, and patches things up with his father (Kevin Kline) who, like Dean, has been trying to move on.
Mild-mannered dramedies like Dean, which is also Martin's filmmaking debut, are a staple of the film festival circuit, where small-scale stories are given more (sometimes too much) room to breathe than they tend to be allotted in the cutthroat world of theatrical releases. There are plenty of other movies about half-started or half-finished romances, family dysfunctions, and professional angst at the Tribeca Film Festival, where Dean made its world premiere. But this year, Dean has unusually like-minded company. It's part of a trio of films directed by comedians that all aim for a strikingly similar mix of funny-sad by delving into the contrast between dealing with personal pain and trying to make others laugh — the tears of the alt comedy clown.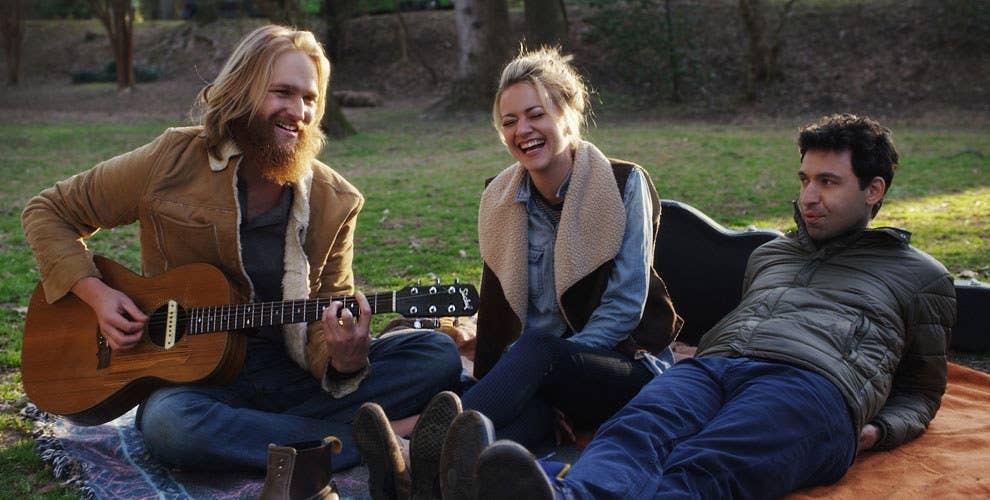 Screening alongside Dean is Folk Hero & Funny Guy, the first film from stand-up and Second City alum Jeff Grace, starring Girls actor Alex Karpovsky as a Boston comic named Paul. Like Grace, Paul gave up an advertising job to pursue his comedy dreams, and, like Grace, Paul ends up on tour opening for a friend who's become a famousish musician, Jason (Wyatt Russell, who between this and Everybody Wants Some has proven himself a delightful hippie). Paul is good at crowd work, but with his main act's audience, he sticks stubbornly to an outdated, rigid brand of observational humor ("What's the deal with Evites," pretty much) that goes over like a lead balloon, making him more and more defensive and disgruntled as the trip goes along and making the chances of him having a future as a full-time stand-up seem increasingly unlikely.
There's a whole improv troupe worth of characters grappling with similar questions about their careers in comedy in Mike Birbiglia's Don't Think Twice. The Commune, the club they work at that's been sold, is the kind of scrappy institution that can incubate talent for more prominent gigs elsewhere that, you know, actually pay. But the current lineup — Miles (Birbiglia), Jack (Keegan-Michael Key), Samantha (Gillian Jacobs), Bill (Chris Gethard), Allison (Kate Micucci), and Lindsay (Tami Sagher) — has started to really sweat now that that group's days might be numbered. Then Jack gets a part on Weekend Live, the movie's everything-but-the-name equivalent to Saturday Night Live complete with a terrifying, uninflected Lorne Michaels–style boss, and The Commune starts to implode as its other members realize that they're not all going to make it big, and might not all want to.
Other recent indies before Dean, Folk Hero & Funny Guy, and Don't Think Twice have started to stake out the space between melancholy and comedy-industry inside baseball. This year's Sundance Film Festival opened with SNL scribe Chris Kelly's unsteady directorial debut Other People, a movie about a comedy writer who retreats to his hometown to lick his wounds after his mother is diagnosed with cancer, his attempt at a TV series fails, and his relationship ends. Lorene Scafaria's warm The Meddler, which is about to open in theaters, is also about a heartbroken writer (who's working on a pilot for an semi-autobiographical sitcom) and her mother, who's adrift after the death of her husband. These movies aren't consistently solid, but they're consistently nice. Dean and Folk Hero & Funny Guy are pleasant, but Birbiglia's movie is better than that — it's dexterous at distilling that nauseating mix of happiness, enviousness, and fear of losing contact that can accompany a friend's sudden success.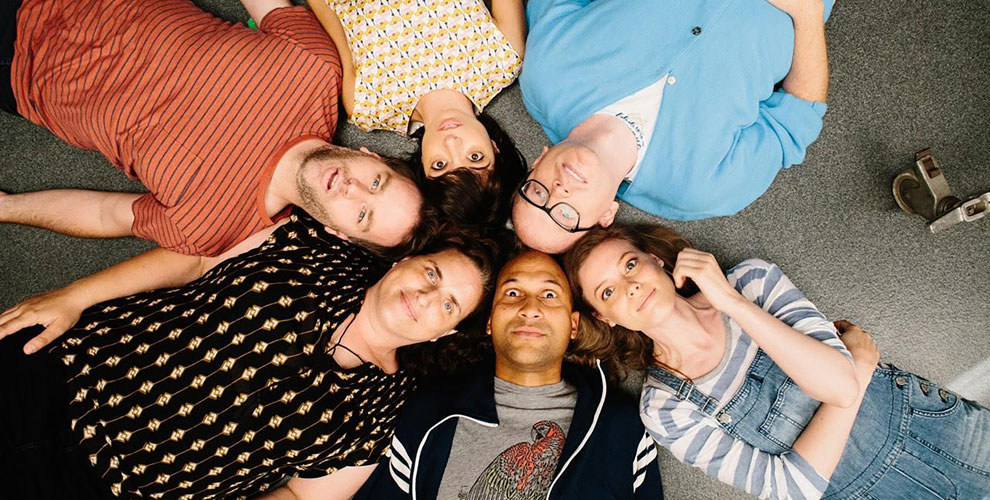 Their sameness only becomes un-ignorable when you watch them in a row. There are rhymes aplenty to be found in just the Tribeca trio. Folk Hero & Funny Guy's Paul and Dean's Dean are both getting over broken engagements to sensible brunettes (New Girl's Hannah Simone and Hello Ladies' Christine Woods). Like Don't Think Twice, Folk Hero & Funny Guy dwells on how friendships can get strained by disparities in success, with both movies featuring scenes in which their famous characters (Jack and Jason) play for adoring crowds who've shown no interest in their friends' performances. Dean starts at the grave of Dean's mother and deals with the aftermath of her death while Don't Think Twice ends at the funeral of one of its character's fathers and deals with what it's like to have an ailing parent. There are even stylistic resemblances — Dean and Folk Hero & Funny Guy both favor split screens to show what two characters are up to in parallel.
And two of these movies, Dean and Don't Think Twice, share a star: Gillian Jacobs, who's been paired with enough comedians onscreen to risk being seen as a manic pixie dream girl — or she would if she weren't so good at differentiating characters inevitably seen through the filter of a rocky romance. In Dean, she's Nicky, a woman the title character meets at a party and takes to a little too quickly, getting off a flight and wheeling his suitcase along a beach in order to spend time with her after one conversation. It's not the richest role, but Jacobs infuses Nicky with savvy, whereas in Don't Think Twice, she's poignantly uncertain as Sam, the Commune member convinced her only value is as part of the group. She's just as talented as her boyfriend Jack, but she sabotages her chances at more, though the movie allows that being happy with improv is just as valid a choice as being stressed in the SNL spotlight.
Neither of these ladies is a disaster like Mickey, the character Jacobs plays in the Netflix series Love, but they're of a kind: quirky-smart women who live either in New York or Los Angeles, and whose flaws get placed up front like a counterbalance to their prettiness, a way to make them more accessible. Love is also co-created by a comedian, and on top of that is executive produced by Judd Apatow, the king of this subgenre of semi-personal sad comedy that's blossomed as stand-up has leaned more and more toward the confessional. But while Apatow (whose Funny People remains his messiest, most ambitious work) and the likes of Louis C.K. and Chris Rock have spun gold out of a similar approach with Louie and Top Five respectively, films like the ones at Tribeca show the limitations as well as the benefits of writing what you know.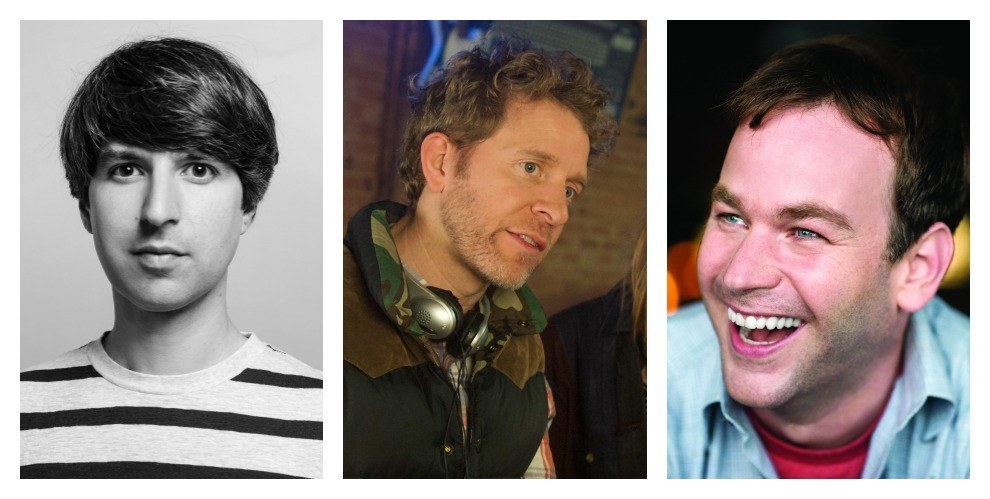 If Dean, Folk Hero & Funny Guy, and Don't Think Twice have a lot of overlap, well, they're about things that tend to be on the minds of creative-class thirtysomethings and fortysomethings, like the health of one's aging parents and whether it's essential for one's passion and one's job to be the same thing. And there's a raw honesty to aspects of them that clearly comes from their creators' lives — whether as directly as Grace basing his main characters on him and his friend and composer Adam Ezra, or as sideways as Martin channeling the death of his father when he was 20 into Dean's experiences. But the commonalities also highlight how narrow and uniform this particular slice of the comedy scene can be, especially in combination with the indie film world, which has the same tendencies.
It's like when the host of one of your favorite podcasts ends up a guest on another one, and "alt comedy" feels like it could be entirely the product of a few dozen frenemies living in the same two-mile area of Los Feliz. Like Hollywood as a whole, the comedy world has been the subject of ongoing conversations about diversity, and while that world is wider than the hipster-inflected segment that these films represent, nothing quite reinforces a sense of insularity like three comedians opening up with work that, through no planned design, comes across as very matchy-matchy.
It's no coincidence that Don't Look Twice, the best of the Tribeca bunch, is the least obviously personal and the one that spreads itself over its ensemble members, who each get their own narratives within the industry they love. It's tender and believable while maintaining enough distance on its material to give it form, telling a story rather than a series of anecdotes. It's a step forward from Birbiglia's 2012 debut Sleepwalk With Me, an adaptation of his one-man show that, hey, dealt with a stand-up who has to learn how to loosen up onstage and who breaks an engagement. The personal can start to feel oppressive when it comes across as a substitute for thinking about what it's like in the heads of people other than your own. Writing what you know remains solid advice, but there's something to be said for applying that knowledge to characters other than your thinly veiled self.