The Self-Awareness At This Year's Oscars Is Not A Substitute For Actual Change
The Academy Awards offered up a night of earnest speeches and jokes about whiteness. But underneath, things are pretty much the same as always.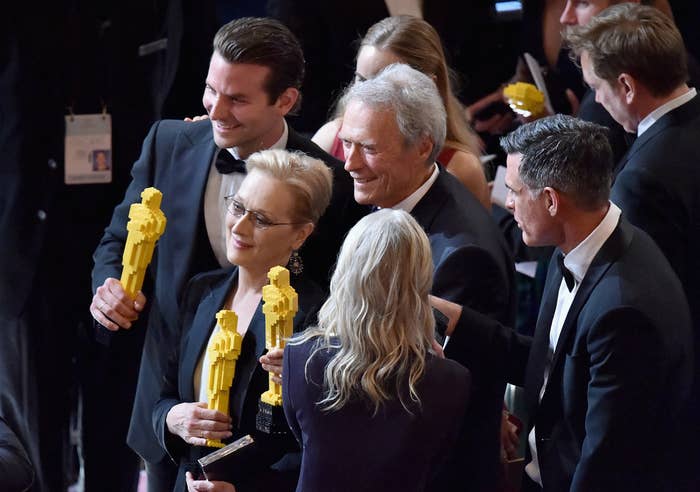 The Academy Awards ceremony is a mirror in which Hollywood arranges itself as it would most like to be seen. Every year, the industry sucks its stomach in, sorts out some flattering lighting, tilts its head at its most attractive angle, and pretends — that hilarious killjoy Jack Black number aside ("screens in our jeans!") — that it's all about the art and the craft and not increasingly driven by the giant blockbuster franchises that were left largely unmentioned during the evening.
This year's Academy Awards may have started off with Neil Patrick Harris delivering a starry-eyed musical ode to the magic of motion pictures, but the narrative of the evening wasn't escapism. Instead, again and again, we were reminded of the real-world relevance of the movies being celebrated, of their power to bring attention to social issues, to history, to diseases in need of a cure.
Yes, it made for some great speeches. Patricia Arquette, marvelous in glasses and wispy hair, tested the profanity delay when she won Best Supporting Actress for her role in Boyhood, then declared, "It's our time to have wage equality once and for all and equal rights for women in the United States of America." Common and John Legend, collecting the Best Original Song award for Selma's "Glory" after a searing performance, delivered heartfelt statements on how the spirit and work of the civil rights movement continues, with Legend pointing out, "There are more black men under correctional control today than were under slavery in 1850."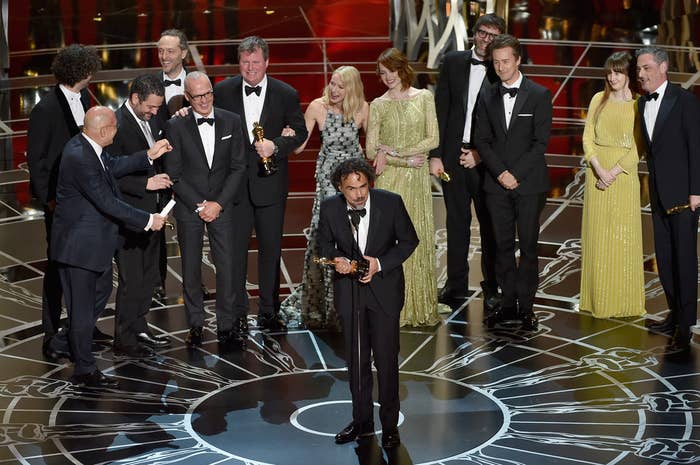 Julianne Moore, in an elegant speech after she won Best Actress for her performance in Still Alice, noted the film's potential to "shine a light on Alzheimer's disease." Alejandro González Iñárritu, accepting the fourth and biggest prize of Birdman's night, for Best Picture, dedicated the award to his "fellow Mexicans": "The ones who live in Mexico, I pray that we can find and build the government that we deserve. And the ones that live in this country who are part of the latest generation of immigrants in this country, I just pray that they can be treated with the same dignity and respect of the ones who came before and build this incredible immigrant nation."
These are lovely sentiments, and they'd be even lovelier if the Oscars hadn't, in practice, been basically another standard year. (Iñárritu's Best Director win, the second in a row for a Latino director, was a happy exception, even if it would have been nice to see Boyhood's Richard Linklater honored for his epic work.) When the nominees were first announced, they were blasted for the uniform whiteness of the acting categories in particular — on Twitter, the #OscarsSoWhite hashtag picked up steam and led to the organization of a protest. It took the snubbing of a single movie, Selma, in those categories to achieve that, and while director Ava DuVernay's historical drama is both good and gorgeously made, it was left carrying the burden of being the one black movie that's seemingly allowed, annually, into the awards conversation.
Instead of change, the Academy Awards gave us self-aware jokes — "Tonight, we honor Hollywood's best and whitest... sorry, I mean brightest," Harris announced at the top of the evening. Later, when the audience clapped for Selma star and non-nominee David Oyelowo, whose name Harris mispronounced multiple times, the host said, "Oh, sure, now you like him." The awards themselves might have been lacking in diversity, but the ceremony strived ferociously to compensate with its choice of presenters and reaction shots in the audience.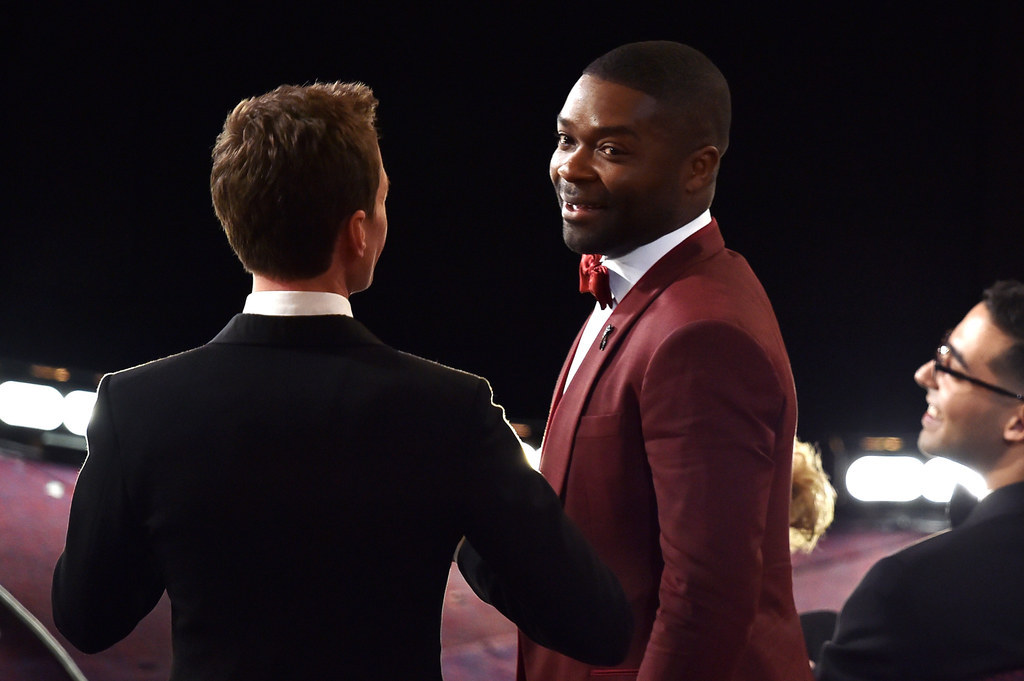 Oyelowo may not have gotten a chance at a trophy, but his poignant tears after the performance of "Glory" were given a place of pride during the show — as were, for added measure, Chris Pine's. And DuVernay's lack of a directing nod also meant there were no women nominated in that category, not to mention in the writing ones, or for cinematography, or for score, or for visual effects. In the history of the awards, only four women have ever been up for Best Director, and only one, Kathryn Bigelow, has won, for 2009's The Hurt Locker.
Yup, things were pretty much the same as always at the Oscars, even in terms of winner. This Best Picture race was a matter of Birdman versus Boyhood, two structurally inventive movies that, in a year with no obvious frontrunner, were excitingly unconventional in terms of form. But the big prize ultimately went, unsurprisingly, to the movie about movies, about acting and the desire to make important art, to be taken seriously. It was remarkable, really, that Richard Linklater's 12-years-in-the-making coming-of-age story made it so far — there's so little that's Oscary about it, in its deliberate pacing and eschewing of easy drama. It was the kind of movie you imagine grouchy Academy members liking the idea of far better than the actual, intimately scaled viewing experience.
Now four out of the five most recent Best Picture winners have been, either directly or sideways, about performance anxiety. The Artist, which won in 2012, is set right in the movie industry at the end of the silent era, while the 2013 winner Argo told the story of a hostage rescue situation by way of a fake film production. And The King's Speech, which won in 2011, is about how a British royal was coached into overcoming his stutter in order to give public addresses. The Academy Awards continue to awkwardly position themselves as more progressive, relevant, and aware than the reality of the nominees and winners generally reflects, but in celebrating this theme, regardless of how much the rest of the world relates, there seems to be little disagreement or apology. That mirror — it's hard to resist.