1. Eva Hesse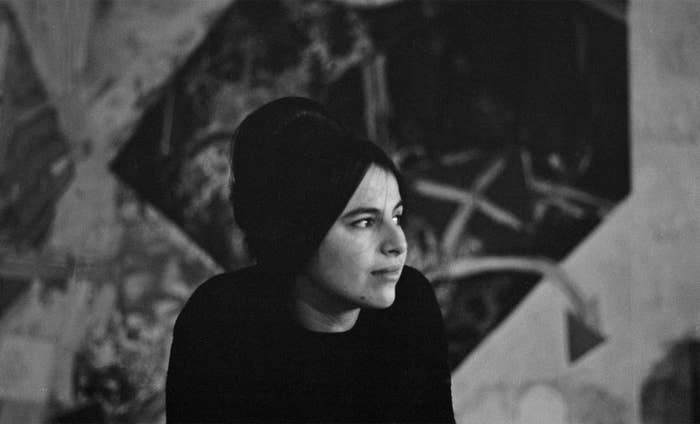 Artist Eva Hesse was born in Germany in 1936, two years before her family fled the Holocaust and found their way to New York, where she grew up. More than three decades later, she traveled back there in the company of her husband, sculptor Tom Doyle, who'd gotten a yearlong artist residency in her home country. She didn't want to go. "It was very hard for her. But Eva wouldn't let an opportunity go by," Hesse's sister, Helen Hesse Charash, says in one of Eva Hesse's many interviews with its subject's friends, family, and admirers. "Eva was a little more of a wife at that point. But all that would change."
Marcie Begleiter's doc about Hesse is a celebration of her work, in particular the stunning post-minimalist sculptures she created out of industrial materials like latex and fiberglass. It was work that made her a major, if difficult to categorize, figure in modern and feminist art. And Eva Hesse makes its way informatively and a touch staidly through Hesse's life, adding Hesse's own voice (through her journals, read by Selma Blair) to the chorus of others describing her development as an artist, her marriage and its end, and her death, of brain cancer, at the age of 34. But it's in tracing how a woman finds her own distinctive voice in an art world full of men so assured they'd be taken seriously that the film really comes into its own, reverberantly depicting how Hesse went from the side room and the supportive role to being the one who was in the spotlight, however briefly.
How to see it: Eva Hesse's now playing in New York and will be making its way around the country — you can find a list of dates and locations here.
2. The First Monday in May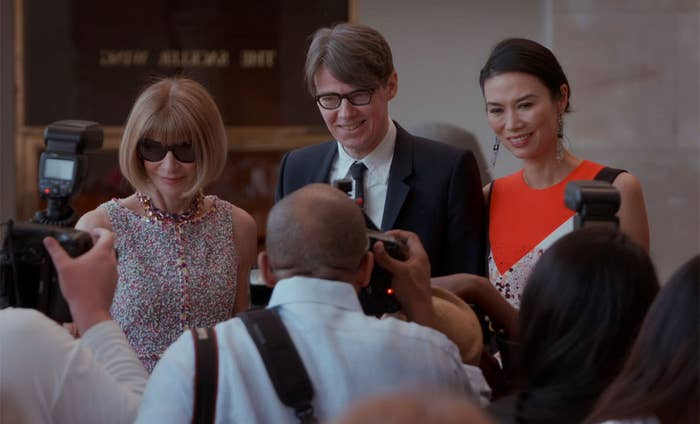 If you watched the parade of strange and marvelous red carpet looks from the Met Gala on Monday and wondered what the hell the Met Gala even is and why Zayn Malik put on robot arms to attend it, well, this is the film for you.
Page One: Inside the New York Times director Andrew Rossi chronicles the Met's yearlong preparations for its 2015 China: Through the Looking Glass show and the star-studded themed party that accompanies every year's spring exhibit, efforts overseen by curator Andrew Bolton and Vogue commandant Anna Wintour. It's an access-y look at one of the biggest events of the year in fashion, ending with a peek into the Gala itself, where the likes of Justin Bieber and Chloë Sevigny frolic, ambitiously dressed and intriguingly unguarded, and where Rihanna performs "Bitch Better Have My Money" to an audience of finery-clad, awkwardly dancing celebs and other rich people.
If you don't care about fashion — Rossi doesn't push terribly hard to make the behind-the-scenes stuff relevant or compelling to non-fans — there is another issue that unfolds fascinatingly over the course of the film: whether the theme of "the impact of Chinese aesthetics on Western fashion" is actually a celebration of Orientalism. Again and again in the doc, in conversations with the Asian art department and with Chinese dignitaries and journalists, the question is raised of what it means to highlight how the West sees China rather than focusing on China itself. It's a question that's averted or fumbled again and again — for example, Wintour at one point asks a Chinese reporter where fashion would be without fantasy, as if "fantasy" is an excuse from all criticism. But eventually, Hong Kong filmmaker Wong Kar-wai, who's serving as the exhibit's artistic director, steps in to provide a considered answer. Not only does he manage to out-sunglass Wintour, never once taking his off, he provides understated evidence of how a tightly controlled industry like that of fashion benefits when it's loosed from the iron grip of an exclusive, like-minded few.
How to see it: The First Monday in May is now playing in limited release — check out a list of locations here. It's also available for digital rental.
3. Los Sures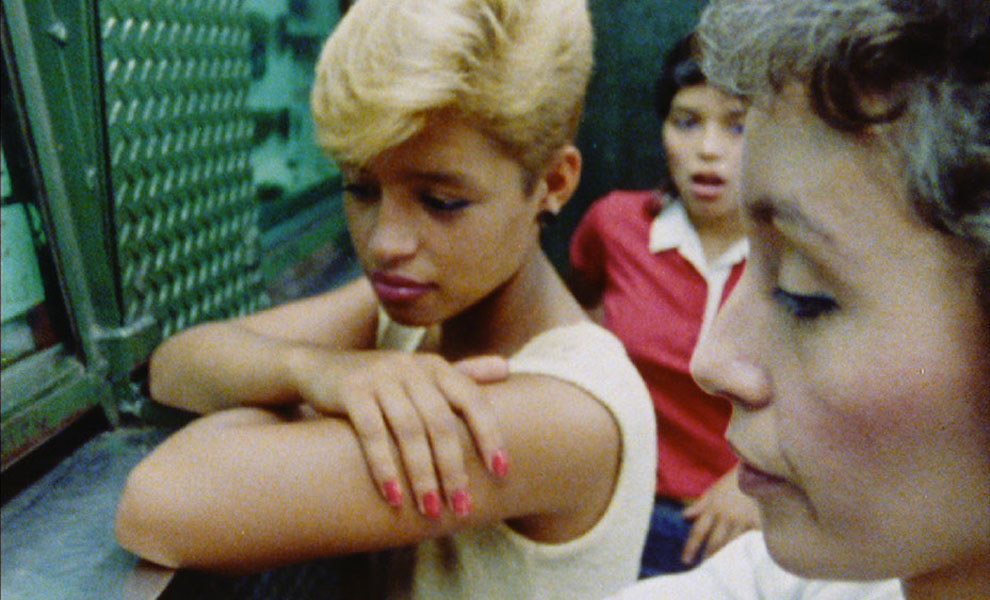 In 1984, Diego Echeverria made a documentary about what was then the predominantly Puerto Rican Brooklyn neighborhood of South Williamsburg. It was one of New York's poorest, its residents dealing with gangs, unemployment, and a growing drug epidemic. Over a runtime of just under an hour, Echeverria's intimate film glides into the lives of five people in the area, three women and two men, and what emerges is a portrait of love and pain. Los Sures depicts a vital, close community in which family is foremost and life spills out into the streets, with kids playing in the spray of an open fire hydrant, girls doing a dance routine on the sidewalk, and old men bent over a game of dominoes. But there are also spray-painted memorials for people lost to violence, and, as one of the subjects points out, the lure of dealing when so few options exist is almost irresistible for the area's young men. "There was a joy once," she says. "There was a sadness, but there was a joy."
Los Sures, which has been restored and given a real theatrical release after 32 years, has acquired a new layer of melancholy now that South Williamsburg has been transformed into a spendy area of glassy condos and hip restaurants. A walk through its streets today looks radically different from the ones captured in Echeverria's work, though parts of the community, and memories of it, endure, some of them captured in an online project inspired by the film.
How to see it: Los Sures is now playing in New York at the Metrograph theater, and it will be opening in Brooklyn, Los Angeles, and South Florida, among other locations, in the next few weeks.
4. Men & Chicken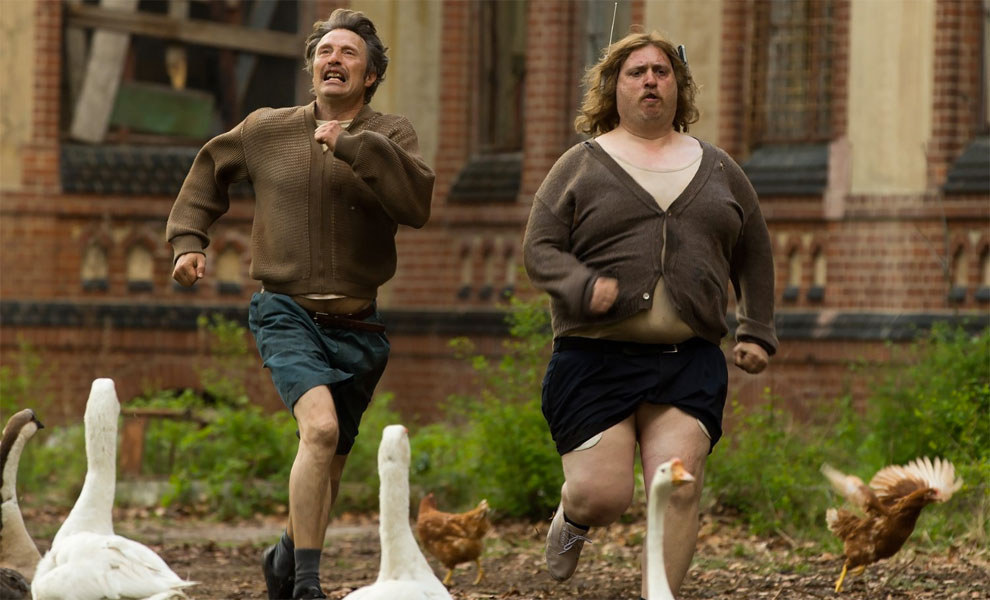 Nothing clears away lingering memories of Mads Mikkelsen's unsettling turn as the title character on Hannibal like seeing him as a mustachioed compulsive masturbator in this bizarre Danish comedy about siblings, genetics, and life on a small island.
Mikkelsen's proven himself capable of being chilling, dashing, intimidating, and tragic on screen, so it shouldn't come as a surprise that he can also be funny. But there's still something unexpectedly delightful about his commitment to the deadpan tone of Men & Chicken, directed by Anders Thomas Jensen. He plays Elias, one of five misfit siblings trying to figure out their place in the world in the shadow of their scientist father. Elias starts the movie on a date with a psychiatrist he's courting because he doesn't want to pay for sessions, a fact she picks up on very quickly. His brother Gabriel (David Dencik) has his life slightly more together, but when the two learn that they were adopted and they have family on a sparsely populated island, they find themselves in the strange world of their three half siblings: Gregor (Nikolaj Lie Kaas), Franz (Søren Malling), and Josef (Nicolas Bro). The trio shares a decrepit house with some mutant farm animals, and they settle their disagreements with Three Stooges–worthy beatings. That's only the beginning of this uncategorizable oddity, which demands you get on its distinctive wavelength, but offers plenty of offbeat pleasures once you do.
How to see it: Men & Chicken is now open in limited release — check out a list of locations here.
5. No Home Movie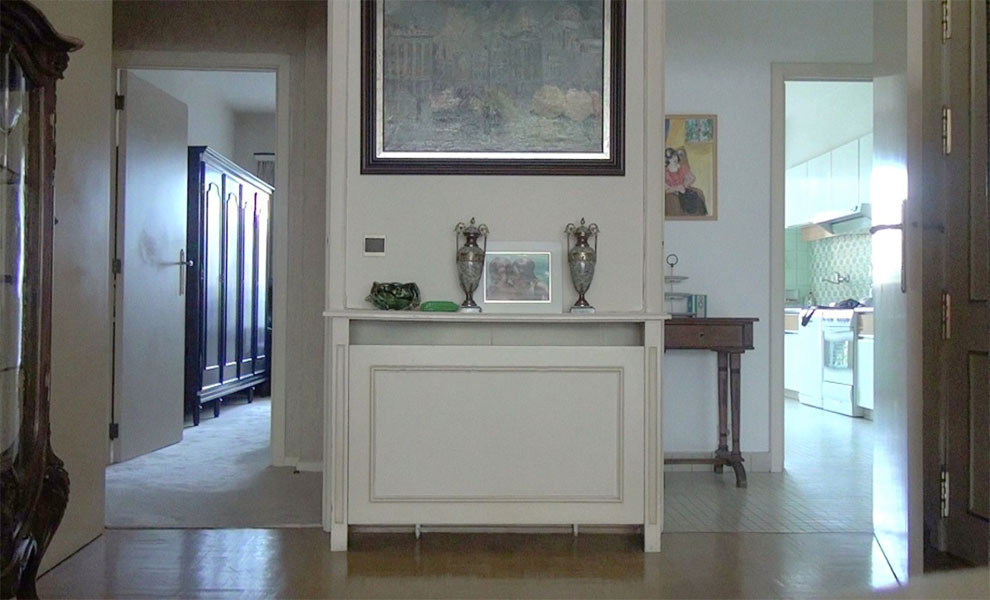 Chantal Akerman died last year, making No Home Movie not just her latest film but her last, the capper to a life as one of the world's most influential female filmmakers. In a way, that's almost too neat and too tragic; it feels like a bookend to Jeanne Dielman, 23, Quai du Commerce, 1080 Bruxelles, the film for which Akerman's best known, in which a Brussels widow does housework and sex work to support herself and her son, the solitude and monotony of her days playing out in long scenes. No Home Movie is centered on another housewife puttering around her apartment, only it's Akerman's late mother, who's featured in some way in several of her films, an Auschwitz survivor who, as Akerman put it, "went out of the camps" and "made her house into a jail."
No Home Movie documents Akerman's mother at home, the camera usually static while she reads the paper, or has a meal, or converses about potatoes and the past over a kitchen table, slowly fading until she passes away. It's almost unbearably sad, but the deep affection and connection Akerman has for her subject thrums through every scene, even the ones in which they speak on Skype, Akerman from different locations around the world. "I want to show that there is no distance in the world," she says when asked why she's filming, as if she could shrink the space between them until they were traveling together. "You're in Brussels and I'm in Oklahoma. Look, there is no more distance."
How to see it: No Home Movie is now playing in limited release — check out a list of locations here. It's also streaming on Fandor.
6. Sing Street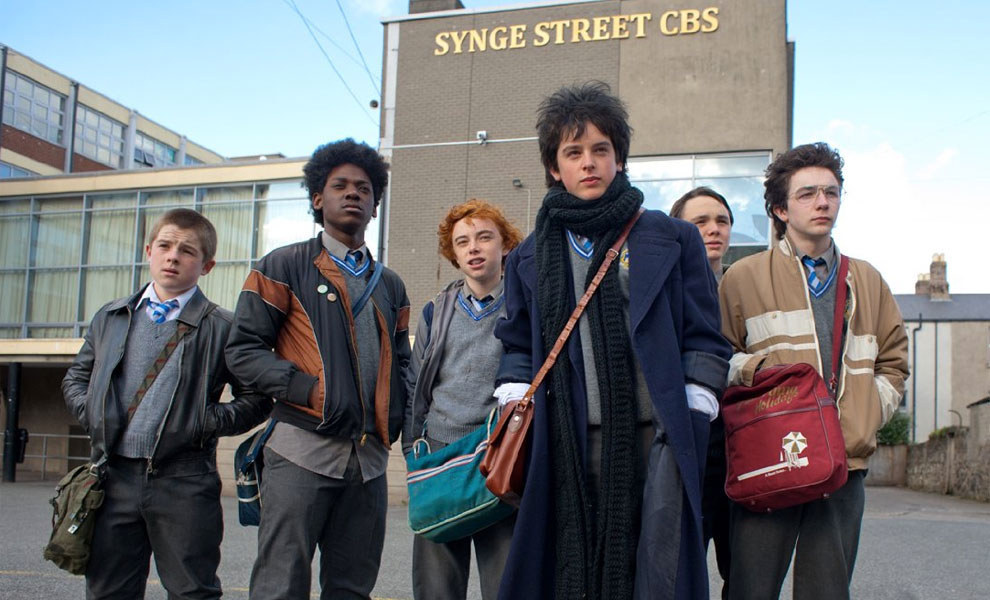 No one has faith in the power of music quite like John Carney does. The filmmaker, who's also a musician himself, built a delicate love story in his breakout hit Once as a struggling street busker and a Czech flower seller made bittersweet music together. In his irresistibly crowd-pleasing new movie Sing Street, Cosmo (Ferdia Walsh-Peelo), a teenager in 1980s Dublin, attempts the reverse, starting a band in order to impress a girl — Raphina (Lucy Boynton), an aspiring model and group home resident who he's promised will star in their music videos.
Theirs is a charming budding romance, but Cosmo's plunge into high school would-be rock-stardom is even more winning, as he and his recruits go from being a cover band to one writing original tunes, trying out different and totally era-appropriate looks as they go. The film captures the earnestness and the silliness of the boys' efforts, but also how little that matters when you're discovering what it feels like to create something — especially when the ache of your parents' on-the-rocks marriage and the bullies at school can become more fuel for your work. And as Cosmo's stalled-out, stoner older brother Brendan, a source of solace and rock 'n' roll knowledge, Jack Reynor steals the movie.
How to see it: Sing Street is playing in limited release.