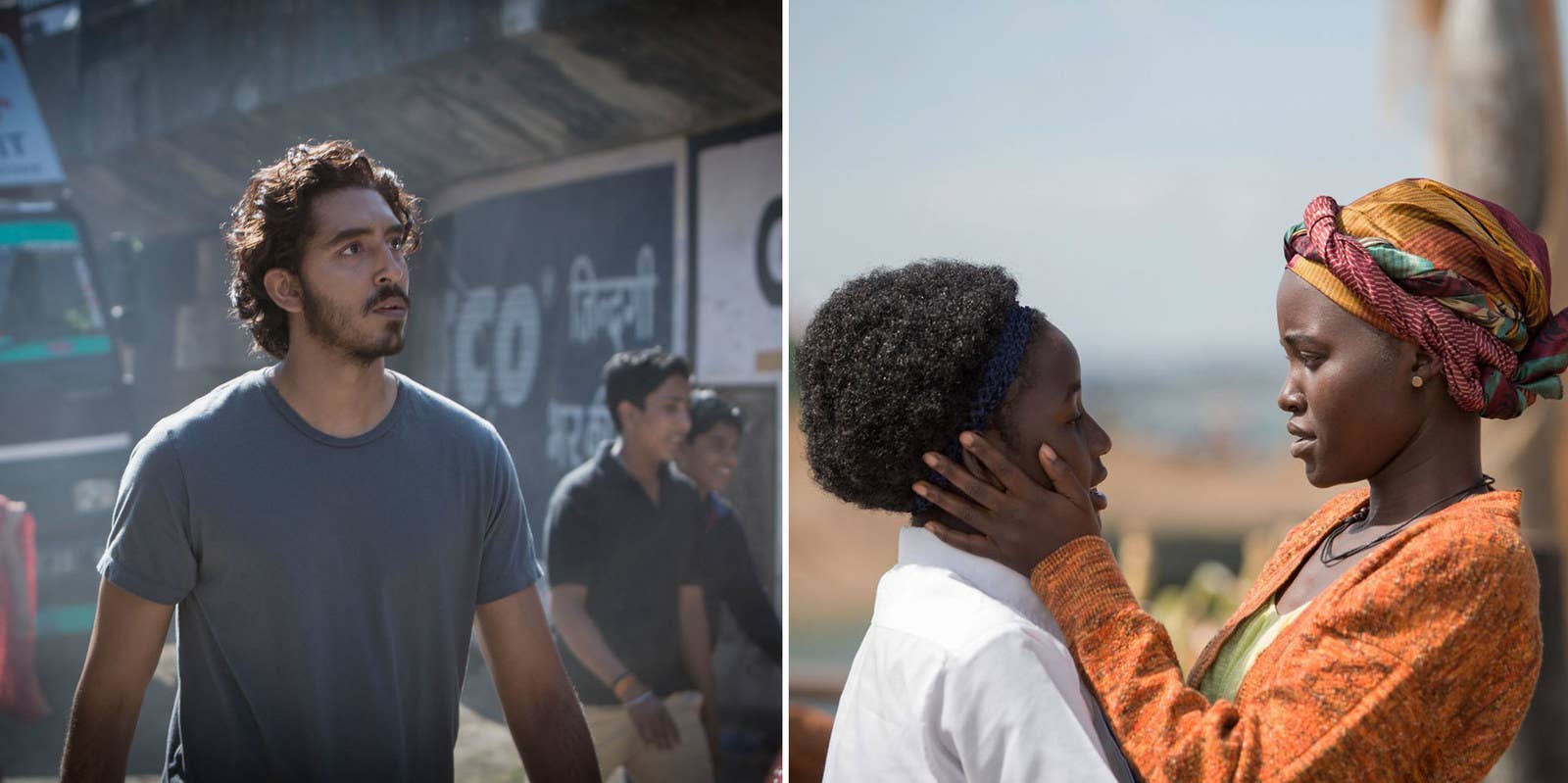 Nicole Kidman shows up maybe a third of the way through Lion, wearing a tremulous smile and a curly 'do that's just the slightest bit reminiscent of Kath from Kath & Kim. She plays Sue Brierley, a Tasmanian woman who, with her husband John (David Wenham), adopted and raised two boys from India — one of them Lion's hero, Saroo. In the film, Sue is kind, loving, and patient even at times when she and John feel out of their depth in devising the best care for Mantosh, Saroo's troubled adoptive brother. With heartfelt sincerity (and mildly cringeworthy wording), she recounts a vision she had when she was younger, of a "brown-skinned" child at her side, and how that vision inspired her to look to India to adopt rather than plan for biological kids.
It's not hard to imagine a version of Lion — which will be released in theaters in November — that's centered on Sue, especially when she's played by the film's most famous cast member. It'd detail the difficulties and poignant moments as she and John build relationships with a pair of children with whom they didn't, at first, share a language or a culture. It'd explore how conflicted Sue felt as Saroo blossomed and went on to college while Mantosh struggled with addiction, as well as her emotional response to learning that Saroo had been keeping his search for his birth mother secret from her, out of fear it would seem ungrateful. It's not hard to think of how this iteration of the film would look, because there's an established, decades-long tradition of feel-good movies about white characters who, reluctantly or enthusiastically, end up participating in the lives of characters of color and find their own existences enriched in the process.
Lion isn't a white savior movie. It isn't framed as a savior movie at all; it's a surprisingly solid film in which Sue and John are accessories to a story about transracial adoptee identity and how a man searches for his roots by way of Google Earth. Another uplifting, smile-through-tears, based-on-a-true-story feature already in theaters, the Uganda-set Queen of Katwe, has no major white characters at all. Together, they make for a quiet milestone for a particular sort of cinematic comfort food — the heartwarming story of human triumph. Lion is the solo debut of Top of the Lake's Garth Davis, while Queen of Katwe is the latest film by acclaimed filmmaker Mira Nair, and they're both, tastefully, crowd-pleasing as all hell. They're also unencumbered by the assumption that a crowd requires a white character to be its surrogate — or that a white character is guaranteed to reflect who's sitting in the audience.
Lion starts where Saroo's story starts — not in Australia, but in India, where he was born, and where, until the age of 5, he lived with his siblings and laborer mother in a village near Khandwa. He's separated from them in an incident of humdrum horror, when, napping in an empty train car while waiting for his brother to finish work, he wakes up to find it's been in motion for hours, stranding him nearly a thousand miles away to bustling Kolkata. Saroo speaks no Bengali, knows no one in the city, and can't begin to describe the thing that happened to him. He's lost, and his constant brushes with danger are made all the more wrenching by the fact that Saroo's played, as a boy, by Sunny Pawar, a young actor with a face befitting a Precious Moments figurine. Saroo ends up funneled into the vulnerable, difficult life of the city's street kids, struggling to survive, always on the lookout for predators who can come in the guise of protectors (even under the auspices of the state-run center for abandoned children).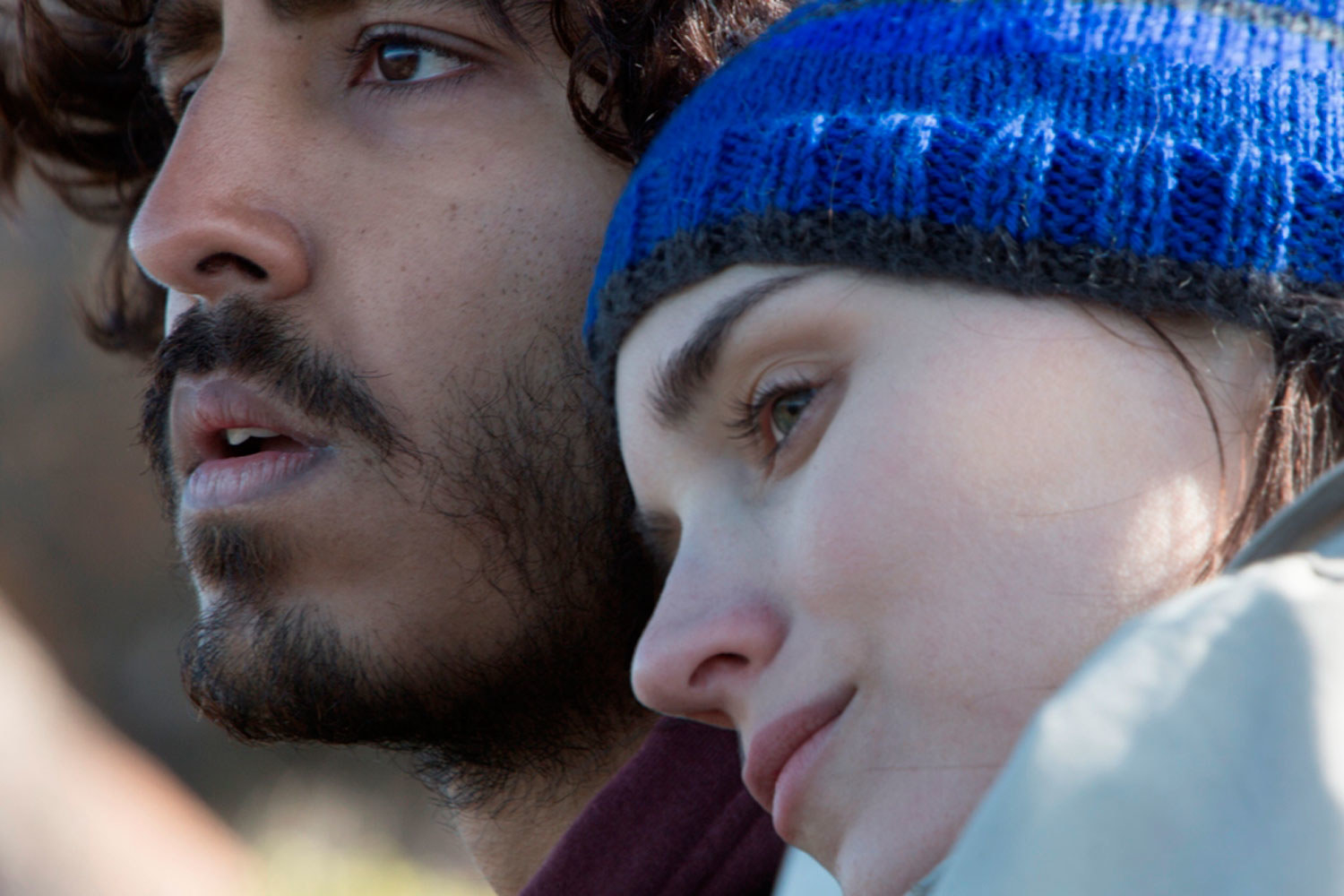 When Saroo is eventually adopted, it's a bittersweet development, a relief more than a rescue — it provides Saroo with a safer, more stable life, but will means an end to his hopes to makes his way back to his hometown, a village he doesn't even know enough about for anyone to help identify. Sue and John are devoted parents, but they're replacing the adoring mother from whom Saroo was separated, rather fulfilling a role that was lacking. Saroo grows into an adult, played by a flowing-haired Dev Patel, who's repressed most of his pre-Tasmanian life and who displays discomfort when asked about his background. "I'm not really Indian," he quickly tells Indian students in his college program who want to know what part of Kolkata he's from. But a taste of jalebi at a dinner party turns out to be a Proustian trigger that brings memories rushing back, knocking his sense of self askew. Soon he's pulling away from his American girlfriend (Rooney Mara) to spend nights on the couch scouring the web and his own recollections for clues that might help him find his way back to where he first lived.
There are tears, and there's joy. Then Lion ends with an onscreen note about how many children in India go missing each year — the kind of call to action meant to underscore the importance and the relevance of the movie that just concluded. It's a weird reframing. While the plight of street children is something Lion touches on, its strengths lie in revealing a specific person's exceptional journey, his desire to connect with his past and understand all parts of his identity. Lion, despite what its earnest end card implies, doesn't serve up its subject's life as a method to inspire audiences to ask how they can help: It's a movie about his complex emotions in coming to terms with his past, and his hopes to reconnect with his birth mother without hurting the parents who raised him. His experiences don't need to generalized into a larger humanitarian issue to have more weight — they'll wreck you just fine as is.
Queen of Katwe centers on Phiona Mutesi (played by first-timer Madina Nalwanga), a future master in chess, and kicks off in the poor Kampala neighborhood, where she grew up and where she and her siblings sell corn in the street to support the family. Its scope widens along with that of its subject's life, first to the shack in which Robert Katende (David Oyelowo) teaches local children how to play the game; then to a tonier part of the city where Phiona and her teammates compete against scoffing students from a fancy school; then onto a plane for the first time to another part of Africa; and eventually to Russia for the Chess Olympiad. All the characters — including Robert, his students, and Phiona's mother, Nakku Harriet (a divinely formidable Lupita Nyong'o) — are African, which makes sense, given that it's a story about and taking place primarily in Uganda.
This shouldn't be remark-worthy. But for a sense of how ingrained the urge to filter a story like Mutesi's through an outsider's perspective in mainstream movies has been, you need only consider that Queen of Katwe is third in a recent line of underdog movies from Disney about athletes of color, and it's the first of the three to not have a white lead. Last year, the the studio released McFarland, USA, the story of how the high school cross-country team from a poor, primarily Latino area of San Joaquin Valley farmworkers inaugurates what becomes a years-long championship streak. That film centered on Kevin Costner as Jim White, a gruff coach who takes the job out of desperation rather than desire, but who, along with his family, ends up bonding with the community. The year before was Million Dollar Arm, about how two Indian cricket players win a marketing campaign-cum-talent contest to come to America and determine if their skills can reproduce success as baseball pitchers for an MLB team. That film was filtered through the perspective of J.B. Bernstein (Jon Hamm), the cynical agent who came up with the concept, and who initially treats the pair callously, only to come around, start to believe in, and yes, form genuine connections with the two players he plucked out of poverty.
Taken together, this trio looks like a progression, a studio finally shedding a habitual narrative layer that Queen of Katwe doesn't need and doesn't feel as though it's missing. The movie wears its formula perfectly well without requiring some square-jawed white American to act aghast at what life in the slums is like: Phiona comes into her own while working to find a balance between the concerns of her mother and the encouragement of her coach, who is a generous, mild-tempered instructor hailing from the community instead of arriving from somewhere outside it. It's a conventional set of relationships with some interesting complications lurking in corners, like the validity of Phiona's mother's concerns about her daughter getting crushed by such high expectations, and the escape offered by the possibility of a government stipend for chess seeming a very tenuous thing for a girl to pin her hopes to. The ending's a happy one, of course, but one shaded with economic urgency — whether you win or lose is important, but so is whether you're able to get paid.
It's not just that Lion and Queen of Katwe — two films with unexpected approaches to expected tales of uplift — spin so freely away from the white savior trope. It's that the construction stubbornly persists at all, this idea that narratives rooted in a nonwhite culture require some sort of "in," a white outsider's point of view, a character through whom experiences can be translated, to whom things can be explained, and whose reactions can inform audiences how they're supposed to feel. It's the assumption that there's a barrier that needs to be surmounted — that characters of color are, on some fundamental level, less relatable without white ones by their side. And it's a notion that's hopelessly entangled with circular casting excuses, that needing "star power" means forever turning to a less-than-diverse pool of name actors, which then means less exposure for actors of color who could be future stars. The ease with which these two movies tell their characters' stories without a white mediator speaks to how needless these deflections are, and how unwanted. In search of a good cry? Saroo and Phiona are more than enough to get you there, all by themselves.