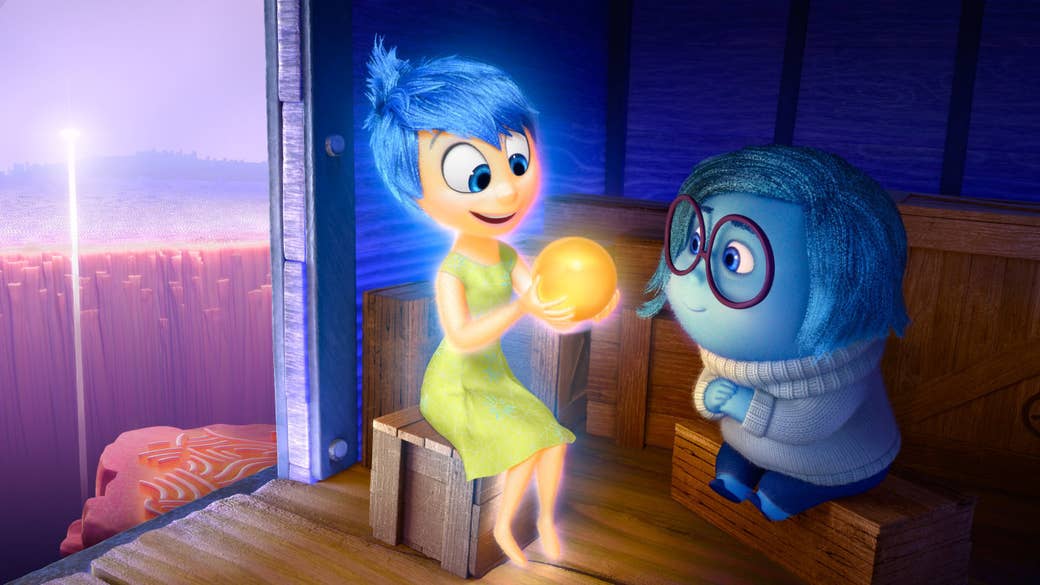 When the Disney logo flashed on screen at the start of the first Cannes screening of Inside Out, there was a smattering of applause from the crowd, followed by a few retaliatory, tongue-in-cheek boos. When the Pixar logo arrived? Nothing but cheers.
It was a 30-second encapsulation of how some movie lovers have come to view the relationship between Pixar and the company that bought it in 2006. The former is the beloved brand behind a near-miraculous run of movies that were captivating but complex, funny and sad, genuinely made for adults and children. And Disney is the media giant under whose ownership Pixar has ramped up to a film-a-year schedule with a greater emphasis on sequels, some great (Toy Story 3) and some not (Cars 2). While even lesser Pixar is usually still pretty damn good, it's been tempting to attribute the company's underwhelming last few years to the Mouse's boot on its neck, a more comforting narrative than the one in which no hot streak lasts forever.
Whatever the truth, you can call Inside Out a comeback, a return to form, a gratifying reminder that no one else would attempt to make a children's tentpole movie about how emotional pain is just as essential a part of life as happiness — and no one else would be able to pull it off quite like this. Based on an original idea by director and writer Pete Docter, Inside Out takes place primarily in the head of 11-year-old Riley (voiced by Kaitlyn Dias), whose idyllic life is shaken up when her family moves from Minnesota to San Francisco. While not as daring in form as WALL-E or Docter's own Up, Inside Out sets its epic adventure in some brilliantly unusual territory — the developing mind of a girl having to learn about change, empathy, and letting things go.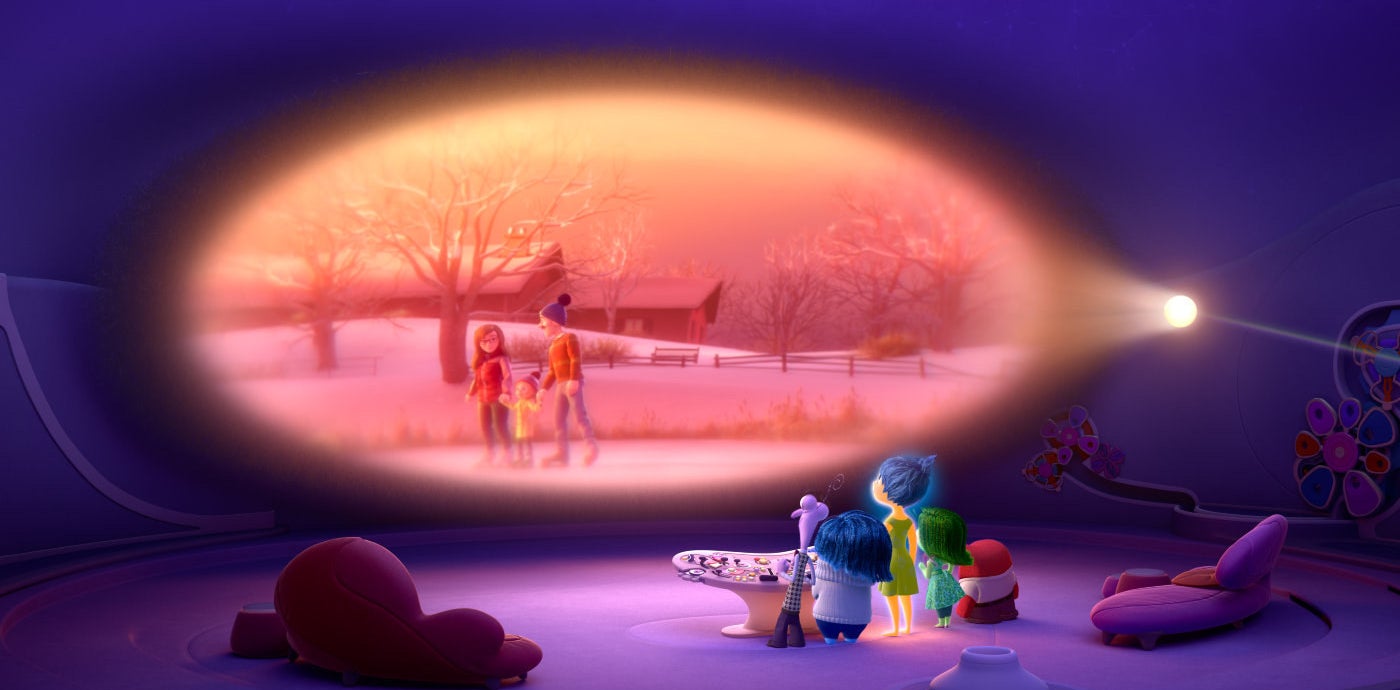 The concept is laid out in a limber introduction in which infant Riley's first emotion, Joy (Amy Poehler), pops into being inside her head. To her mild consternation, she's quickly joined by Sadness (Phyllis Smith, the movie's unexpected MVP), whose role in Riley's life Joy doesn't understand. Then come Anger (Lewis Black), Disgust (Mindy Kaling), and Fear (Bill Hader), each of whom gets a turn at Riley's control panel depending on what's going on in her life. Riley's memories form as bowling ball–sized spheres tinted to indicate the feeling each one represents and capable of being projected back like home movies. Most of those memories glow a Joyful yellow as Riley grows up under the care of her loving parents (Diane Lane and Kyle MacLachlan) in the Midwest.
There's more to the movie's cartoon conception of the brain, details of which whirl by so quickly that their cleverness doesn't really sink in until after the fact — like the way the blob-shaped mind workers in the permanent memory department scoff, "They're all in her phone," while clearing away unnecessary records of telephone numbers. Inside Out does feel more frantic than past Pixar movies, especially when Joy and Sadness accidentally end up in the far reaches of Riley's mind, journeying through different areas in an attempt to get back. The frenetic energy of the interior storyline is an attempt to balance out what's actually a grounded and somber outside one in which Riley, upset about the friends and home she's left behind, pulls away from her distracted parents and starts to consider running away.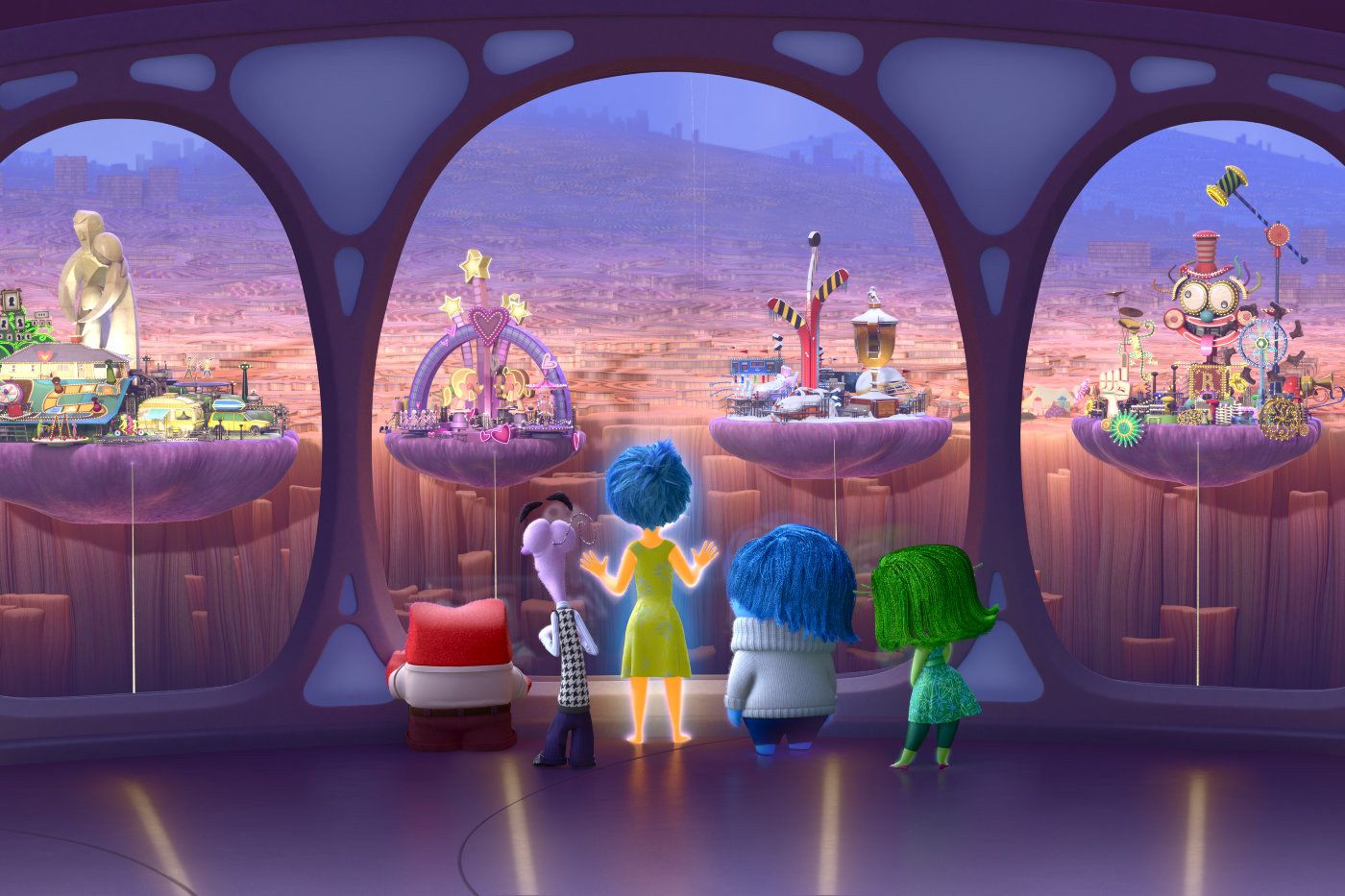 The combination of the bright and the tearful has always been Pixar's strong suit, and in a movie that's literally about all the feels, this has never been more apparent. But the tears that it extracts are earned by themes that are delicate and sophisticated — ones about being a child and starting to understand that your parents have just as many uncertainties as you do, ones about how no one is happy all the time and that no one should be, and ones about how growing up comes with letting go of some of the things you loved when you were younger.
Inside Out, which opens in the U.S. on June 19, continues what Toy Story 3 started, only this time, we're not seeing things from the perspective of the toys being left behind, but from inside the mind of the person who's doing the leaving. The pain you feel in your heart at the end? It's the good kind, the bittersweet reminder that time is always passing.