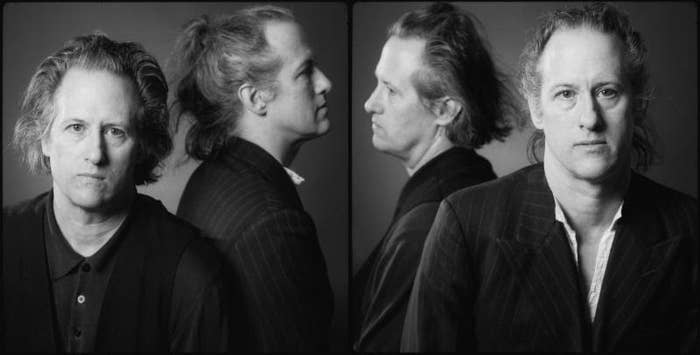 There are no unconscious heists, brooding superheroes, or journeys through space in the latest Christopher Nolan film. There are just two graying men crouched over a puppet in an intriguingly cluttered workshop brimming with dolls and books and miniature staircases. They are Stephen and Timothy Quay, better known as the Brothers Quay, and the movies they make sit on the opposite end of the scale from Nolan's epic IMAX blockbusters. Their work is mostly wordless and mostly takes the form of shorts, because the painstaking stop-motion animation for which the siblings are known isn't the kind of thing that lends itself easily to feature-length movies.
Quay, which Nolan directed, is a short itself, a 12-minute documentary that lovingly examines the exacting way the brothers, who make being identical twins look like a stylistic choice, work. They use puppets they put together from parts that are better found in a marketplace, as they put it. They paint the eyes with olive oil to give them a lifelike shimmer, and they photograph their work frame by diligent frame. They move around their tiny set like they share a brain, summoning up a vaguely otherworldly, magical air that matches their eerie films.
Nolan's doc comes out of a joint venture between his production company Syncopy and art film purveyors Zeitgeist, a partnership that's yielding a Blu-ray collection of 15 Quay shorts, alongside Nolan's new one, due out on Oct. 20. So, on one level, Quay is an act of fandom and of giving back, a commercially successful filmmaker directing attention to a pair of cult ones he admires. But Quay, which is touring the country in a program with three of the brothers' films, also feels like a declaration of alignment — a reminder that Nolan, for all the grandiosity of his work, has an undeniable analog streak himself, with his fondness for shooting on celluloid and using practical effects.
And the Quays' films are as analog as cinema gets, handmade and highly idiosyncratic, offering up these haunting universes in which logic is as spongy as that of a dream. They forgo dialogue in favor of immersive scores and obvious narrative for metaphor, and yet the emotions they evoke are strong and clear. The Quays' films have always required a degree of seeking out, but thanks to their admirers, their influence has stretched into more mainstream places, particularly in the music video medium. Mark Romanek's "Closer" Nine Inch Nails video is heavily shaped by the brothers' work, as are several for the band Tool; they've also done music videos of their own.
Of the three Quay shorts being screened in the programing traveling to theaters, 1986's Street of Crocodiles is the most famous — it follows a cadaverous puppet who, freed from his strings, wanders through an urban scene of diorama-like boxes and pocket watches filled with organs and into the company of hollow-headed dolls who remake him. The Comb, released in 1991, is the most beautiful and abstract of the three, featuring a doll that may or may not be a vision of a sleeping woman, and which makes its way through a world of tunnels and ladders.
But it's In Absentia that's the most gripping and upsetting of the three, set in an inhospitable moonscape in which lights and shadows flicker in the windows of the few buildings. The 2000 short is a montage of disturbing imagery — a pencil being sharpened repeatedly, a peeling clock face, dirty hands moving over a piece of paper while writing an incomprehensible letter, a horned puppet raising its head. An end card coheres everything that's come before it in an explanation that's moving and piteous, feelings the movie has already called forth by placing us inside the experiences of its subject. It's a saga told in 20 minutes, a demonstration of how much a film can convey while never bothering to settle into a story. It may not be a blockbuster, but it still feels plenty epic.