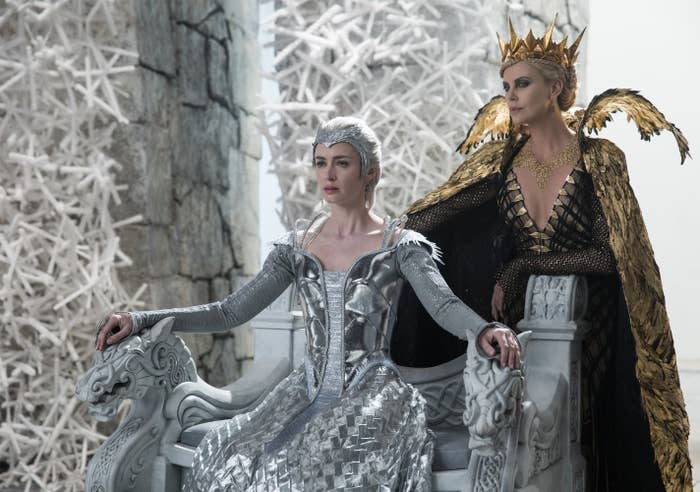 Kristen Stewart has left the building — the castle, the kingdom, the whole damn fantasy world.
The actor was one of the two stars of 2012's Snow White and the Huntsman, but she doesn't appear in The Huntsman: Winter's War. Nor does her character, Snow White, save for a single scene in which another actor with hands over her face appears as a wordless stand-in. Neither Stewart nor Snow White and the Huntsman director Rupert Sanders was brought back for the combination prequel/sequel opening, a decision that, when initially announced, was seen as an attempt to distance the movie from the pair's extracurricular scandal.
But now that The Huntsman: Winter's War, which is centered on the first film's male lead Chris Hemsworth, is hitting theaters, the decision to dump Stewart aligns all too neatly with TV's recent, similar shucking off of "troublesome" female leads while retaining the men. That's how discardable women continue to be regarded as — a gal can get booted from her own goddamn fairy tale. Or maybe "interchangeable" is the better word, since Jessica Chastain steps into the requisite formfitting body armor to be the movie's replacement warrior chick.
Well, weep not for K. Stew, who's gone on to far more interesting (if less profitable) roles in the years since Snow White and the Huntsman. Maybe spare a tear for screenwriters Evan Spiliotopoulos and Craig Mazin, who've crafted an awkward write-around in which Snow White gives out orders while being "too sick" to show up onscreen in anything but that aforementioned momentary flashback. The Huntsman: Winter's War is the directorial debut of Snow White and the Huntsman's VFX supervisor Cedric Nicolas-Troyan, and it marries the first movie's dark twist on Snow White with a loose twist on The Snow Queen. It's a move so nakedly calculating that it's kind of endearing, because what follows is effectively a gritty take on Frozen in which the sisters are the villains. In addition to Charlize Theron, back as Queen Ravenna, Emily Blunt is introduced as her sibling Freya, whose wintry powers manifest after she loses her paramour and child in one night and, as all magical ice queens must, heads north to spread snow everywhere and build a crystalline spire in the mountains. She, unfortunately, doesn't get to enjoy a musical number in which she literally lets her hair down, but she does have a spy-owl.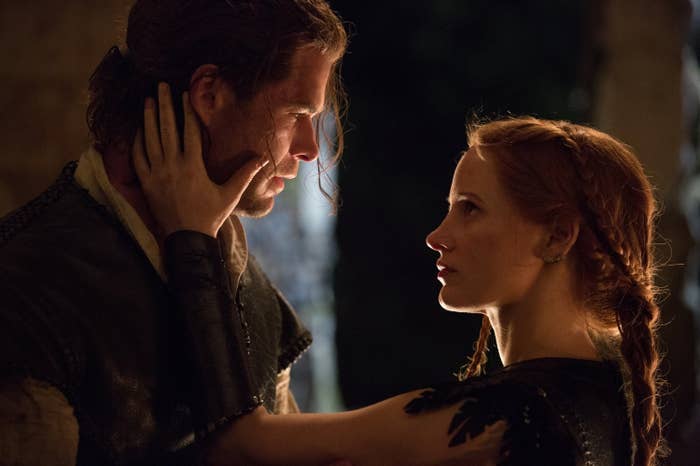 Freya, in her chilly retreat, also kidnaps — or, in her words, saves — children from their families and forces them to be part of her army, which is where Hemsworth's Huntsman, who's been given a name (Eric), has his forbidden romance with Sara (Chastain), who's his equal on the battlefield. Then there's a tragic death — or is there? — and the movie skips ahead to after Snow White and the Huntsman's happy ending, when Eric is told that Ravenna's malevolent magic mirror has gone missing and must be retrieved and disposed of, One Ring-style. He's accompanied on the mission by a pair of male dwarves (Nick Frost and Rob Brydon), and then a pair of female dwarves (Alexandra Roach and Sheridan Smith) join up, and they fight a bunch of goblins who look like gorillas with horns. Multiple characters come back from the dead, and Freya shows up riding some sort of snow leopard–polar bear hybrid and makes the whole mission pointless.
But none of that really matters, because the great delight of The Huntsman: Winter's War is Charlize Theron, who as Ravenna seems damn near ready to eat the entire movie as an amuse-bouche before devouring the world. Ravenna, in her golden finery and gilded makeup, appears to have wandered out of the most evil Dior perfume ad ever. She throws her head back when she cackles, wears finger claws around the house, and plays games of chess in which the penalty for losing is death. She later goes full-on T-1000, except she forms herself out of liquid gold — no cool-toned metal for her. She and Freya seem to go around acquiring kingdoms out of compulsive habit, because what else are wicked queens supposed to do with their time?
Also, her backstory has been hand-waved away. In Snow White and the Huntsman, like Maleficent, there were traces of a rape-revenge history to Ravenna, who used her magically enhanced vampiric beauty as a weapon against the type of powerful men who "ruined" her and killed her mother. In The Huntsman: Winter's War, those traces of intriguing, if warped, psychology have been traded in for a distasteful suggestion that these women have both been driven mad by the absence of lovers and children in their lives, two sorceress spinsters embittered by envy or grief.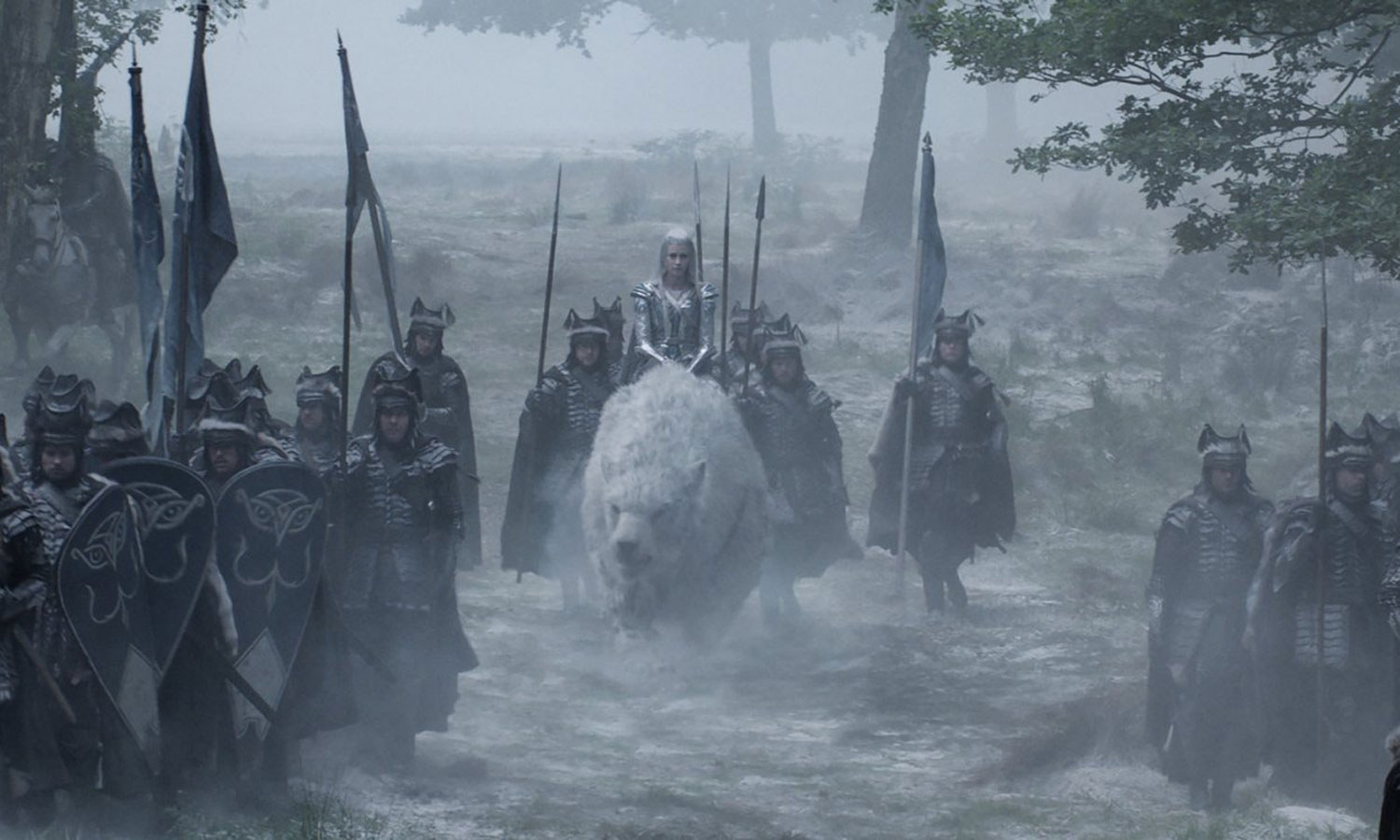 The sourness of that characterization is still more compelling than the romance between Eric and Sara, which it's contrasted with. The impediments to the two Huntspeople getting together seem like they could be resolved by a 30-second conversation but instead are stretched over an interminable, Charlize-less middle section filled with much trekking through fields and forests.
Hemsworth is brawnily charismatic, and Chastain makes for a tersely no-nonsense action heroine, but theirs is no star-crossed love story — their characters are too boring, too trapped into exasperating choices. Eric and Sara's stretches of bickery flirting have nothing on the delicious campiness of the moment in which Freya and Ravenna tiff over whose territory they're currently occupying ("This is my kingdom!" Freya snaps). If everyone's expendable in this franchise, but also no one stays dead, here's hoping that any future installment ditches the Huntsman the way that Snow White was shunted aside, because the evil queens are where it's at.