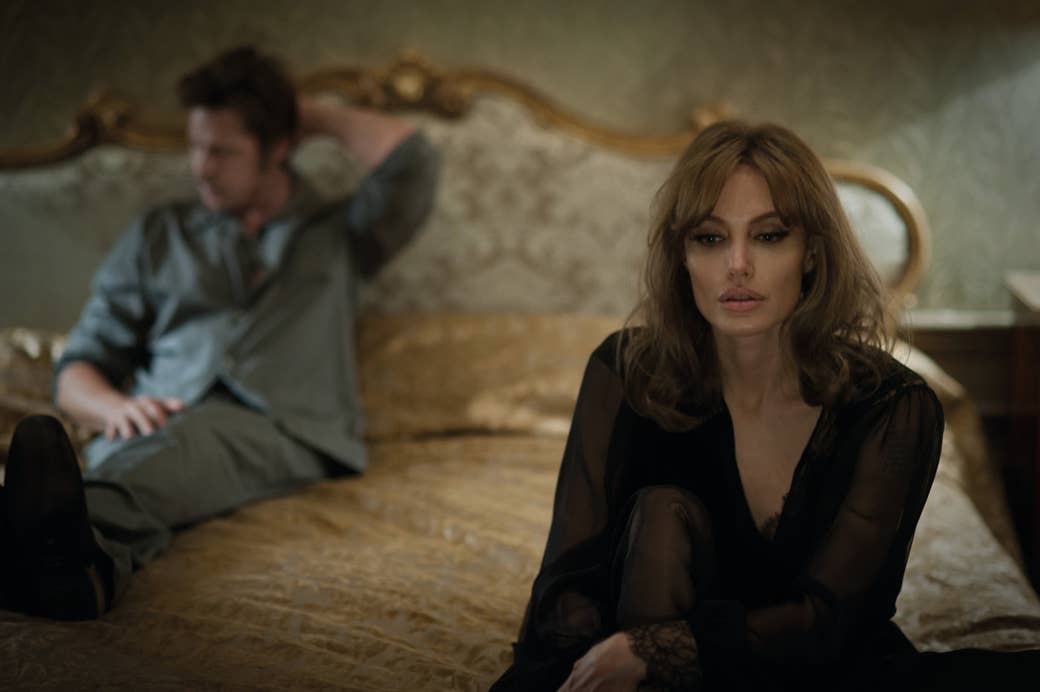 People couldn't stop giggling during the screening at which I saw By the Sea, even though there aren't exactly a lot of moments in Angelina Jolie's latest effort as a director, writer, and star that are intended to make you laugh. It wasn't a so-bad-it's-funny issue either, though the movie does get overblown as it approaches its teary end. Mostly, the crowd tittered though the sexy bits, of which there are a few, since this is a film about a married couple (Jolie and her real-life spouse Brad Pitt) trying to get over some painful personal history by peeping on the newlyweds (Mélanie Laurent and Melvil Poupaud) in the hotel room next door through a hole in the wall.
Medium kinky voyeurism at best! Not the kind of thing that should be able to turn an audience full of grown-ups into the equivalent of squirming teens sneaking into an R-rated movie. Except this is voyeurism as enacted by the most famous and most gazed-upon couple in the world, two actors whose lives together have for years been as impeccably managed and art directed as a photo shoot, and who have decided to appear together in a movie in which they spy on strangers fucking. It feels a little like being caught out — Jolie and Pitt acting out intimacy on our behalf, and then taking their turn to greedily watch others do the same. By the Sea doesn't feel like it has a spontaneous second in it, and yet it still teases the promise of the personal, of some unguarded truth about its stars, even if it's just that everyone likes to watch.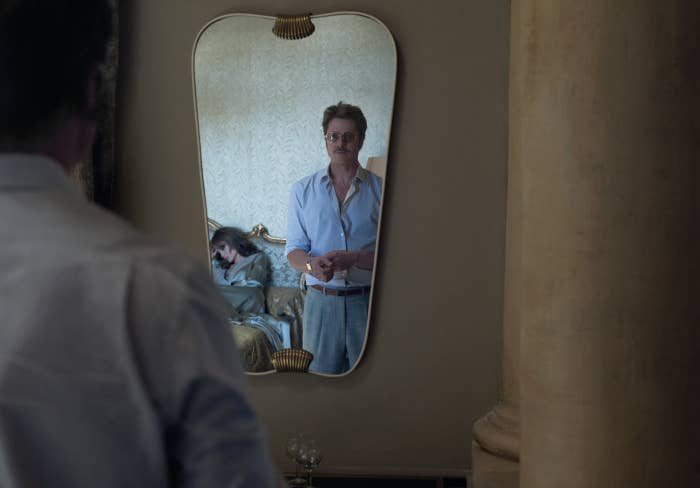 It's impossible to consume By the Sea in any way other than in the context of Jolie and Pitt's very public relationship. And why would you? Jolie has been studiously ambitious but stiltedly self-serious in her career as a filmmaker so far, and as a standalone effort, By the Sea is just as constrained by its desire for prestige as Unbroken was last year. It is the lavishly lackluster story of Vanessa (Jolie) and Roland (Pitt), who spend the movie's runtime in a tiny town on the French coast with one market, one cafe owned by a man named Michel (Niels Arestrup), and one airy hotel. Roland is there to write (though mostly he spends his days drinking), while Vanessa is there to sprawl catlike across the furniture, sunbathe on the balcony, pop pills, and needle her spouse when he comes back trashed.
Their's is a voluptuous idea of unhappiness, one of luxury vacation wear and silences so loaded you can almost hear the two characters screaming at each other in their heads. By the Sea feels almost deliberately phony — as if marital misery were so foreign to Jolie that she could only come up with this extravagant simulacrum of what it might be like. It feels as false as the eyelashes Vanessa applies every morning to sit alone in her room before beating her husband to bed — relationship woes as an ongoing magazine spread in which Roland tucks a leather-bound notebook he doesn't use in his belt before heading out and Vanessa whiles away her day in a selection of pussy bow blouses and sheer housecoats. The film is set in the '70s, mainly for wardrobe purposes. Pitt wears his shirts open to mid-chest, and wears them well, while Jolie sports oversize YSL sunglasses and wispy bias-cut skirts, looking as beautiful and as inhuman as she ever has. Her perfect makeup looks even better when it runs with tears or in a sobbing shower.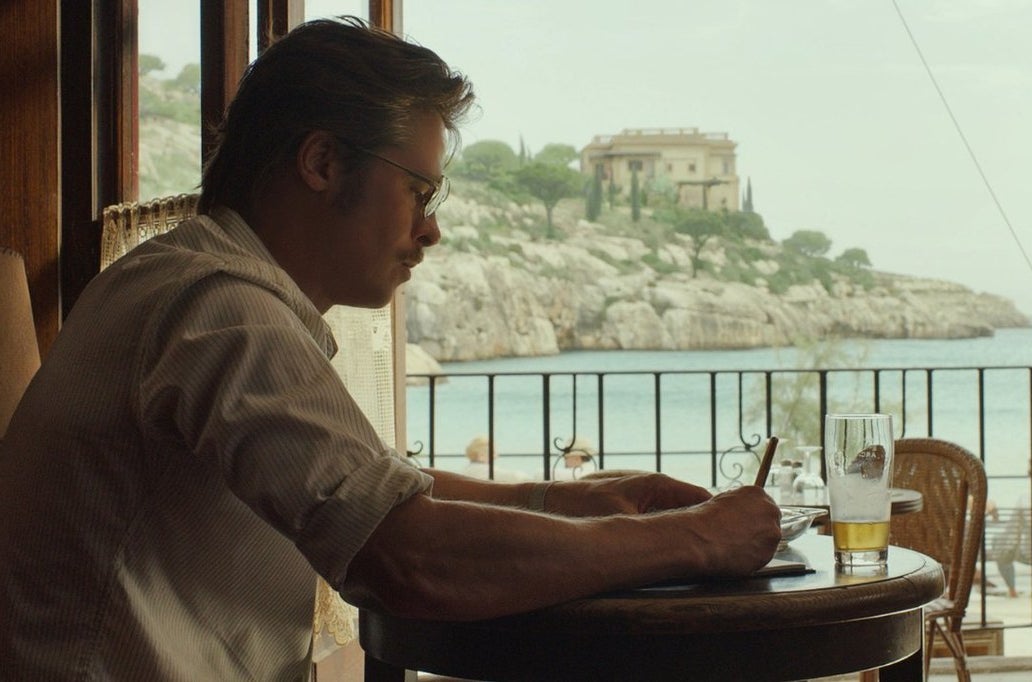 Something has been poisoning Roland and Vanessa's marriage, something that By the Sea plays coy with, though it's not hard to guess at. Pitt and Jolie aren't just famous spouses, they're famously the parents of six, and the movie is somewhere between nightmare and fantasy about not having children — so much time to fill, so many pretty things on which to spend money. Roland and Vanessa are stuck, the film impertinently suggests, because of some undealt-with trauma, but also because without offspring, they're at a loss as to what their lives will look like next, other than as portraits of gorgeous ennui and the potential to break apart. They stare at Lea (Laurent) and François (Poupaud) with a mixture of longing and jealously because the younger couple are at the start of their love, with so many possibilities still open, including the presumption that they'll soon have a family.
So what if people giggle — the sequences in which Vanessa and then Roland and then the two together peer into the room next door are the best in the movie, fraught and sultry, a couple coming alive again thanks to borrowed passion. The games the pair engage in — first watching Lea and François, then befriending them — are intriguingly hard to suss out, even for Roland, who starts to wonder how far they're going to take things. They're a reminder that once upon a time, Jolie was a bisexual punk wild child wearing a vial of blood around her neck and looking ready to devour the world, and not all carefully honed, marble sculpture flawlessness. They're a reminder that Jolie might have a good film in her yet, should she be able to relinquish the unnecessary yearning to be taken seriously that's weighed everything she's made so far down.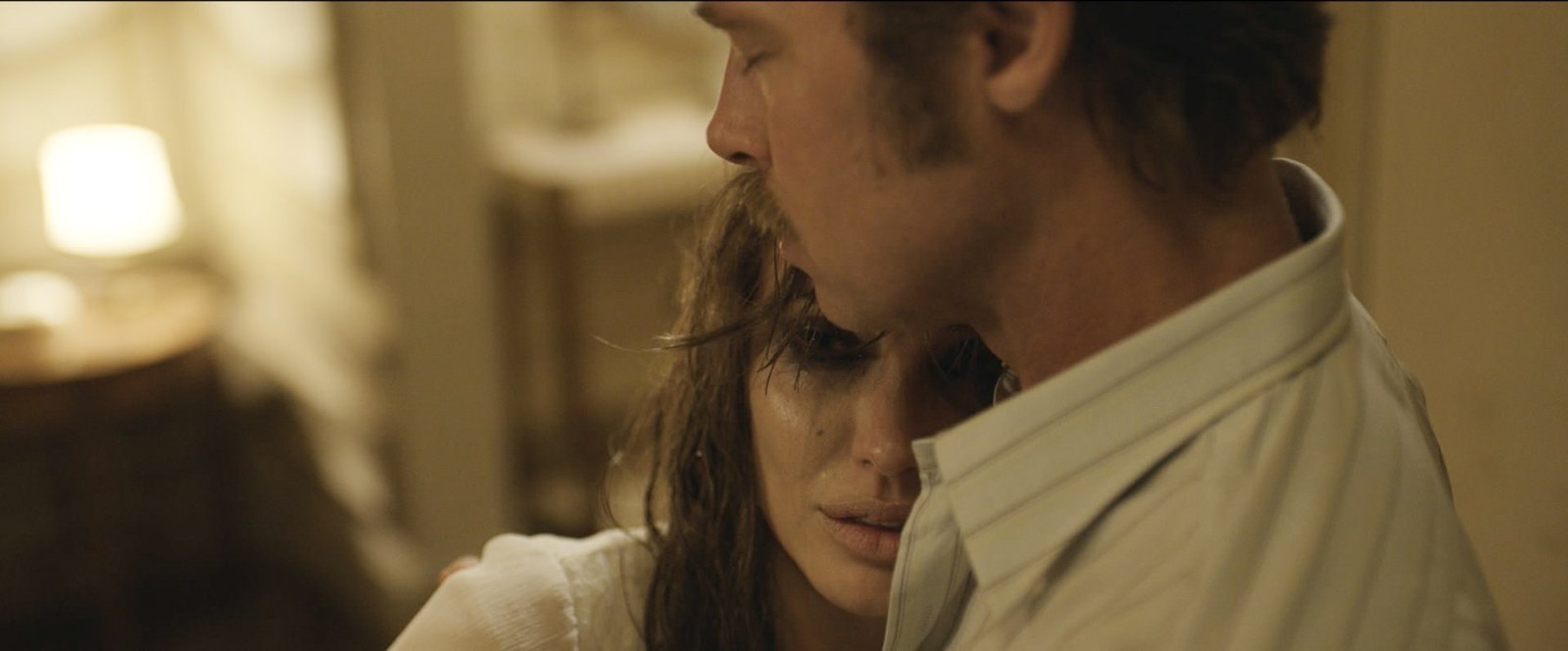 The charged power dynamics of Jolie's earlier films In the Land of Blood and Honey and Unbroken were miles more interesting than the earnest presentation of their serious context. That's true in By the Sea as well, when the spying ends up feeling more adult than the other supposedly grown-up dramas the rest of the movie is concerned with, dramas that remain abstract. It's the challenge right there in the delicious scene in which Roland and Vanessa decide to go out and, in a montage that seems designed to best the one between Lady Gaga and Matt Bomer's characters in the first episode of American Horror Story: Hotel, get ready, teasing hair, applying lipstick while smoking, slipping into evening wear, and swanning into the cafe looking like their feet don't touch the ground.
Sure, we like to look — don't you? it seems to ask. Well, then look at us.