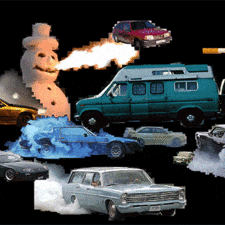 For four years now, the Museum of the Moving Image in New York has been showcasing a slate of ambitious new movies in its First Look Film Festival. But this year, the fest is also showcasing another sort of moving image, one that's usually confined to a much smaller screen: GIFs.
The looping animations that rule online conversation are being given a place in the cinematic spotlight thanks to MoMI's Associate Curator of Digital Media Jason Eppink. He headed up an effort to commission seven original GIFs that will be projected in the museum's Redstone Theater, greeting audiences in the 10 minutes before the feature they've come to see is introduced. Some of the GIFs are the work of fine artists like A. Bill Miller, Lorna Mills, and Eva Papamargariti, and others come from creators on the birthplace of GIFs, Tumblr. In the democratic spirit of the internet, the artists hail from all over the world, including Argentina, Canada, and Turkey.
Eppink knows that exhibiting GIFs as part of a film festival is likely a first, but, he told BuzzFeed News, "This is just another way we're challenging our audience." Eppink pointed out that while they may move, GIFs aren't really experienced in the same way as movies, which are finite. "The GIF has more in common with a still image, or a painting or a sculpture. It's a thing that you exist with on your own terms for as long as you want rather than something you enter; it begins, it ends, and then you leave," he said.
Eppink was also interested in giving this work a chance to be experienced on a larger scale. "The artists that I reached out to deserved to have the moment where they're not being scrolled past," he said.
Below, you can check out the seven GIFs, but you can also see them on the theater screen at the Museum of the Moving Image for the 2015 First Look Film Festival, which runs from Jan. 9 through 18.
All images above are courtesy of the artists.