Updated — June 9, 9:50 a.m. ET
Members of the Pakistani Taliban disguised as security guards stormed a terminal at Jinnah International Airport in Karachi with machine guns and a rocket launcher on Sunday, according to reports.
At least 28 people, including 10 of the attackers, during an extended battle that ensued following the raid on the terminal at Pakistan's largest airport.
The Taliban said the assault was revenge for the killing last November of the militant group's leader in a U.S. drone strike.
Heavy gunfire and multiple explosions were heard coming from the terminal into Monday morning.
Chief Minister of Sindh province Qaim Ali Shah told the Associated Press around 8 p.m. ET on Sunday that the airport had been cleared and all the militants had been killed. But hours later there were multiple reports of renewed fighting at the airport.
Plumes of smoke were still seen coming from the airport and operations remain suspended, with flights diverted to other airports.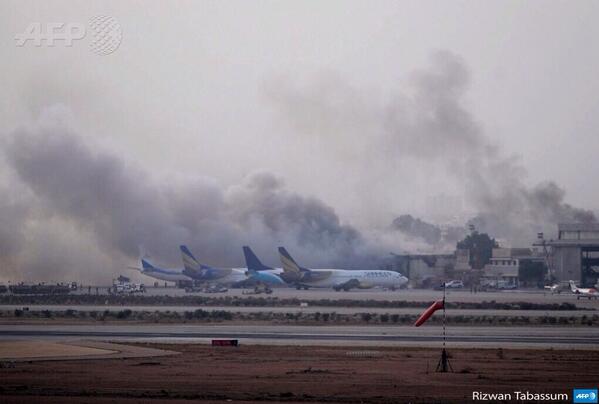 A spokesperson for the Airport Security Force, Shaukat Jamal, said the initial attack took place late on Sunday, with local media reporting between four and 10 gunmen had stormed the terminal with guns and grenades. Pakistani cable news stations aired footage of what looked like a major fire near a jet at the airport.
A spokesman at Jinnah Hospital in Karachi, Dr. Seemi Jamali, said at least 16 people had been seriously injured.
Defense Minister Khawaja Asif has reportedly ordered an inquiry into the attacks. Staff are being evacuated, and all flights have been suspended.
Karachi is Pakistan's largest city and it has seen many militant attacks in the past, including an attack in 2011 where 10 personnel were killed and two aircrafts destroyed in a 17-hour siege.
Also on Sunday, a separate suicide bombing in southwest Pakistan killed 23 Shiite pilgrims returning from Iran, authorities said. The attack occurred in Taftan in the western province of Baluchistan, near Pakistan's border with Iran.