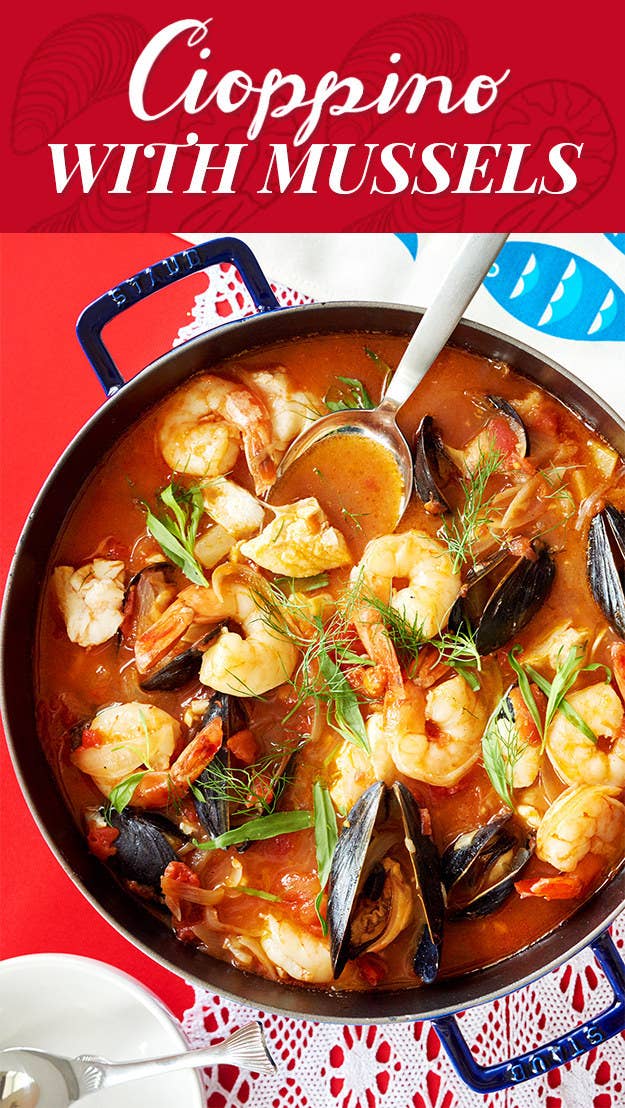 Cioppino (pronounced "Chee-O-Pee-No") is a delicious fish stew made with tomatoes, wine, and seafood.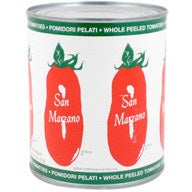 Here's what you'll need: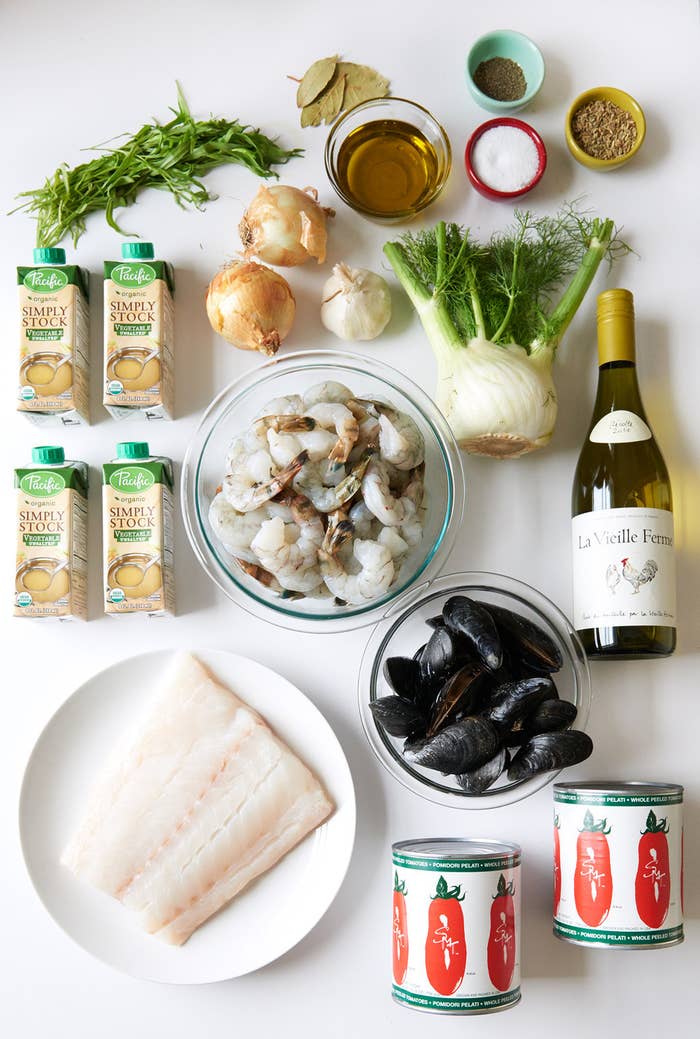 1.
First, let's make the stew base. You can make this part a day or two in advance, if you like. Start by crushing the garlic to remove the skin. Then thinly slice the cloves.
2.
To cut the fennel, start by removing the top and bottom of the bulb, then halve it lengthwise. You can save the fennel fronds (the frilly green part) for ~garnish~.
3.
Make a few incisions crosswise, then a few lengthwise. When you chop, you will have a dice of fennel about 1/4" big.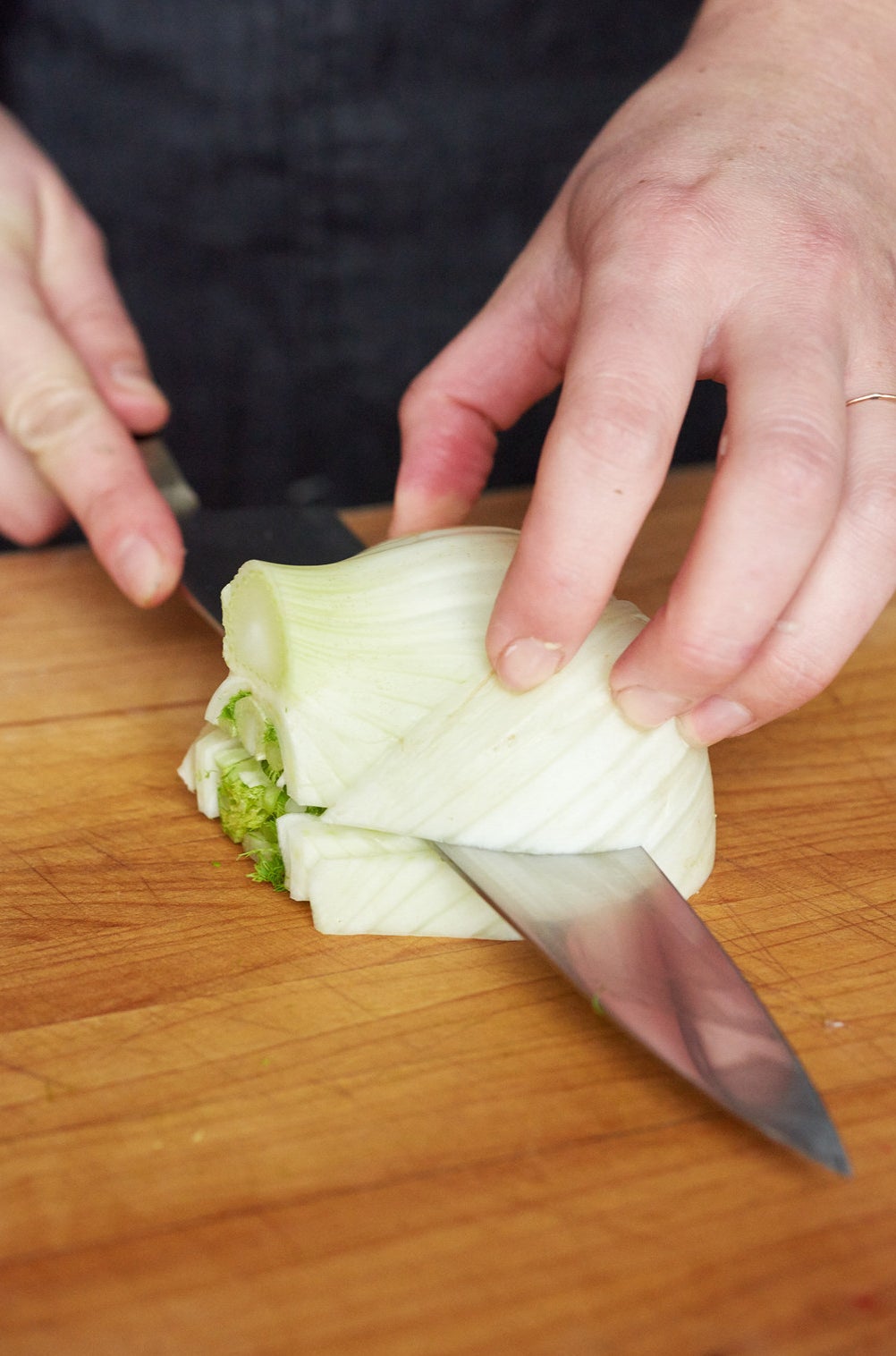 You can use the same technique to chop an onion.
4.
Slice the onion in half through the root end, peel it, and thinly slice about 1/8-inch thick.
5.
Next, dump the tomatoes into a large bowl and crush 'em with your hands. You don't want a puree, you just want to break them up into bite-sized pieces.
You could buy "diced tomatoes," but I like the texture of hand-crushed tomatoes. Plus, it's super fun to do.
6.
Add the olive oil to a large pot over medium heat. Add fennel, garlic, and onions and season with salt and pepper.
7.
Cook until the vegetables are browned and starting to soften, about 8-10 minutes, then add the fennel seed and bay leaf.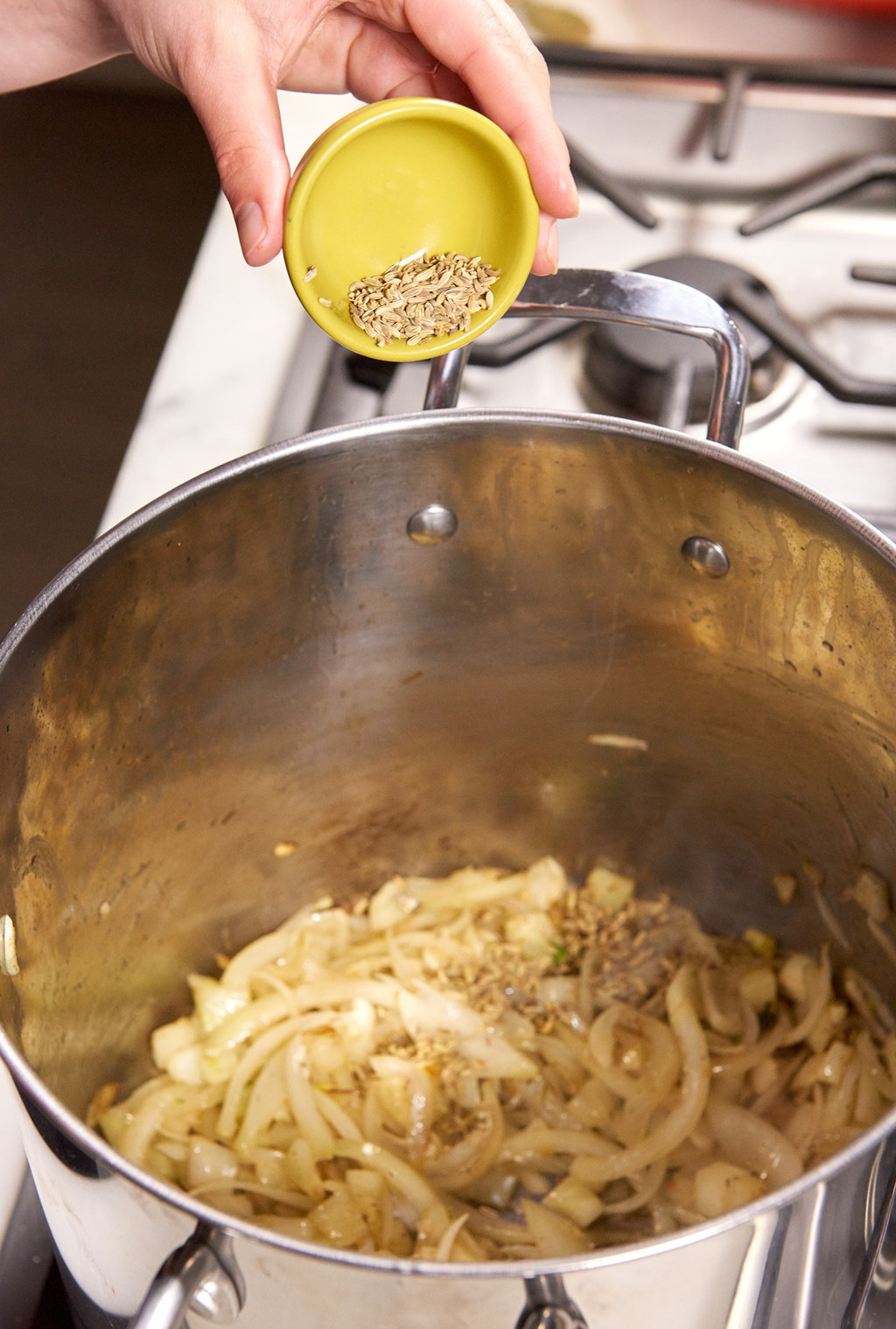 8.
Add in the white wine, followed by the tomatoes. Cook this for 10-15 minutes to concentrate all the tomato juices.
9.
Add the vegetable stock and bring to a simmer. Season with salt and pepper and cook, uncovered, until it tastes so good you can barely stand it, 40-45 minutes.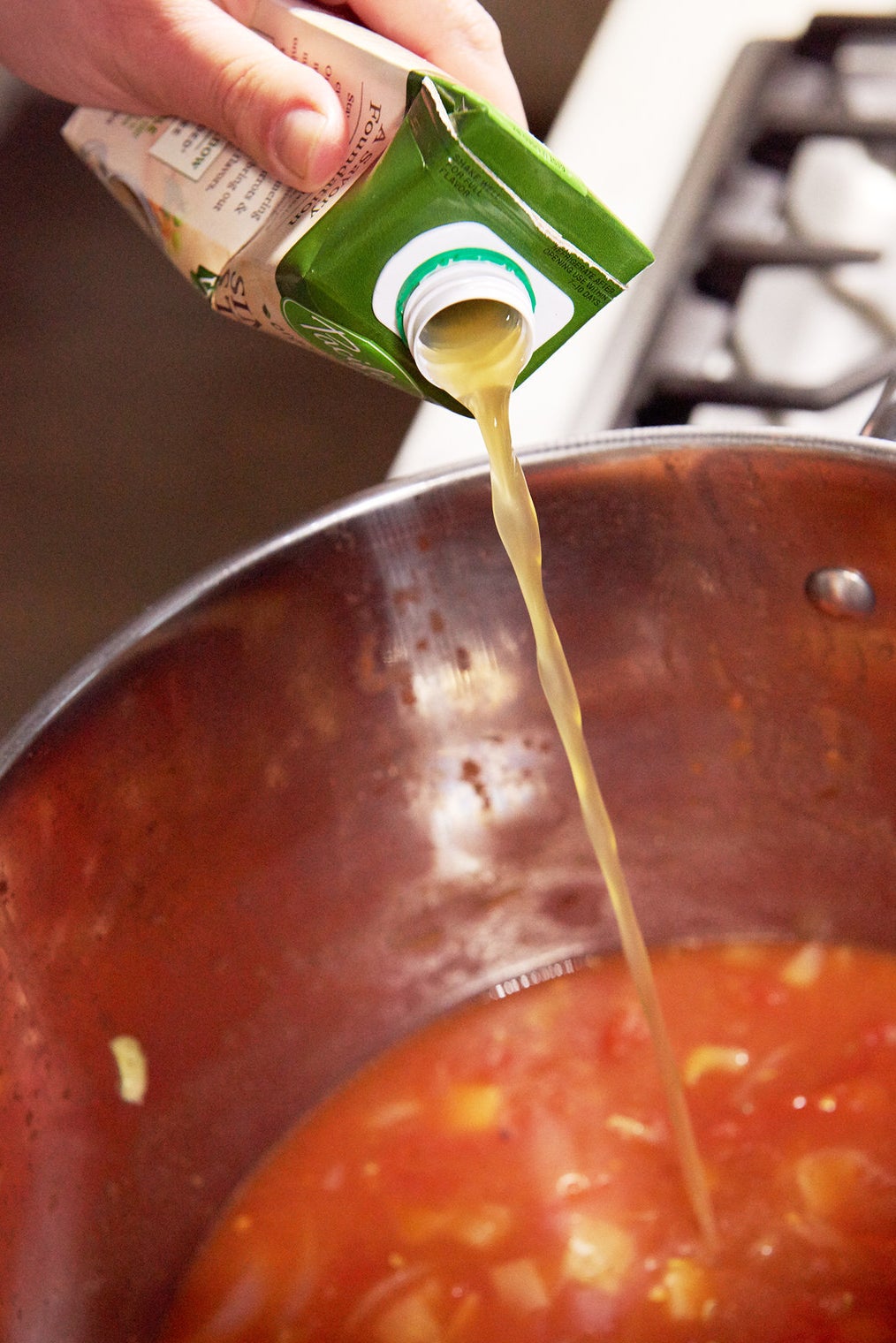 So you made the base for the stew. You can either stop now and refrigerate this before proceeding (it's actually ~really great~ the next day) or proceed with the whole shebang now.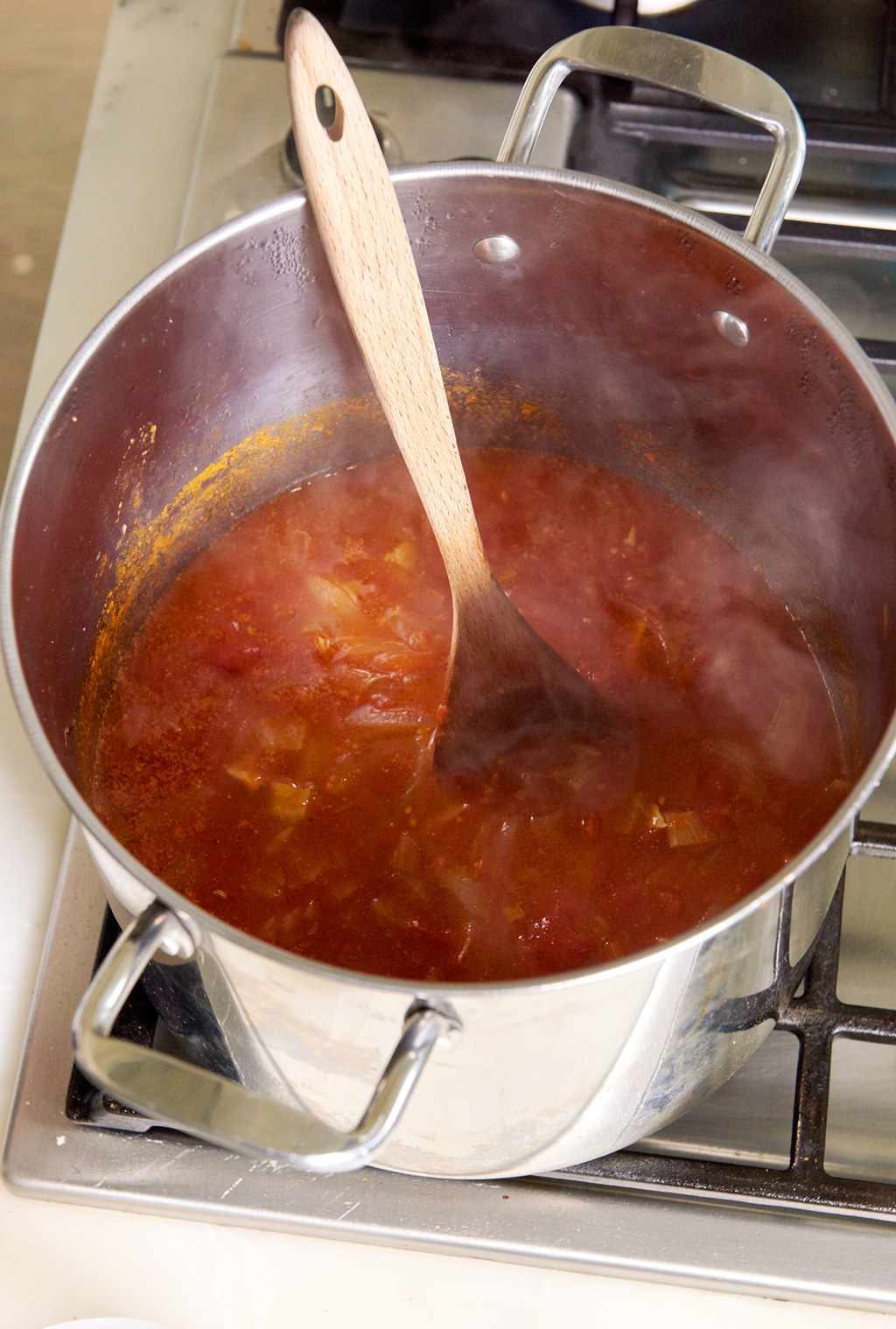 Cioppino can have any kind of seafood you want in it. Feel free to customize! But generally you want at least 1 bivalve (mussels, clams), 1 shellfish (shrimp, scallops) and 1 firm, white fish (cod, halibut).
Aim to have about 1 lb. of shellfish and fish and 1 1/2 for the things with shells, like clams or mussels.
10.
Make sure the mussels are scrubbed. Most will come already cleaned/scrubbed, but if you notice they are a little dirty, just scrub them with a clean sponge under running water.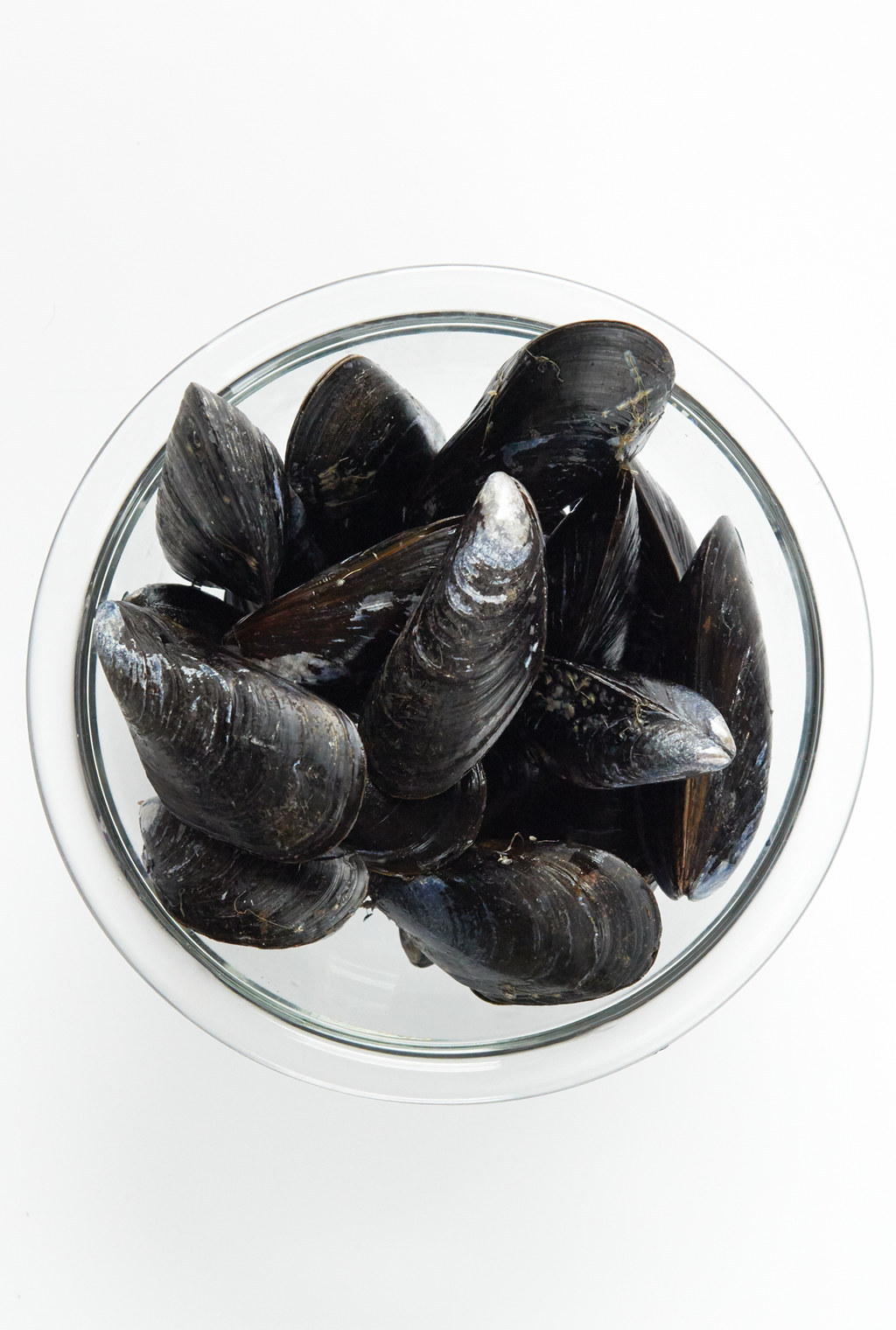 11.
For the shrimp: Buy the medium ones, peeled and deveined. Fresh or frozen!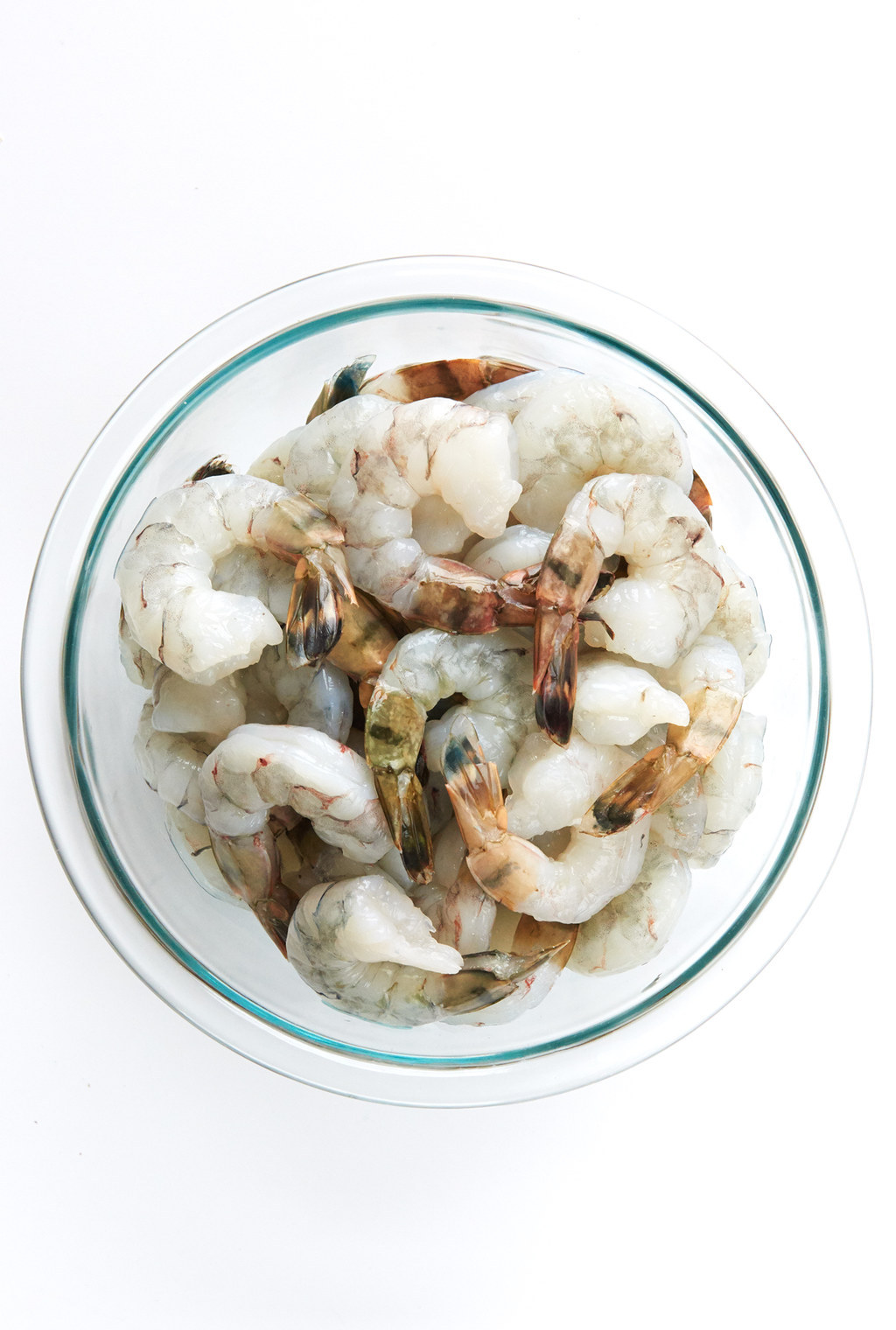 12.
For the fish, choose something that has a mild flavor with a firm flesh (so it doesn't fall apart in the stew). SKINLESS halibut and cod are both great choices.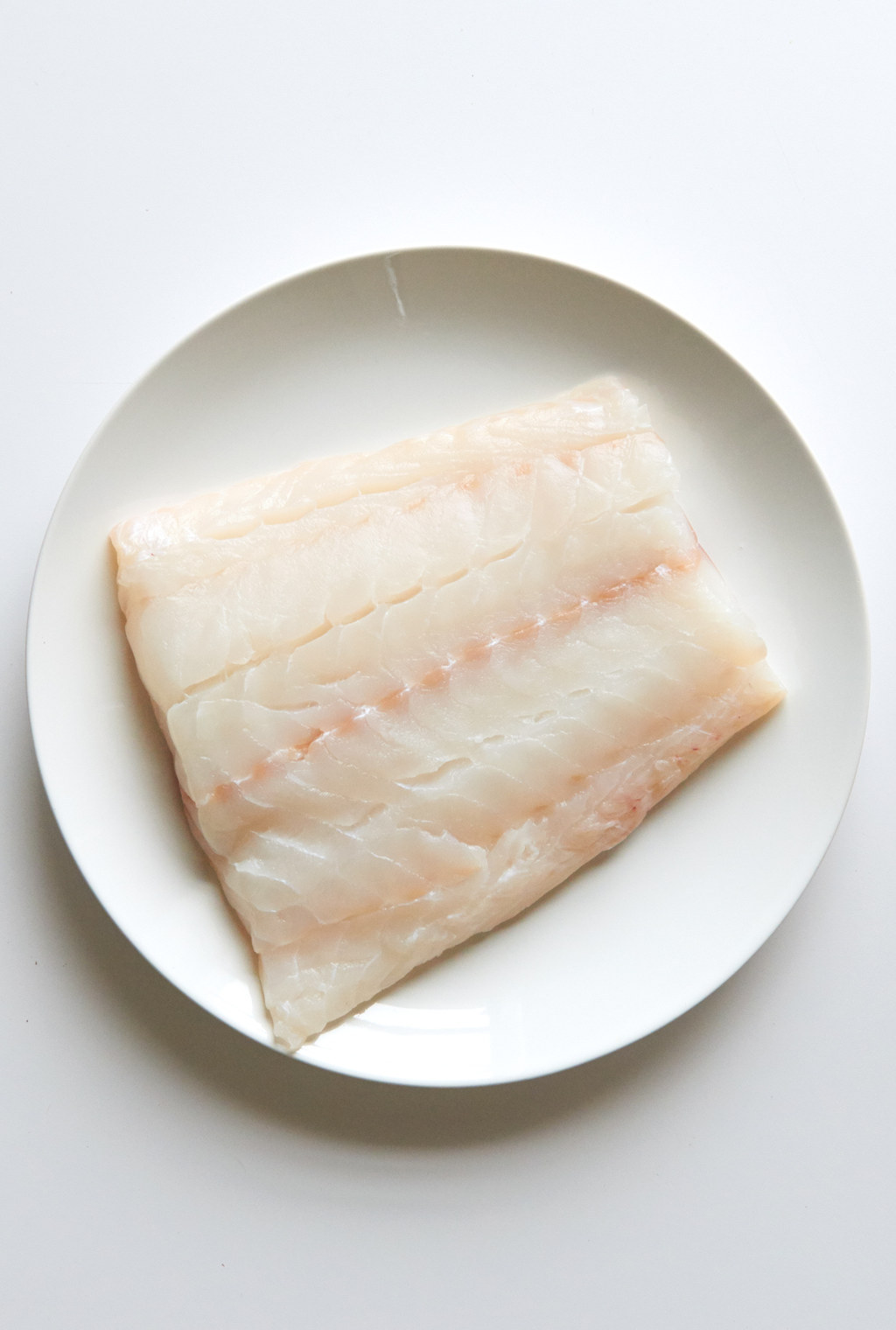 13.
If you bought the whole fillet, cut it into 2 inch pieces before adding to the stew.
Start by cutting the whole piece in half lengthwise, then into three even pieces. Depending on the size and thickness of the fillet, you should end up with six or so pieces.
Don't worry too much about getting perfect pieces, you're cutting it smaller just so it cooks more evenly.
Okay, now let's add the seafood to the stew! Make sure it's boiling before you add the seafood.
14.
Start with the mussels: They take the longest to cook/open. Just go ahead and dump them right in.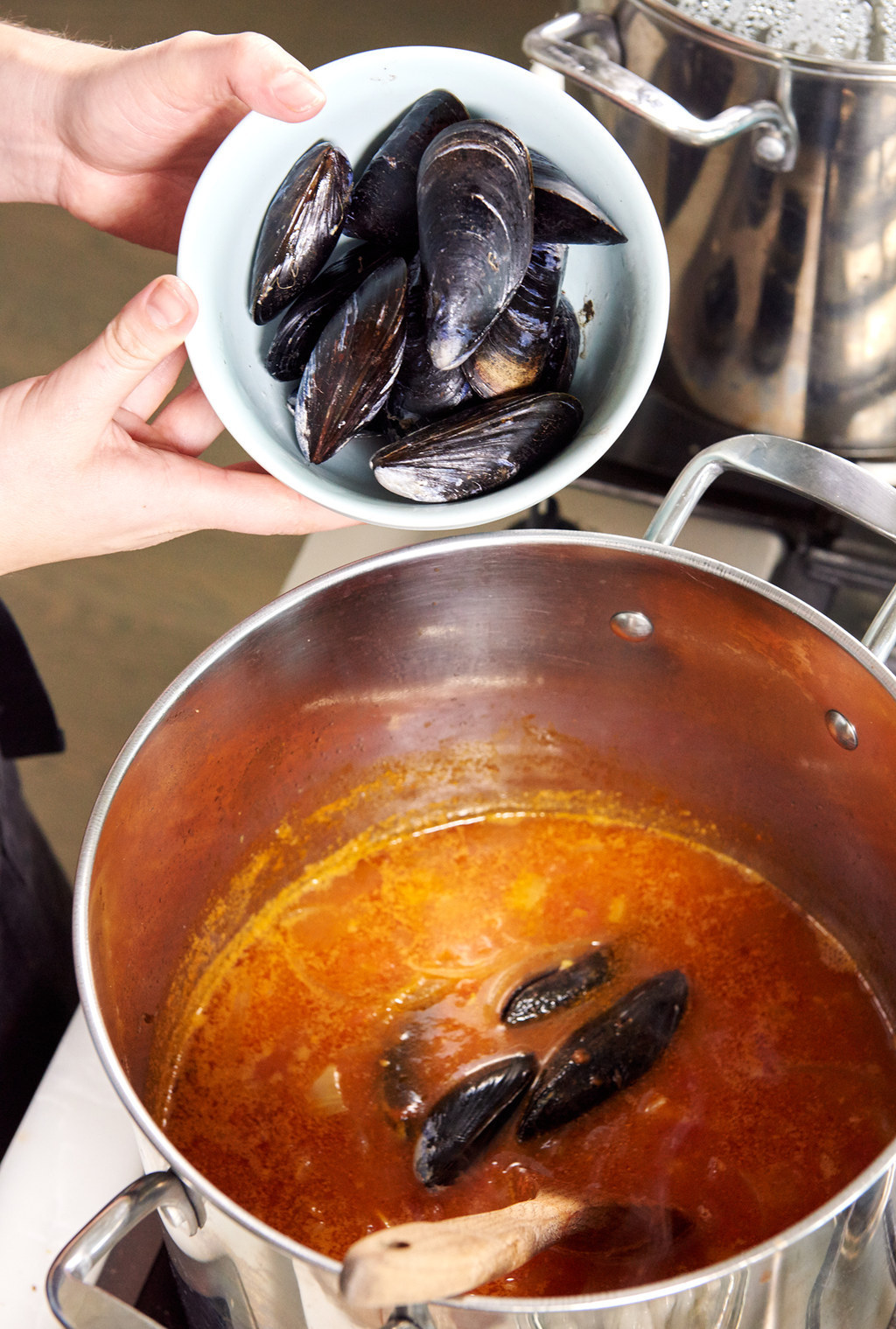 15.
Then carefully lower the cod and shrimp into the pot.
Stir everything so that all the seafood is submerged.
16.
Cook until the mussels are totally opened and the shrimp and cod are completely cooked through, about 4 or 5 minutes.
17.
Transfer the stew to a large bowl, or serve it in a pot, right on the table. Sprinkle with those fennel fronds (if you have 'em), or just the leaves of tarragon.
Cioppino with Mussels, Cod and Shrimp
By Alison Roman
Serves 8
2 (28-oz.) cans whole San Marzano tomatoes
¼ cup olive oil
1 large onion, chopped
1 large fennel bulb, chopped
4 garlic cloves, thinly sliced
Kosher salt and pepper
2 tsp. fennel seeds
2 fresh or dried bay leaves
1 cup dry white wine
4 cups vegetable or fish stock or water
1 ½ lbs. mussels, scrubbed
1 lb. shrimp, shelled and deveined
1 lb. cod or halibut fillet, cut into 2 inch pieces
½ cup tarragon or parsley leaves, and/or the fronds of the fennel bulb
Crusty bread, for serving
Put the tomatoes into a deep, large bowl (or a pot, that works too). Using your hands, crush the tomatoes until no obvious large pieces remain. You're not going for a puree or anything, just crushed tomatoes.
Heat the olive oil in a large, heavy bottomed pot over medium-high heat. Add the onion, fennel, and garlic and season with salt and pepper. Cook until the vegetables are softened and starting to brown, 8-10 minutes. Add the fennel seeds and bay leaves, and stir to combine. Cook this another minute or so, to just toast the fennel seeds.
Add the white wine, the crushed tomatoes and season with salt and pepper. Cook this 10-15 minutes to concentrate the tomato juices, stirring occasionally.
Add 4 cups of vegetable or fish stock (you could even use water, if you wanted) and bring to a simmer. Reduce the heat to medium-low and simmer away until this soup tastes so good you can't stand it anymore, 45-60 minutes, seasoning with salt and pepper as needed.
Once this is all good, increase the heat to medium and add the mussels. Cook them until they just start to open, about 5 minutes. Add the shrimp and the cod and cook another 4 minutes or so, until the mussels are completely opened and the shrimp and cod are cooked through.
Remove from heat and serve right from the pot with crusty bread for dipping. Tarragon, parsley leaves, or fennel fronds on the side are nice to sprinkle over, too.