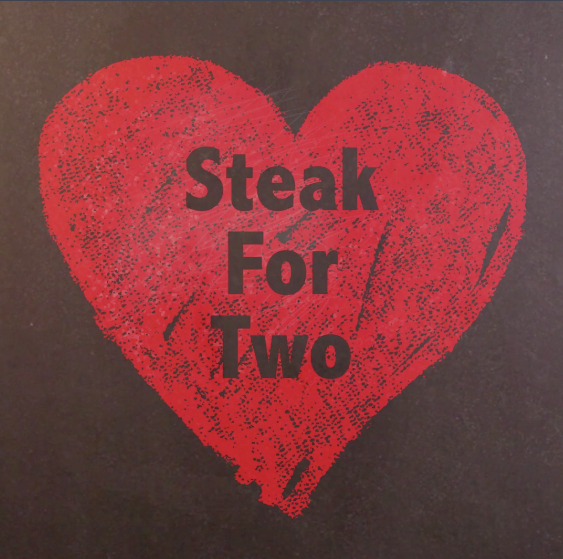 If we're being honest with ourselves, a perfectly cooked steak is the ideal valentine.
It's vaguely heart shaped, totally delicious and will most definitely love you unconditionally.
Spring for a cut that is maybe a little pricier, but definitely worth it. A bone-in rib eye, porterhouse and T-bone steak are all great options.
1.
To start, season the steak on both sides with (lots of) kosher salt and (lots of) pepper. The general rule here is a teaspoon per pound, so if your steak is about 1 1/2 pounds, that's 1 1/2 teaspoons of kosher salt.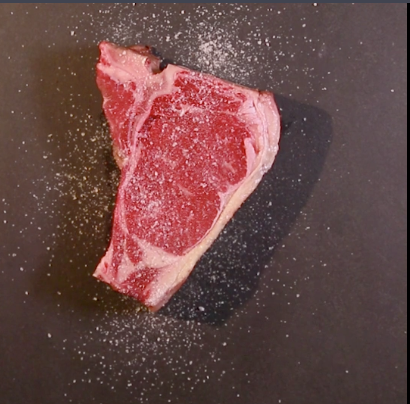 2.
Heat about 2 tablespoons of canola oil in a large cast iron skillet over medium-high heat. Once the oil is nearly smoking, add the steak.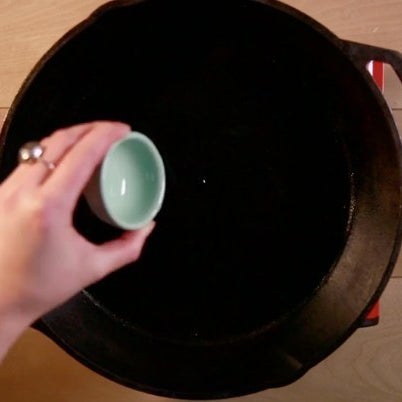 3.
Sear the steak on one side until it's deeply browned all over, 5-8 minutes. Flip steak and cook till that side is deeply browned, too, another 5-6 minutes. If the steak has strip of fat on one side, stand the steak on that side with tongs and sear until browned, about 2 minutes.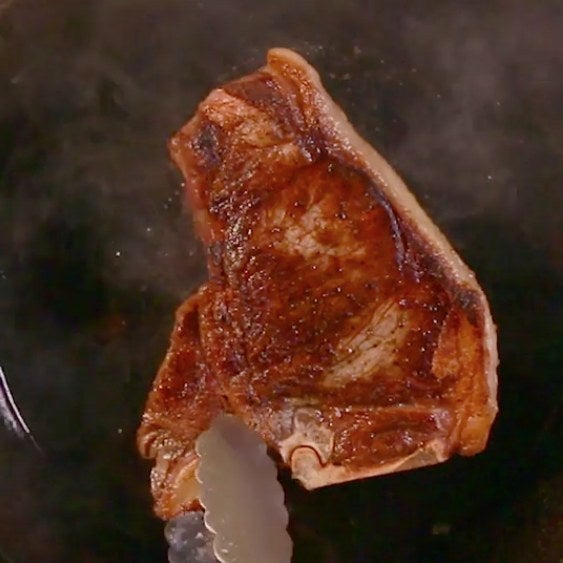 4.
Then add a bunch of FLAVOR. Add about 2 tablespoons of unsalted butter, some crushed garlic cloves and a few sprigs of thyme.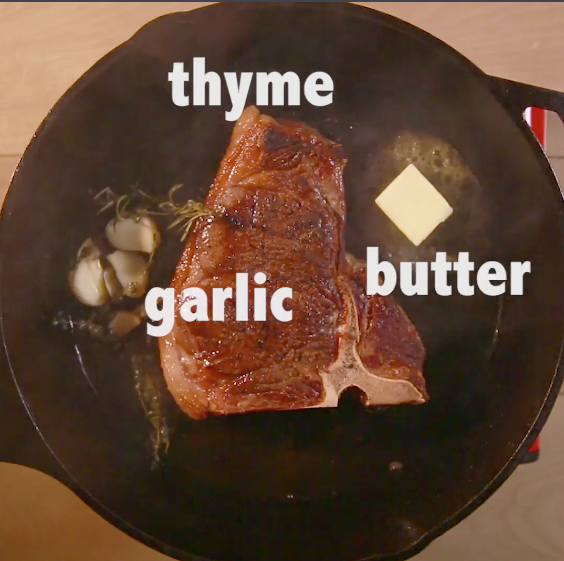 5.
Remove from the heat and using a large spoon, baste the steak with the butter, herbs and garlic for about one minute. Using tongs, remove the steak and transfer to a cutting board.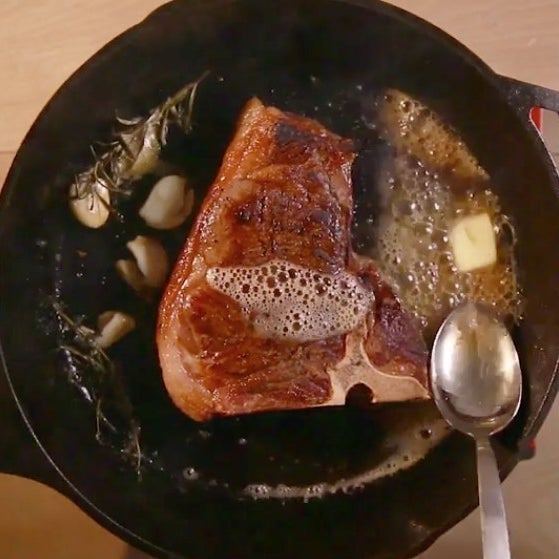 The butter not only lends lots of flavor, but the sugars in butter (yes, there is sugar in butter) also helps to get the steak even more browned and caramelized.
6.
Let the steak rest for 5-10 minutes. This resting period before slicing will help the juices settle down so they stay *inside* the steak, instead of running all over your cutting board.
7.
First carve the steak away from the bone. This is a porterhouse, so you're carving the strip (the large part) and the tenderloin (the smaller part) off the bone. Then slice the steak against the grain, into slices about 1/2-inch thick.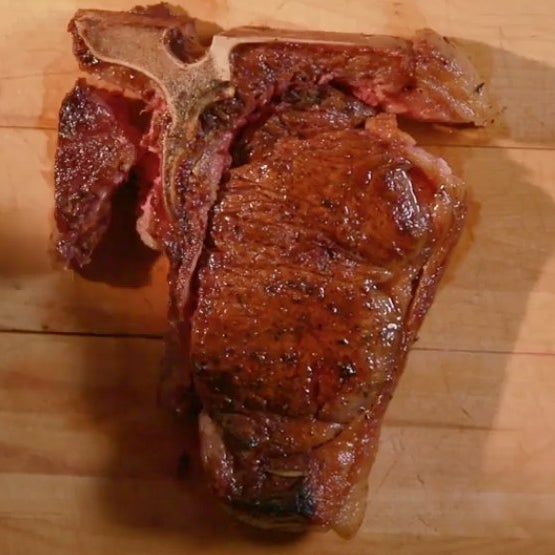 8.
To finish, sprinkle the meat with some coarse or flaky sea salt. A little goes a long way, but makes a huge difference here. If you don't have any, stop what you're doing and buy some right now. (Thanks, Amazon!)
Perfect Steak for Two
By Alison Roman
Serves 2
INGREDIENTS
1 (1 1/2-2) pound steak (like a bone-in porterhouse, T-bone or rib eye), about 1 1/2-inches thick
Kosher salt and freshly ground pepper
2 tablespoons canola or grapeseed oil
2 tablespoons unsalted butter
4 sprigs fresh thyme
4 cloves garlic, crushed
Flaky sea salt, such as Maldon or Jacobsen
PREPARATION
1. Season the steak generously with salt and pepper on all sides (like, really generously).
2. Heat the oil in a large skillet, preferably cast-iron, over medium-high heat. Once the oil is VERY very hot, add the steak, pressing the steak down slightly with tongs (this will make sure all the meat gets even contact with the skillet).
3. Cook without moving the steak until the first side is deeply browned, 5-8 minutes (check after 5 minutes; if it needs more time, give it a few more minutes).
4. Using tongs, flip the steak to continue cooking on other side until deeply browned, 5-6 minutes (the second side will not take as long). If your piece of meat has a nice strip of fat on one side, stand the steak up on that side using tongs and sear until it's golden brown, about 2 minutes.
5. Remove the pan from the heat. Add the butter, thyme, and garlic. The butter will start to brown and get all foamy. Tilt the skillet towards you and using a large spoon, baste the steak with the butter for about 2 minutes.
6. Transfer the steak to a cutting board and let it rest for about 10 minutes.
7. To slice the steak, first cut the meat away from the bone (which you will obviously chew on afterwards), then slice the meat against the grain into 1/2 inch thick slices. Sprinkle with flaky sea salt before serving.