How To Make The Greatest Baked Clams
That's amoré.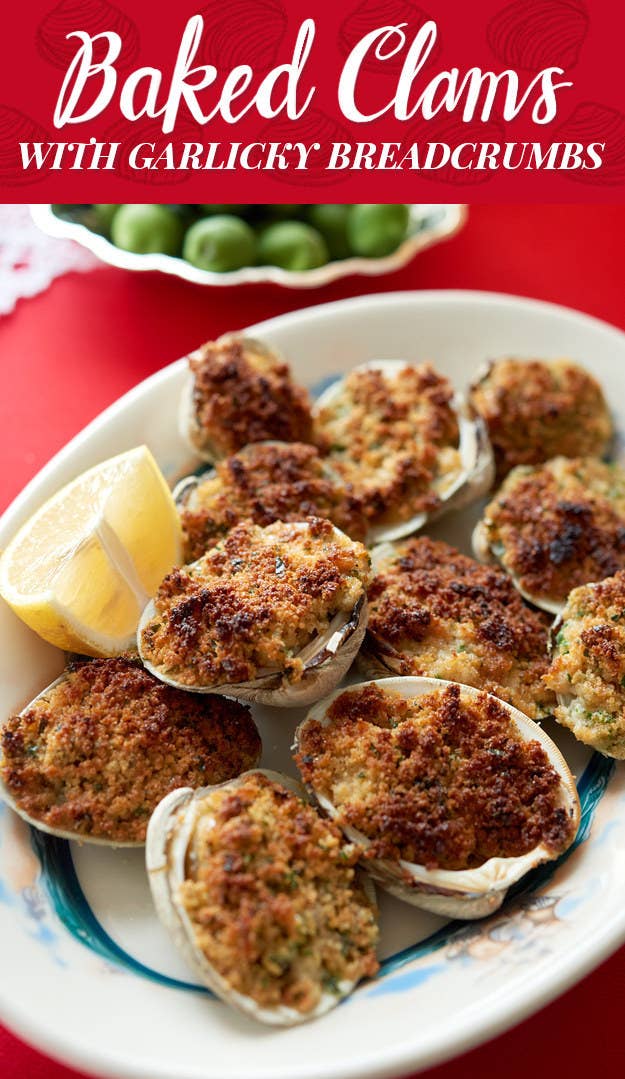 Baked clams are a thing you typically only have at your favorite Italian restaurant. But did you know they are REALLY easy to make at home? Like, in your own kitchen? WITH YOUR OWN HANDS.
IT'S TRUE. And they will be infinitely better than anything you get a that ol' red sauce joint.
Here's what you'll need: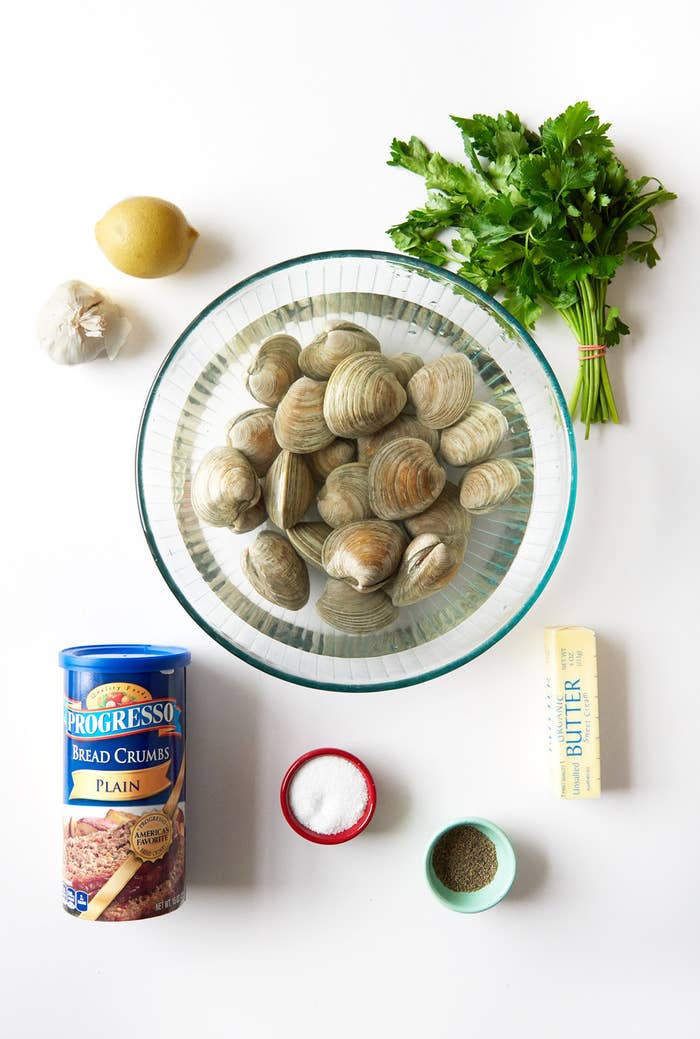 First things, first: THE CLAMS.
Make sure you are buying litteneck clams, which are a medium (and very popular) type. Any larger and they will be too tough to eat.
1.
Put the clams in a large bowl and cover them with 2 inches of *cold* water. Let them sit for 1 hour to make sure they are really grit and sand-free. (Most clams are already cleaned, so this is just insurance.)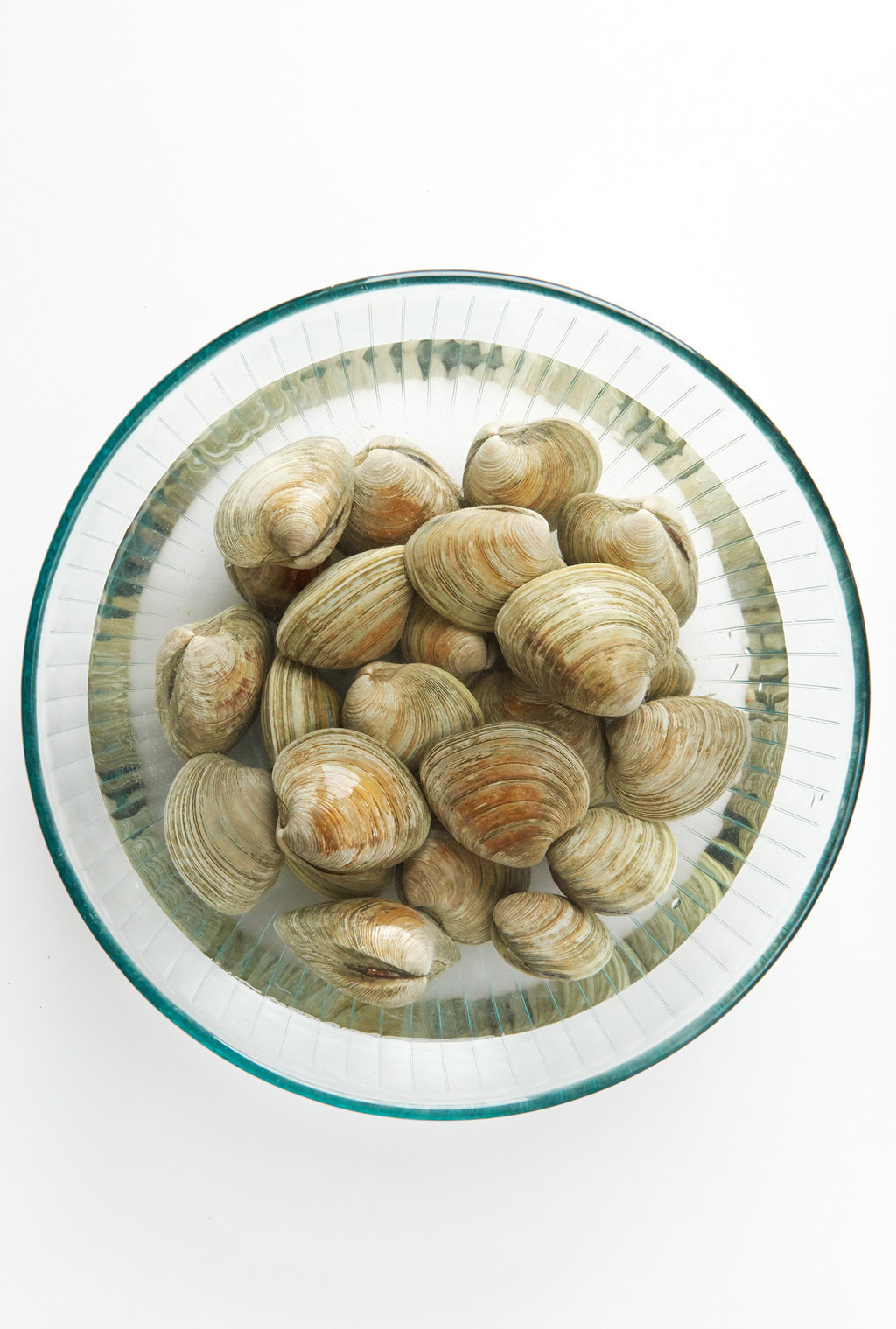 2.
Next, make the breadcrumbs. Start by picking the leaves off the parsley—you can use the thin, tender stems, but discard the tough, thick ones.
3.
Chop the parsley pretty finely, cleaning off your knife occasionally to make sure no leaf goes un-chopped.
4.
Start by crushing the garlic cloves with the blade of your knife. This removes the skin and flattens the cloves, which makes them easier to chop.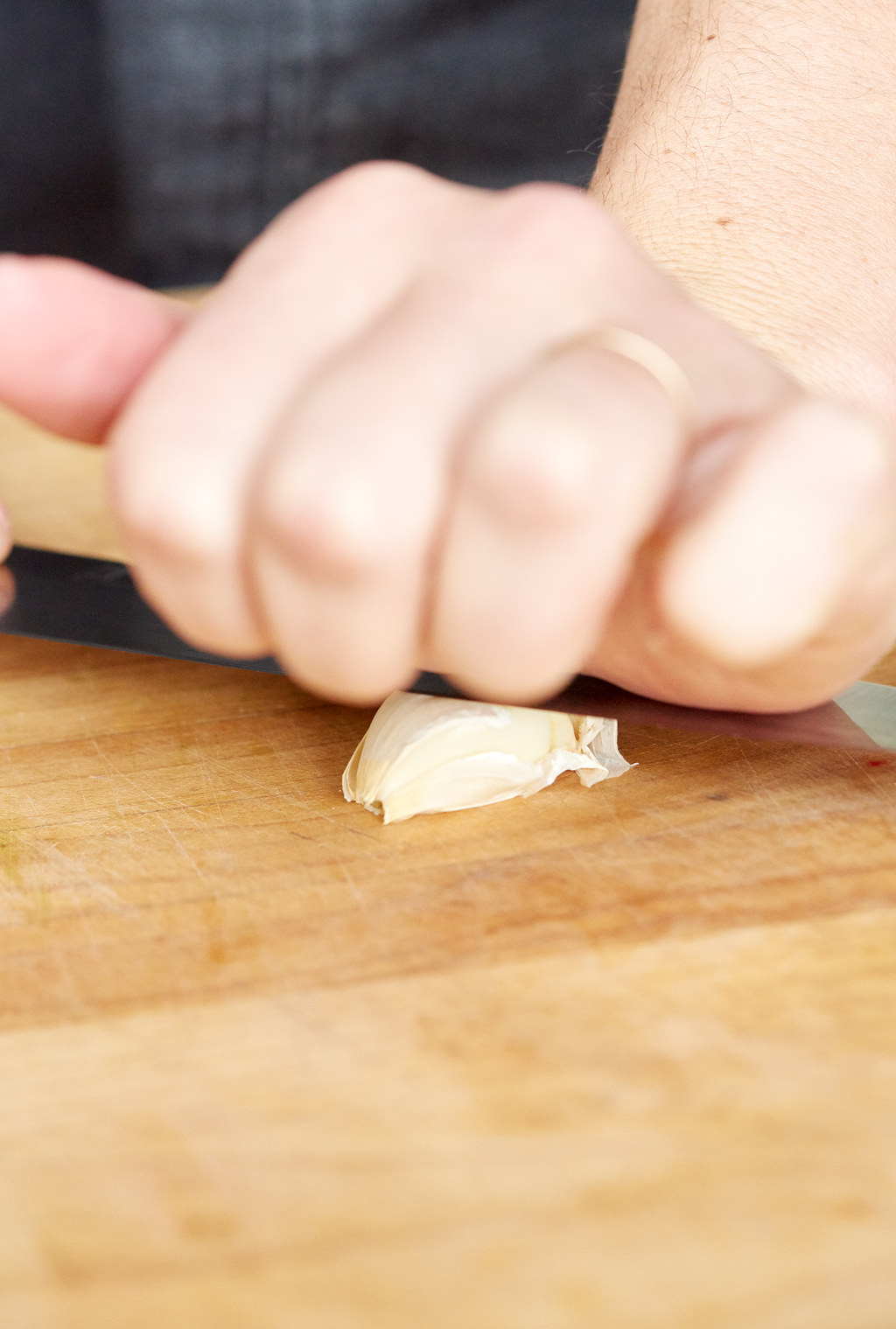 5.
Then, with one hand pressing at the base of the knife and one hand pressing at the tip, use a rocking motion to finely chop the garlic.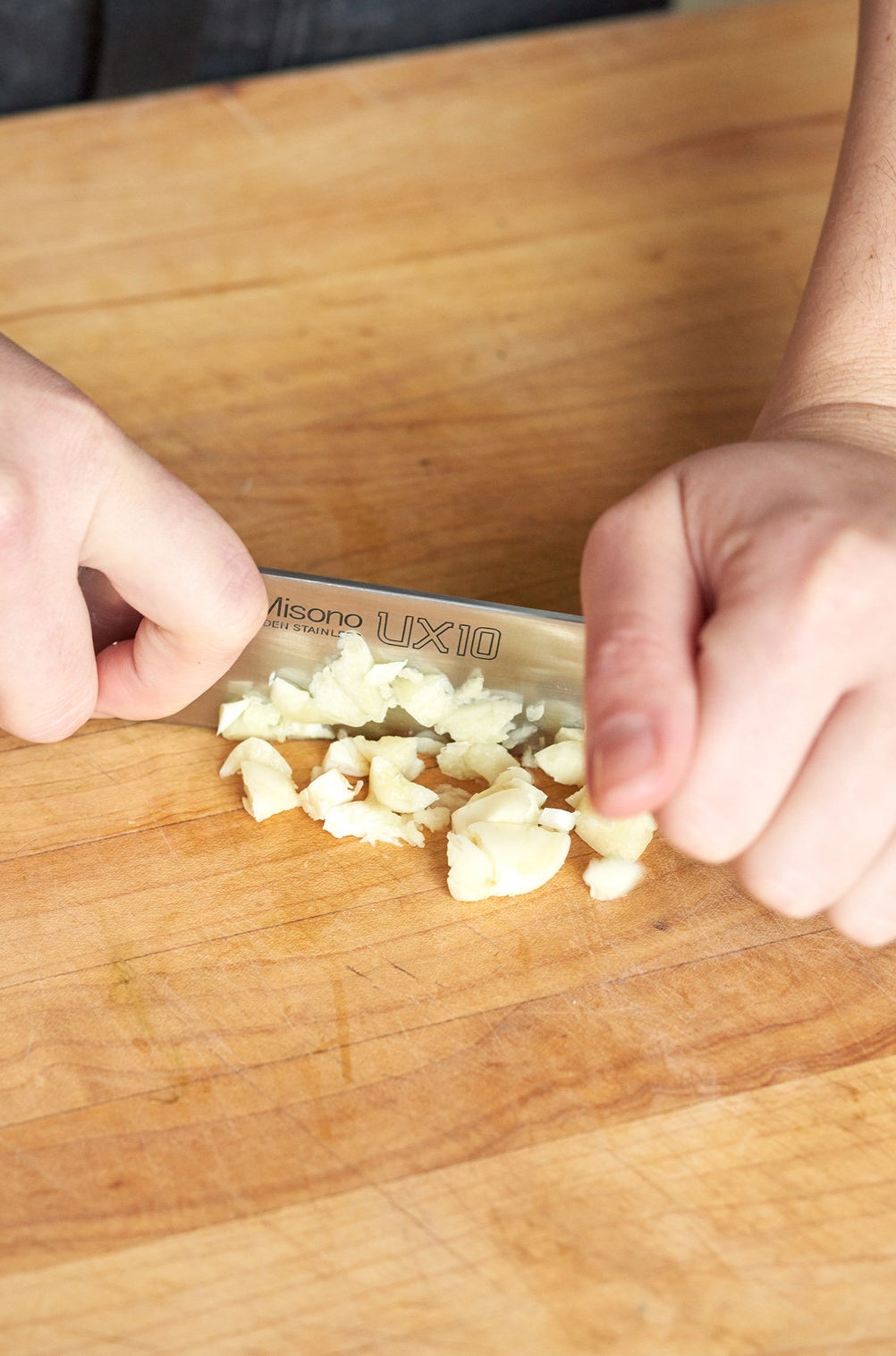 Doesn't have to be CRAZY fine, just no large chunks.
6.
To make your life easier, scrape the garlic onto the flat part of your knife, then scrape it from the blade into a medium bowl.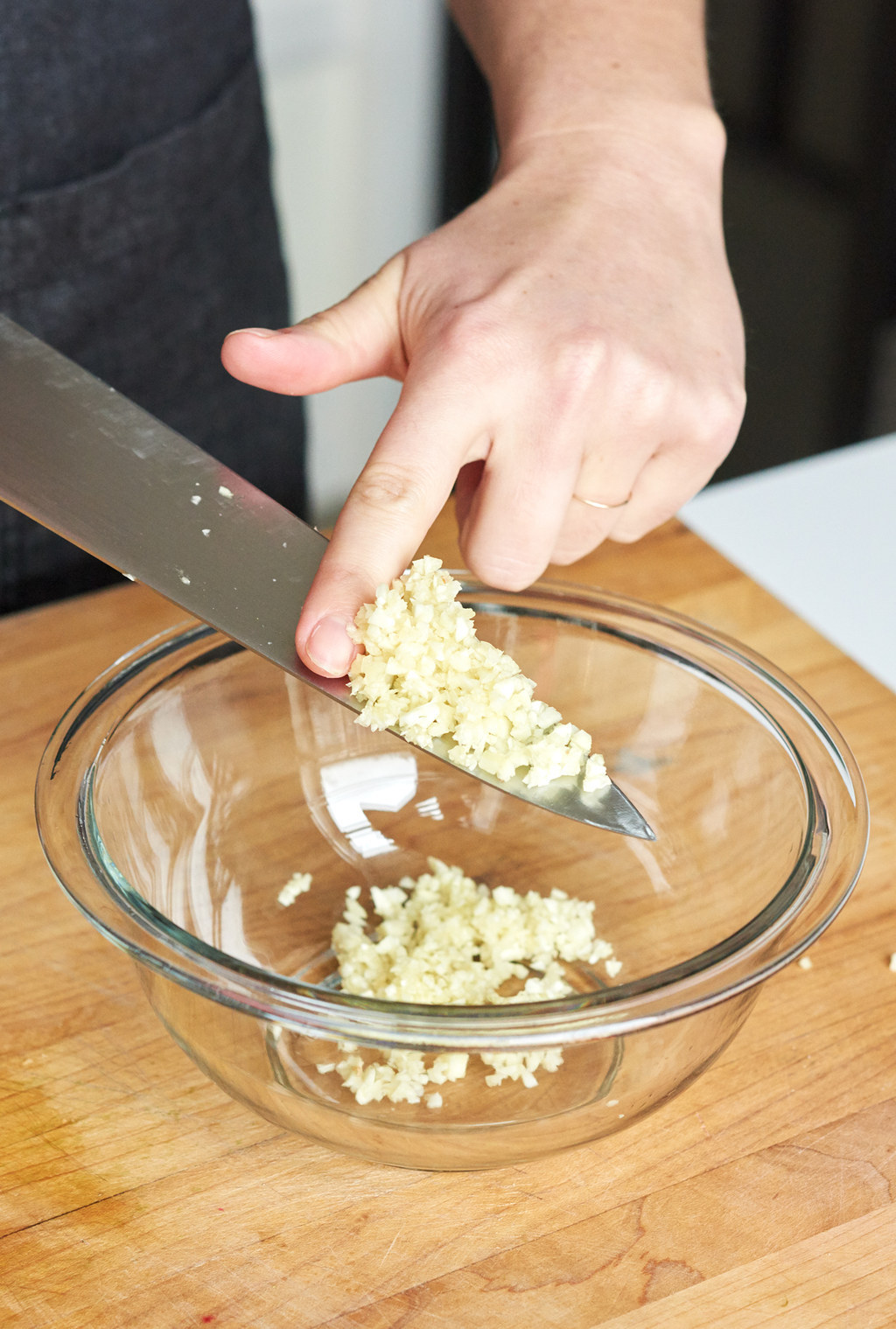 7.
Add the breadcrumbs and parsley to the garlic and mix.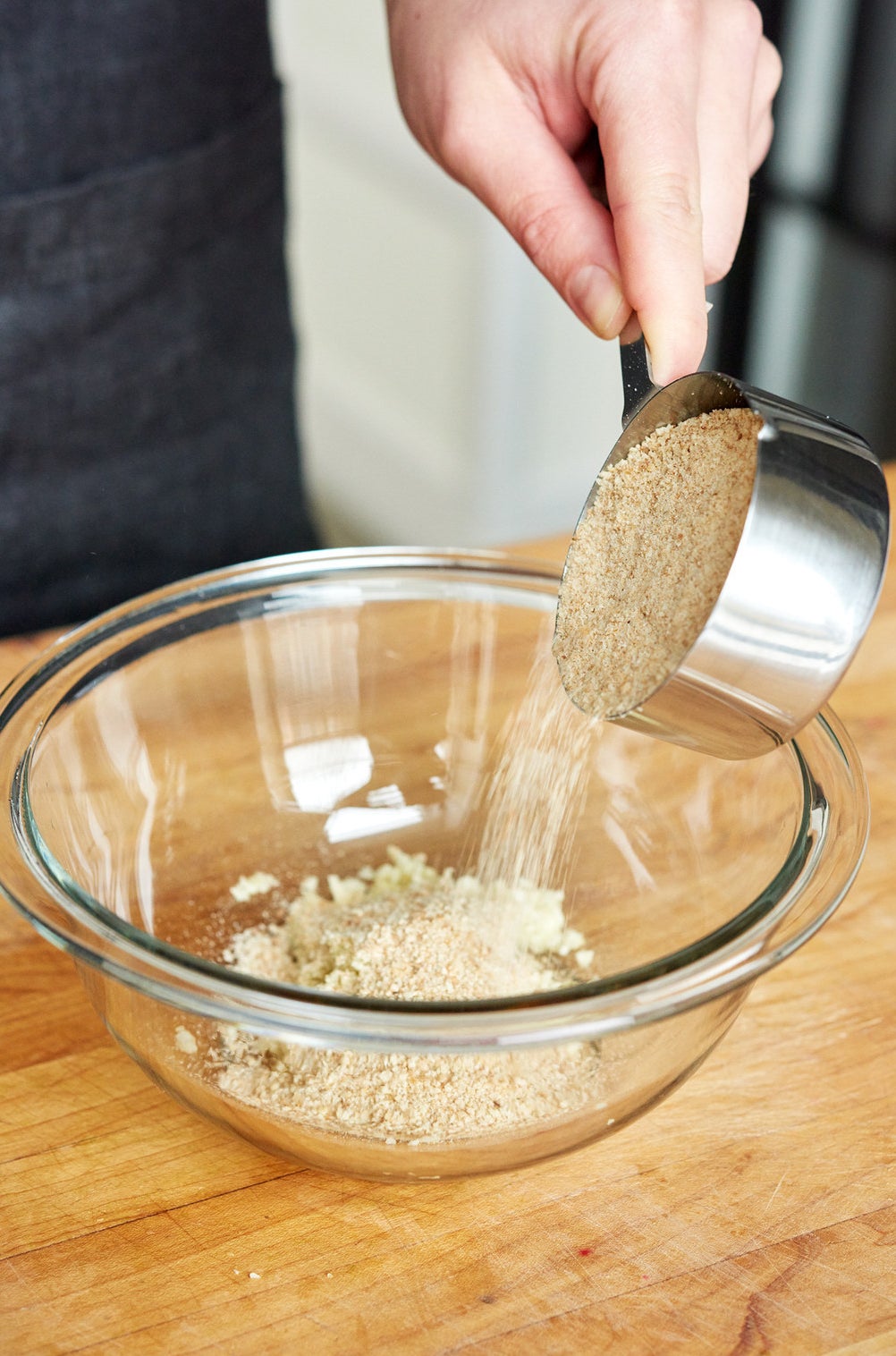 Just until everything is evenly distributed and having a good time together.
8.
Add the melted butter and season with salt and pepper.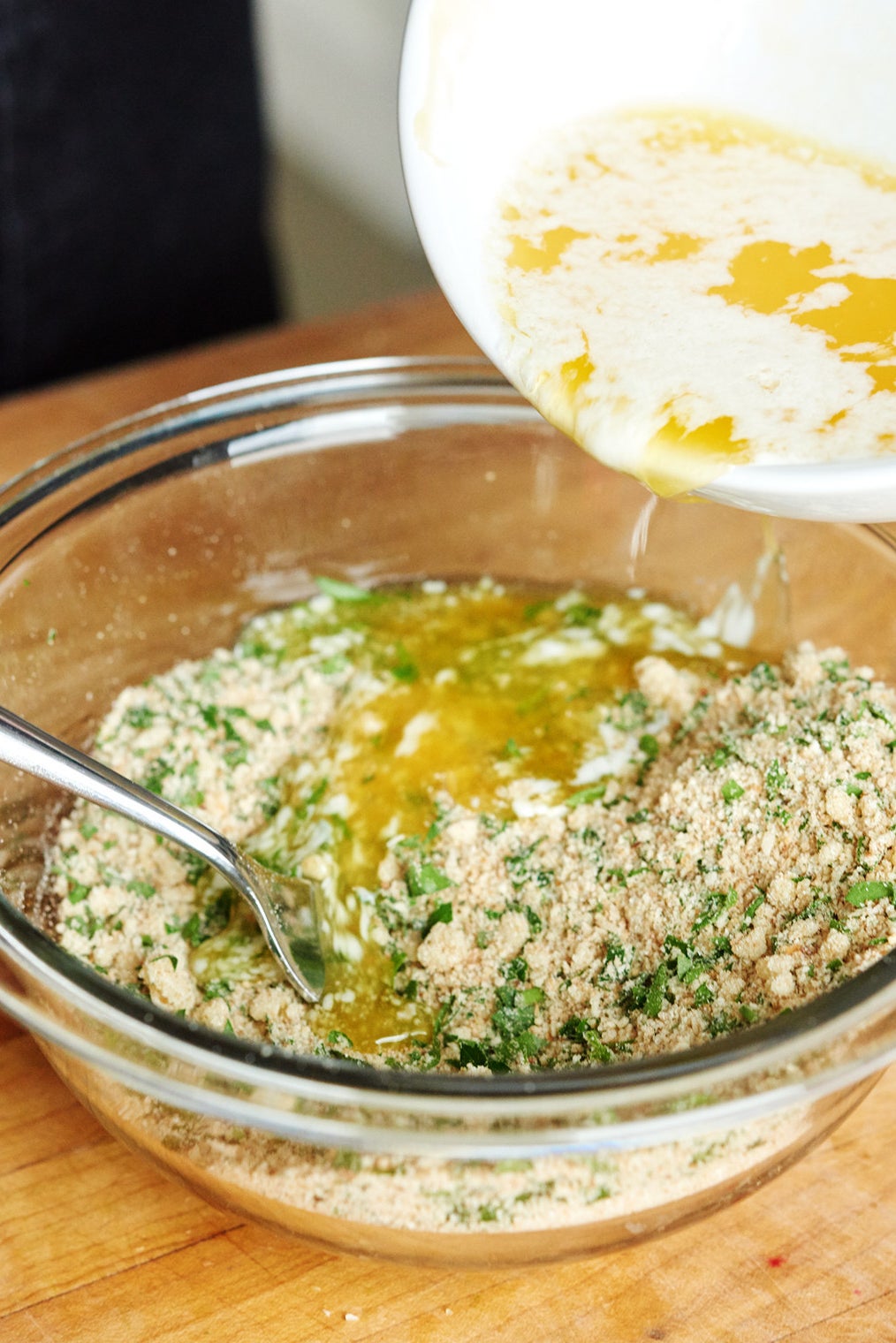 9.
Mix everything together! You should end up with a mixture that looks like ~wet sand~.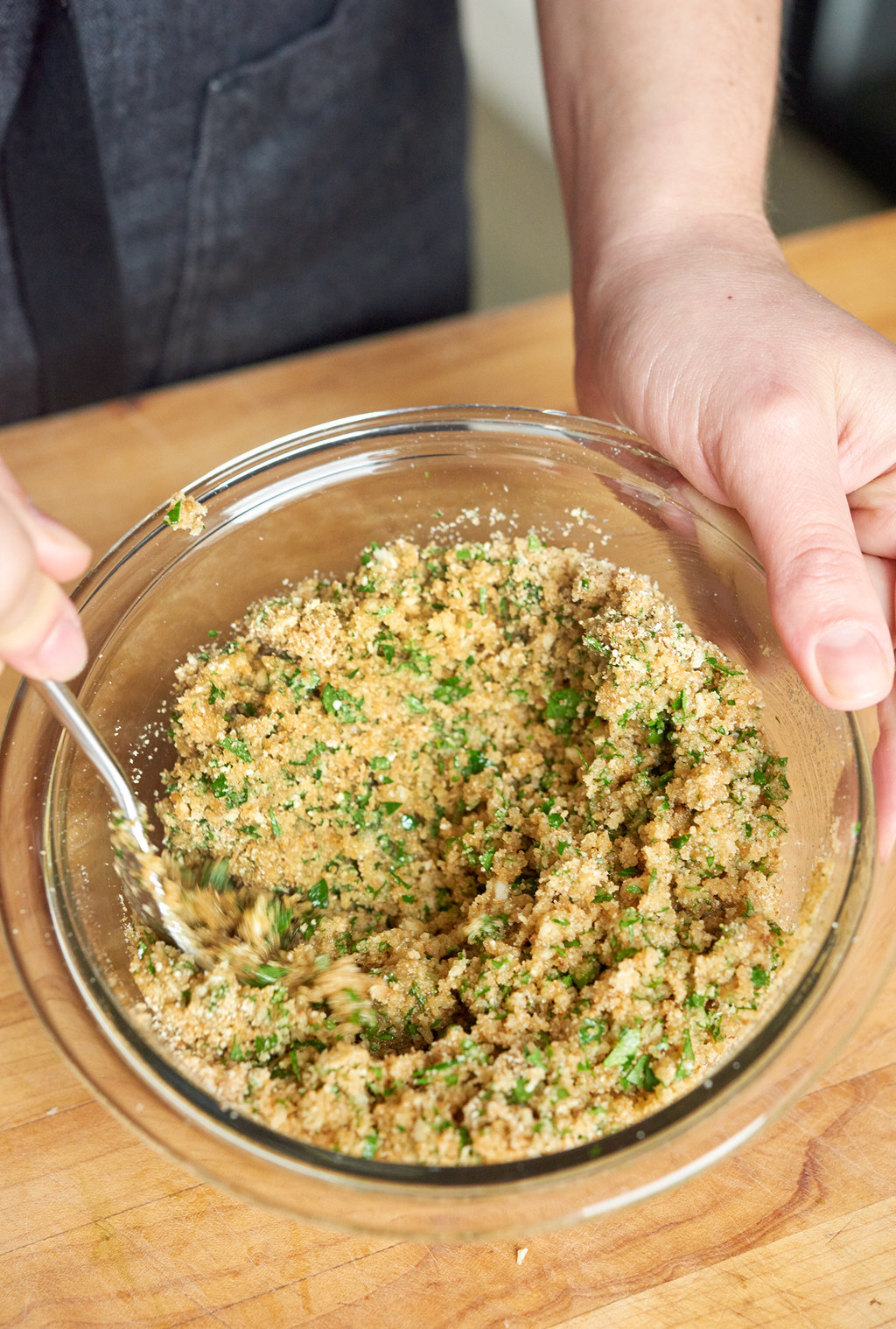 10.
Place all your clams in a 9x13 baking dish. They should all fit rather snugly, which is great.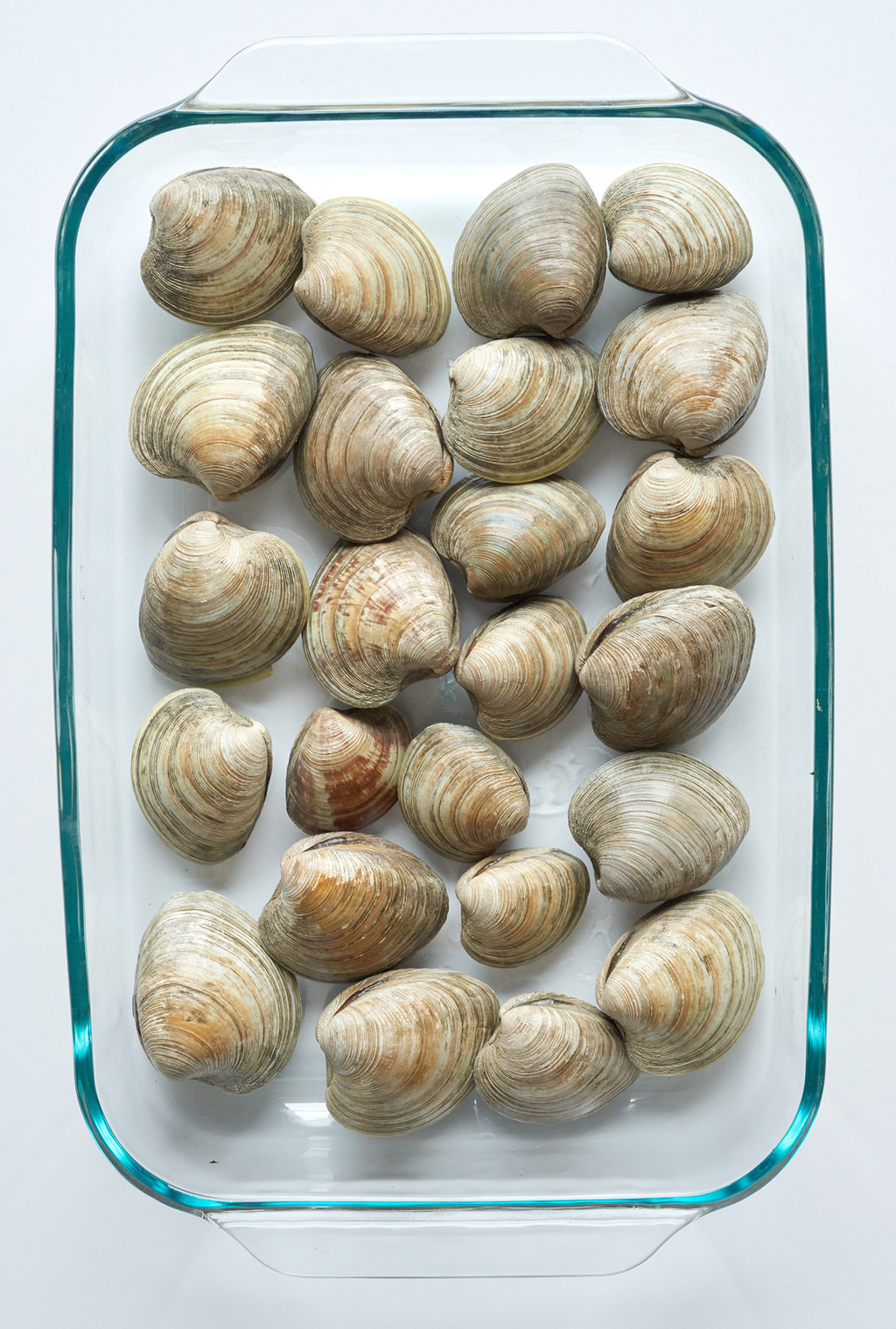 11.
Preheat the oven to BROIL and place the baking dish of clams on the top rack of the oven, or right under your broiler, wherever that is.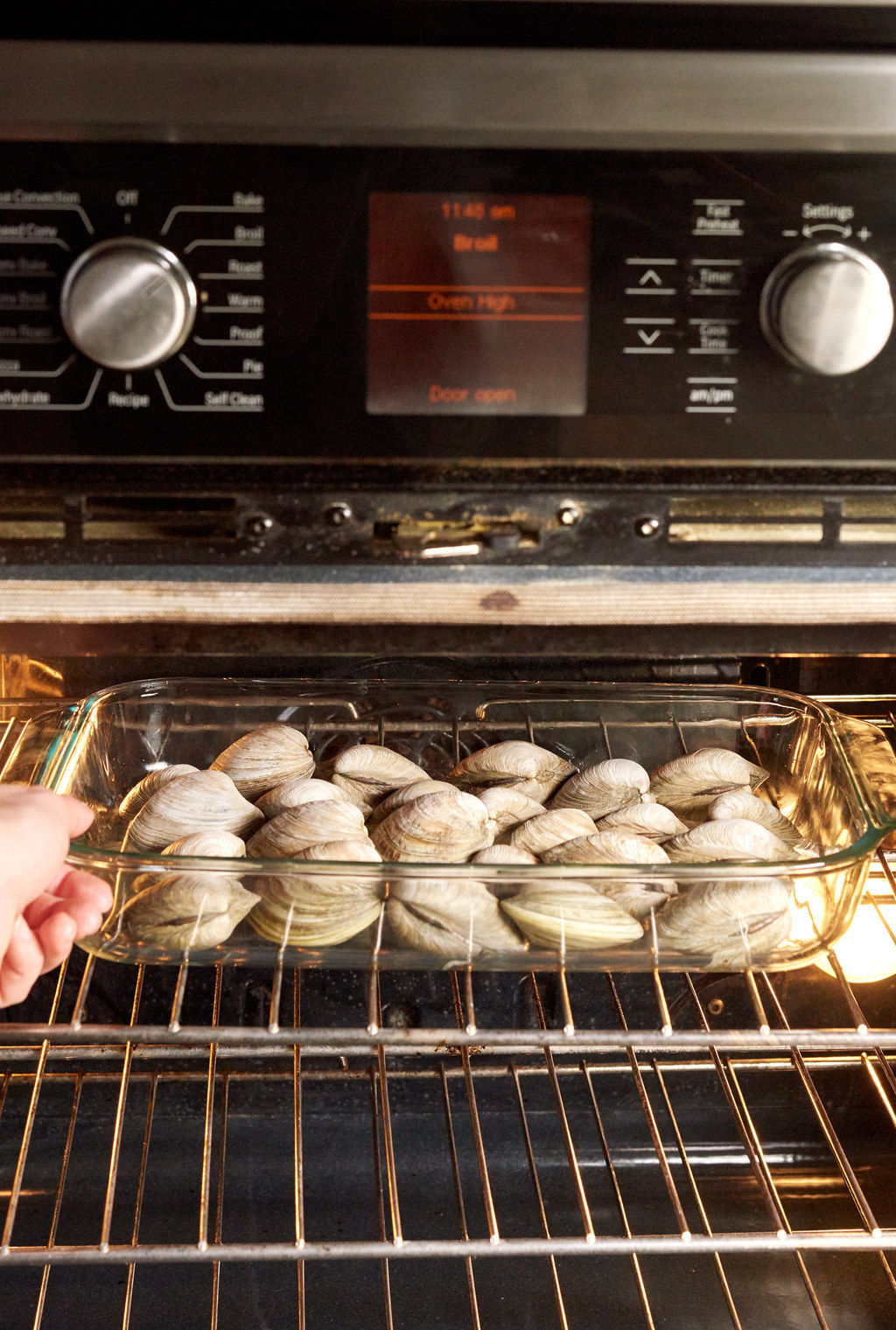 12.
Remove the clams once their shells start to pop open, 8-10 minutes.
13.
Let the clams cool a few minutes, then just twist off the top shell (this is very easy, just literally twist it off). Place the clams on a rimmed baking sheet.
You can save the top shells for arts and crafts, or just toss 'em.
14.
You'll have about 1 cup of clam juice leftover in the baking dish. If I were you, I'd strain it and save it for things like clam chowder or this seafood stew.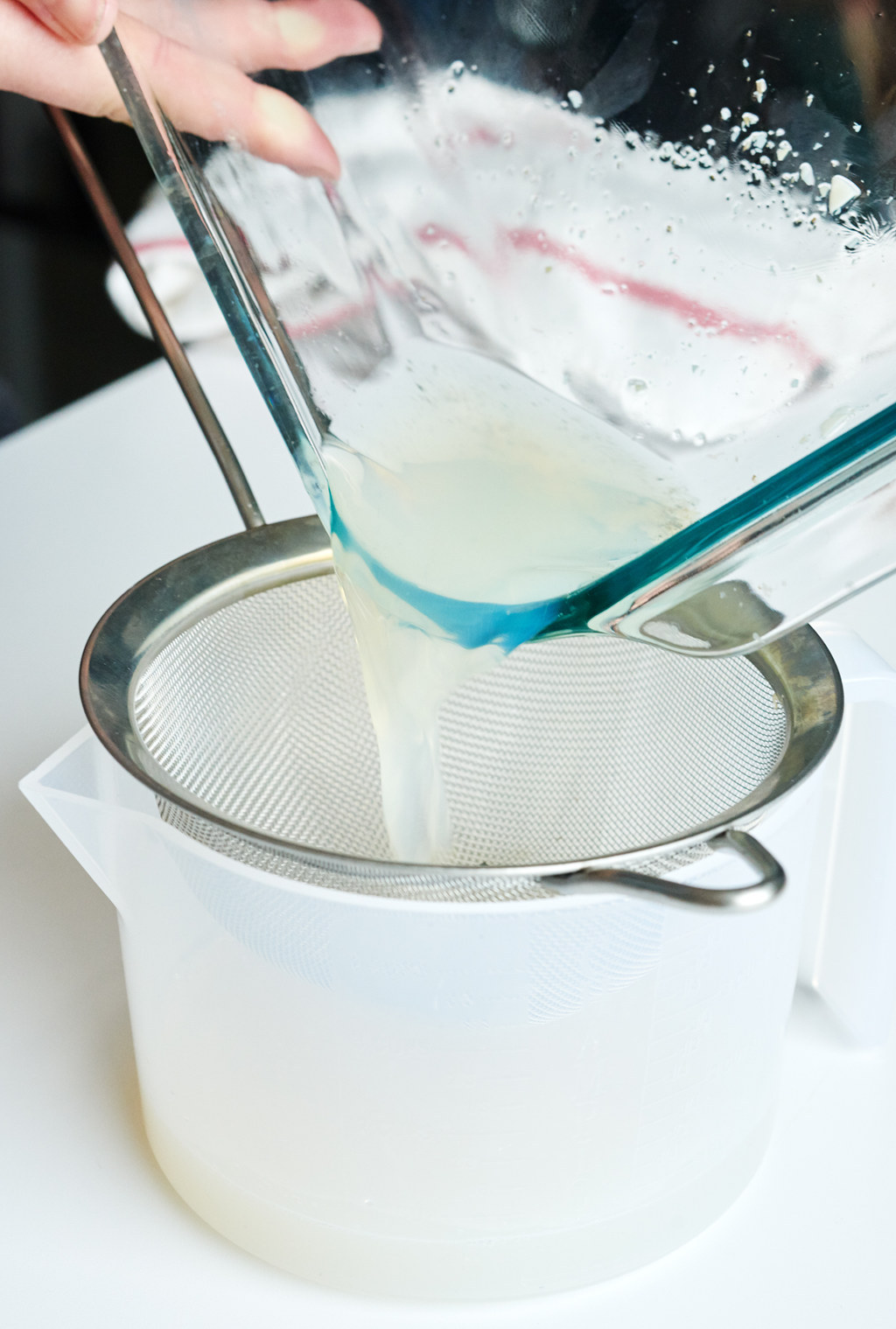 15.
Pack a spoonful of the breadcrumbs on top of each clam. The point is to just make sure they are covered evenly to protect them from drying out in the oven.
Use the back of the spoon to make sure the breadcrumbs stay put.
16.
Pop them back into the oven under the broiler until the breadcrumbs start to brown and get all crispy, 8-10 minutes.
17.
Wait for them to cool a minute or two, then transfer them to a serving platter with some lemon wedges for ~squeezing over~.
Have you ever even seen anything so gorgeous?
Baked Clams with Garlicky Breadcrumbs
By Alison Roman
Serves 8
2 dozen littleneck clams
1 cup dried unseasoned breadcrumbs
1 stick (½ cup) unsalted butter, melted
¼ cup finely chopped parsley (from about 1/2 bunch)
3 garlic cloves, finely chopped
Kosher salt and pepper
Lemon, for serving
Place the clams in a bowl of water (this will help purge them of any additional sand or grit) and refrigerate for 1 hour.
Preheat the oven to broil.
Combine the breadcrumbs, butter, parsley, and garlic in a small bowl; season with salt and pepper and set aside.
Place the clams on a rimmed baking sheet or a 9x13 baking dish and place under the broiler until they start to pop open, 8-10 minutes. Once they've popped open, remove from the oven and let cool a minute or two. Using your hands, twist off the the top shell of each clam (this part is kinda fun) and discard. Pack a bit of the breadcrumb mixture over each clam, making sure each clam is pretty covered in breadcrumbs.
Place clams back on the tray and return to the broiler until the top is all browned and crispy, 8-10 minutes. Serve with lemon for squeezing over.