1.
Relajarte en una hamaca a grandes alturas:
Relajarte a 50 metros sobre el suelo probablemente vaya en contra de tus instintos, pero esto aparentemente no es lo que pensaron los 22 participantes que se subieron a las 16 hamacas en "The Highline Festival" en Monte Piana, Italia. Los atrevidos pasaron el rato suspendidos de un cable que cargó un peso de casi 5,180 libras para el proyecto "Ticket to the Moon", el cual fue capturado por el fotógrafo Sebastian Wahlhütter. Haz click aquí para ver todas las fotografías del evento que te pondrán los nervios de punta.
2.
Nadar en el Lago de las Medusas:
3.
Hacer cualquier cosa sobre Trolltunga:
¿Dominadas invertidas? No, gracias. ¿Sentarte a la orilla y jugar con tus pies? Definitivamente NO, gracias. A una altura de 700 metros sobre el nivel del Lago Ringedalsvatnet en Noruega, realmente no deberías hacer otra cosa más que rezar para vivir un día más.
4.
Sumergirte en aguas llenas de cocodrilos:
Entra a la "Jaula de la muerte" en Crocosaurus Cove en la ciudad de Darwin, Australia, y conquista tu claustrofobia y tus miedos a ahogarte y a ser comido vivo.
Los escaladores se amarran a las cadenas que rodean la superficie rocosa de las montañas a 2,150 metros de altura. Lo más aterrador de todo es que el camino de madera no es realmente un "puente" sino más bien una "prueba de tu sanidad mental".
6.
Visitar la Puerta al Infierno: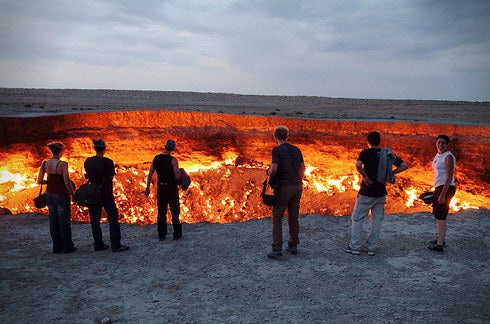 Viaja a Darvaza, Provincia de Ahal, Turkmenistán, y sé testigo del enorme campo de gas natural que ha estado en llamas desde que unos ingenieros soviéticos expertos en petróleo le prendieron fuego en 1971. El pozo no está protegido por ninguna cerca por lo que está abierto al público para que las personas lo disfruten lo más cerca posible.
7.
Comer comida callejera de animales extraños:
Finalmente descubre cómo es la consistencia de las estrellas de mar al probar los pinchos callejeros de China.
8.
Volar un avión sin ninguna experiencia:
Todos los días las personas vuelan aviones —bajo la supervisión de instructores— en lugares como Florida, Texas y California con una empresa llamada "MiGFlug".
9.
Refaccionar arañas fritas:
Este refrigerio popular en Camboya es "crujiente por fuera y viscoso por dentro", según las palabras de un bloguero. Si no te repulsa la idea de comerte una de estas arañas, te sorprenderás al saber que tienen un alto contenido proteico.
10.
Hacer salto BASE en Zakynthos, Grecia:
Dicen que es seguro. También dicen que no hay un barco abandonado. Hacer salto BASE en la playa Navagio se ha vuelto tan popular, que ahora se celebra anualmente el "Summer BASE Jump Boogie", en donde docenas de atletas hacen más de 300 saltos en un plazo de cinco días.
11.
Visitar las Cuevas de Tamana en Trinidad:
Repletas de miles de murciélagos, las cuevas albergan a muchos tipos de murciélagos frugívoros (se alimentan de frutas) y de murciélagos vampiros que se alimentan de sangre. No, gracias.