1.
A set of Wad-Free pads that'll assist in efficiently drying your bed sheets, preventing them from getting tangled into a massive ball. You ever pull out your sheets and they're still damp? Gross. These will fix that. 
Wad-Free is a small business established in 2020 after the founder Cyndi Bray learned computer-aided design to create the pads.

Promising review: "THIS ACTUALLY WORKS!!!! I saw a TikTok about these and decided to order. Sheets balling all up in the washer and dryer has been a pet peeve of mine for forever. I was super skeptical of these, but I tried it, and it works as advertised!" —StrangerThings
Get a set of two from Amazon for $19.99.

2.
A garbage disposal foaming cleaner to refresh the drain — aka the place you pour all your leftover noodles that linger on your plate after dinner. Keep the garbage disposal squeaky clean so you can continue to use it in all your lazy glory.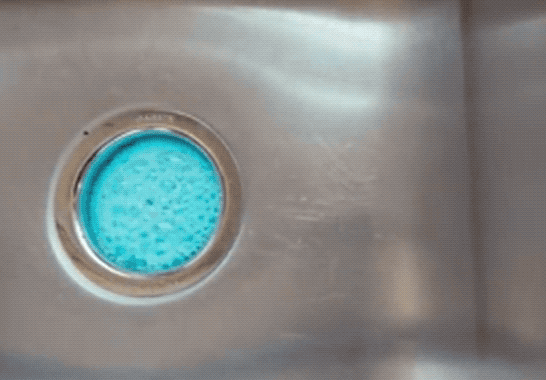 Promising review: "It seems counterintuitive to put a little packet down your garbage disposal to clean it, but this does actually seem to work, at least for getting out weird smells that baking soda and vinegar don't really touch. I scrub the sink down first, especially around the garbage disposal area, rinse it down, and then just follow the directions on the package. I have used it with single, large-size sinks and with double sinks — only difference is that the double sink will have blue cleaning foam rise up the drain, which you rinse away when the disposal sounds clear again. I have tried the foaming cleaner in a can, but unfortunately it stopped coming out of the can about 10% of the way through. Went back to this tried-and-true." —KS
Get a pack (four uses) from Amazon for $4.25.
3.
A pack of Affresh washing machine cleaning tablets for keeping the machine that washes your clothes squeaky clean. Who wants to wash their things in a dirty washer? Not me.

Promising review: "I saw this on TikTok and had to give it a try. It's very easy, just throw it in there and throw on the self cleaning mode for my washer. My washer was musty beforehand and came out with no smell at all. It freshened up the drum. Since I used it, my clothes have smelled stronger of my detergent. I also purchased the dishwasher tabs as well and they work very well too. Definitely worth giving it a try." —Adamsp17

Get a pack of six from Amazon for $11.98. 
4.
A Wet & Forget shower cleaner to tackle the gunk and stains that have been overstaying their welcome in your tub or shower. Spray it on, let it sit for a few hours (some reviewers left it on for 24 hours), and then rinse or wipe it clean! 
Promising review: "I have well water. Something in my well water reacts with copper plumbing and turns my shower tiles blue. Since my bathroom color scheme isn't on the blue spectrum, this is problematic. The well water also causes the shower glass to film up quickly. I've tried dozens and dozens of cleaners and scrubbed till my arms ached trying to get ahead of the blue and scumminess. My ambition in life is NOT to be a full time bathroom scrubber! I saw this stuff on a professional house cleaner's TikTok (sorry, don't remember which one) and thought 'what the heck, might as well give it a try.' Oh my goodness, the first day after my shower I sprayed this stuff all over and walked away. The next morning there was a NOTICEABLE reduction in the blue and the glass looked clearer too. Day two, sprayed again and walked away. The next morning the blue was gone except for a few spots on the floor tile and the glass looked amazing. Day three I sprayed the remaining spots and the next morning the shower practically looked new. NO SCRUBBING AT ALL!!!! This is my new favorite shower cleaner. The ONLY con I have is that it makes me sneeze while I'm spraying from inside the shower, but I can live with that." —L. J. Petillo
Get it from Amazon for $19.98.

5.
A veggie chopper so you no longer have to *cry* massive tears over that onion you gotta chop. This nifty gadget can julienne, chop, spiralize, and slice vegetables! It has a handy compartment at the bottom where your freshly chopped produce will sit after it goes through the chopping process. 
Promising review: "Makes life so much easier. I can't imagine chopping onions or bell peppers by hand anymore, and it does so much more. We used to have a Prepworks chopper, which was a similar idea but you had to press so hard to chop and it broke after not too long. This one requires very little effort to cut through the food and it has a generous container." —Amazon Customer
Get it from Amazon for $29.99.
6.
Bissell Stomp 'N Go Pads for tackling tough, hard-to-remove surface stains like wine, pet pee, mud, blood, and juice. Simply place the pad on the affected area, stomp on the pad, and then leave it be for 30 minutes. Once you peel it off the floor, your stain should have magically lifted — hallelujah!
Promising review: "OMG I am SO HAPPY that they are making these again. They are the absolute best. Nothing comes close! I even called and wrote to Bissell twice when they discontinued this item asking them to bring it back. Then I bought all I could from Amazon and on eBay. Now they are back! I have an older dog who sometimes has accidents and NOTHING works as well and as easily as these. Some people say they are small but I say they are perfect! In fact, because they are relatively expensive, I cut these into small pieces and use just what I need. If you rub the pad into the carpet it will completely remove the stain. Stomp on it and leave it there. The stain will be gone. I seal the bag with a bulldog clip to keep the remaining pads moist." —kscoco

Get a pack of 20 from Amazon for $24.99. 
7.
A "Bread Buddy" dispenser in case you're sick and tired of how quickly your bread goes moldy (or stale). This keeps your loaf fresh by creating an air-tight seal. And with an easy pull of the bread bag, it'll dispense slices of bread like magic.

Promising review: "The Buddeez Sandwich Bread Dispenser is great! It does exactly what it was intended for. I live alone and I don't quite go through bread often enough before the last quarter section of the loaf starts to go stale. I was originally looking for something to put a loaf of bread in as a shell for my vacuum sealer, that would keep the bread from getting crushed from the pressure. This dispenser solved all of my problems. Thank you!" —DRMcQuaig

Get it from Amazon for $13.88. 
8.
A six-outlet wall charger because if outlets are few and far between in your home, you're def gonna wanna maximize them. This has two USB fast-charging ports and six outlet ports for ALL your devices. It also has a nifty night-light that you can touch on and off.
9.
A pack of Elephant Trax Labels to stick on storage bins and boxes and sync to an app so you can keep track of what you have stored inside! 
Promising review: "I saw this product on TikTok and IMMEDIATELY bought it. I have A LOT of decorations and clothes that I threw into U-Haul and Amazon boxes three years ago when I moved in with my boyfriend. They've been sitting in our barn since. I dreaded going through everything because my squirrel brain gets overwhelmed very easily and the thought of trying to keep all my 'treasures' organized sent me rushing for a paper bag to hyperventilate. These stickers now give me hope. :)" —Tess Brady
Get a pack of 40 from Amazon for $9.99 (also available in larger quantities).

10.
A battery storage organizer so the next time you have to replace your TV remote batteries it doesn't turn into a full-blown scavenger hunt. It also comes with a battery tester to see how much juice you have left!
This bad boy holds over 100 batteries!

Promising review: "Very handy organizational tool. Now easy to not only tell at a glance what you have but also what you don't have or are running low on. The battery tester is very helpful in determining if it's the device or the battery that has failed, and it has its own compartment that also stores odd sized batteries like button and watch batteries. It has a carrying handle or can be mounted somewhere convenient. Includes the mounting hardware." —Rob N
Get it from Amazon for $23.99 (available in three colors).
11.
An oil spray dispenser you can refill with your own EVOO. It's more sustainable than purchasing a new can of Pam each month. Just spritz your pans before cooking or use it to spray some olive oil and vinegar on your salad!
Promising review: "The sprayer is a high quality glass container with a spraying nozzle capable of producing a very fine mist. This is perfect for coating baking pans with oil and other cooking needs. The trigger is smooth and easy to use. The slim profile makes it easy to store and doesn't clog up precious kitchen storage space." —K.K.

Get it from Amazon for $10.99.