1.
A realistic moon-shaped light so you can ~finally~ read by the glow of moonlight. Isn't she a beaut?!
Promising review: "I originally bought the 7-inch moon for my husband as an 'I love you to the moon and back' gift for our anniversary... Well, I loved his moon so much that I kept stealing it from our bedroom and taking it to the living room. So I bought myself the 5.9-inch moon to compare sizes and have one to call my own. As it turns out, the slightly smaller 5.9-inch one is just as amazing as the seven-inch. These moons charge up fast with a cord (with a cool 'blue moon' color when charging) and then once charged, they are completely free from cords or any connection dependence. They light up with a very detailed real moon surface design in white or yellow, and it will totally mesmerize you. You can literally 'hold the whole moon in your hand' and use it as a cordless and battery-free lamp, a nightlight, a lantern, or quasi-candle in the dark. The wood stand is sleek and super easy to assemble, and is a perfect accent to any room décor. These moons are the best gift for friends, family, co-workers, kids, pets, and spouses." —Amazon Customer
Get it from Amazon for $15.99+ (available in four sizes).
2.
A retro wall plate if your style is quirky with a hint of nostalgia. If you constantly wish you could've lived during the '50s, then why not make your home feel like you're actually there?!
Atomic Surplus is a small business based in Idaho that handmakes atomic-age accessories.
Promising review: "These plates are fantastic and Sam is great to work with. I placed a large order and changed out every plate in the house. They look fantastic and I'm so happy I stumbled on Atomic Surplus. What a terrific find." —Meg Morton
Get it from Atomic Surplus on Etsy for $30+ (available in a variety of styles and colors).
3.
A seashell pillow to spruce up your arm chairs or couch with a hint of oceanic beauty. 
4.
A faux-fur seat cushion so you can get that boring desk chair that you bought from Ikea back in 2015, looking modern and cute (your butt will also thank you for this fluffy cushion).
Promising review: "I use this little square in my Aeron-style office chair to make it more comfy and soft. I often wear shorts (it's OK, I work at home LOL) and like the soft texture versus the chair material on my legs. I try to rotate the furry square and shake it out daily since it's getting a LOT of use. I'll probably have to replace it in a year, but for this price, I don't mind!!! A+++++" —LAE
Get it from Amazon for $13.99+ (available in 11 colors).
5.
A wooden propagation vase to pop on your wall to display your favorite blooms.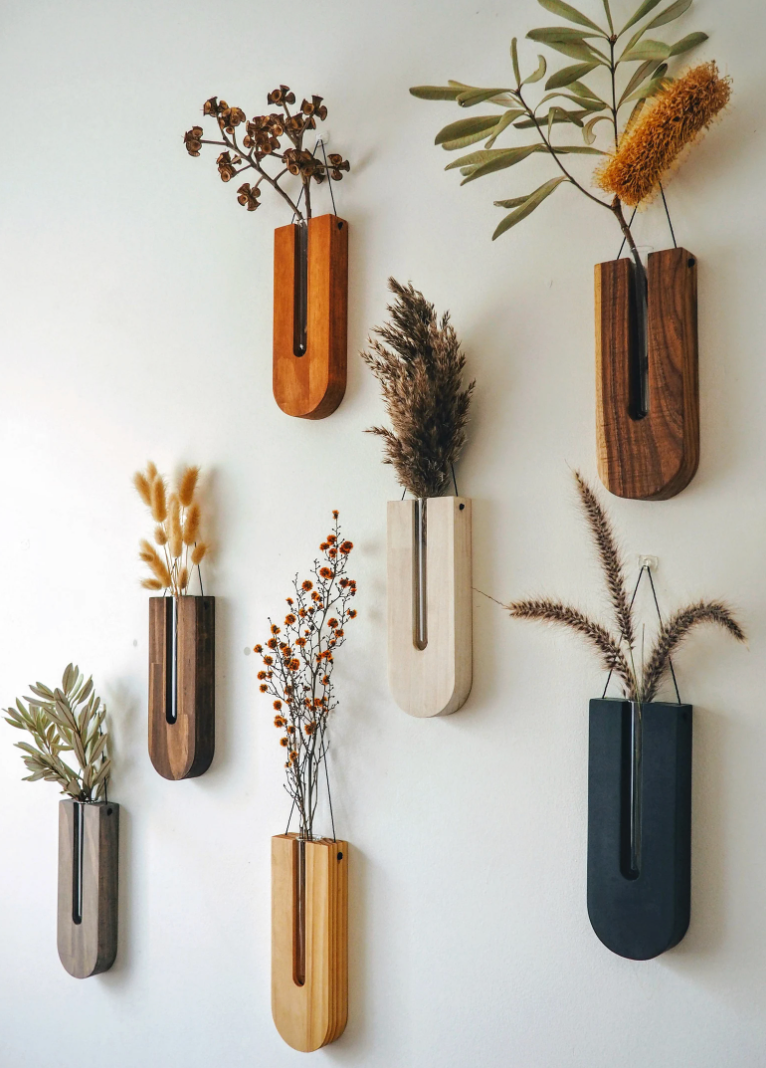 Fab Signature is based in Melbourne, Australia and specializes in one of a kind home decor pieces.
Promising review: "So cute!! If I had more wall space I would buy more. I bought dried flowers for mine and I love the way they turned out. Perfect addition to my home." —Chelsea Darnelle
Get one from Fab Signature on Etsy for $47.88 (available in six colors).
6.
And some faux pampas grass plumes that'll add so much life to your space with zero upkeep. I have some of these and they're a great way to put your favorite vases to work. 
Brooklyn Theory is a small business that offers faux pampas grass and dried palm leaves to add a floral pop to your home. 
Promising review: "I love these faux pampas. They're such good quality. The best thing is that they don't shed like real pampas. I highly recommend this product. It's so on-trend and makes for beautiful statement and decor." —jazG
Get it from Amazon for $28.99 (available in 10 colors).
7.
A Diana the Huntress bust in case your foyer table could use a statue that looks like a million bucks but won't break the bank. Expensive looking decor at a reasonable price is what dreams are made of.
Promising review: "This is perfect in my entryway and was exactly what I was looking for! It's beautiful and sturdy in person and also a perfect size that doesn't appear too over the top but really elevates the aesthetic of my home. Highly recommend!" —Deanna Smeragliuolo
Get it from Amazon for $27.35+ (available in two colors).
8.
A handmade moon phase garland you can hang over your bed for some aesthetically pleasing cosmic vibes.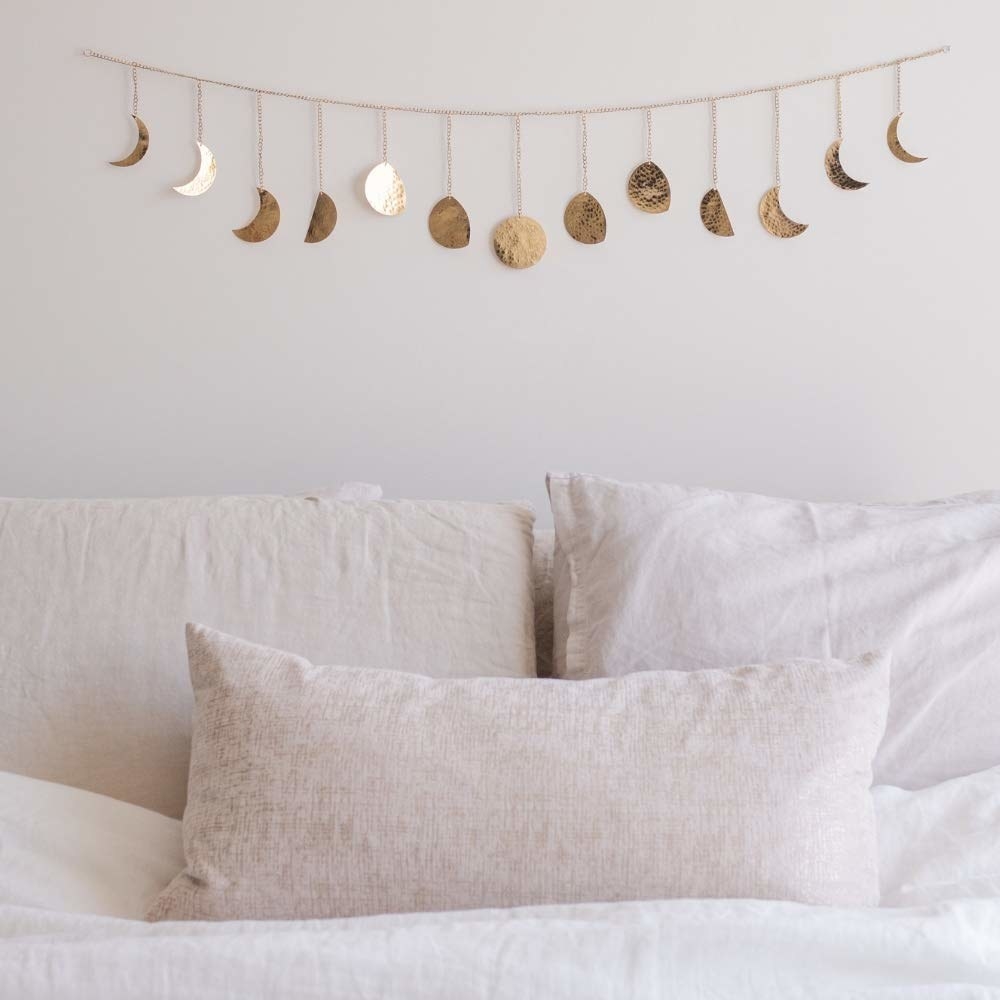 Base Roots is a woman-owned small business based in Las Vegas.
Promising review: "I'm an incoming freshman this fall and I bought this to add some personality to my dorm. It has beyond exceeded my expectations! I placed it directly on top of my dorm bed as shown in the display photos and am so pleased with how it looks. It fits perfectly with the grey/white color scheme I was going for and have received numerous compliments from both my friends and RAs when they've visited. I cannot stress enough how much of an 'aesthetic feel' it adds to my dorm." —jhsgf
Get it from Amazon for $17.99.
9.
A record display shelf to exhibit the vinyl you're listening to. It's such an amazing way to keep track of what vinyl is on the turntable and it doubles as some cool wall art.
Record Racks is a small business located in Austin, Texas.
This is my second shelf from Record Racks since I moved and had one up on my wall in my childhood bedroom. It's one of my fave ways to display my records and doubles as a fun wall piece. It's such a conversation starter and def want to get a bunch of these for my friends for the holidays this year. It easily applies to the wall with command strips (these are provided for you) and your installation is complete!
Get it from Record Racks on Etsy for $17.99 (available in 14 colors).
10.
A set of geode bookends that'll keep your books from looking lopsided and sad. This'll cheer them (and perk them) right up with a pop of color. 
They also look pretty dang gorgeous just sitting there by themselves!
JIC Gem is a small business that specializes in crystals in healing stones. 
Promising review: "Love it — the rocks are BEAUTIFUL. These are great book holders. I have them across my fireplace mantel and have had nothing but compliments. Highly recommended for the crystal quality and I'll definitely be ordering more in other colors in the future. Thanks." —GH
Get a pair from Amazon for $28.99+ (available in six colors and four weights).
11.
An oak and brass jewelry holder in case your overabundance of earrings, bracelets, and necklaces are currently cluttered on your dresser top. *Poof* Here's a cute, chic way to display them in an organized manner.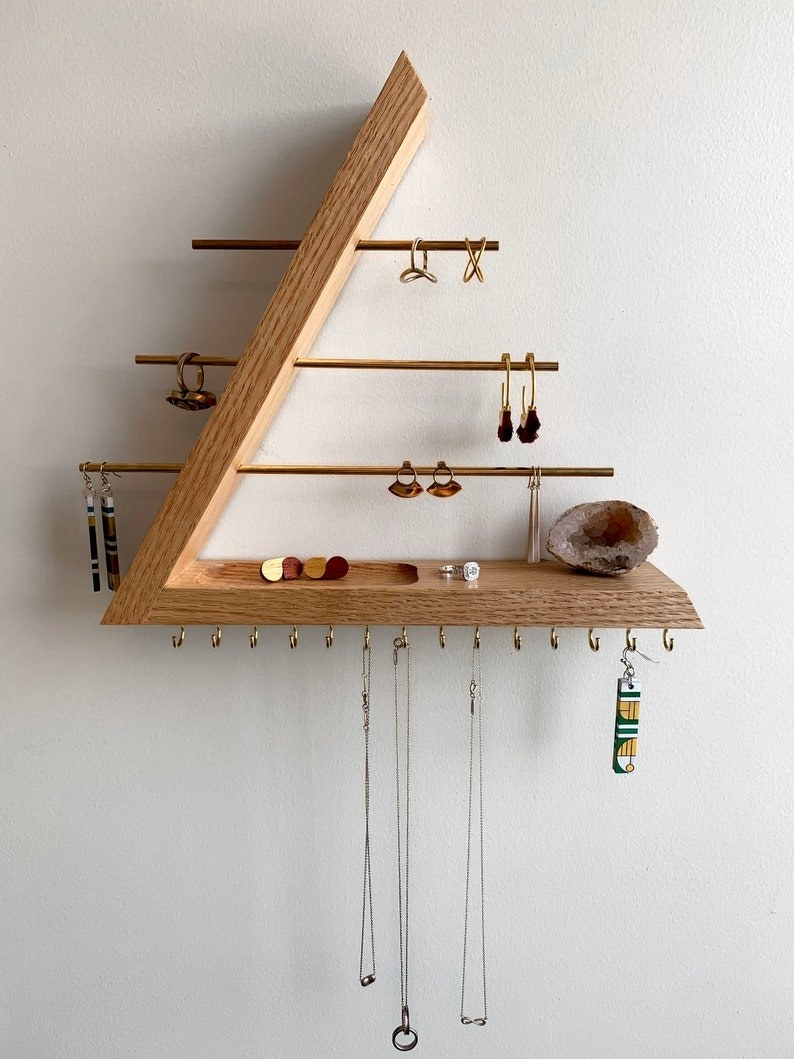 It includes screws and drywall anchors for mounting. 
FigureGrain is an LA-based biz that makes functional yet stylish organizational accessories to keep your home clutter-free. 
Promising review: "Absolutely LOVE this unique jewelry organizer. Not only did it ship and arrive very quickly, but it also is sturdy, beautiful and 100% worth every penny. It looks like a piece of artwork hanging on my wall. I'm so beyond pleased!" —Kayla Sewell
Get it from FigureGrain on Etsy for $89+ (available in two finishes and with one or two trays).
12.
A ceramic lips planter — aka a new conversation-starting piece for your bookshelf. Your lips won't be able to stay sealed when people ask where you snagged this gorg piece.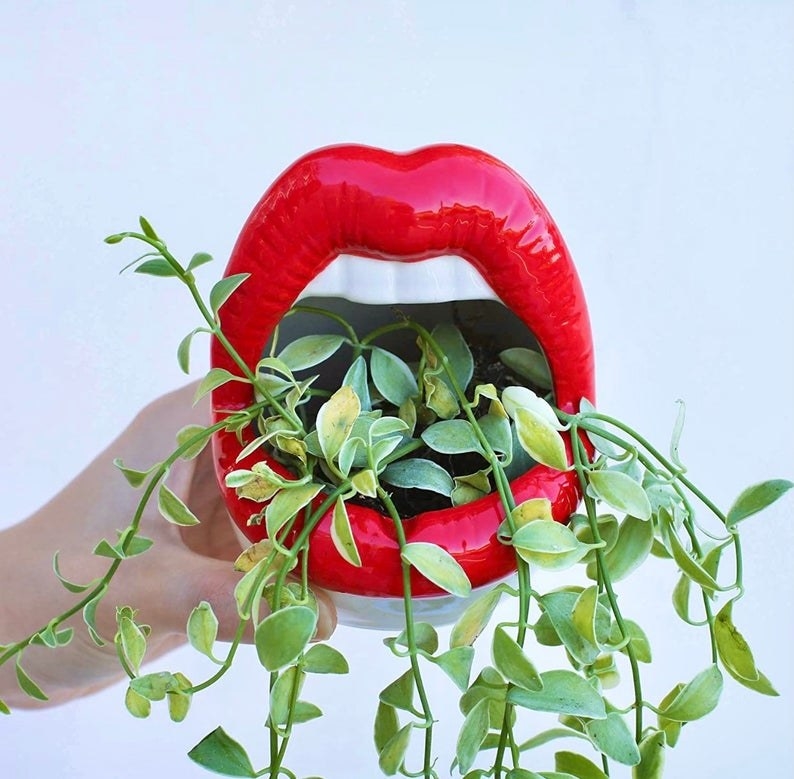 Shelby Sells Co. is an Odessa, Texas-based shop with tons of cute planters, mugs, dog bandanas, and more.
Promising review: "Great quality and exactly as pictured. It's a nice heavy pot. I love it!" —Liz Petkis
Get it from Shelby Sells Co. for $19+ (available in three colors and two styles).
13.
Mirrored decals to display in any pattern or design your heart desires. Plus, using mirrors will help make your space look bigger!
Promising review: "Considering the price, it's pretty good. It's easy to install and it makes a boring wall more interesting. As others said, it's not glass. Glass would probably be way more difficult to install for a similar effect though. This works just fine and only involves peeling and sticking." —Me
Get a set of 12 pieces from Amazon for $11.98.