If you've never experienced the utter perfection (and national treasure) that is the 1997 classic Rodgers and Hammerstein's Cinderella, then it's time to take you to school.
The movie features a star-studded and multiracial cast of untouchable actors like Whitney Houston, Brandy, Whoopi Goldberg, Bernadette Peters, Paolo Montalban, Jason Alexander, Victor Garber, and so many more. It's practically an iconic whirlwind of music, acting, and royally aesthetic visuals wrapped up in a '90s fever dream.
Let's count down all the moments that make this the most superior of any other Cinderella on the market...
1.
When we're first introduced to Cinderella and the Prince during their beautifully staged number of "Sweetest Sounds."
2.
Minerva and Calliope fighting over the ~literal~ ugliest hat of all time.
3.
When we first see Cinderella's exquisite family home. I wouldn't even be able to begin to describe the style of this home, but I would happily stay in Cinderella's quaint little room with the fireplace.
5.
When "His Royal Highness Christopher Rupert Windemere Vladimir Karl Alexander François Reginald Lancelot Herman Gregory James is giving a ball" 🎶, and Lionel is telling everyone in the town square that they should be in attendance. If you don't know this iconic dance number, then it's time to hit pause and go watch it now.
6.
Whoopi Goldberg's high-pitched squeaks when the prince is telling her that he will find a princess his own way (these live rent-free in my mind, tbh).
7.
Literally, just Whitney as the fairy godmother — the voice, the outfits, and the number that steals the entire movie, "Impossible."
8.
The magical transformation of her pumpkin carriage that morphs in front of your eyes in semi-par '90s animation but still makes me cry to this day.
9.
THE DRESS. No Disney princess or other royal's outfit will ever compare to this off-the-shoulder sequinned, sparkly ball gown. What I would give to see this in an exhibit.
10.
And really, all the OUTFITS. Need I say more? They are the most '90s glam mixed with Marie Antoinette chic, and so visually appealing, I can't even deal.
11.
When Cinderella and the Prince "meet" for the first time and glide around the dance floor as if absolutely no one else is present. Then their joint musical number "Ten Minutes Ago" steals the show, just when you thought you couldn't possibly be more invested in this love story.
12.
The stepsisters' lament scene — there's nothing quite like hiding out in bushes in the grand garden and wallowing in self-pity. Probs one of the most relatable scenes in a movie to date (lol).
13.
When Cinderella dropped some straight-up facts on the Prince about people who just keep wishing but don't actually make their wishes come true.
14.
When Cinderella totally enraptures her stepsisters and stepmother with her "idea" of what the ball was like. Little did they know...
15.
That teary-eyed moment when the Queen and King tell the Prince that he needs to go look for the girl he loves no matter how long it takes.
16.
That *gasp*-inducing moment when the glass slipper fits the stepmother and you think that it's ~game over.~
17.
And that moment you can relax because it's "CUTTING OFF HER CIRCULATION."
18.
When you bless the heavens for the Prince asking if there are any other women in the house, because he KNOWS she's there.
19.
When the Prince finally finds Cinderella and they basically reenact the opening scene of the movie, when they first met.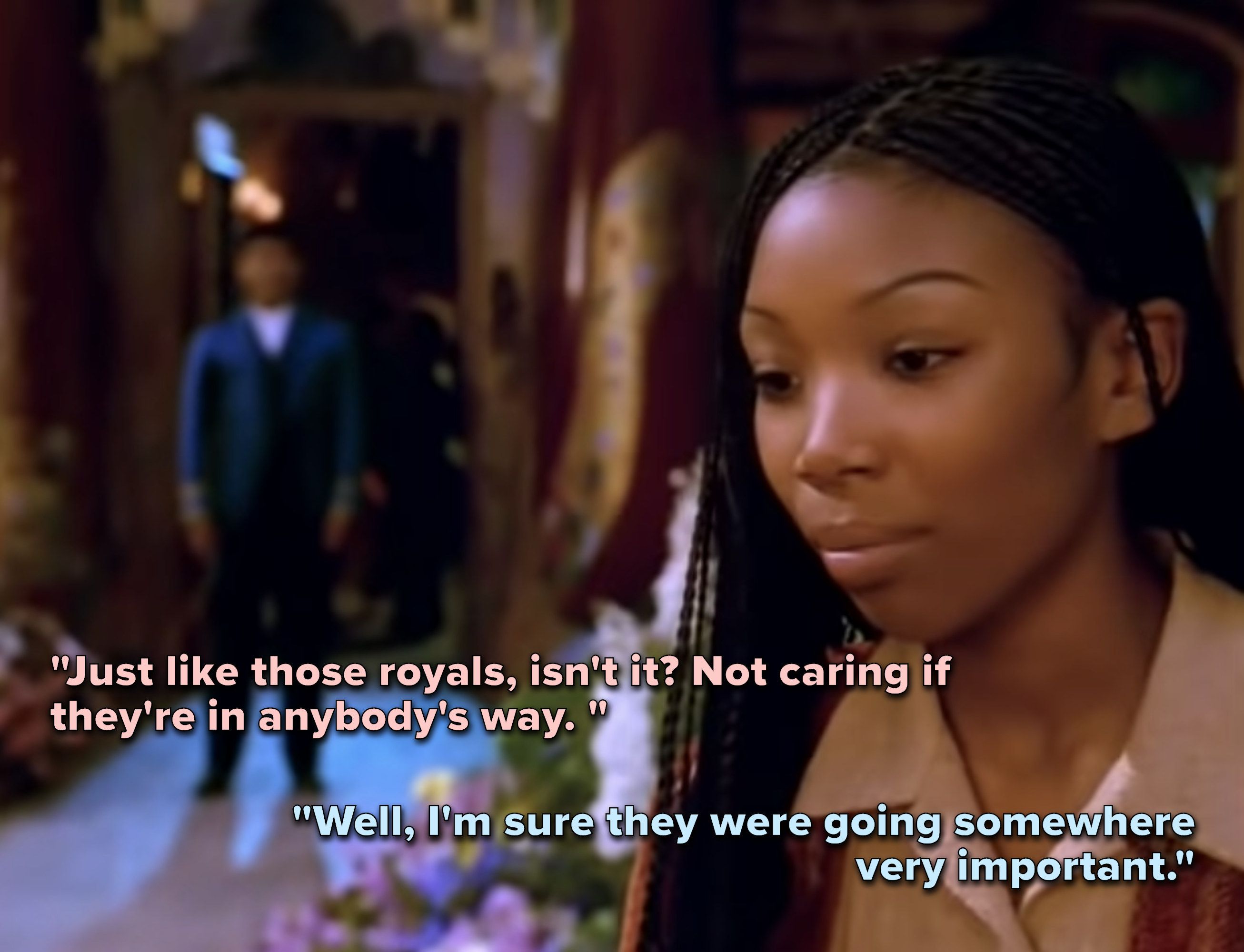 20.
That stunning visual transition after the glass slipper fits Cinderella and the setting morphs into their wedding scene. *Sheds tear*
21.
And of course, the iconic moment when she's getting married and the gates literally close on her wicked stepmother and stepsisters, and you fist-pump into the air.
22.
And last but certainly not least, Cinderella getting the happily ever after that she deserves and Whitney singing the vocals through it all.