1.
An activity table and storage bin combo if they're super into Lego and need a place to build in peace (and store additional pieces) so you don't find bricks all over the playroom floor.
Promising review: "Great product. Both Duplo and regular Lego can be secured to the table. Both my grandsons use this table at the same time....I especially like the two pull-out drawers. We put the larger Duplo size on one side and the other has the small size Lego." —Bill J. Jacobs
Get it from Amazon for $112.59 (available in three colors).

2.
A bottle of laundry spray to help you get rid of spit up stains, potty mishaps, and anything else your child might possibly get on your clothes. OR if you have older kiddos, this will be great if they play sports and get grass stains on their clothes.

There's also a spot remover that some reviewers have used on furniture and other upholstered items.
Promising review: "It saved my dining chairs, which had food stain from kids — but they are all gone now! Save $$$$ from buying new chairs." —Yun

"Ok y'all. So. I have four kids (22, 19, 19, 17), three of whom play baseball. I also have four dogs. I also have a husband who gets something on his clothes EVERY time he eats, drinks, or just walks through the house. ANYWHO. Needless to say we have lots of stains on clothing, carpeting, rugs, you name it. I consider myself to be a stain-removing master (my kids' friends will bring stuff by for me to clean) and I was pretty good (elbow grease and persistence are key). Well, I got this and I cannot believe how great it works — without the elbow grease and persistence! Ring around the collar? ✔️ Wine? ✔️ Baseball dirt?✔️ Paint on newly professionally cleaned carpet? ✔️ The ease of getting the paint out of the carpet prompted my review. I was seriously about to cry. I had paid $550 for a professional cleaning and was doing touch up paint (trying to sell our house) and dropped a tiny bit and immediately reached down with my finger (like I had on the hardwood in other rooms) to 'rub' it up. Well, that just spread it out to about a nickel size mess. I ran to get Grandma's Spot Remover with a wet rag, one little squirt, scrubbed with wet rag, and finished with a dry rag and voila! PAINT GONE! I ain't even lying! Just buy it. You'll see!" —Brandi Phillips
Get the laundry spray from Amazon for $9.98. 
3.
An extra large canvas toy box with a lid that will truly make this storage option *chef's kiss*. Their toys will be out of sight and out of mind when loaded into this chest.
Promising review: "Absolutely love. I'm the kind of mom whose definition of 'clean' is everything put away. This is perfect! Attractive, simple, good size but not gaudy. I love it. My 3-year-old daughter loved it as well and spent 20 minutes putting her toys in it. Success! I will be purchasing another one in the next couple of days for my son's baby toys (6 months)/'living room' toys. Love this." —Auna
Get it from Amazon for $41.99+ (available in three styles).
4.
An organizational bookshelf because the pile of their favorite reads deserves a spot to live that isn't stacked on the floor. 
5.
Some toy hammocks if there's an empty corner wall of their room that can serve as the home to their plush friends.
Promising review: "My 4-year-old has a zoo of stuffed animals. I needed an easy way to store them in her small room. This worked great. I hung it by myself with no problems at all. Came with two nets, and one held a BUNCH of her stuffed animals. I couldn't be happier." —Belinda

Get a pack of two from Amazon for $13.97 (available in six colors).

6.
Bissell stain-lifting pads for tackling tough, hard-to-remove surface splatters and smears that may or may not have been caused by your kiddos. Simply place the pad on the affected area, stomp on the pad, and then leave it for 30 minutes. Once you peel it off the floor, your stain should have magically lifted — hallelujah!
Promising review: "These are miracle products for anyone with dogs or kids (or both). If the mess isn't too old, just stomp a pad on the floor (carpet), wait a bit, and when the pad has dried (remove it) — almost every stain I've had has been gone. If the stain is older, go through the same steps, and when lifted, the stain, if not gone, is significantly lighter. The only criticism I have is they only work on carpet. If they had something that absorbed and cleaned messes on wood/tile floors, I would purchase it in a heartbeat." —HokieCarrie

Get a pack of 20 from Amazon for $24.99. 
7.
A sturdy bento box that'll come in hold their snacks and meals without creating a graveyard of snack bags all over the table.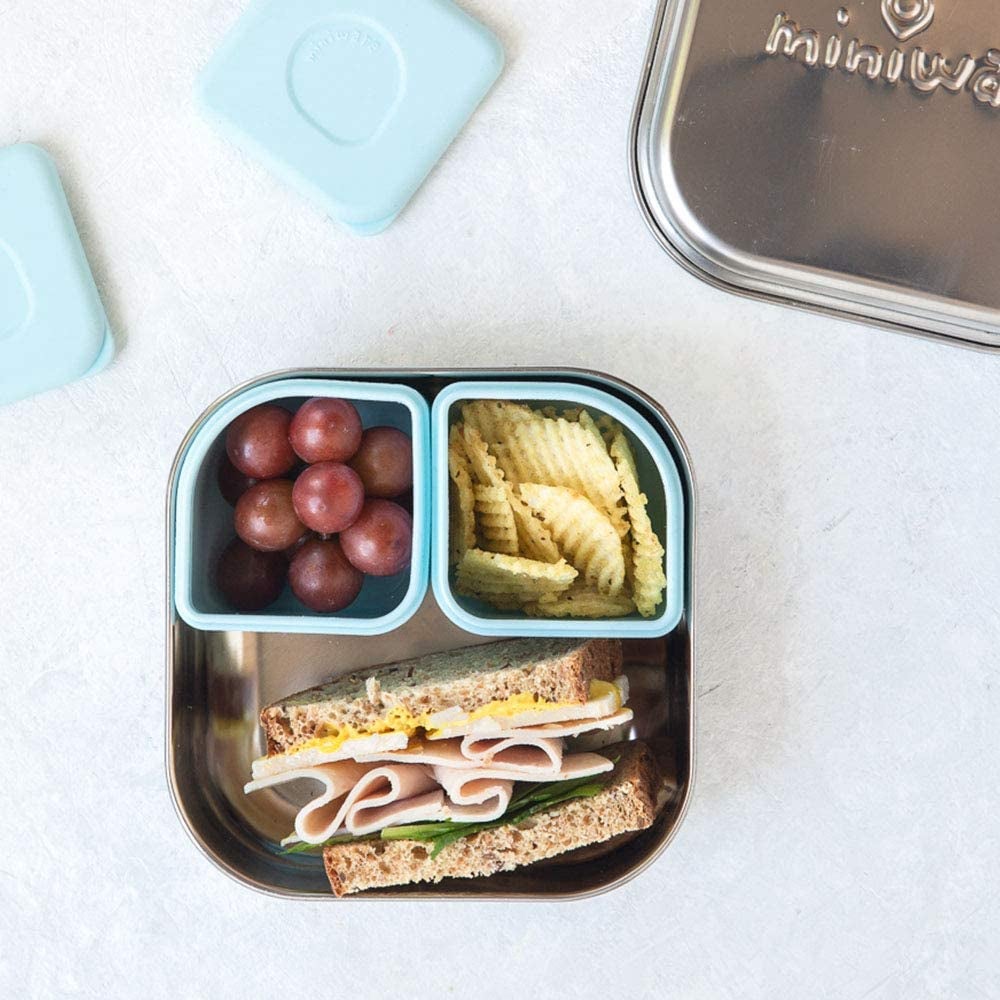 My colleague John Mihaly loves this for his son,
"The Miniware GrowBento box has been a great way for us to not only pack lunches for day trips for our son but also to get him prepared to eat his lunch when he starts going to daycare (sniffle). While I still maintain that my first plastic Transformers lunchbox (with the stinky smelling Thermos) is the thing childhood memories should be made off, this super-easy-to-clean (and never stinky) bento box is even nicer to look at than a bunch of Autobots!"
Get it from Amazon for $38 (available in five colors).
8.
A no-slip Ezpz Happy Bowl with a built-in placemat to feel a bit less stressed when meal time approaches. We all know meal time is probably the messiest, so this will help reduce spillage. It's dishwasher- and microwave-safe! 
Ezpz is is a woman-owned biz that creates developmentally focused, minimalist tableware for little ones.

My colleague Chandi Reddy uses this for her toddler:
"What do you do when you're big on letting your toddler self-feed, but are also a clean freak? Not gonna lie, watching my toddler 'explore food' aka throw his meal, bit by bit, on the floor like it's his full-time job has been an emotional rollercoaster: from 'OMG, he ate his meal like a boss' to 'Sob, it's going to take an hour to clean up that mess.' This mat/bowl combo was the perfect solution. It suctions nicely to our dining table and does a great job of staying put, saving me from hours of cleaning up my toddler's food-related messes. Wish I had this with my first baby!" 
Get it from Amazon for $22.99 (available in two colors).
9.
Or this aesthetic silicone placemat so if you don't want a bowl attached, you're able to place anything you'd like on it. If they start to make a mess, you can easily remove the plate or bowl they're eating off of to avoid even more mess.
Plus, you can also get the matching bib!
Mushie is a family-owned business that was started back in 2018 and is based in Houston.
Promising review: "Biggest fan of all things Mushie. Love the neutral colors, cutest prints, and clean products. I already own several placemats (floral print, rainbow, and a pretty mauve/blush color) but I had to get this gray one too. Totally gender neutral, smooth, chic, and worry-free because it is clean, nontoxic, and made by a real mom. Happy to support a woman/mama-owned business." —Paul Kwon
Get it from Mushie on Amazon for $15.99 (available in 17 colors).
10.
A pack of absorbent, waterproof changing pad liners since you ought to be prepared if the dreaded "mid-diaper change pee" happens during your next change. This will protect your changing table immensely — if it gets soiled, just remove, toss in the washer and dryer, and it's as good as new.
Promising review: "Absolutely love these changing pad liners. We use them on our changing table, on our couch, and on our bed in a pinch. They are incredibly absorbent and do not leak through. Just the other night we had a full on pee while changing our little man and it absorbed it all with no run off. This is a must-have item and great purchase. Also, I should mention, the product is incredibly soft and much more comfy than a cold changing pad in the middle of the night. In addition, it has a convenient band and button for rolling up and storing. Don't hesitate, buy this product. You will not regret it." —AmazonLvr87
Get a pack of three from Amazon for $15.95 (available in four colors).
11.
A car trash can if you're sick and tired of seeing empty water bottles and sandwich bags littered all over your back seat. This will keep your car free of litter, and teach your tykes where the garbage goes when they're done. 

It easily straps to the back of the middle console! 

Promising review: "This has made a huge difference in the state of my car's inside. My kids were always throwing their garbage on the floor of the car. Now, there's no excuse. I put a plastic grocery bag as the liner and then just tie it up and throw it out when it's full." —Alissa Olawski
Get it from Amazon for $7.99+ (available in three sizes). 
12.
A faucet splash catcher because when they get up on their step stool to wash their hands, there will most likely be a puddle of water left behind. This will prevent that.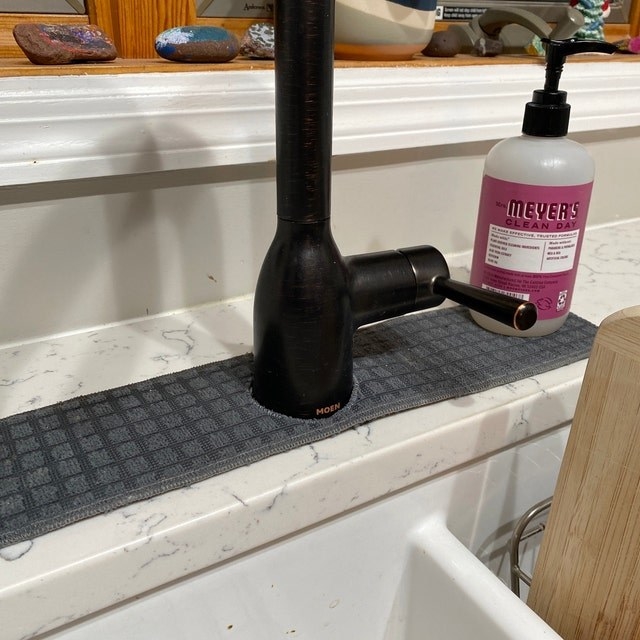 Hustle Sew Shop is a small biz based in Saint Helens, Oregon that specializes in quality handmade goods with personalized options.
Promising review: "This product is awesome! I have four kids who take care of the dishes after dinner each night and to say they are messy would be an understatement! This little water catcher has solved the puddle that used to surround my faucet at the end of each night. Thank you!!" —cadencewilliams2 
Get it from Hustle & Sew on Etsy for $13.50+ (available in six colors and four sizes).
13.
A pack of spill-proof Munchkin snack catchers to make snack time a breeze. Their lil' hands can fit in to grab some of their snacks, but no snacks will fall out if the cup is flipped over — *genius*.
Promising review: "What a lifesaver! I mean really! My daughter loves her snacks, she also loves to make a mess, give them to the dog, or fill her car seat up with them, then cry when she has nothing to eat. My wife picked one up at Target and man...we used it so much, we couldn't clean it fast enough. SOOOO we bought a few more." —jeffgrantMEDIA
Get a pack of two from Amazon for $5.95 (available in two color combos).
14.
And a Contigo spill-proof tumbler that'll keep all of its contents safely stowed even when your child has a tantrum and decides to throw it or knock it onto the floor. 
Promising review: "I was skeptical that these were ACTUALLY leak proof. After all I have a toddler, they can make literally anything leak or spill. I have been through sooooo many cups trying to find ones that will not leave a puddle of water behind when it's left in its near permanent horizontal resting place on the floor or break or pour when my son inevitably bashes it onto the hardwood floor. The only liquid that comes out is what is left behind in the top of the straw after he drinks from it, which there is nothing you can do to even fix that. These are magnificent! They are easy to clean but then again I only use these for water so thicker liquid or drinks that tend to spoil may be more difficult to clean out. Overall this is the BEST cup I've come across when it comes to capacity, functionality, and most importantly ACTUALLY NOT LEAKING!" —Ashley

Get it from Amazon for $10.99+ (available in two sizes and 17 prints).
15.
A unicorn beanbag cover that doubles as stuffed animal storage. Ah — now the playroom can finally be organized! (Plus they'll love sitting on this magical beanbag once it's all filled up.)
Promising review: "We love the pink unicorn. We managed to fit 30+ medium-sized stuffies and we still have room for more. It's pretty comfortable but heavy when full. I do wish there were two handles instead of one on the sides of it for easier and supportive lifting. Material itself is very soft and thick. I would recommend this to all the parents out there who are stressing over stuffed animal storage. I will be ordering more for birthday and Christmas gifts because this is a great product." —Flautas

Get it from Amazon for $17.84+ (available in 10 styles and two sizes).