1.
A blackhead scrub stick to exfoliate clogged pores and remove excess sebum. An easy way to incorporate this into your daily routine is to use it in the shower (especially when your pores are a bit more open from the steam)!

Promising review: "Here's the thing. A scrub is never going to solve your blackhead issues long term. But there is truly no other product like this. It's an amazing quick fix to get your pores unclogged and less noticeable, and once you've done that, slap on some retinol/salicylic acid with a moisturizer. Adorable packaging, unique product, and effective!" —Molly

Get it from Amazon for $12.50. 
2.
A whale faucet cover for the bathtub so you can worry less about your little ones bumping their head. Plus — it may just get them to actually want to take a bath.
Promising review: "Before my son was born I did not think I was going to need this. And at first he didn't, but then again he didn't move much. Until around eight months when he started to walk. He was bumping his head on everything. This really does help. Not only is it cute, but it also prevents him from scraping and bruising his head among other body parts like his arm. You would not think you could hurt yourself with the tub faucet but my child has proven you can." —Stacy
Get it from Amazon for $10.39+ (available in two colors).
3.
A humidifier-cleaning fish so you can worry less about any dirt, grime, and slime buildup that can gunk up the water tank over time. This lil' fishy will keep it clean for up to 30 days and also works with vaporizers and steamers!
Promising review: "These things are AMAZING! I went from having to Clorox my ultrasonic humidifier tank every few days to every month, if that. I cannot tell you how wonderful it is to not have to worry about it! I feel like they work quite a bit longer than advertised but that may depend on water temp, if the water is distilled (this is what we use, as our water is REALLY hard otherwise) versus filtered versus not, etc. Will definitely buy again!" —CindyR
Get it from Amazon for $4.97.
4.
A bubbling face mask that isn't just cute packaging. This fast-working face mask creates oodles and oodles of cleansing bubbles as it sits on the skin, detoxing and removing blackheads.
Promising review: "Literally made my boyfriend's blackheads disappear! I wasn't so lucky but his were really bad. Made our faces feel so clean. I love face masks and have gotten masks from all the top brands as well as drugstores, Lush, Sephora, or Ulta. This is one of my new favorites! Also it's so much fun to watch it bubble up; it feels like a spa treatment." —Katie Mitchell
Get it from Amazon for $8.99.
5.
A pet hair remover if your upholstery is starting to look like it's covered in shag from your pets shedding so much. Roll this bb around and pick up every last piece of hair.
Promising review: "I was cautiously optimistic, but this tool is as effective as everyone is saying. My couches, and especially my recliner, look brand new. It takes little to no effort to use. Just use it in a 'scrubbing' type motion and it catches and traps the fur (and other small debris, such as crumbs) in the little compartment. Pop it open, empty it out. Done." —Ian K.

Get it from Amazon for $24.95.
6.
Bissell Stomp 'N Go Pads for tackling tough, hard-to-remove surface stains like wine, pet pee, mud, blood, and juice. Simply place the pad on the affected area, stomp on the pad, and then leave it be for 30 minutes. Once you peel it off the floor, your stain should have magically lifted — hallelujah!
Promising review: "OMG I am SO HAPPY that they are making these again. They are the absolute best. Nothing comes close! I even called and wrote to Bissell twice when they discontinued this item asking them to bring it back. Then I bought all I could from Amazon and on eBay. Now they are back! I have an older dog who sometimes has accidents and NOTHING works as well and as easily as these. Some people say they are small but I say they are perfect! In fact, because they are relatively expensive, I cut these into small pieces and use just what I need. If you rub the pad into the carpet it will completely remove the stain. Stomp on it and leave it there. The stain will be gone. I seal the bag with a bulldog clip to keep the remaining pads moist." —kscoco

Get a pack of 20 from Amazon for $24.90. 
7.
A heatable plushie friend in case you need something to ease your cramps or tummy aches. Whoever said plushies aren't for adults was seriously disturbed...
8.
An aesthetic silicone placemat to protect your kitchen table or counters from the mess that's about to ensue when your little one's ready to eat a meal.
Plus, you can also get the matching bib!
Mushie is a family-owned business that was started back in 2018 and is based in Houston.
Promising review: "Biggest fan of all things Mushie. Love the neutral colors, cutest prints, and clean products. I already own several placemats (floral print, rainbow, and a pretty mauve/blush color) but I had to get this gray one too. Totally gender neutral, smooth, chic, and worry-free because it is clean, nontoxic, and made by a real mom. Happy to support a woman/mama-owned business." —Paul Kwon
Get it from Mushie on Amazon for $15.99 (available in 17 colors).
9.
A set of heel caps shaped like super adorbs flowers that will actually SAVE your fave heels from getting slammed with mud at outdoor events that just happen to be on grass...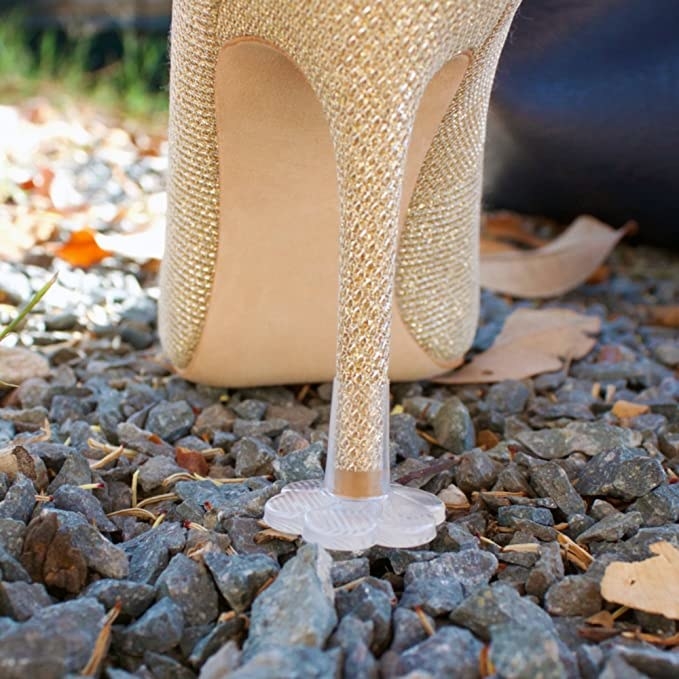 GoGoHeel is a female-founded and women-owned company based in San Diego.
Promising review: "I just tried these last weekend at an outdoor wedding with an indoor reception. They were amazing! I kept them on all night. First, I walked outside in thick grass, and the wedding photos were taken in a mushy grassy area. I didn't sink even a little bit. It was fantastic. My heels were fabulous. I then decided to leave them on for the rest of the night since they made my heels more stable and comfortable. So glad I tried them. I was showing them off to the other ladies, and everyone loved the look of them." —J L D
Get a pair from GoGoHeel on Amazon for $11.99 (available in four sizes).
10.
A training toy you can coat with your pup's fave snack and then pop on the side of their crate to help get them more familiar with it. I had one of these when I first got my puppy and it helped tremendously.
When I first got my puppy he we went ballistic any time I had to put him in his crate. I started filling this toy with peanut butter and freezing it so the next time I had to leave the house (and he sadly had to go in his crate), I'd be prepared for when it was time to place him in. This keeps them very occupied for a while and really eases them into getting familiar with their crate.

Promising review: "We bought this chew toys as an add-on with our Revol crate. It fits perfectly between the bars so that our little chewer can't pull the toy into the crate and make a mess. We use ordinary peanut butter and it keeps the little heathen entertained and not stressed when she has been crated. The clear plastic cover is super helpful for when we freeze the treat now that Ava is teething. I would highly recommend." —Michael D.
Get it from Amazon for $34 (available in four colors). 
11.
A plant fertilizer in case you're not particularly gifted in the "keeping plants alive for longer than a month" category.
Promising review: "I have a ton of indoor houseplants that I got over the fall/winter, so I wasn't using fertilizer since they were all dormant. Now that it's spring/summer I needed to purchase a fertilizer to encourage growth. I came home one day and saw one of my birds nest ferns was drooping and looked like it was dying. I ordered this fertilizer and watered/fed it the next day. These pictures are about 24 hours apart. The fertilizer perked the poor guy right back up!! This stuff is a great value and super easy to use. So happy with my purchase, thanks for saving my plant!!!" —Melissa C
Get it from Amazon for $13.99.
12.
A Wet & Forget shower cleaner to tackle the gunk and stains that have been overstaying their welcome in your tub or shower. Spray it on, let it sit for a few hours (some reviewers left it on for 24 hours), and then rinse or wipe it clean! 
Promising review: "I have been having shower draining issues so there was a buildup of soap scum in my shower. I have a very weak stomach and cleaning the shower makes me physically ill. I have tried several products that have claimed to be no scrub/wipe but this has been the only one that has worked. I sprayed it after my shower and left it to sit until the next night. Found that A LOT of the grime had disappeared. Now, was it perfect? No. But I think with consistent use it will get there. Highly recommend this product." —KZ
Get it from Amazon for $17.97. 
13.
A vacuum hose attachment to help prevent hazardous dryer fires that can come from a buildup of lint and dust that is probs sitting in your vents as we speak.
Promising review: "Honestly, we are speechless! We are excellent about cleaning the lint trap after every load of clothes. We even clean the lint vent outside. But nothing could have prepared us for the amount of lint and gunk trapped in the vent tubing! How we have never had a fire, we have no idea. We vacuumed forever all the way up the vent tube, which we could have in no way done without this item. The suction power was unbelievable! We could not believe how bad the tubing was clogged. Just look at the picture. We removed about three-quarters of a kitchen garbage bag size of lint and gunk! It was amazing and embarrassing! It's SO inexpensive, but it could literally save you from a house fire! Anyway, just buy it. Excellent value! You won't be sorry!" —Brian Mattix/Elizabeth Bodnam
Get it from Amazon for $9.99+ (available in three colors).
14.
Sheet pan dividers so you can cook multiple items at once with ease. These are all separate pieces so if you're cooking multiple items and one is ready before the other, simply pull that one divider out no problem. These are also microwave-, dishwasher-, and oven-safe.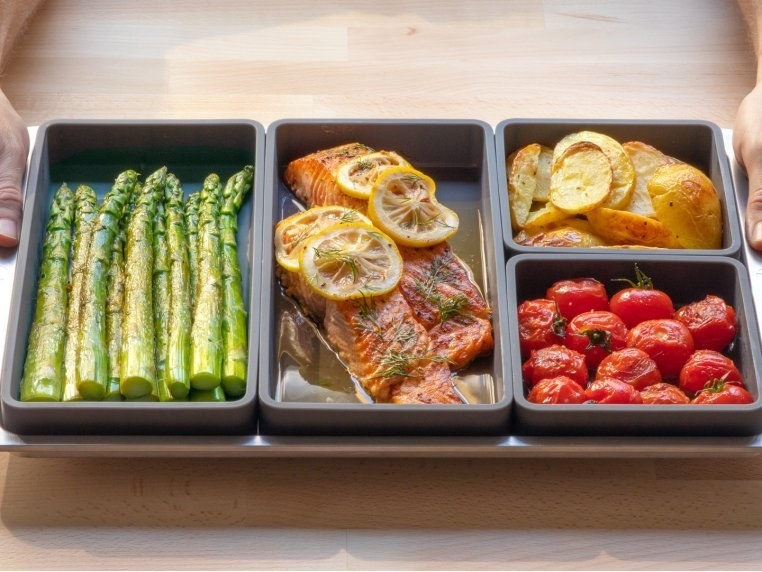 Prep'd, the small biz that created these handy dividers, was founded in 2015 by two industrial engineers who believed cooking should be simple, easy, and ultimately fun.
Promising review: "These are the perfect size for my air fryer too and wash easily in the dishwasher. They hold up well to lots of use, and impart no taste or smell. Easy to store and are a space saver. Would buy again." —Foodie
Get a set of four from Amazon for $29.50 or from The Grommet for $29.99.
15.
An oil-absorbing roller if you're sick of using oil-blotting sheets because they're wasteful. This lil' guy can remove shine with each and every roll AND the stone can be washed and added back into the holder to use time and time again.
Promising review: "Holy grail!!! Ahh I have been struggling with oily spots for a long time now and finally I found my solution!!!!! This thing made me a little skeptical to be honest but it works! Just give it a try, you won't regret it." —Erica spivey
Get it from Amazon for $12.99.