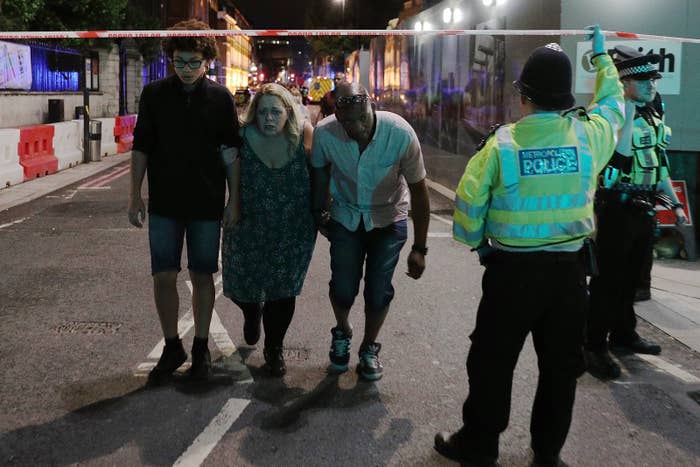 World leaders say they are "unified" in horror and sorrow at the terror attack in London Bridge, which has left seven dead and 48 injured.
Following the attack on Saturday night, leaders began sending messages of support and condolences to Britain.
In a statement posted on Twitter, German chancellor Angela Merkel said: "I've heard about the attacks yesterday night in London with grief and dismay. In these hours I think of our British friends and all people in London with condolence and solidarity. My thoughts are with the victims of this attack and their families.
"I hope the wounded will recover soon. Today, we are unified across all boundaries in horror and sorrow, but also in determination. For Germany, I can reinforce: We stand firm and determined with the UK in the fight against every form of terrorism."
French president Emmanuel Macron, who was one of the first world leaders to comment on the attack, confirmed two French citizens had been injured during the incident.
"In the face of this new tragedy, France is more than ever at Britain's side. My thoughts go out to the victims and their loved ones."
European Commission president Jean-Claude Juncker said he was watching coverage of the attacks "with horror". He added: "Thoughts and prayers are with the victims and their families. Please stay safe."
Australian prime minister Malcolm Turnbull said his "prayers and resolute solidarity" were with the British people, and New Zealand PM Bill English added: "New Zealand's thoughts are with the victims of today's attack. Too many lives are being taken by terrorists set on inflicting pain and suffering on innocent people."
Russian president Vladimir Putin said he "sends his deepest condolences to Britons and condemns the terrorist act that happened several hours ago in London."
He then tweeted another message, saying: "Whatever the United States can do to help out in London and the U. K., we will be there - WE ARE WITH YOU. GOD BLESS!"
On social media, users were quick to criticise Trump for using the attack to promote his political message.