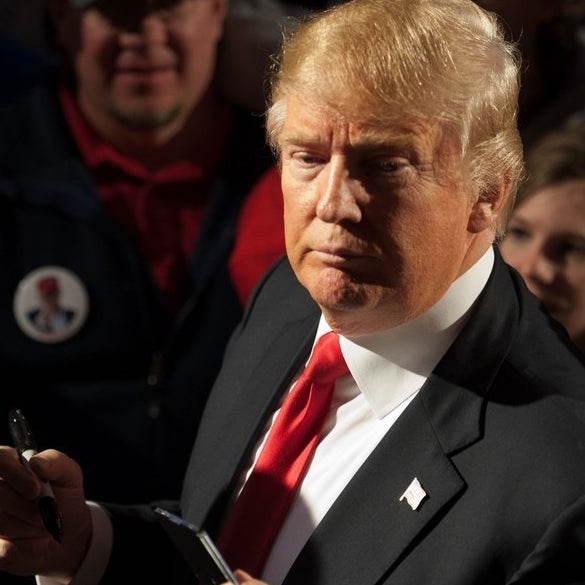 Donald Trump le acaba de dar retweet a una frase del líder fascista Benito Mussolini.
La cuenta de parodia llamada Il Duce (apodo de Mussolini) tuiteó una frase del dictador italiano Mussolini y se la atribuyó a Trump junto con el lema de su campaña #MakeAmericanGreatAgain.

"Es mejor vivir un día como león, que cien años como oveja".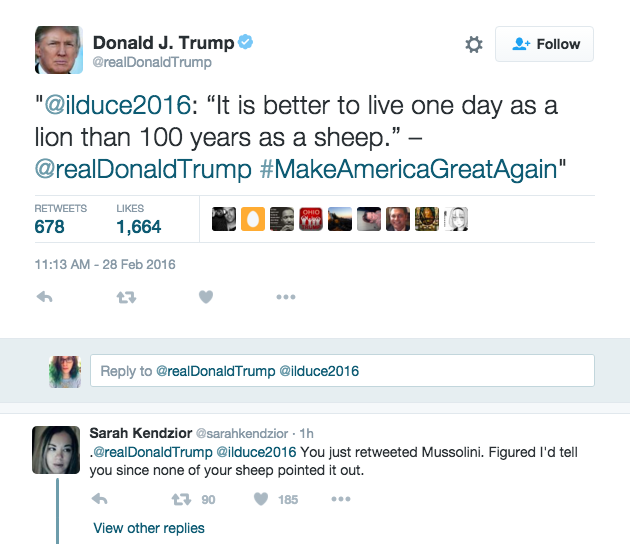 "Acabas de retuitear una cita de Mussolini. Pensé que sería una buena idea hacértelo saber ya que por lo visto ninguna de tus ovejas se dio cuenta".
Después, Trump compartió el tweet con sus seguidores.
Desde hace algún tiempo, la cuenta de Il Duce ha estado tuiteando frases de Mussolini y se las atribuyen a Trump .

La frase compartida este domingo ha sido atribuida a Mussolini por diferentes fuentes y se dice que ésta apareció por primera vez en 'Duce (1922-42)' en la revista TIME (2 de agosto de 1943).
Mussolini fue el creador del fascismo y también fundó un régimen dictatorial en Italia, de igual forma peleó junto a Hitler en la Segunda Guerra Mundial.
No, no sabemos qué es lo que está sucediendo en este momento.
UPDATE
La persona encargada de la cuenta de @ilduce2016 es redactora de Gawker, reveló el sitió web este domingo.
"El año pasado, tendimos una trampa para Trump," Alex Pareene escribió para el sitio Web. "La idea del bot de Mussolini surgió bajo el pretexto de que Trump le daría un retuit a casi cualquier cosa, sin importarle cuán dudosa o vil fuera la fuente, siempre y cuando sonara como un elogio para sí mismo".
Lee la nota completa de Gawker aquí.
Looks like there are no comments yet.
Be the first to comment!