MEPs Just Debated Sexual Harassment And Hardly Anybody Showed Up
Wednesday's debate followed a series of reports revealing allegations of sexual harassment and rape at the Strasbourg parliament.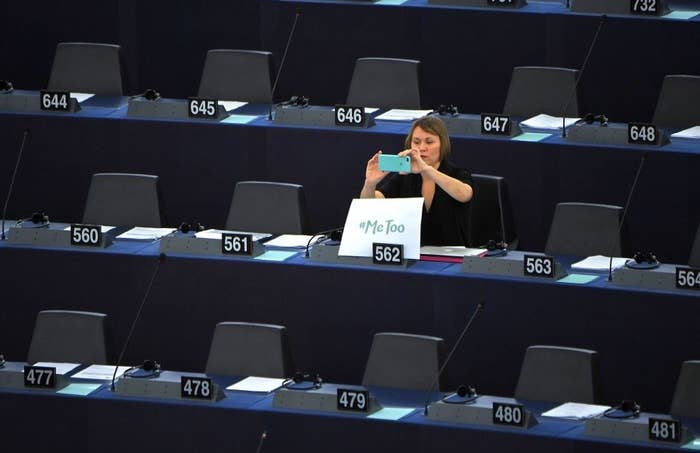 MEPs used a European parliament debate on Wednesday to call for an investigation into serious allegations of sexual harassment and assault at the Strasbourg institution following damning media reports.
But only a few dozen of the 751 MEPs attended the debate, and only five men spoke, prompting criticism that the issue was not being taken seriously.
The sparsely attended debate heard from about 40 MEPs — the majority of whom were women.
European trade Commissioner Cecilia Malmström said that "every female MEP probably has a story to tell about sexual harassment, sexual language and even violence."
"It is not new of course but what is new is that there is now a global movement — #MeToo — saying this is not acceptable and something has to be done about the shame and silence surrounding this issue.
"There are a lot of laws and code of conducts in Europe to cover all kinds of such violence which are important. But we have to focus on implementation and, here, there is work to do. I am sure this parliament can do more about it on a formal basis but the important thing is to support victims. So, let's make sure that not only that the #MeToo campaign is heard but that it is also transformed into action and that we do more to eradicate this problem."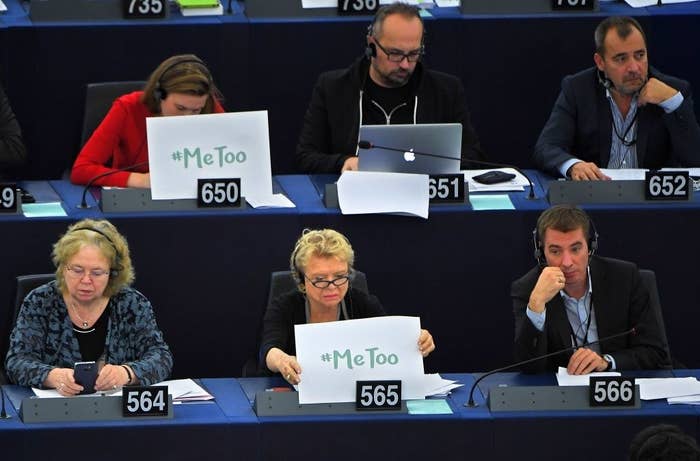 Dutch MEP Sophie In't Veld suggested that current EU parliament policies put women off reporting incidents of sexual harassment. "Why is it that officially there have been only 10 cases of alleged harassment in parliament reported since 2014? To me, this suggests that the threshold for reporting such incidents is too high, so we have to look at ways at making it easier for staff to report such cases," she said.

UK MEP Catherine Bearder called for MEPs to undergo training to deal with the problem and provide assurances that staff who make complaints will be protected.
"Victims are not coming forward and that means cases are still going unreported., Bearder said. "This is not acceptable. As with other big institutions, Parliament has a long way to go on this issue but the aim has to be to make sure that it provides a fair and safe workplace environment for all its staff."
Many of those watching the debate criticised MEPs who failed to attend and the fact that only five men spoke during the two-hour session.

The parliament will vote on a motion and resolution on the issue on Thursday.

Over the weekend, the Sunday Times released an investigation that claimed that more than a dozen female aides had accused MEPs of groping, stalking, and other incidents of sexual assault.

In one case, a young assistant said a senior MEP masturbated in front of her, while another aide said an MEP had indecently touched her at a working lunch.
On Wednesday, Politico published a story in which several women and men claimed to have been victims of sexual violence and rape by parliament staff. Four women told Politico they had lodged complaints, two of which involved alleged rape by colleagues.
And the Telegraph reported that within the European Commission one formal complaint of sexual harassment has been made per month on average over the past five years.

In a statement to Politico on Wednesday, parliament spokesperson Marjory Van den Broeke confirmed cases of sexual harassment and assault has been reported in recent years. She added that "appropriate measures" had been taken but declined to comment further for "confidentiality reasons."
Under EU law sexual harassment is considered discrimination on the grounds of sex and is prohibited.