Meet The Loud, Fearless, And Feminist Women Of London's Women's Wrestling Scene
"We really only have one rule: 'Don't be a cunt.'"
Loud, fearless, and unapologetically feminist — that is how founder Emily Read describes the women of London's all-female EVE wrestling group.
In the wake of the popularity of Netflix series GLOW, which tells the story of the formation of a female wrestling group in the 1980s, BuzzFeed News set out to discover what the real world of women's wrestling was like.
Once — and in some circles still — considered just eye-candy or a "piss break" for the men, for EVE women's wrestling is more than just entertainment: It is a movement.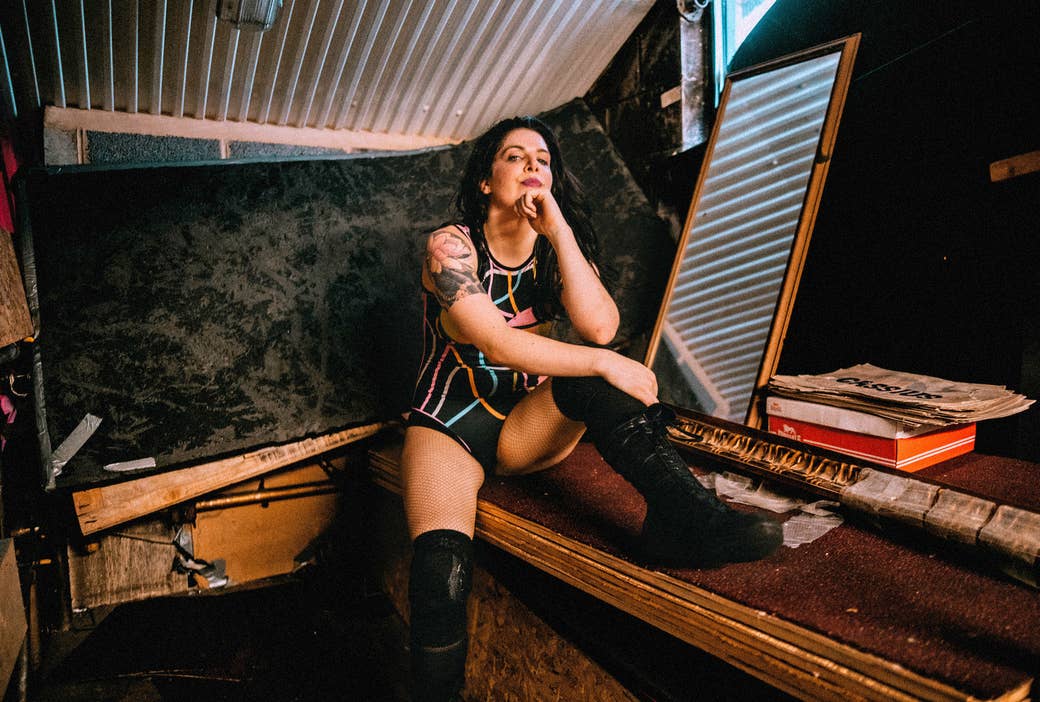 EVE wrestling is run by Emily and her husband Dann, who have been in the promoting industry for 17 years. They started EVE together after Emily, who has bipolar disorder and is a mother of two children, had a mental breakdown and was sectioned under the Mental Health Act, causing her to lose her home and job. She tells BuzzFeed News she wanted to be an advocate for women and mental health issues following her recovery.
Emily had worked in the industry for many years and said "sexism runs rife through professional wrestling". Women's wrestling has "historically being promoted as solely 'eye candy for the dads' with only one women's match on an 8–10 match show", she said.

EVE was created to "destroy the stereotype" that women couldn't wrestle, Emily added.
"When launching EVE we became the 'riot grrrls' of the wrestling world: feminist activists changing the perception of women being weak by literally showcasing their incredible strength through the unique art form of professional wrestling."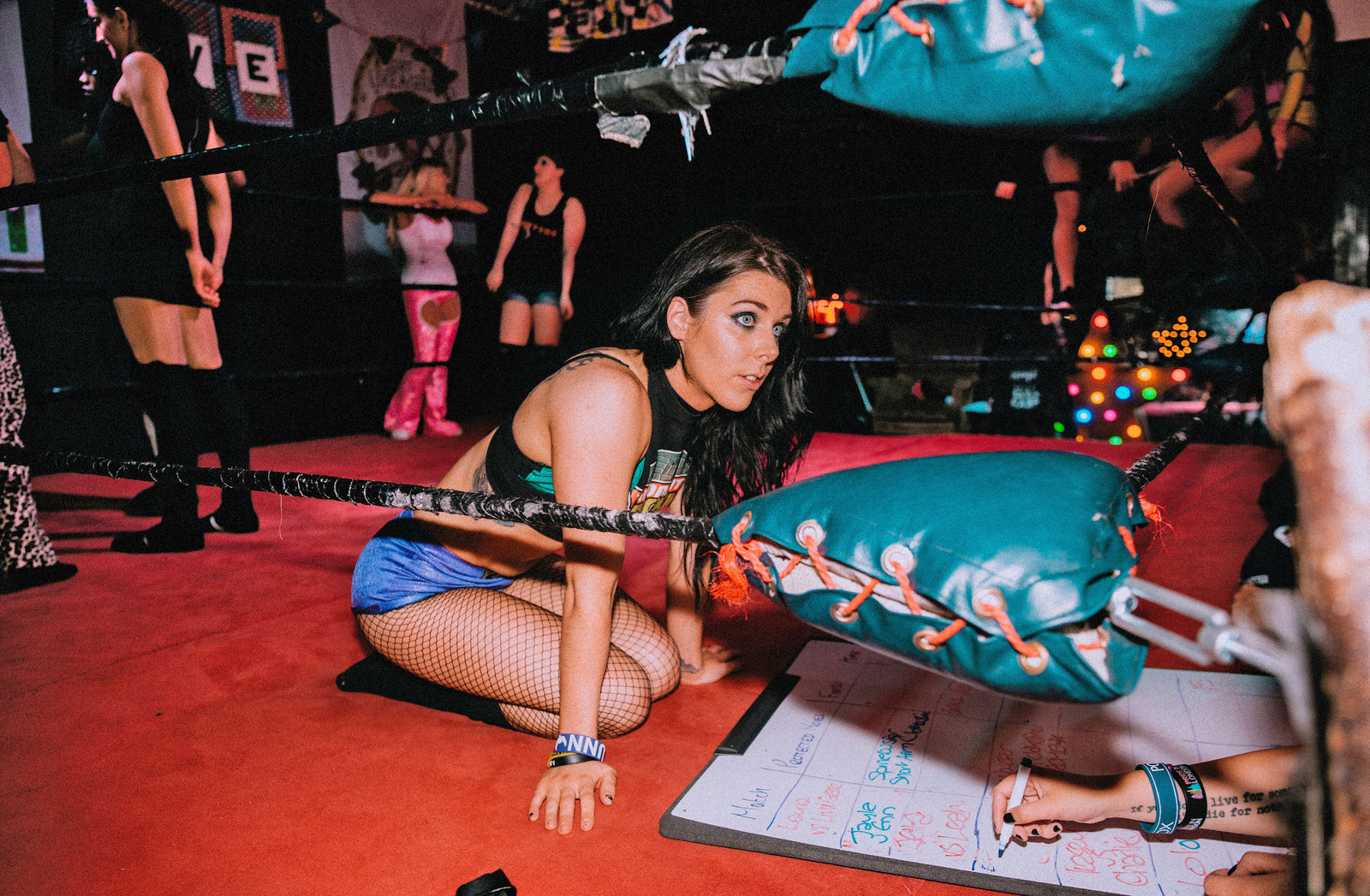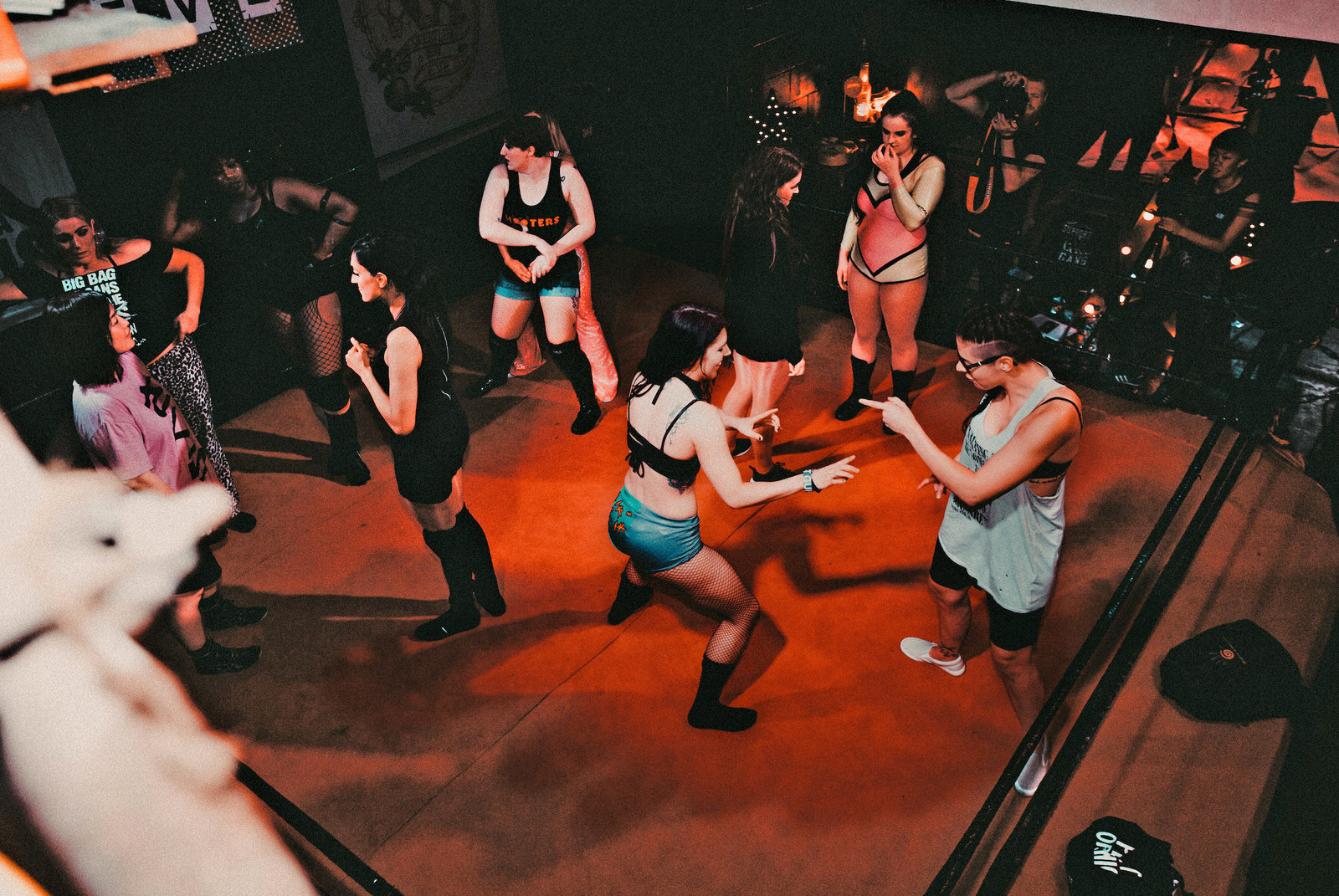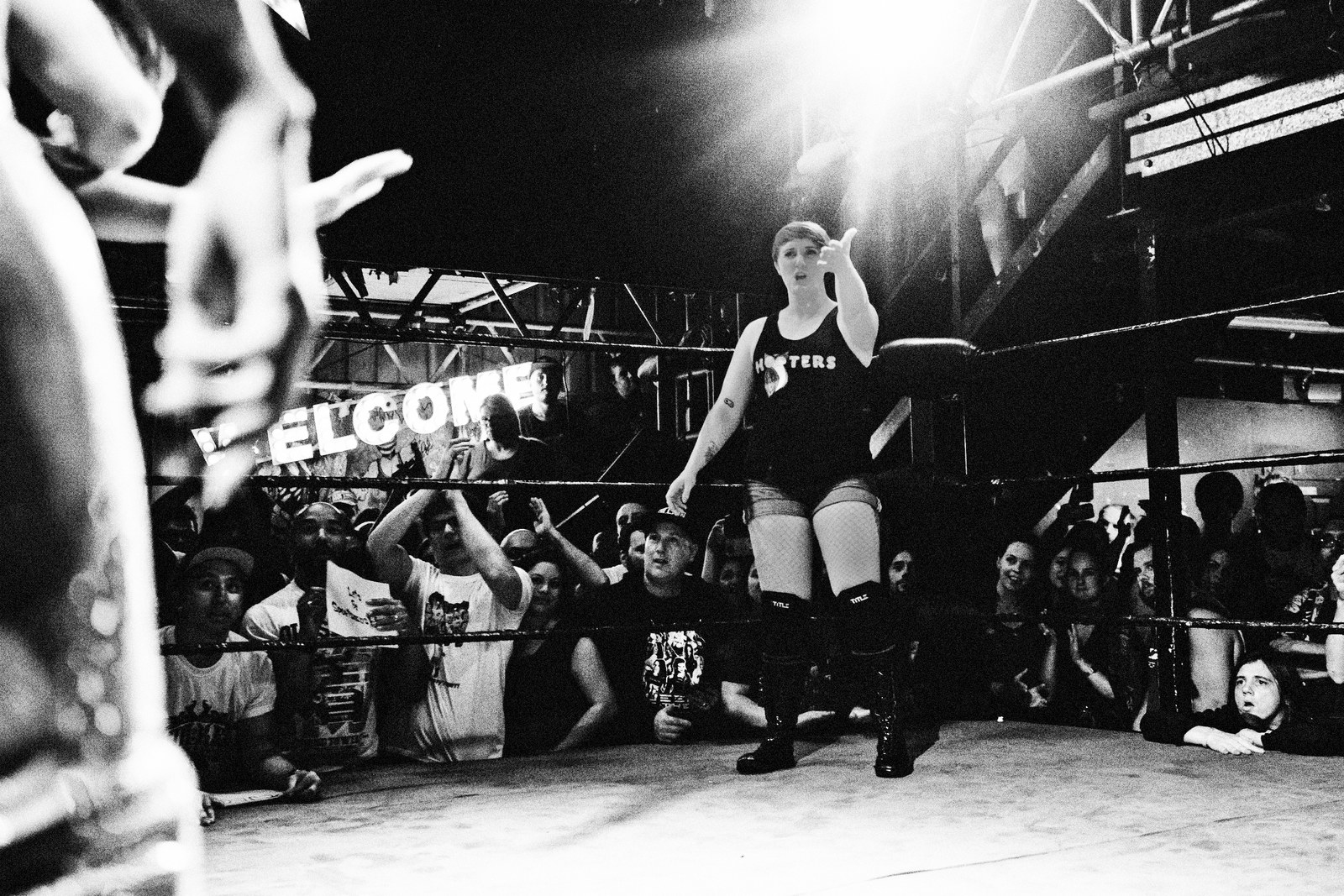 The group currently runs two events over a weekend every six to eight weeks. In between there are practice sessions, training seminars with well-known women wrestlers, and trainee shows.
BuzzFeed News went along to EVE's most recent event to get a glimpse into the real world of women's wrestling. There were several matches scheduled for the evening, including one with professional Japanese wrestler Emi Sakura, who travelled to London especially for the event. The events are held at the Resistance Gallery in Bethnal Green, a subversive arts space known for hosting lucha libre shows, cabaret nights, and fetish events. When you enter for an EVE show the venue is a grungy and dimly lit space with the sound of female-led punk bands blasting away. The ring is in the centre of the room and the crowd can get right up against the ropes to watch the matches unfold.
"Wrestling shows have a unique energy and interaction between the wrestlers and the crowd. It's a mix of high drama and comedy, incredible athletic skills showcased along with engaging stories," Emily said.
"Contrary to popular belief there's no rehearsals before the day of the show. A number of times we have matches between people who have never even met until a few hours before show time. We'll then go through with the wrestlers what the objective of that day's matches are, what the stories are, whereabouts in the show they are, and what we need to include. From there the wrestlers will start to piece together an idea of key moments in their matches and start warming up and feeling out the ring itself as one wrestling ring can feel and respond differently to the other."
"We really only have one rule: 'Don't be a cunt.'"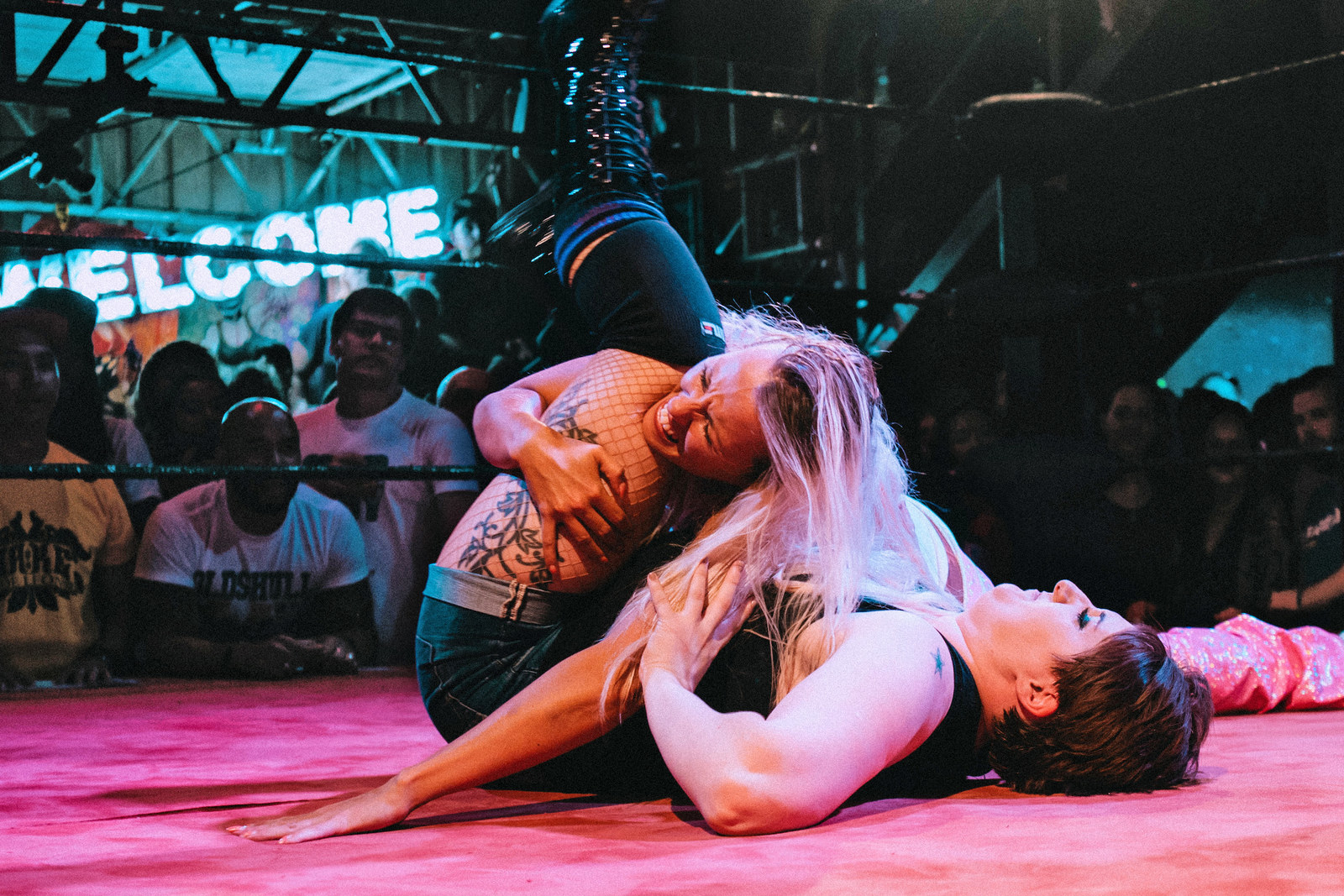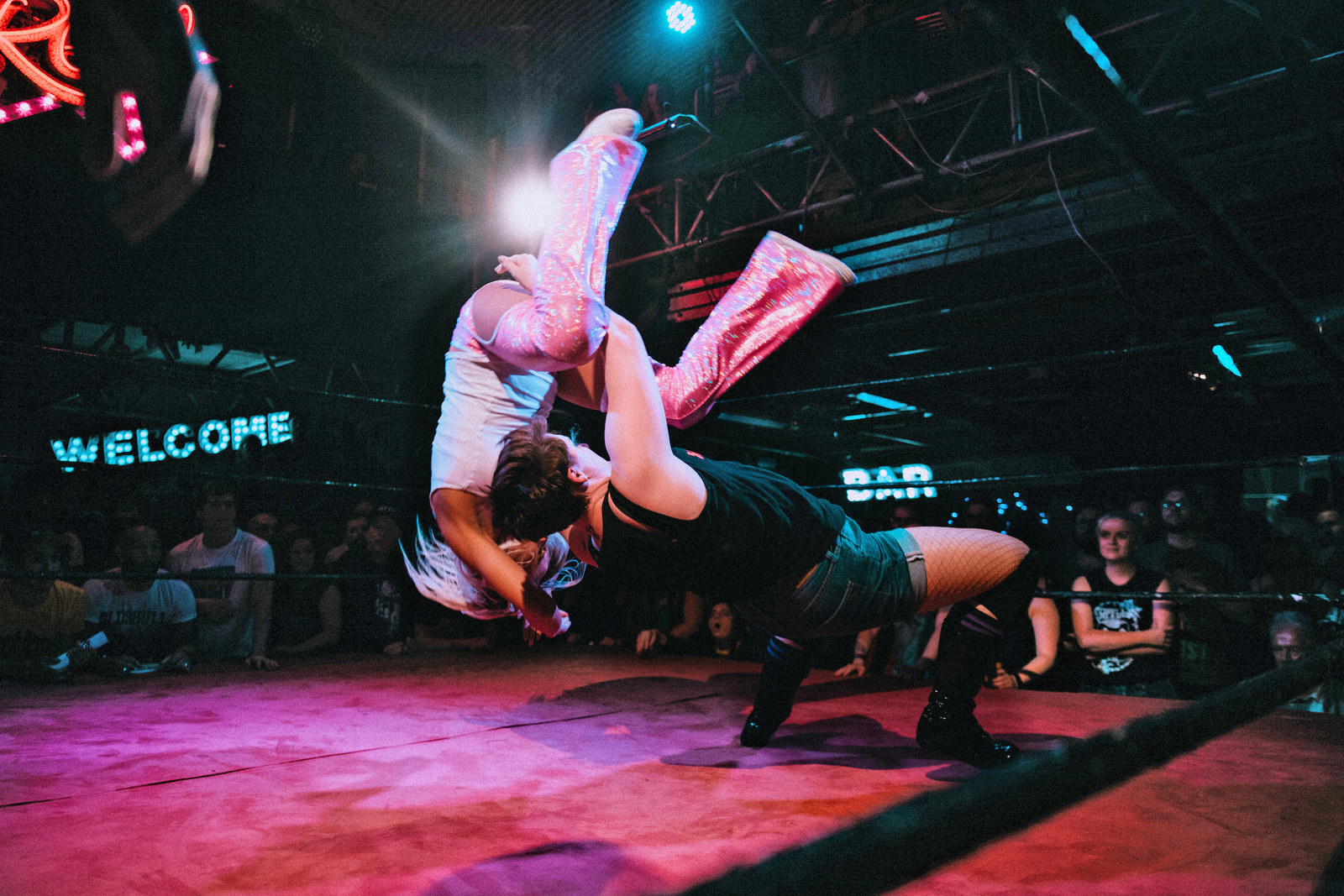 Emily stressed that EVE shows are about more than just the wrestling, and that the group are committed to creating a sexism-free and homophobia-free environment. "Our slogan of 'support your local girl gang' stretches further than simply female professional wrestling. We have also just begun featuring a cabaret or burlesque act slotted into the show too, and we have booked a female punk band for a future event. It's important to us that people understand empowered women empower other women. Ending the so-called 'girl hate' is important to us," she said.
"We really only have one rule: 'Don't be a cunt.' The importance of maintaining an all-inclusive and safe-space environment is paramount to us especially as we have a growing following within the LGBTQ+ community."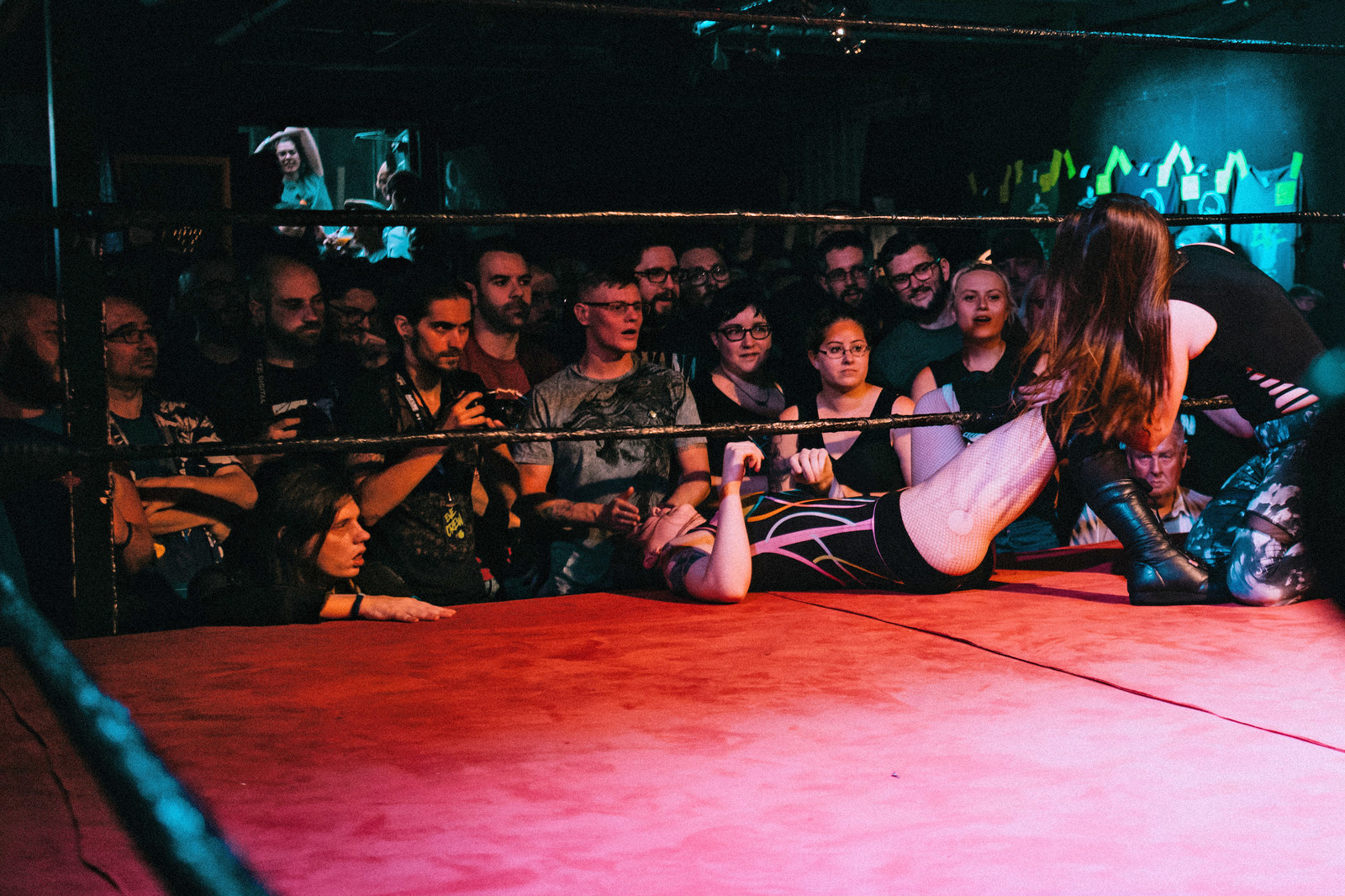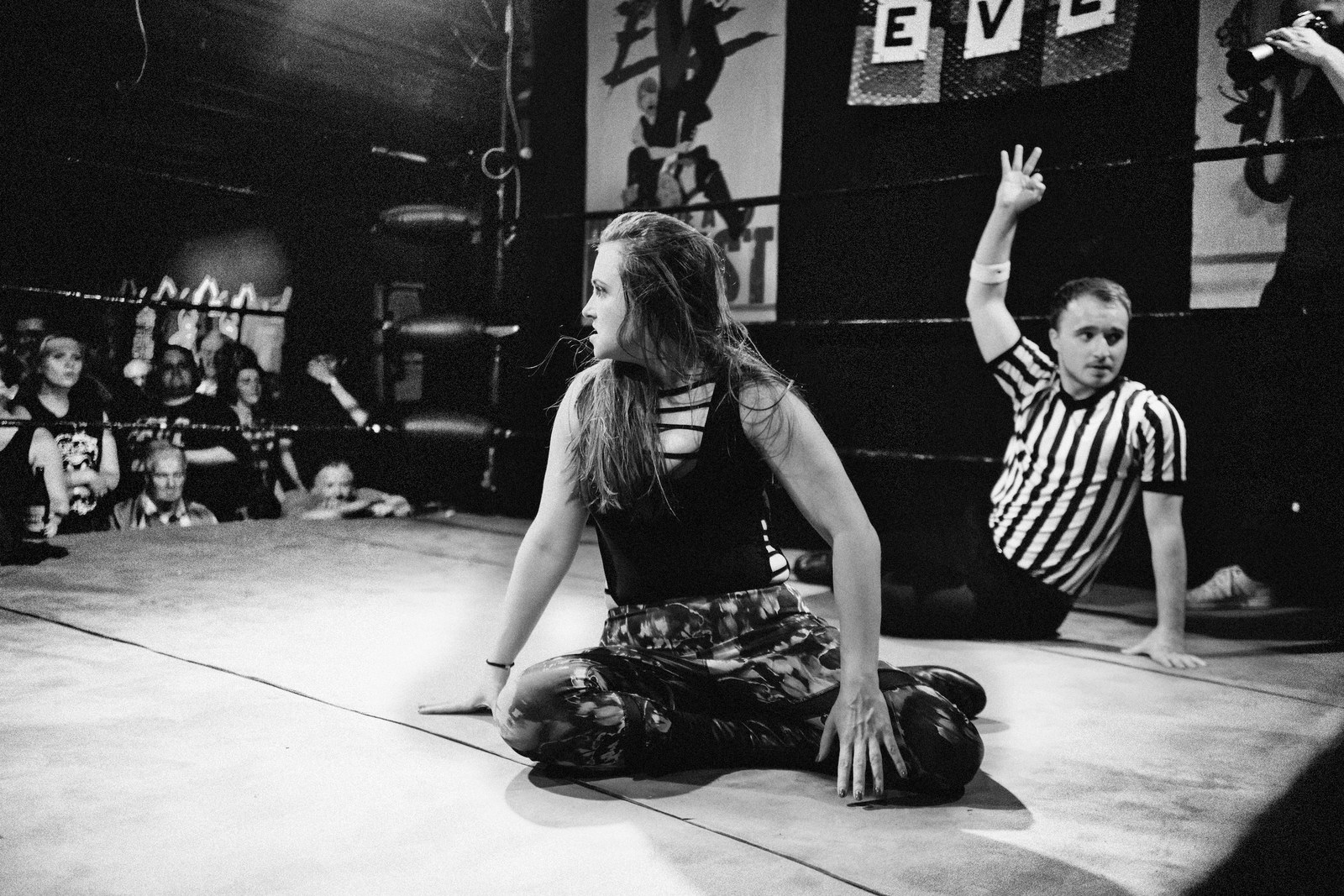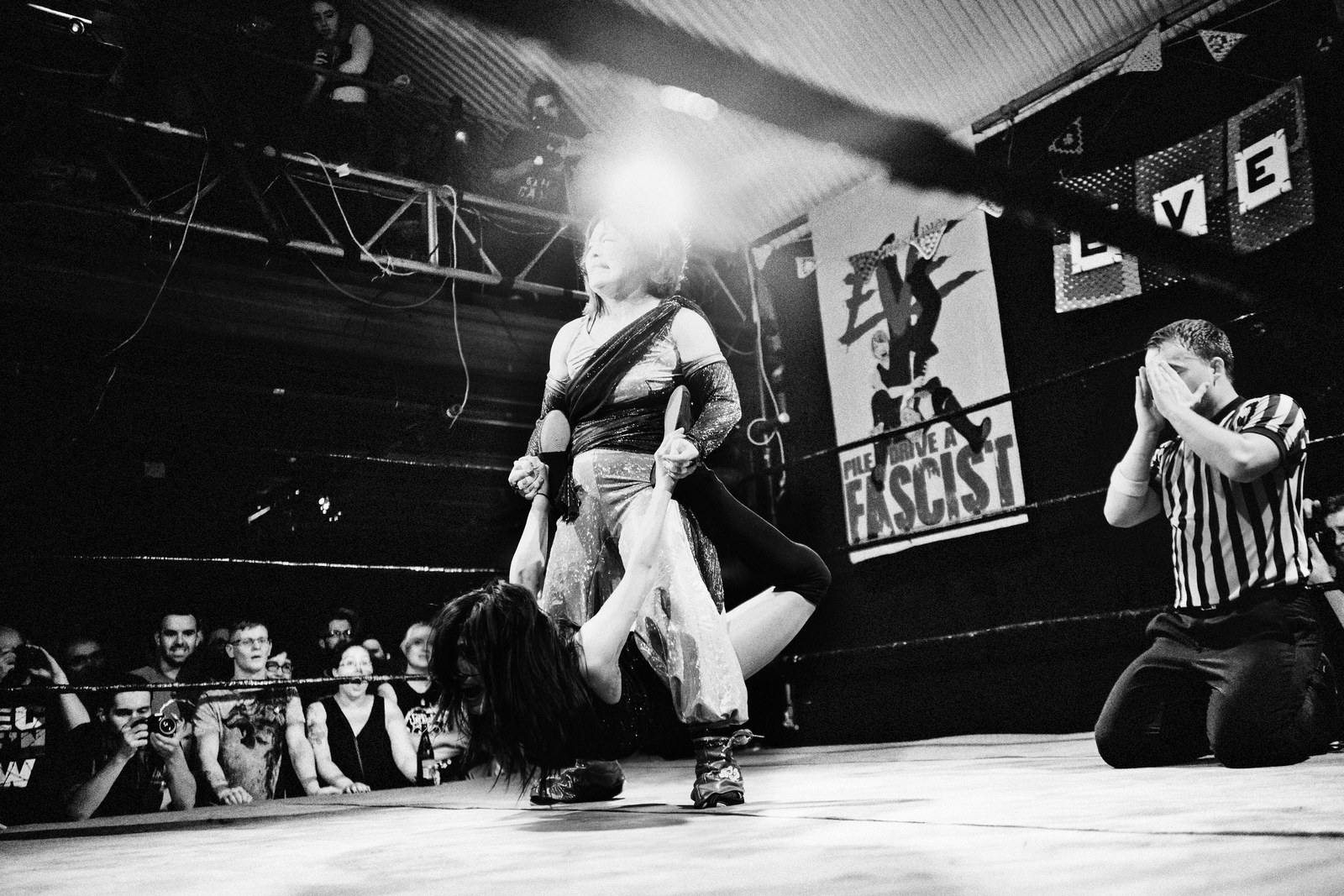 And while advocacy is a big part of why EVE exists, entertaining the audience is also just as important. "Wrestling is not a sport," Dann Read told BuzzFeed News. "The women are skilled and they are strong, but wrestling is overall a theatrical production. I write the stories for EVE and base them around the characters of our wrestlers. When you enter the venue for one of our shows you are walking into the EVE universe where you meet our characters and see their stories told."
He said the outlandish characters are one of the biggest parts of what makes wrestling so entertaining to watch. "The women develop their characters in several different ways. Sometimes, if you are part of a club, your manager will give you a character to perfect. But more commonly it's the individual themselves who creates their characters. In many cases the women just turn up the volume of their own personalities. But some will create completely different characters, with different backstories, to play as well."
"I love the whole aspect of it, the way you get so emotionally involved in the stories. They are like real-life superheroes."
Charlie Morgan (real name Yasmin Lander) is one of performers who has taken her own personality and amped it up for her character. The 25-year-old from Norwich, who has been wrestling for about seven years, grew up watching wrestling and decided aged 5 that she was going to perform herself one day. "I love the whole aspect of it, the way you get so emotionally involved in the stories. They are like real-life superheroes. I love how wrestling gives you the ability to have the crowd in the palm of your hand and it's up to you to make them laugh or cry, or to love you or hate you," Morgan told BuzzFeed News.
"I've known about EVE since I've been involved in the business but I was based with a different company up in Norwich, which is where I live. But this year I changed my character and name because I wasn't very comfortable with the character I had been given previously. I played a character called Penelope who came from a posh part of Cambridge, but it just wasn't me. Her look didn't make sense to who I was. So I decided to create someone who is more myself but really turned up the volume. That's when I joined EVE. What the audience see is what you get with me. I am a tomboy, love my snapback, and if you don't like me it doesn't bother me. Those are the things I took when I created Charlie Morgan."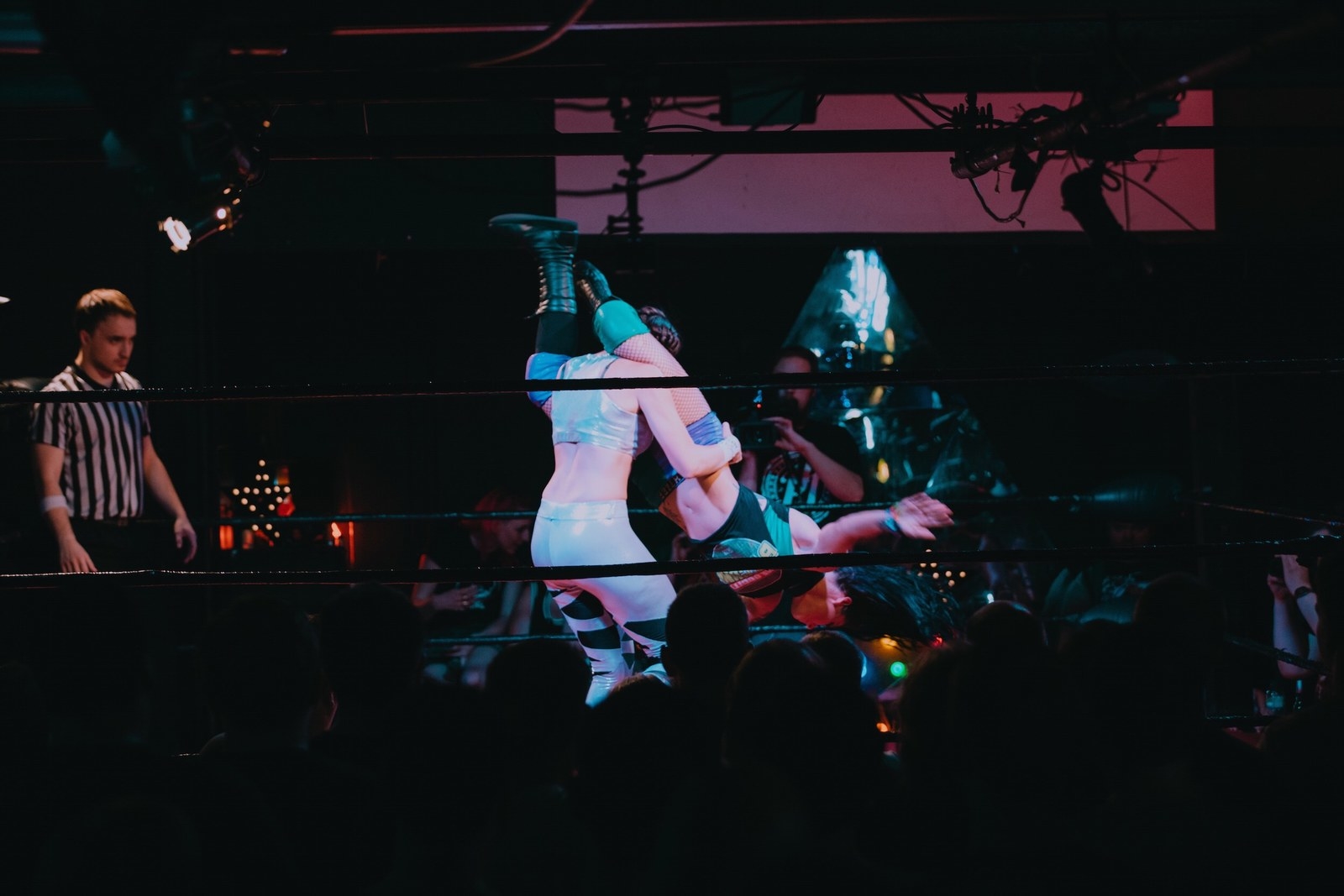 Morgan chose to come out as gay during her opening promo at EVE's recent 15 July event. "Before coming out [in real life] I was so scared and worried and really valued what people thought of me and I didn't want them to judge me, but as soon as I came out it was like a switch flicked. I felt so much more myself and stopped caring about what people thought of me," she told BuzzFeed News.

"When Dann approached me about coming out in the wrestling world I was a little taken aback, but then I got really pumped about it and wanted to see if it could help other people. I was over the moon. I just felt a massive adrenaline rush. I wanted the last word of my promo to be 'gay'. And after I said it there was this pause and silence and then a big cheer and ovation from the crowd. This is just Charlie Morgan being herself and I hope that encourages others to do the same."
Unfortunately for Morgan, the high of coming out before her match was overshadowed slightly when she broke her collarbone later on in the event. "It was nobody's fault. It was a move I had done thousands of times and I flew into her and when we fell we landed on top of my shoulder. The weight of both our bodies fractured my collarbone. I heard it crunching and we both realised something had gone wrong. So we quickly finished up and I went off to get help. It's extremely painful but I was just unlucky. This is my first major injury in the six or seven years I have been wrestling."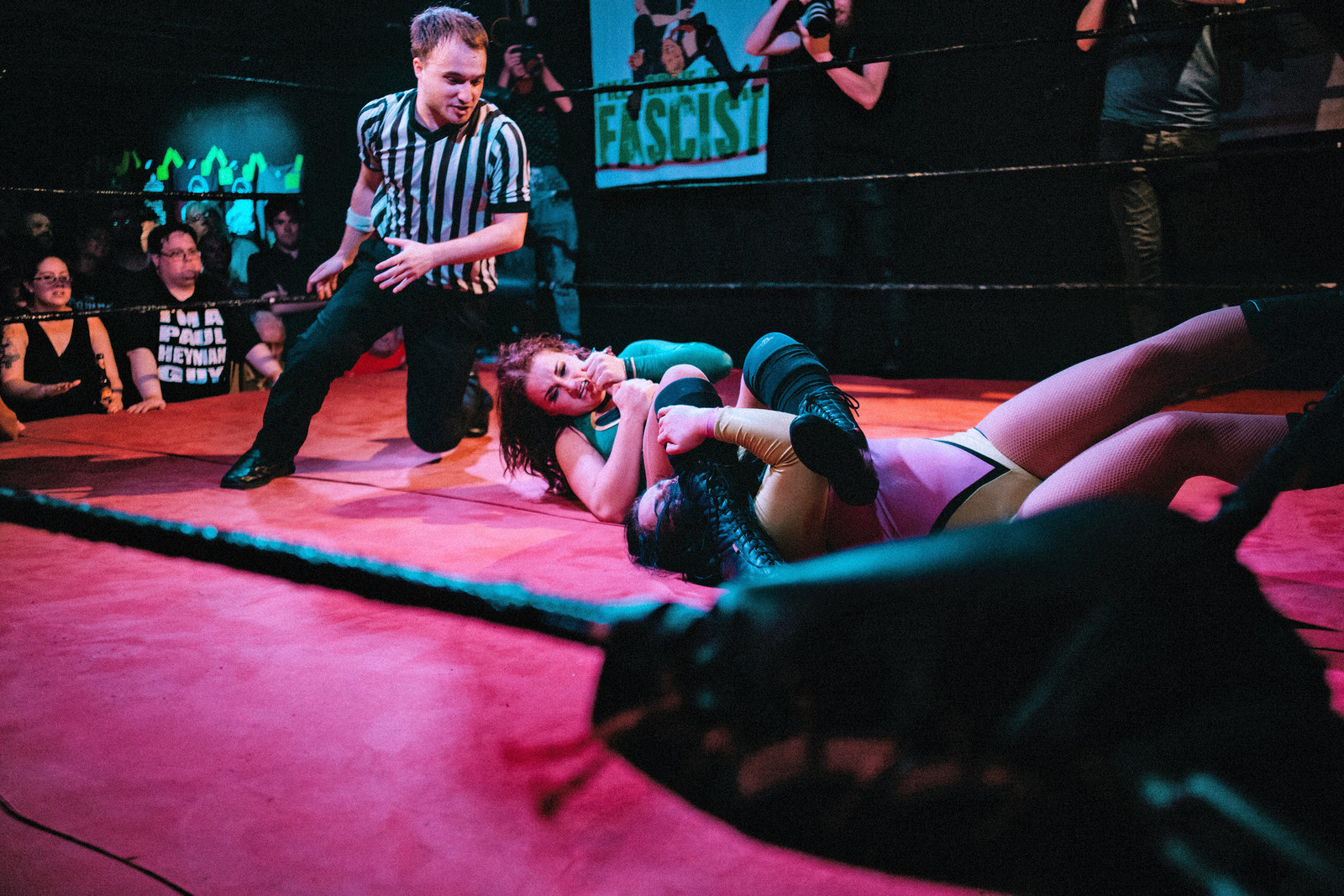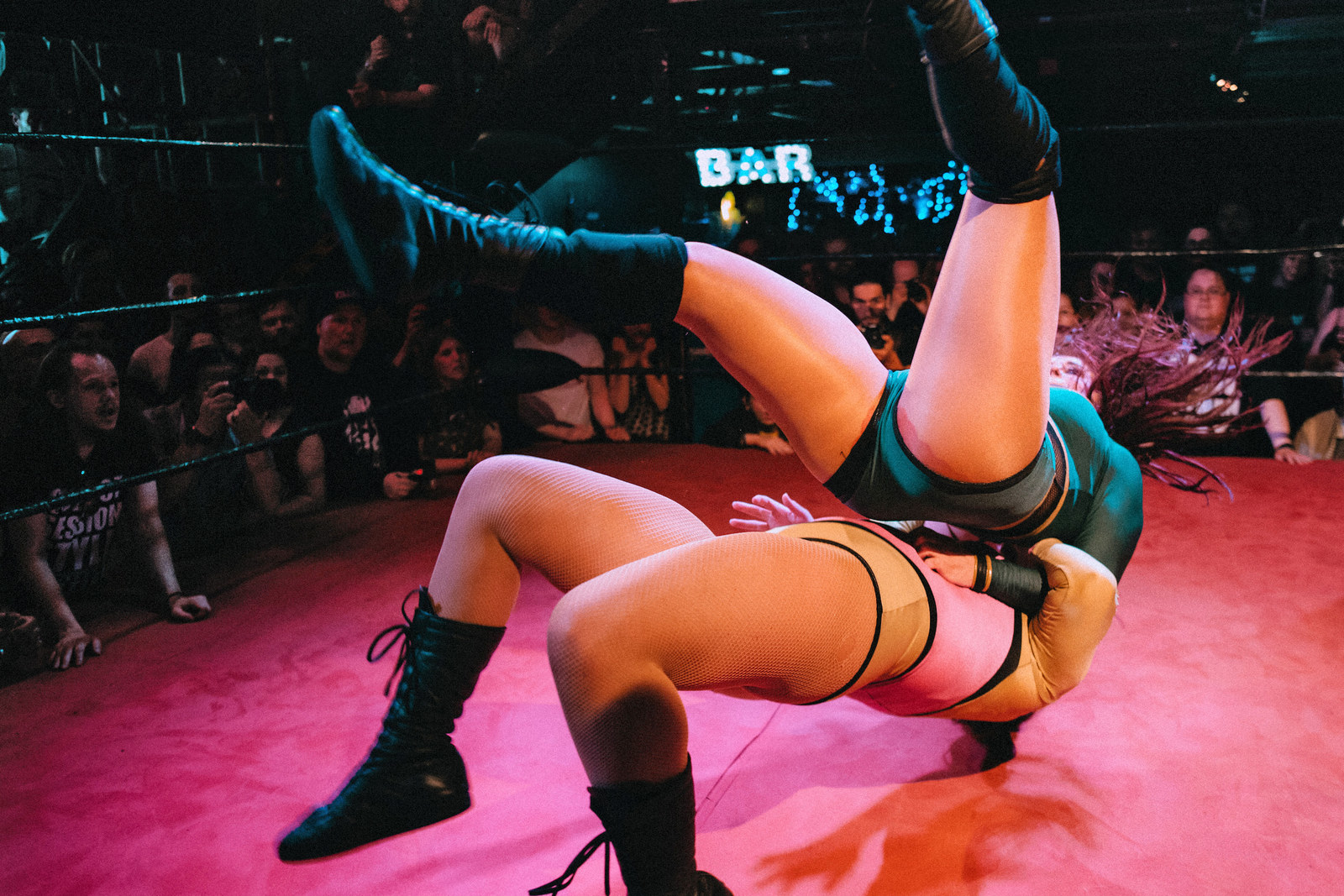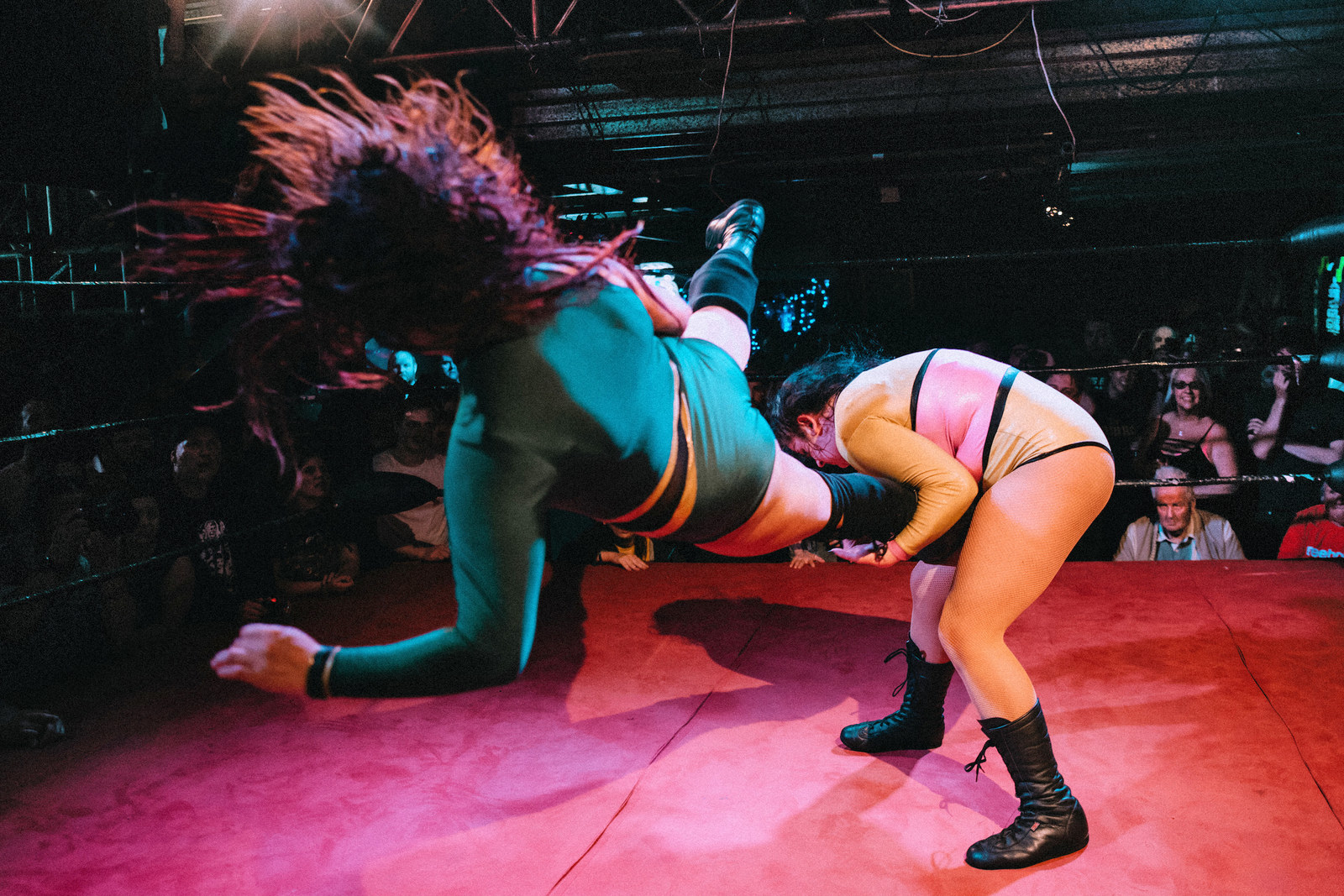 Dann told BuzzFeed News that interest in women's wrestling has grown significantly in recent years.
"We are planning to host a show in March next year, which will be the biggest all-female wrestling performance in Europe ever. EVE is growing substantially and there is definitely more interest in women's wrestling now. We wanted to put on a big event on as a bit of a 'fuck you' to society. The US president is a sexist and we have a prime minister who says 'happy Pride' but then votes against things that will help LGBT people, so we want to show people we are here and what we stand for."
The popularity of Netflix's GLOW has also helped. English singer and actor Kate Nash, who appears in the series, is a big supporter of EVE. "Kate Nash comes to our shows and has been an awesome supporter. After she was cast in GLOW she saw our showreel on YouTube and reached out to us. And she's been coming to our shows since. She even gets involved in the wrestling sometimes," Dann said.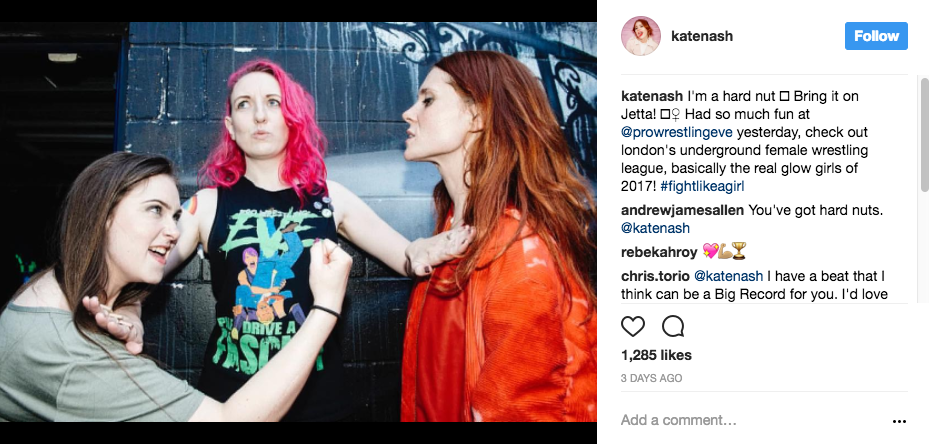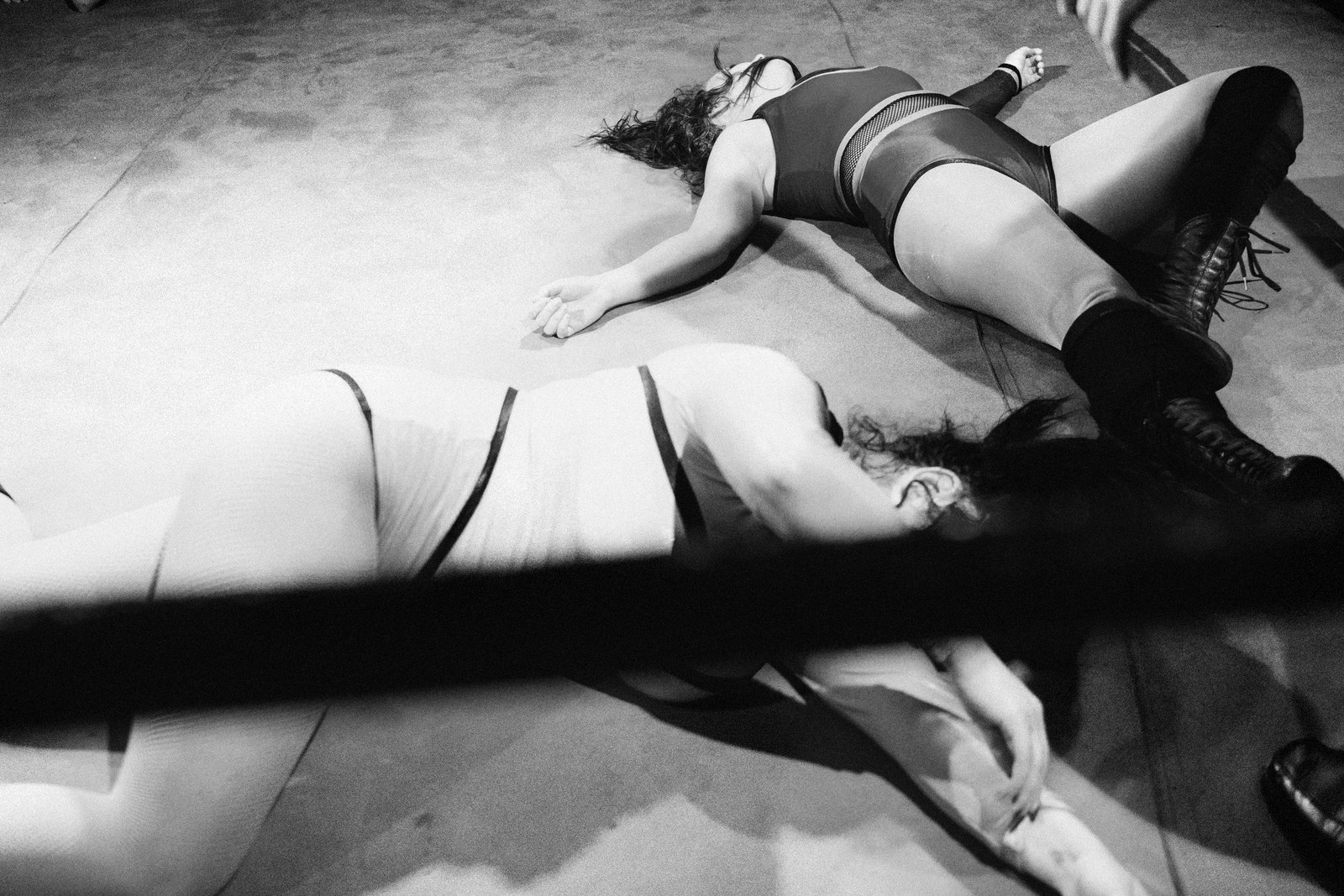 "Women's wrestling is about so much more than just the show," Emily added. "Being that female wrestlers are not afforded the same opportunities as their male counterparts, we run all-female professional wrestling live events showcasing their talent and providing a much needed platform for female performing wrestlers without limits or restrictions.
"As a former trainee wrestler then wrestling promoter, I was very aware of the sexism within the wrestling business. When I became a mother it further cemented my drive to make changes to the business, a business that my husband was still a part of, as I never wanted my children to grow up seeing women as 'less than'.
"My husband and I had and still have that drive and ability to contribute making and enforcing a real change, which we have most certainly had a hand in doing, although there is still a long way to go."