On Wednesday, a video was released of singer Lily Allen visiting migrants and refugees at the Calais "jungle" camp in France.
https://www.youtube.com/watch?v=9DLE-cgF0W8
In the video, Allen becomes visibly emotional while speaking to unaccompanied minors in the camp.
Allen, a mother of two, visited the controversial camp with BBC reporter Catrin Nye for the broadcaster's Victoria Derbyshire programme.
"No one's chosen to be here. It's not fair. It's a geographical lottery, wherever you're born in the world," she said in the video.
"I know I wouldn't want to end up here. I certainly wouldn't want my children to end up here."
Reaction to the video has been very mixed, with many people attacking Allen for visiting the camp.




Allen used her Twitter account to reply to many of the hateful comments. She also said she would happily host unaccompanied refugee children in her home.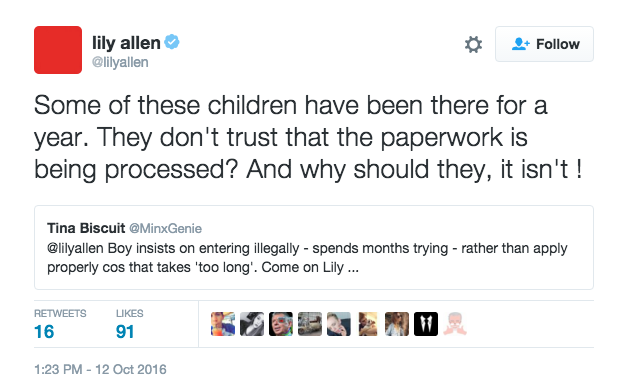 Despite the significant online abuse, many people showed Allen support for her stance.