People Are Genuinely Torn Over This New Buffalo Wild Wings Pumpkin Spice Flavor
Too far?
As we revel in this glorious fall weather, most of us are also suckers for a good pumpkin spice anything.
Now you can find out for yourself because Buffalo Wild Wings introduced (you guessed it!) a pumpkin spice wing sauce to its menu.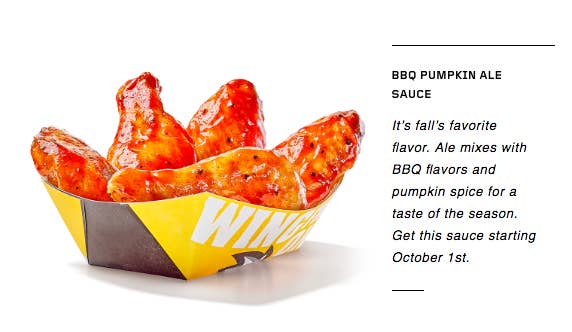 That's right, diners at the popular sports bar chain now have the option to get some wings marinated in their brand spankin' new BBQ Pumpkin Ale sauce.
People are genuinely divided when it comes to these new pumpkin spice-flavored wings.
Some are even skeptical of the companies themselves for buying into this whole pumpkin spice trend to begin with.
Then there's people who are totally game.
So, if you're into it, Buffalo Wild Wings will only be offering this fall exclusive flavor for a limited time.